This completely irresistible Millionaire's Shortbread recipe is a layered no bake, gluten-free dessert bar you'll love. Shortbread cookie crumbs, gooey caramel, rich chocolate and a sprinkle of sea salt! Gluten option included.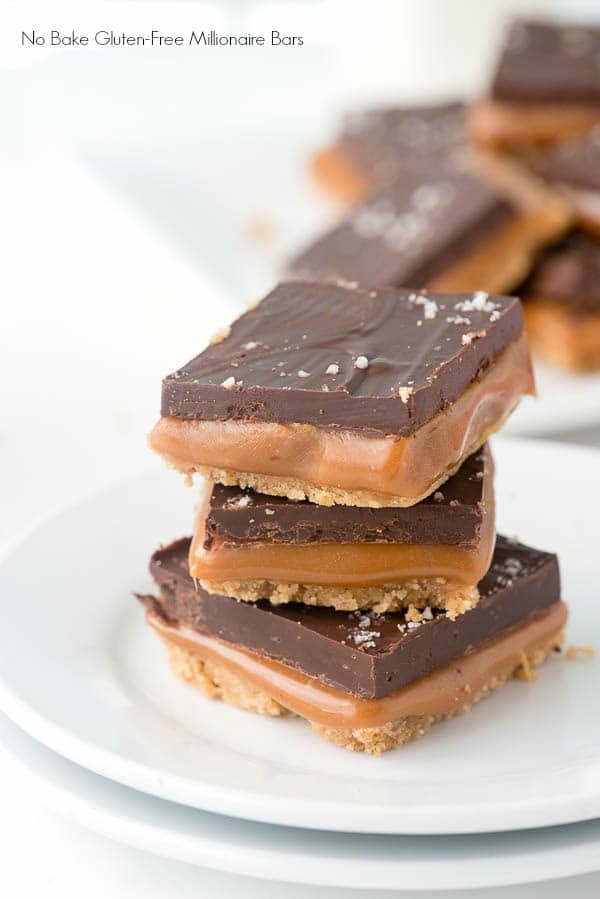 This gorgeous Millionare's Shortbread recipe was conceived from an activity I don't love: doing taxes. Last weekend our dining room table was full of folders, statements, laptops and piles of paper (mine mostly) as we wound our way section by section through this year's tax return.
I have a habit of cleaning my car out on the spur of the moment by grabbing a shopping bag, throwing everything floating around the car in it, with great intent to clean it out later (never happens).
I pulled out one of these mystery bags when trying to find a receipt. As I pawed through it, taking the time to trash, recycle or really put away the contents I ran into this…..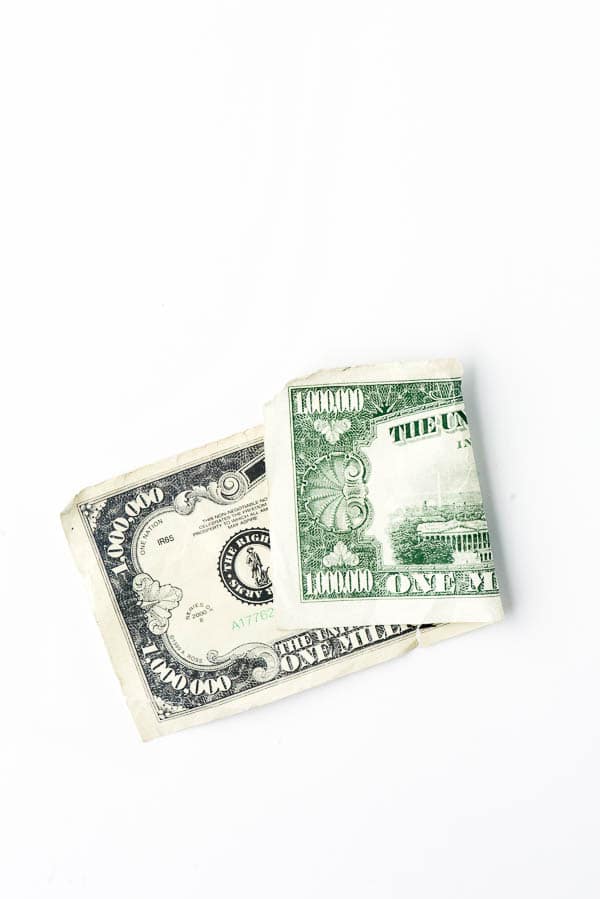 My heart stopped. I did not count the zeros but the fact that there were multiple zeros filled me with great joy; like finding money in a jacket pocket the next winter.
Until I remembered it was a fake bill from a local toy store that had landed in the clean out bag.
Nonetheless it gave me the idea to make a Millionaire's Shortbread recipe! Certainly a distraction from doing the taxes.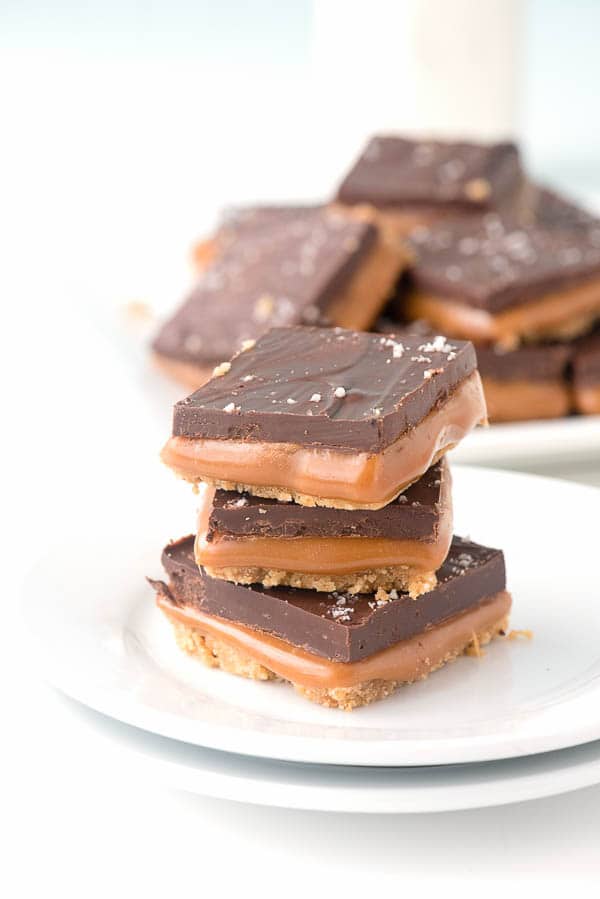 What is Millionaire's Shortbread?
Layered bars with each layer adding more irresistble flavors than the last! Shortbread cookie crumbs form the bottom layer. Gooey caramel is layer number two. Rich chocolate forms the top layer sprinkled with Fleur de Sel Fleur de Sel, the fine sea salt from France.
This recipe is a no bake dessert recipe AND is gluten-free. The caramel layer is made from melted caramel candies, making it easy with no candy thermometer required!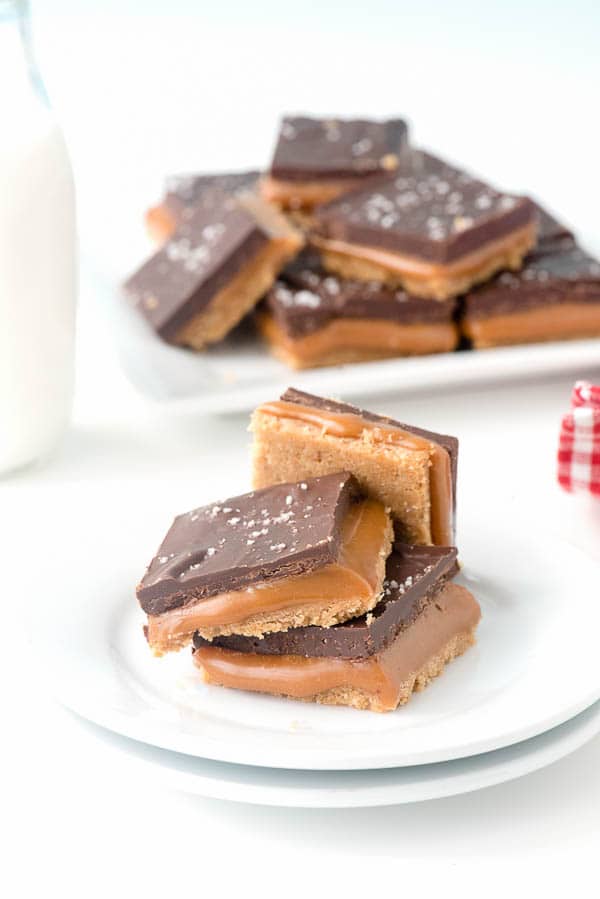 No Bake Millionaire's Shortbread Recipe Notes:
This no bake gluten-free dessert definitely could be made with a gluten cookie layer instead. The main thing I've learned in my years of converting gluten recipes to gluten-free though, is that the absorbency of ground gluten-free cookies is very different than gluten cookie crumbs.
How to make this Millionaire's Shortbread Recipe with GLUTEN cookie crumbs instead:
Gluten-free cookies tend not to be able to absorb as much butter. So if you want to make this easy no bake chocolate bars recipe using gluten cookies, use the same amount of the crumbs but add additional melted butter as needed to reach a damp sand consistency of the crumb and butter mixture.
Getting the Caramel Layer Just Right!
I experimented with different thicknesses of each layer and settled on liking a thicker, gooey caramel layer the best. Due to that thicker caramel layer, the Millionaire's Shortbread recipe does best removed from the refrigerator for about 5 minutes before cutting it into bars.
Storage TIP: After serving, store leftovers in the refrigerator to keep the caramel layer firm.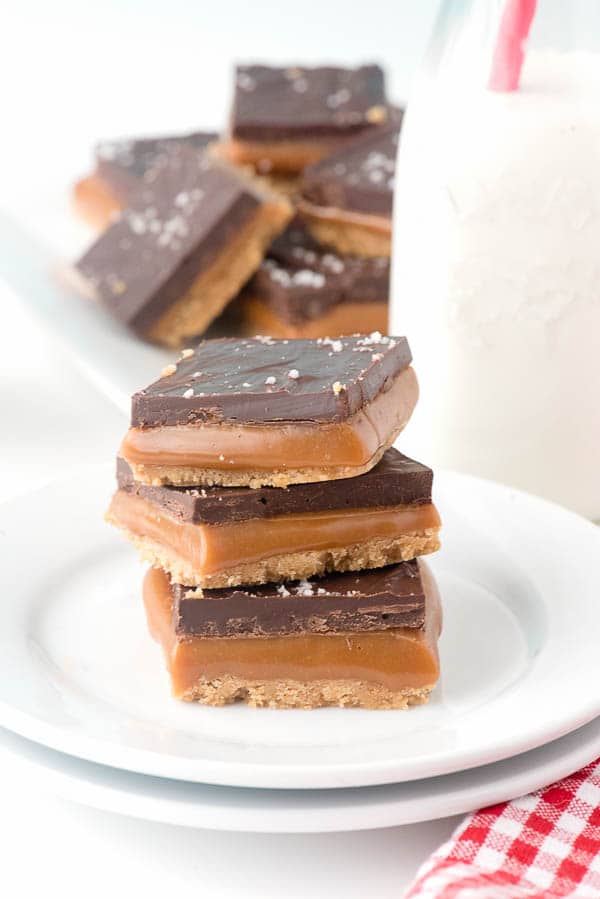 More No Bake Dessert Recipe Ideas You'll Love:
If you've tried this Millionaire's Shortbread recipe or any other recipe on BoulderLocavore.com, please don't forget to rate the recipe and let me know where you found it in the comments below, I love hearing from you!
Also please SUBSCRIBE and FOLLOW ME on FACEBOOK, TWITTER, INSTAGRAM and PINTERST to see more delicious food, travel and what I'm up to!
How to Make No Bake Gluten-Free Millionaire's Shortbread Bars – Step by Step:
Nutrition Facts
No Bake Gluten-Free Millionaire's Shortbread recipe
Amount Per Serving
Calories 169
Calories from Fat 81
% Daily Value*
Fat 9g14%
Cholesterol 13mg4%
Sodium 53mg2%
Potassium 92mg3%
Carbohydrates 20g7%
Protein 1g2%
Vitamin A 95IU2%
Vitamin C 0.1mg0%
Calcium 27mg3%
Iron 0.7mg4%
* Percent Daily Values are based on a 2000 calorie diet.