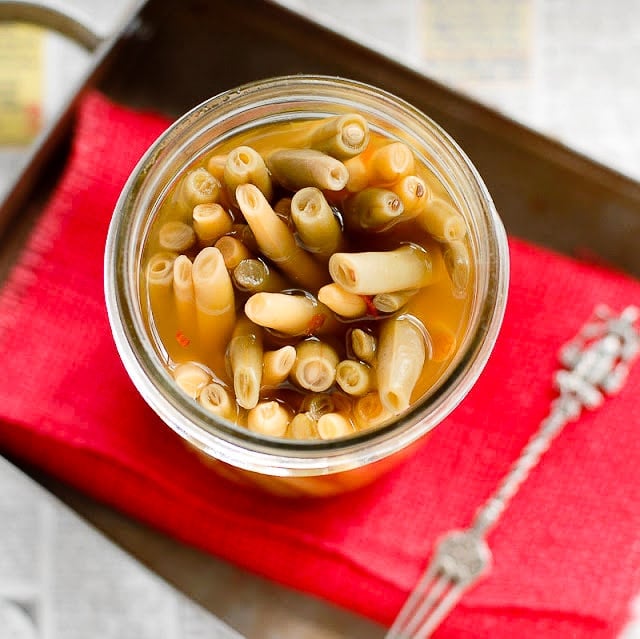 One of summer's defining traits for me is eating outdoors and picnicking. I love the entire ritual of it, toting a kit wherever I go that includes a fabric tablecloth, fabric napkins, plates, silverware and other odds and ends for any anticipated needs. And I can't imagine not including these Dilled Green and Yellow Wax Beans in my picnicking menu!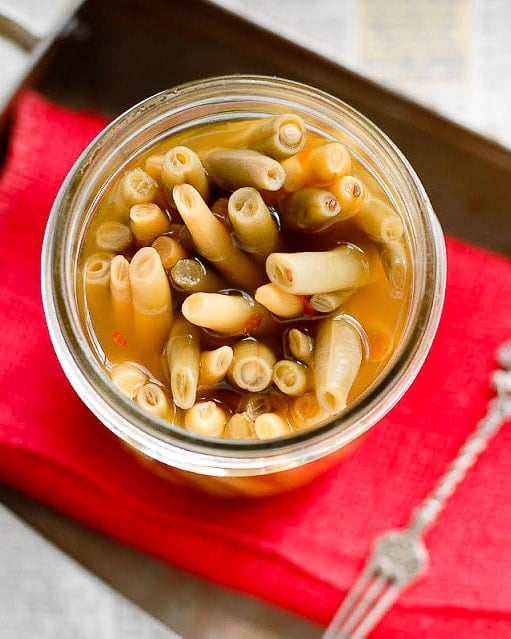 A staple of my picnicking is home-canned pickles. I actually have never pickled cucumbers but have almost everything else. Years ago when living in California I first sampled pickled green beans and became absolutely smitten with them.

They were produced by a winery at a whopping $7 a jar. When I began to can a few years ago I experimented with making my own to huge success. My metric was the snap of the beans after sitting in the pantry, loathing mushy canned pickles. This recipe never disappoints with mouth-watering tangy, bright flavors and crispness of the beans even after 2 years in a jar I just opened! I'm sharing the recipe today for you to try them too as well as a fantastically wild place I took them on a picnic!

More easy Pickle Recipes You'll Love!
Recipe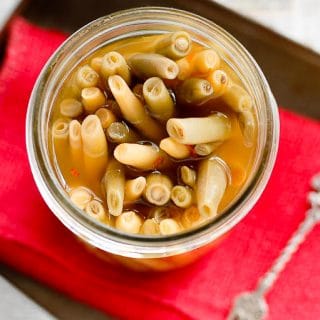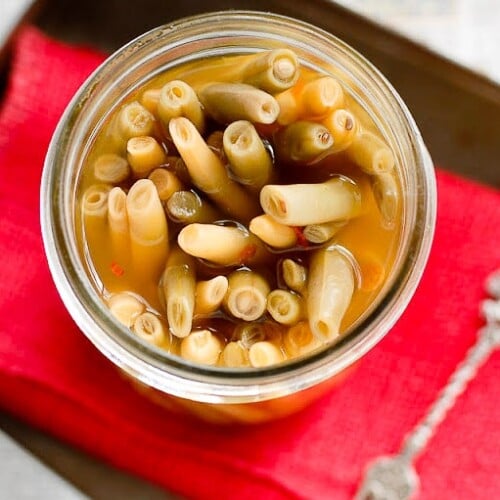 Ingredients
4

pounds

green and/or yellow wax beans

1 3/4

teaspoons

crushed dried hot red pepper

3 1/2

teaspoons

dried dill seed

7

cloves

fresh garlic

, peeled

2 ½

cups

cider vinegar

(ensure 5% acidity)

5

cups

water

5

tablespoons

pickling salt
Instructions
Wash and trim ends of the beans. Cut beans into equal lengths allowing they will stand vertical in a pint jar with 1 inch space between their tops and the top of the jar.

Prepare jars and seals in boiling water. Place ½ teaspoon dill seed, one garlic clove and ¼ teaspoon red pepper in each jar. Fill jars with the beans.

Combine the water, vinegar and salt and bring to a boil. Stir to dissolve the salt. Pour hot liquid over the beans in the pint jars. Allow ½ inch space at the top of each jar.

Run a plastic knife around the outside of the beans in the jar to release any air bubbles. Wipe the top of the jar rim, and place seals and rings on the jars. Process is a water canning bath for 10 minutes (I did mine at 15 to be safe for my altitude).

Allow beans to sit for a month to be fully flavored.
Notes
This is not intended to be a primer on how to perform canning. Please ensure you are knowledgeable about canning before attempting this recipe and practicing all sterilization processes properly. Consult canning charts for the appropriate processing time at your altitude using 10 minutes as the base processing time. The acidity of the vinegar allows these to be processed safely in a water canner versus a pressure canner Adapted from Putting Foods By.
Nutrition
Calories:
107
kcal
|
Carbohydrates:
20
g
|
Protein:
5
g
|
Fat:
0
g
|
Saturated Fat:
0
g
|
Cholesterol:
0
mg
|
Sodium:
37
mg
|
Potassium:
643
mg
|
Fiber:
7
g
|
Sugar:
8
g
|
Vitamin A:
1935
IU
|
Vitamin C:
32.8
mg
|
Calcium:
130
mg
|
Iron:
3.2
mg
Last year I discovered arguably the most exotic, unique picnic spot in all of Colorado and could not wait to visit again this summer: The Wild Animal Sanctuary in Keenesberg Colorado. About an hour north east from Boulder, amidst sprawling farm lands, is this incredible refuge unlike any other in the United States for rescued large carnivores and other animals.
I can unequivocally state there is no sound on this earth like that of 70+ tigers when the meat truck rolls up on feeding day. It is the most unearthly primitive sound that serves as a clear reminder these animals are wild despite failed attempts to domesticate or employ them in inappropriate circumstances. The Wild Animal Sanctuary is the dream and unrelenting efforts of Pat Craig who knew he had a calling when rescuing his first jaguar at the age of 19. Fast forward 31 years and Pat now governs the oldest and largest non-profit large carnivore sanctuary in the United States. The stories of the rescues are both rewarding and heart breaking when learning of the circumstances for many of these animals. These are all rescued or abandoned animals being rehabilitated to their personal best to live in hospitable conditions for their lives.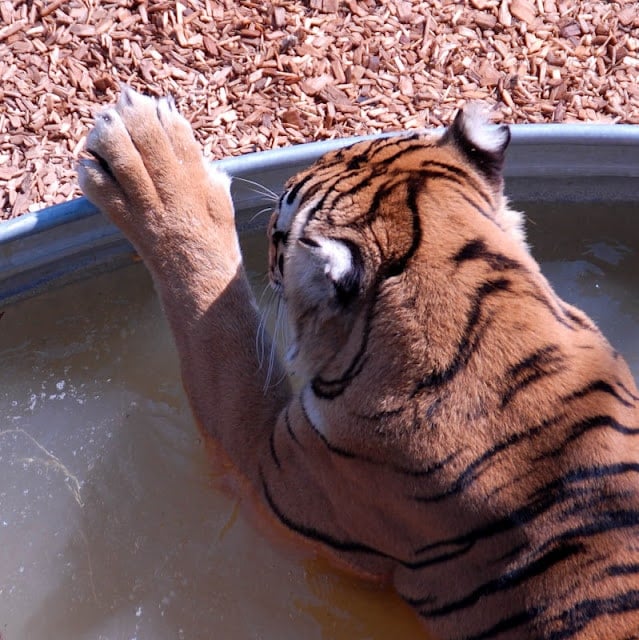 The sanctuary is a place for animals, pure and simple; it is not a zoo. People are welcome to visit under certain conditions. You are asked first to not stop when driving along the fenced enclosures to view the animals. When on ground level they feel challenged and this is their home. There is no denying the breathtaking moment when spotting one's first tiger or bear or wolf when entering the parking lot. To see the amount of animals all in one spot is simply mind bending.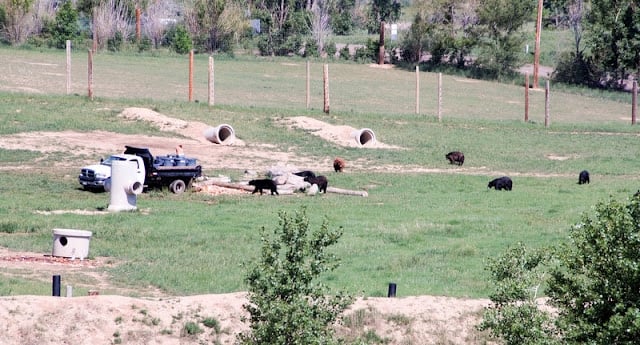 After parking one enters a gift shop to check in, pay admission and check out a binder full of maps and personal facts about all the animals that you will spot. When exiting the back of the shop you begin to walk up an elevated boardwalk to view the animals from above so as to not make them uncomfortable. The human benefit of course is the incredible up close view of the animals, the educational information all prepared so neatly and the taking in of the vast property, with the snow capped Rockies in the distance.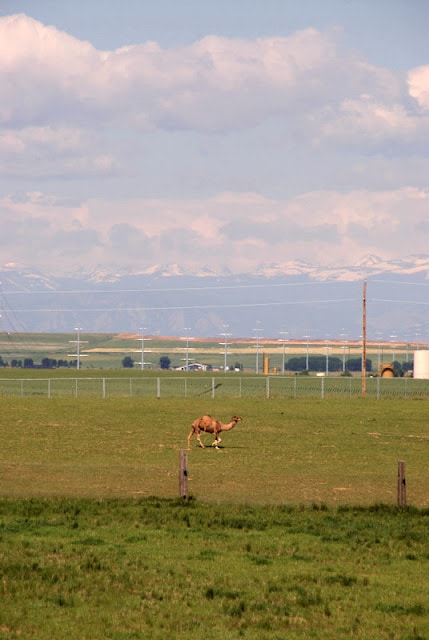 There is an educational round house building about half way up the walkway which has multiple televisions playing various programs about the center and specific animals, mainly Eddy the Black Panther whose story is captivating as told by an Animal Planet program. Flanking the building below are pens of tigers in various states of recuperation. Some are being evaluated for their compatibility capabilities, where others will live here as the best fit versus other enclosure options at the center. Tigers are solitary and territorial animals so throwing a bunch in a pen and calling it a day is not an option.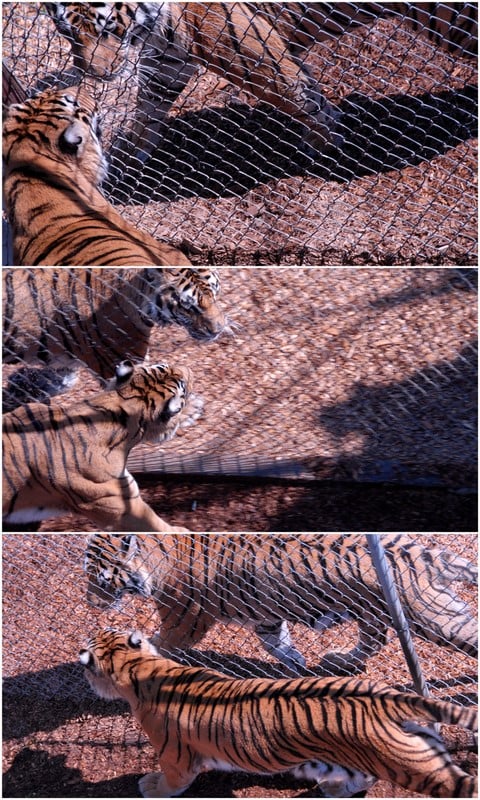 A favorite day to visit if possible is feeding day (Tuesday, Thursday and Saturdays between 9-11:30 a.m.). All the animals clearly know what is coming. We heard wolves howling, tigers bellowing and an occasional moan from a lethargic lion. The tigers frolic like puppies with anticipation as the meat truck pulls up to their enclosures. Ironically most of them snatch the huge meat mass placed in their enclosure, drag it somewhere and the day we were there, hopped into their pools for a soak (it was about 75-80 degrees it felt at 9:30 a.m.) leaving their meat pop uneaten. I guess just knowing it was there sufficed. Within an hour they were all sacked out.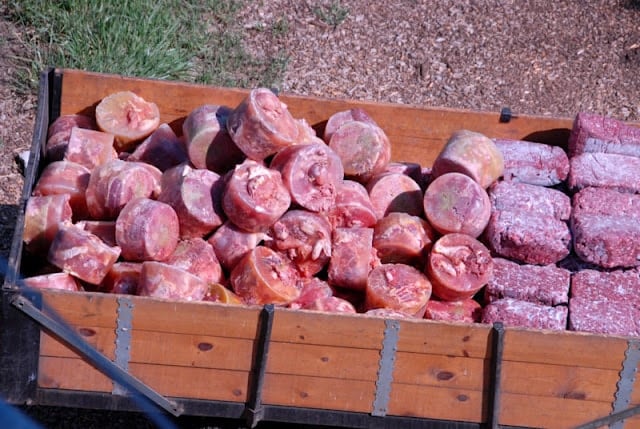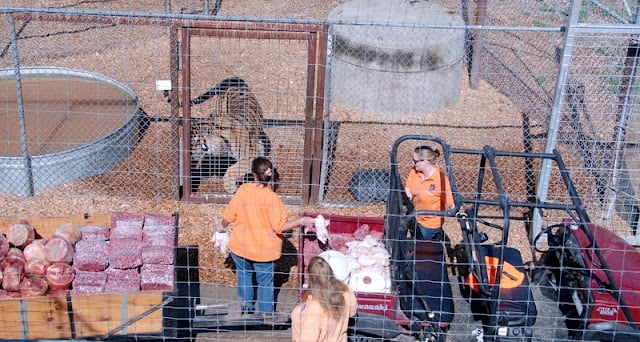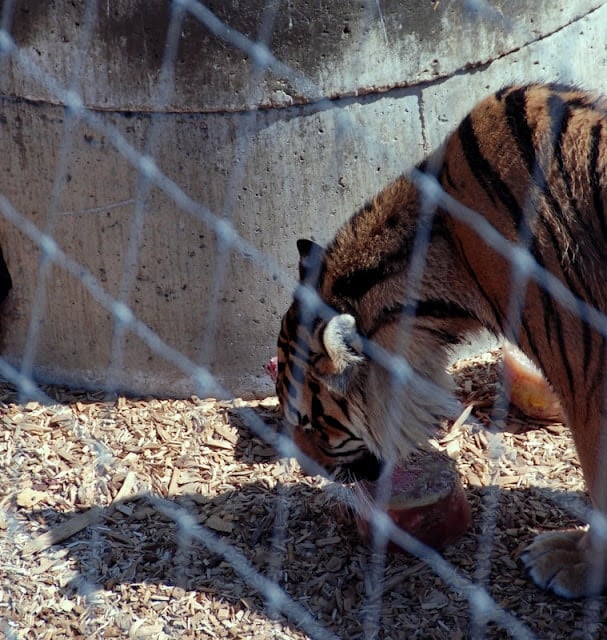 At the top of the boardwalk is a 360 degree viewing platform stocked with wrought iron picnic tables and chairs. There is a snack shop in the middle that was open when we were there though we'd planned ahead and brought our own which visitors are welcome to do. There really is something surreal about sharing lunch in the midst of lions under the view of the Rocky Mountains to the west, with a camel loping in a far off enclosure. It is an extraordinary place and an opportunity that should not be missed by any who have the chance to visit. You will not see masses of animals like this anywhere else in the world I'd venture. With tigers being stealth animals in the wild; even spotting one is a treasure. To see this many live in one spot is nothing short of life changing.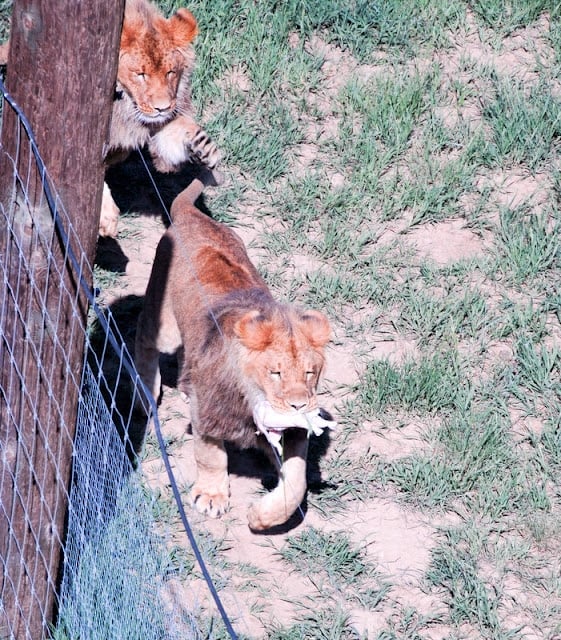 Even if unable to visit, it is worth checking out the center's website for rescue stories and animal info. Private donations are a large part of the center's support, either through one's admission or direct donation through cool programs like adopting an animal.
Summer Hours of Operation (May 1 – September 30): 9 a.m. to Sunset Daily
Winter Hours of Operation (October 1 – April 30): 9 a.m. to 4 p.m. Daily
Cost: Adults $10, Children 3-12 $5
Directions to the sanctuary may be found on their website