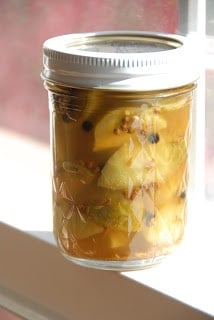 Usually I have more good ideas than time to execute them. This week I have an overfull calendar which did NOT include impromptu rescuing of the garden tailings before the first windy frost, let alone doing something with the proceeds lest they go south on my watch.
I've eaten green tomatoes once. At the home of a Southern relative who did fry them as in the famed movie of the same title. They were good but that was not what I imagined doing with my bucketful. I needed something quick and (hopefully delicious) so pickles came to mind.
Love pickling. To me the art of pickling is in the flavor of the brine. There is no toiling to prepare what you'll pickle as with regular canning. Slice it up, create the brine, pour it all in and process for a short time. I searched my canning books with no luck. Some lovely relishes and mincemeat but I did not have the time nor the patience for chopping the ingredients.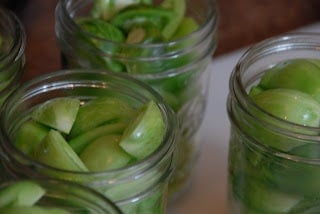 After poking around online I found a great recipe for Pickled Green Tomatoes by chef Michael Symon on the Food Network and followed it almost to the letter. The smell of the brine was heavenly and tasted fantastic. Can't wait to try the pickles!
The modifications I made were:
Substituted Pint and Half Pint jars for the 4 quarts (I was unsure once opened the quart would be consumed fast enough). So the recipe yield for me was 6 pints and 4 half pints.
Substituted 3 Fresno chiles and 1 anaheim for the 6 Fresnos based on some of the comments on the recipe complaining it was way too spicy. I wanted to be conservative and add more heat on another go around if needed.
I used raw unfiltered apple cider vinegar which is why mine came out looking foggy (see photo first photo in the post). If you like a clearer end result just use filtered vinegar.