English Pub Pickled Onions are an easy home pickling project with fantastic results! Crisp, sweet-tangy onions have many uses and stand up to strong British cheeses. This version does not require canning and has been adapted to make the pickled onions gluten-free!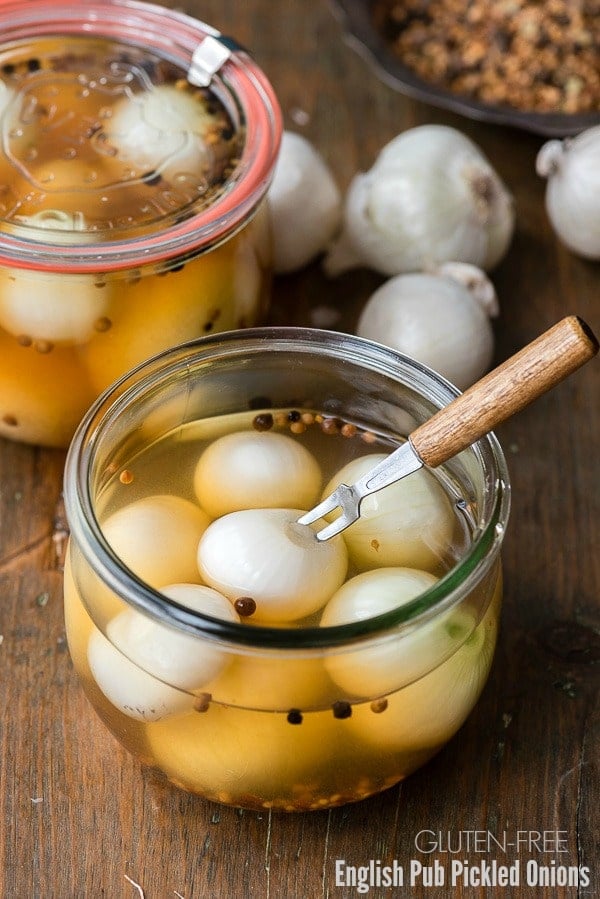 When I first started Boulder Locavore I had just finished up a winter-long locavore experiment.
I had only sourced my produce and protein from a 100-mile radius which meant I needed to be creative with food keeping. I created a makeshift root cellar.
I froze foods and I did a lot of canning. Like, REALLY a lot. Inspired by the book 'Animal, Vegetable, Miracle' I canned 150 pounds of tomatoes into pasta sauce.
Ah, Friends? I'm here to tell you no one needs that much.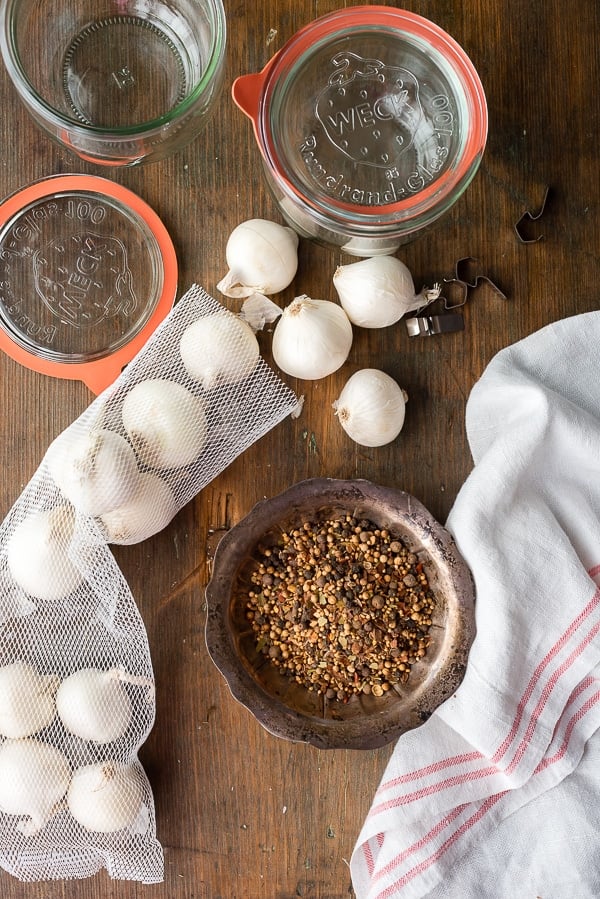 I loved canning jams and pickles. With pickles, it was always fun to wait until they had aged the prescribed amount to taste how they'd turned out. A definite favorite was Dilled Green Beans. To. Die. For. The right amount of tangy flavor and perfect crispness. Great to snack on, add to salads or in Bloody Mary's.
Another favorite is English Pub Pickled Onions. The brine is SO delicious! Classically it combines malt vinegar, pickling spices and some brown sugar. The smallish onions are crisp and taste simply dreamy, perfect to add to salads, sandwiches and my very favorite meal of all time which I'll be sharing with you in a few days!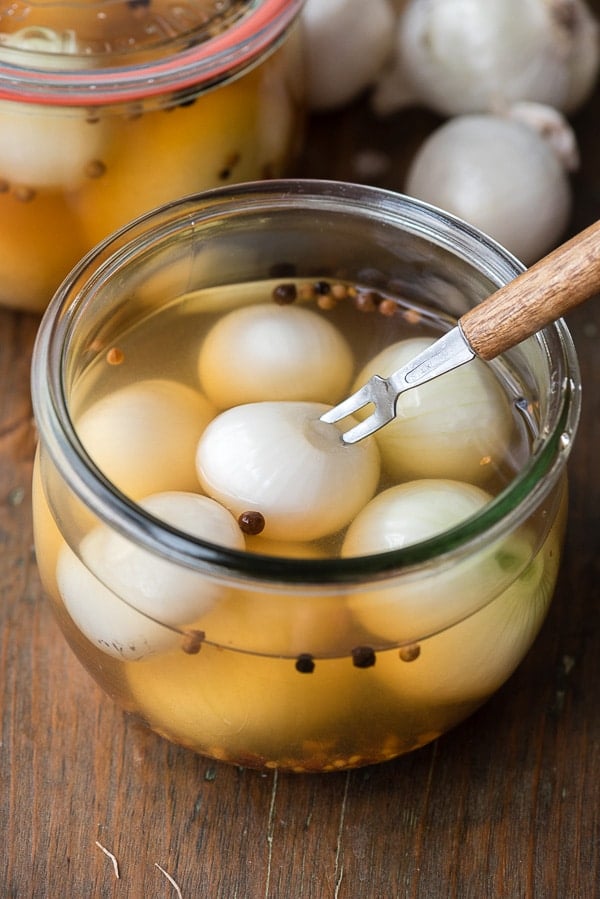 I'm sharing my recipe today which does not require canning. If you are an experienced canner you certainly can process these in a water bath for about 15 minutes but for an easier and faster route these are refrigerated for a month instead (and can be kept in the refrigerator for up to 6 months).
Smaller onions are used which allows several to be pickled in a jar. I prefer Boiler Onions though Pearl Onions may also be used. Both types of onions are regular variety onions which have been harvested early for their size. My preference is based on liking a bit larger onion. Shallots may also be substituted if small onions cannot be found.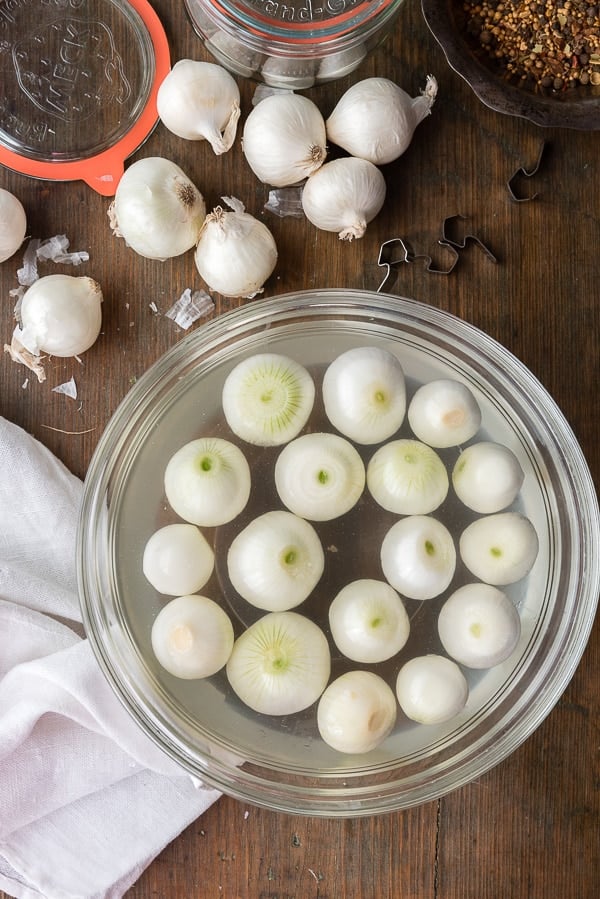 The process of making the pickles is easy but has distinct steps. It's a perfect weekend project. First an easy trick is used to peel the onions. The trimmed onions are covered with boiling water in a bowl which allows the skins to easily slip off once they soak briefly.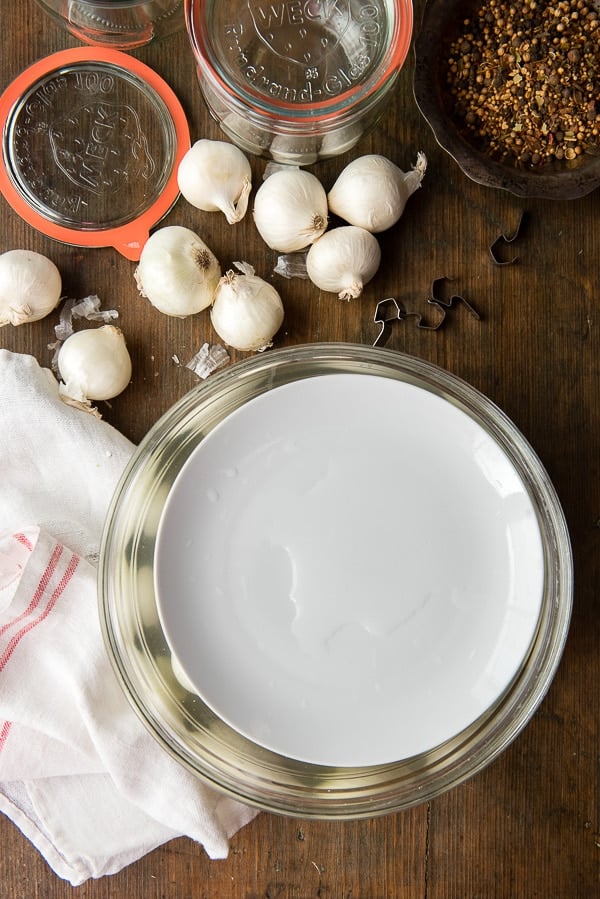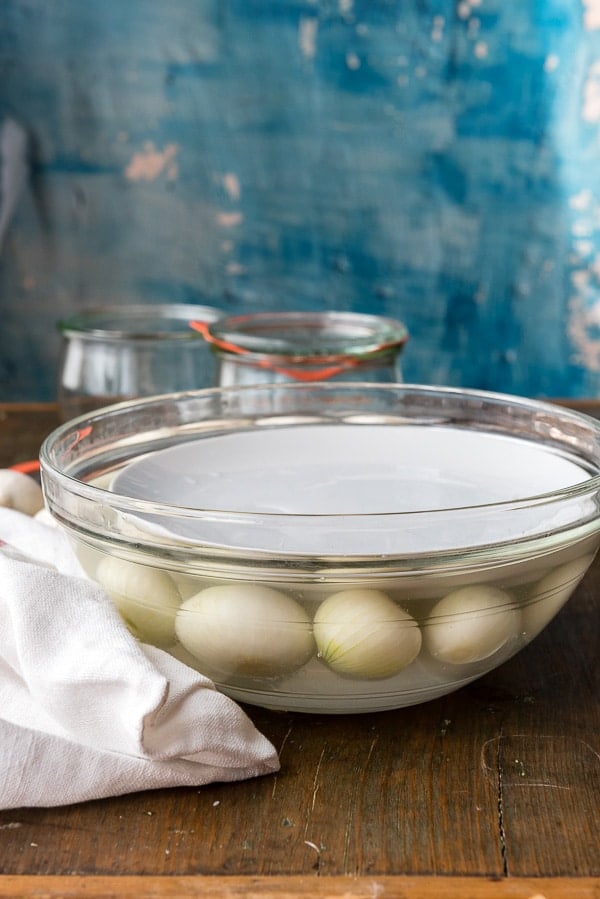 The second step is brining the onions. This helps them stay crisp once pickled. They are soaked in a cool brine overnight, then rinsed, and dried and placed into the pickling jars. Since they will not be canned, any clean (washed and rinsed with hot water) pint-size jars will work. I love Weck jars and used pint volume tulip shaped jars for this recipe but love the mold style too.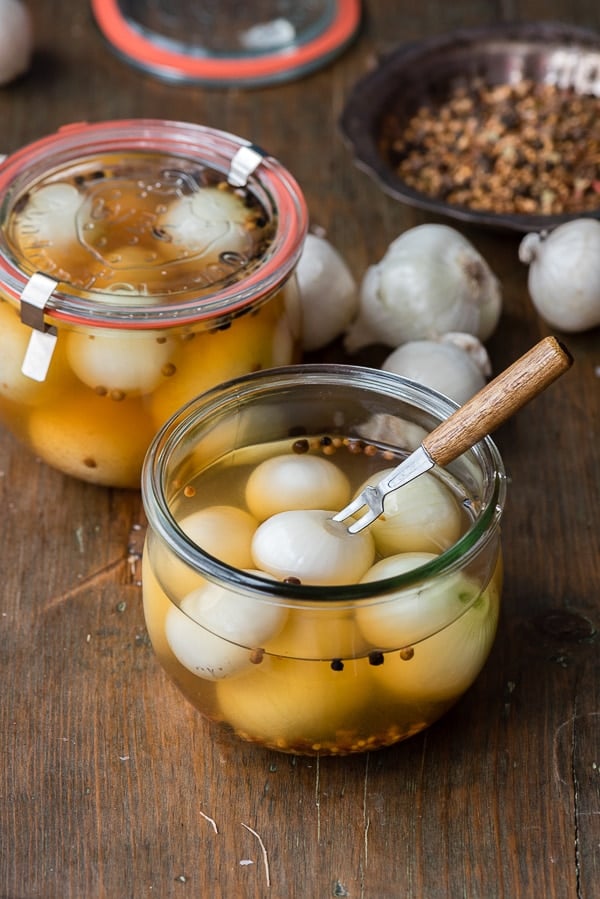 Lastly the spiced vinegar is created with distilled white vinegar, pickling spices and brown sugar. As I mentioned, traditionally they are made with malt vinegar which is not gluten-free. For those gluten-free this recipe using distilled white vinegar is a perfect substitution to enjoy these tasty treats. If you can eat gluten, feel fry to swap for malt vinegar or make them as described.
You'll Love these Recipes too!
Did you make it? Please RATE THE RECIPE below!
Please SUBSCRIBE and FOLLOW ME on FACEBOOK , TWITTER , INSTAGRAM and PINTEREST !