Ploughman's Lunch combines crusty bread, hearty English cheeses, fine ale and other delights for a rustic, satisfying meal you'll want to share over good conversation with family and friends.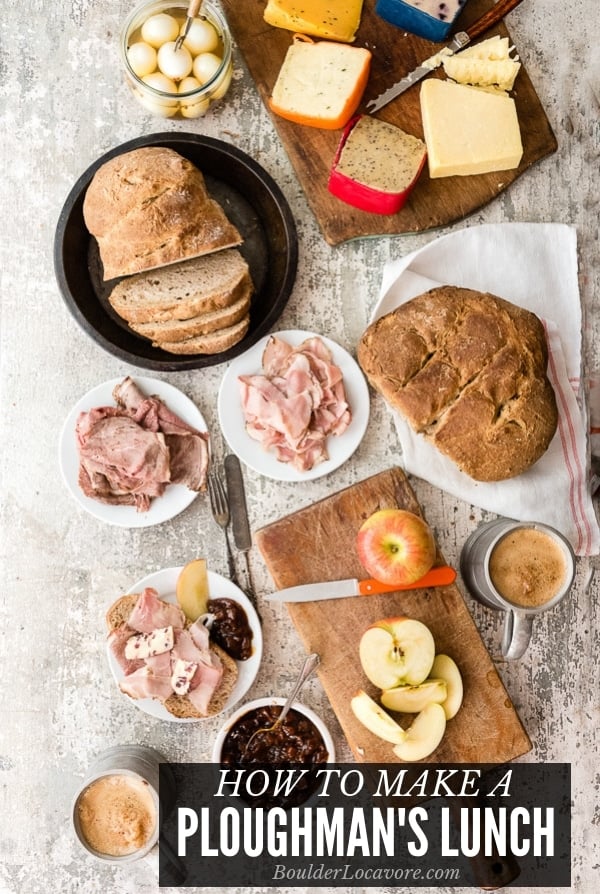 The Ploughman's Lunch is simple fare that can't be rivaled for robust flavors and satisfying textures.
A meal to settle into, it's an excuse for a leisurely meal enjoying the company of friends and family along with gorgeously flavored food.
I love mixing and matching all the ingredients in different bites. There are so many flavor combinations!
I'll admit I crave it for breakfast too. After making a Ploughman's Lunch, I nosh on the crusty bread, some of the cheese and slices of meat for several breakfasts in following days.
I honestly can't think of a better way to start the day!
What's in a Ploughman's Lunch?
A Ploughman's Lunch, also called a 'Ploughman's Platter' or simply a 'Ploughman's', is a cold English lunch comprised of specific foods.
Though there is some flexibility on the specific types of cheese, bread and ale in a Ploughman's Lunch, there are some 'must haves' that will always be in a Ploughman's Lunch.
Authorities on British food will suggest there always needs to be a 'pickled item', often chutney and pickled onions.
I love making English Pub Pickled Onions for this very meal! They are easy to make and this recipe is also gluten-free.
There are specific types of chutney that accompany the Ploughman's Lunch as well.
The most popular in my research is Branston Pickle (chutney) (which does have gluten for those gluten-free).
Sliced apples are often included which rounds out all the flavors.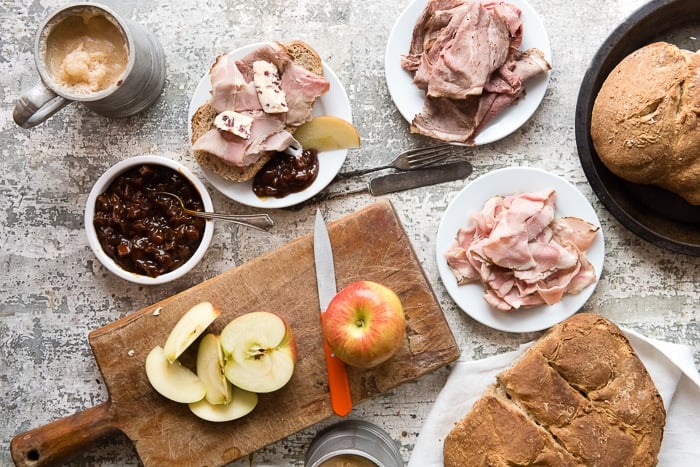 Must Have Ingredients for a Ploughman's Lunch
In summary, the following list will cover all the 'must haves' for your Ploughman's Lunch:
Crusty bread
English cheeses
Ale
Chutney
Pickled Onions
Sliced Apples
Sliced meats (optional)
Pickled eggs (optional)
Who Invented the Ploughman's Lunch?
From the name, you might imagine the origins of this lunch to be a favorite of field laborers.
It may be but it officially dates back to the 1950's and was supposedly created by the Cheese Bureau as a marketing idea to sell more cheese in pubs.
It's a cold English meal with a main ingredient being bread, cheese and beer.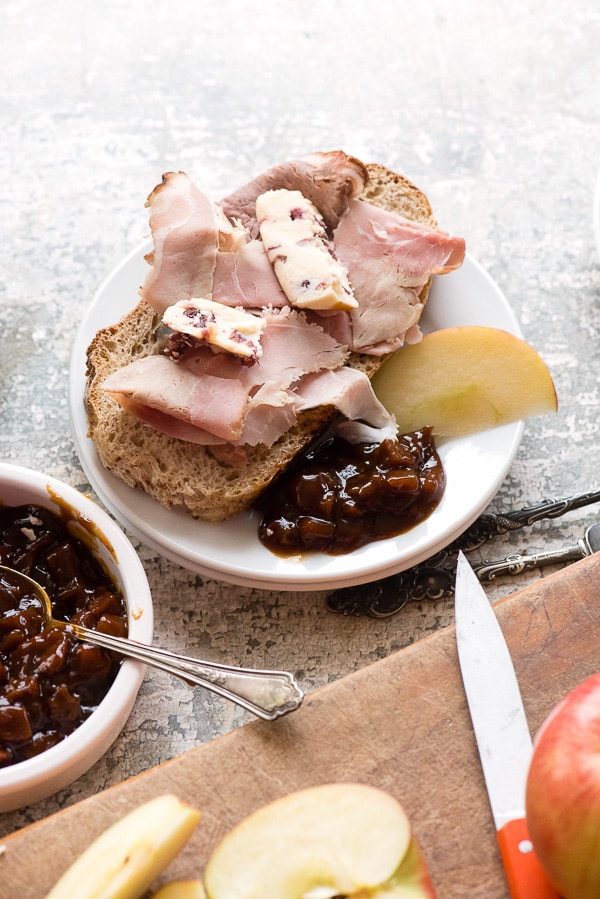 Chutney Options for a Ploughman's Lunch
For those unfamiliar with chutneys the most similar thing would be a relish that has a jam consistency.
Chutney is a condiment made with fruit and/or vegetables, vinegar, sugar and spices for a tangy, chunky addition to a meal.
If you've had chutney before, these Ploughman's Lunch chutneys aren't like the sweet, fruity chutneys often accompanying Indian food.
The flavor is a strong, more serious flavor and one that pairs well with the strong cheeses.
For a gluten-free Ploughman's Lunch I was able to order Heinz brand Ploughman's Pickle which a chutney perfect for this meal.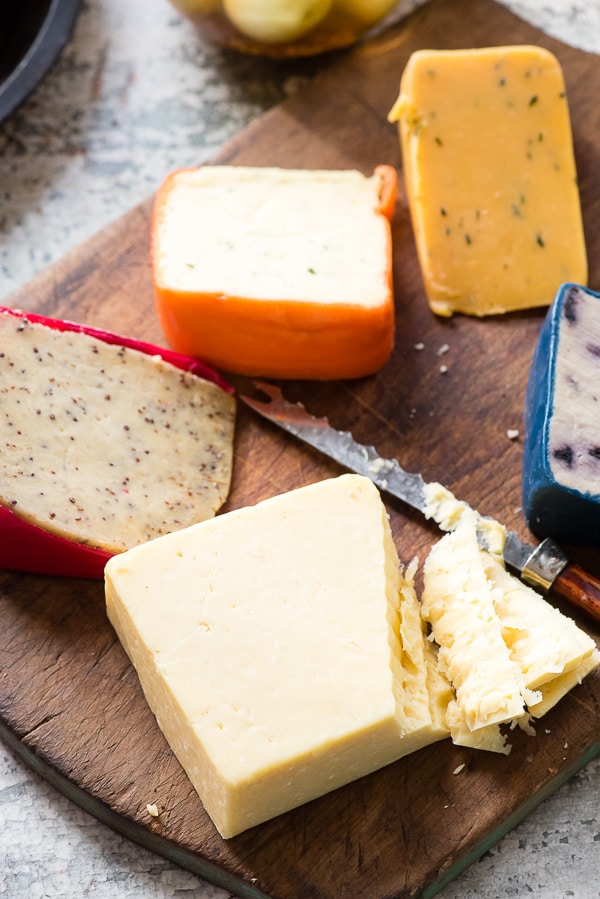 Cheeses for a Ploughman's Lunch
If you love strong cheese this will be great fun for you.
I hit up the cheese section of my local grocer and came home with:
Cheddar Red Dragon with mustard seeds
English Cheddar with Horseradish and parsley
a few types of aged English Cheddar
Stilton
Wensleydale (which always reminds of the Claymation movie 'Wallace and Gromit')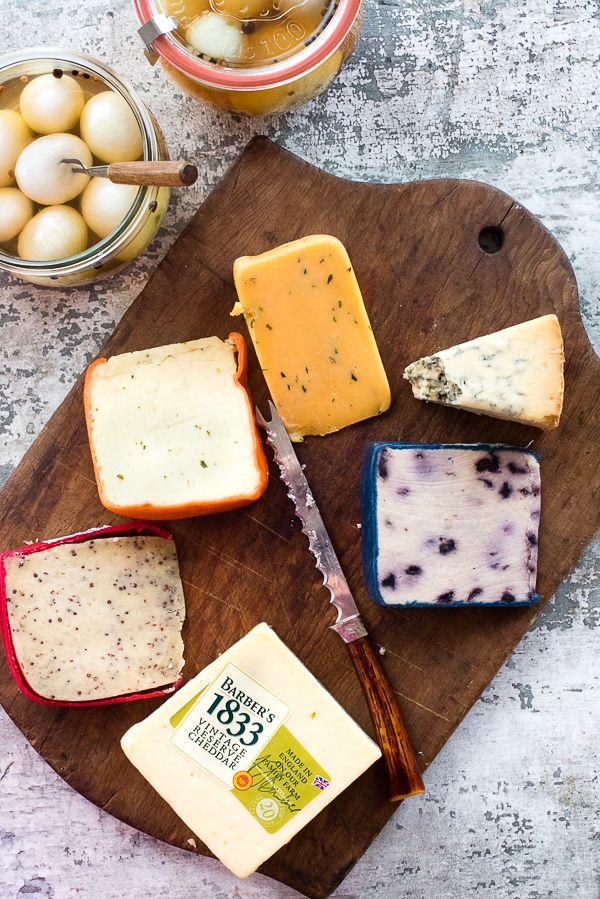 Tip for Finding Strong English Cheese
Often at larger markets the nationality of the cheese will be labeled but if not, ask the person manning the cheese counter and they can educate you on some great selections.
I'll come clean to say the versions of Wensleydale I selected, one with blueberries and one with cranberries, are not typical for this meal.
A straight-up Wensleydale would be more common (but really the creamy cheese with the bright fruit flavor is fantastic!).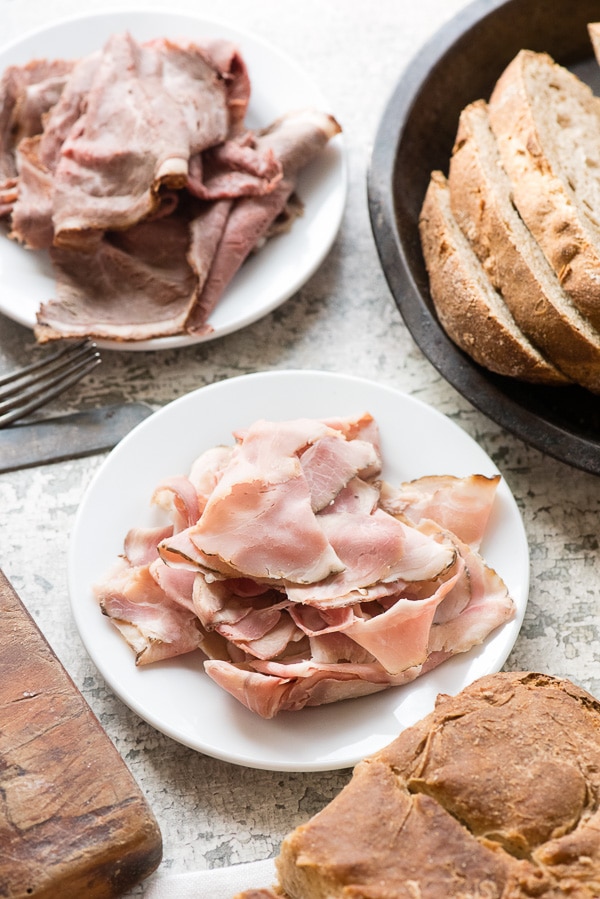 Is Meat Served with a Ploughman's Lunch?
There is debate about including of meat, usually ham.
For my Ploughman's Lunch I did add some smoked ham (it would more likely be served in a thicker cut) and some roast beef which always makes me think about England (served with Yorkshire Pudding).
Include a Good Ale (Gluten-Free Suggestion included)
A good ale should be included in a Ploughman's Lunch.
I added a gluten-free dark favorite of mine, Greene's Dubbel Dark Ale (it's actually Belgium but we gluten-free have to take our beer where we can find it).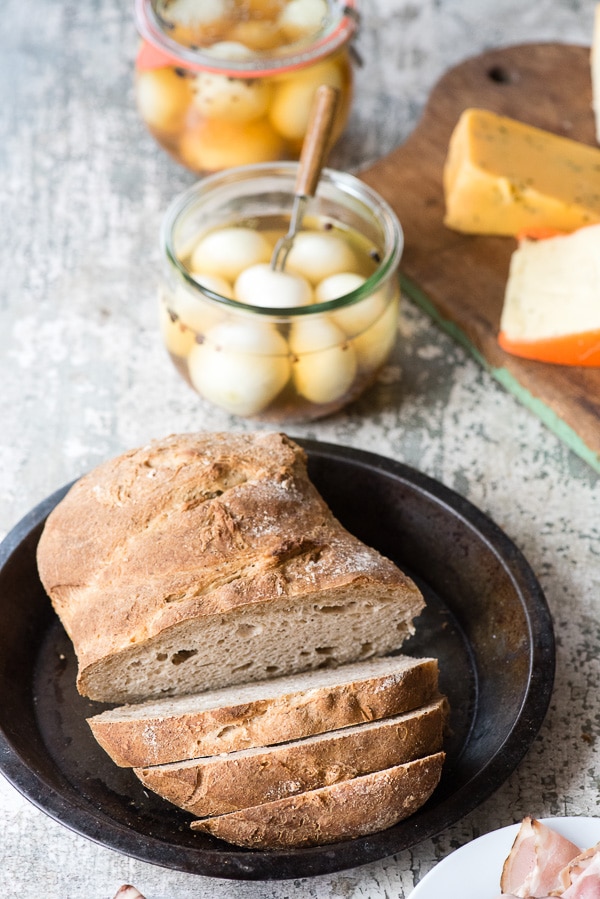 Crusty Bread for the Ploughman's Lunch
A rustic, crusty bread is perfect for the Ploughman's Lunch. If you are a baker and love the idea of pulling a fresh loaf out of the oven, here are some recipe ideas:
Bread recipes for regular (with gluten) bread
These recipes would make a great addition to a Ploughman's Lunch:
Bread recipes for gluten-free home bakers
Gluten-free bakers will enjoy any of these options below. We have a local gluten-free bakery that makes the peasant bread that was great.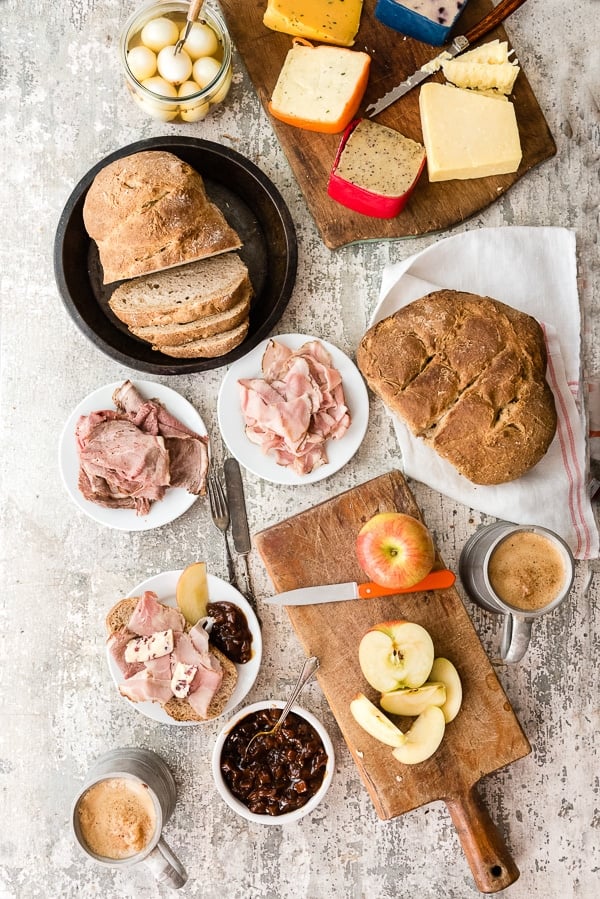 Serving the Ploughman's Lunch
Serve casually for diners to fill their plates as they wish. There are no rules to how to eat a Ploughman's Lunch; just that it must have cheese, bread and beer!
If you've tried this Ploughman's Lunch recipe please RATE THE RECIPE below!
SUBSCRIBE and FOLLOW ME on FACEBOOK , TWITTER , INSTAGRAM and PINTEREST !
Recipe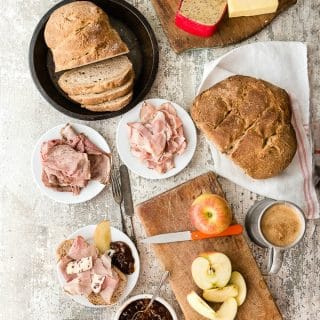 Ploughman's Lunch Recipe
The Ploughman's Lunch is not just for the working man. It's a celebration of good, simple food and the people we share it with. Easy to make gluten-free too.
Print
Save Recipe
Recipe Saved!
Pin
Rate
Servings:
4
dependent on quantity of ingredients
Ingredients
Crusty Bread

(refer to the blog post for recipe links if home baking)

Strong English Cheeses

(Stilton, Wensleydale, English Cheddar)

Sliced Apples

Chutney

Pickled Onions

Beer or Ale

(my favorite gluten-free ale is in the blog post)

Thickly sliced Ham

(I'd use Roast Beef as well)

Optional: Boiled or Pickled Eggs
Instructions
Serve casually on cutting boards and small plates.

Settle in for the afternoon and enjoy. Great for picnics too!
Nutrition
Calories:
157
kcal
|
Carbohydrates:
19
g
|
Protein:
5
g
|
Fat:
4
g
|
Saturated Fat:
2
g
|
Cholesterol:
11
mg
|
Sodium:
419
mg
|
Potassium:
127
mg
|
Fiber:
1
g
|
Sugar:
5
g
|
Vitamin A:
225
IU
|
Vitamin C:
2.7
mg
|
Calcium:
70
mg
|
Iron:
0.8
mg
Originally published: February 26, 2017