Snatch this vegetable up when you see it in stores because it has a short and sweet growing season!  Lemony Romanesco with Pine Nuts is a fast, easy recipe to enjoy this exotic appearing member of the broccoli and cauliflower family!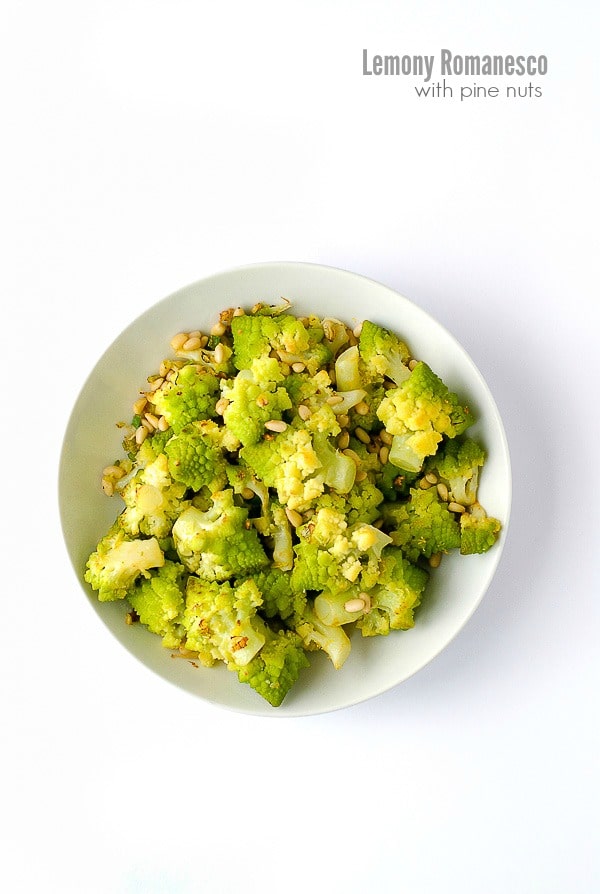 A trip through the produce department this past week signaled one of my very favorite vegetables is once again on the scene: Romanesco.  Each time I see it, this simple delicious recipe for Lemony Romanesco with Pine Nuts pops to mind so I've pulled it out of the Boulder Locavore archives, freshened it up for a new set of eyes to enjoy it!
Though we are still getting snow (after all it IS only March), spring is in the air.  In fact we've been enduring a roller coaster of thermal cycling over the last month between highs closer to early summer (up to 80 degrees) followed by the mercury plummeting into the 20's. Despite all this weather nonsense new produce is popping up signalling the change of seasons.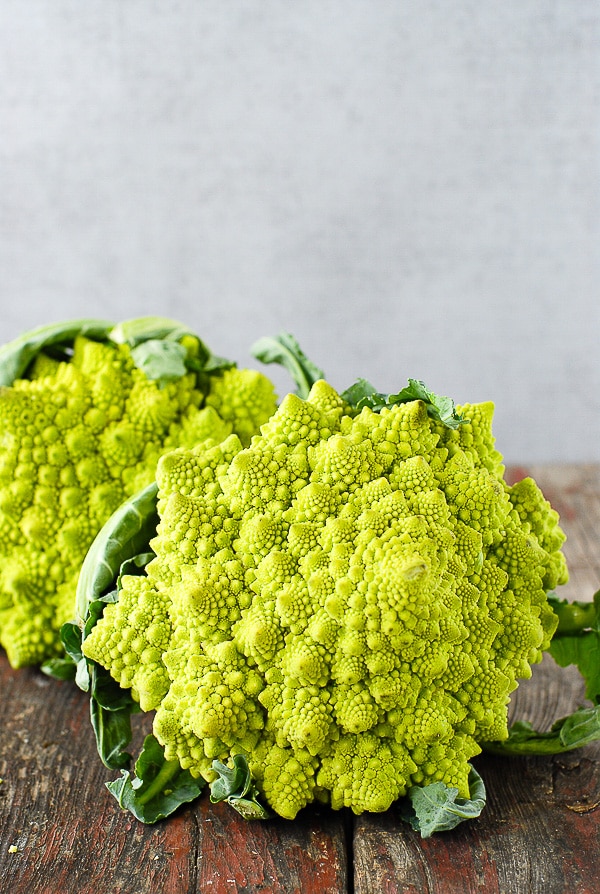 There is no more welcome sight for me than finding Romanesco.  There's no mistaking it as you can see from the photos.  It is a vegetable that stands alone in its outer space appearance and shocking chartreuse color.
Romanesco must be the most unique vegetable on the planet due to it's architecturally intriguing structure alone.  Also known as Broccoli Romanesco or Romanesque Cauliflower, Romanesco is part of the Brassica family which also includes Brussels sprouts, broccoli, cauliflower and cabbage.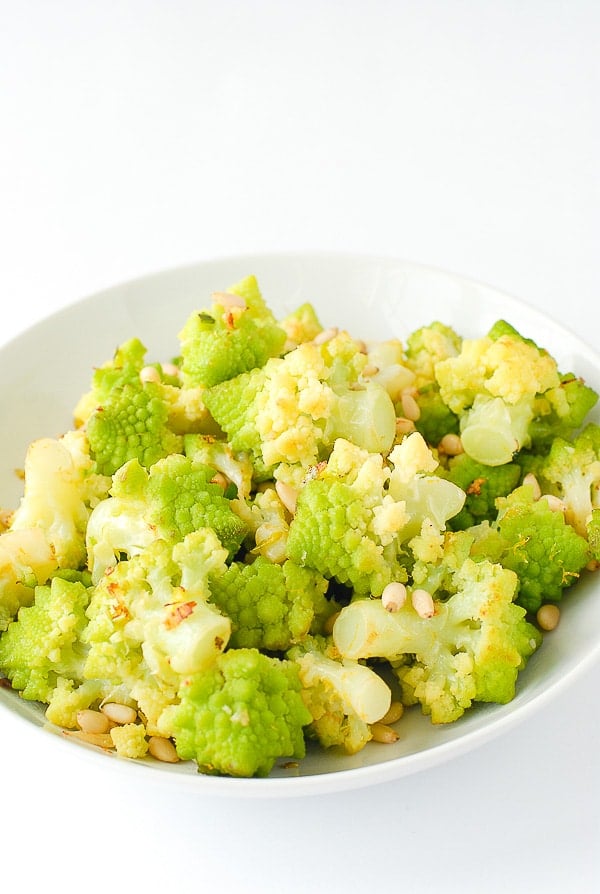 Though green, Romanesco is truly most like a cauliflower in its texture and gentle flavor.  Like both broccoli and cauliflower its bizarre fractal florets can be easily cut from the stem for quick and easy cooking.  It can be steamed and adorned with the lightest of seasonings for a perfect dish.  Lemony Romanesco with Pine Nuts is a tasty, easy recipe to enjoy its gorgeous flavor.
Generally Romanesco is in season from the fall through winter preferring a cooler temperature.  However as noted, they are everywhere right now I suspect from winter growing in more mild climates.  Romanesco don't tend to stick around long so snatch some up and enjoy this mild, sweet, exotic looking vegetable while you can!

I want to connect with you! Leave a comment and follow me on Facebook, Twitter, Pinterest & Instagram!

This delicious recipe was originally published in March 2014 and has been updated in 2017.