Whether celebrating Cinco de Mayo or changing up your home Happy Hour, Chile con Queso and Roasted Jalapeno Salsa are irresistible dips. Easy to make, they turn standard 'chips and dip' into a party!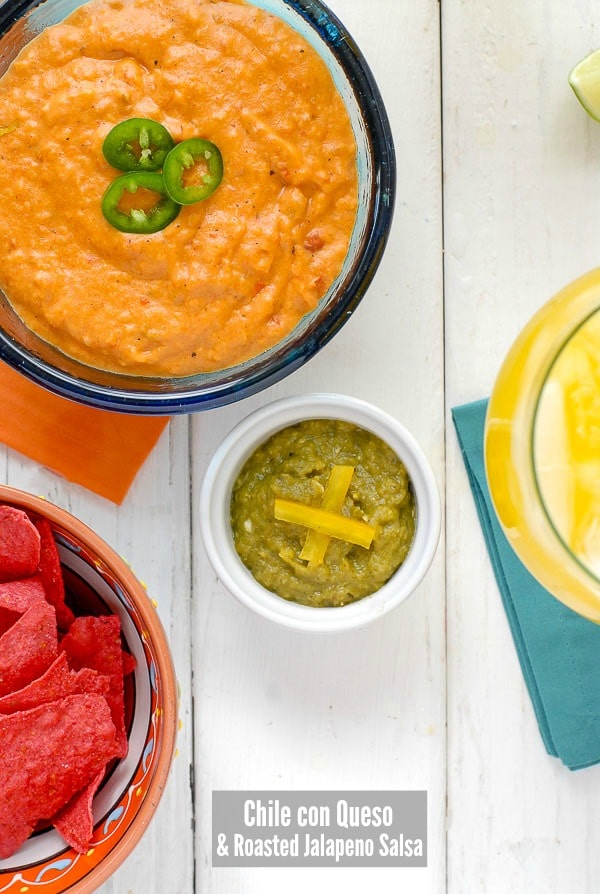 Originally posted in May 2013 and updated 2018
With Cinco de Mayo on the horizon, some great dipping options seem appropriate. Cheesy, spicy Chile con Queso and firey Roasted Jalapeno Salsa are two unique and tasty dips perfect for any occaision. They are delicious but something different than mainstream salsa.
Truth be told, I fell in love with Mexican food at a young age and it has remained one of my favorite cuisines. I'd happily eat something made with Mexican flavors of chiles, cumin, cayenne, epazote, or chipotle for any meal of the day at any time of the year!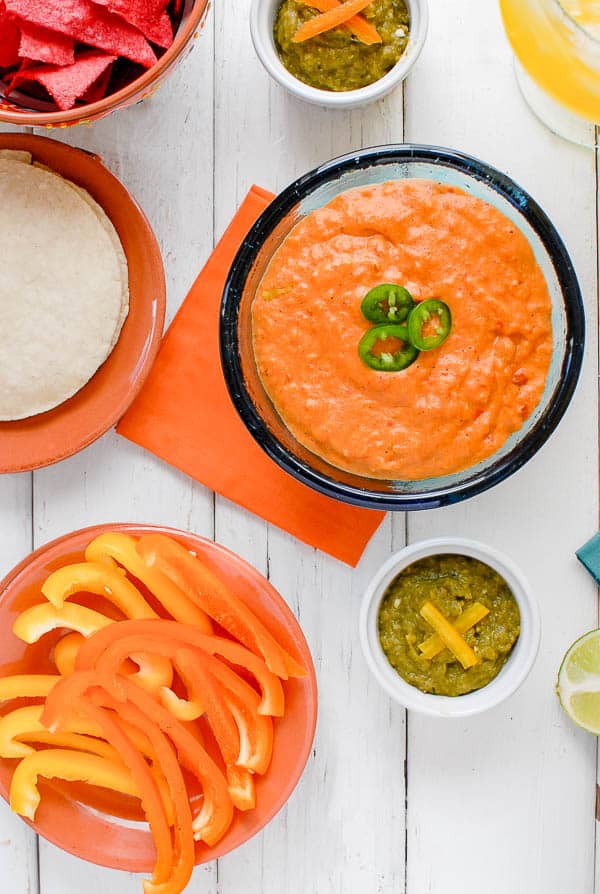 Though we do not celebrate Cinco de Mayo as a true holiday, we never miss the chance to whip up some of our favoritre home recipes and to raise a margarita in a toast.
Whether celebrating the holiday or getting together with friends any time, dips are a great appetizer option. They are easy and simple to make, and quick too. Chile con Queso and Roasted Jalapeno Salsa aren't things most people make so they add a special and truly mouthwatering option to your dipping.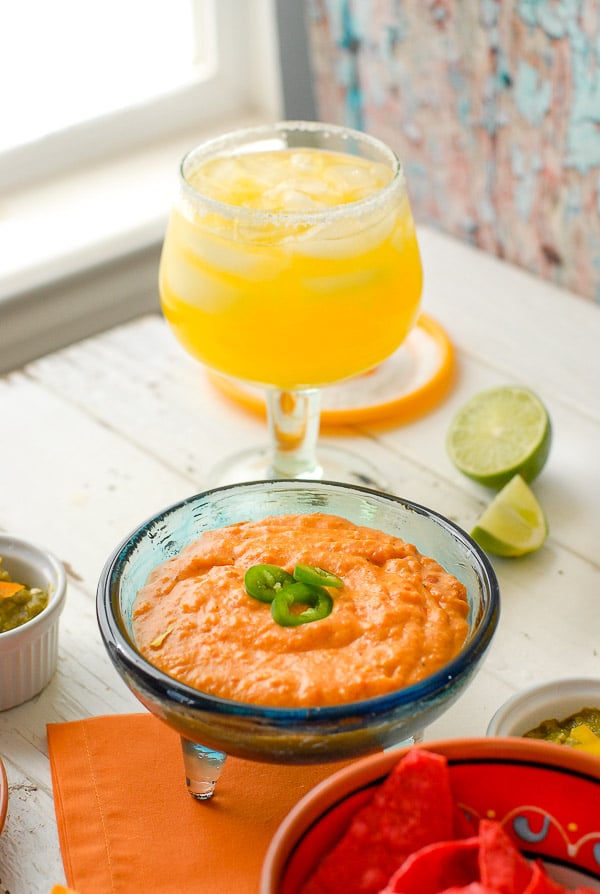 Chile con Queso
Chile con Queso (translated 'chile and cheese') is a rich dip of tomatoes, cheese and chiles in a creamy base. A combination of cream cheese, fire roasted canned tomatoes, green chilies, Mexican cheese blend, onion and hot pepper sauce, blend together for a thick irresistible dip. It can be pureed to a smooth texture or I prefer mine blended with an immersion blender leaving it 'roughly smooth', not chunky but not perfectly smooth either.
Healthier Dipping TIP: Though tortilla chips are a Mexican food staple for dipping, cut sturdy vegetables such as bell pepper or jicama make a fantastic dipper too.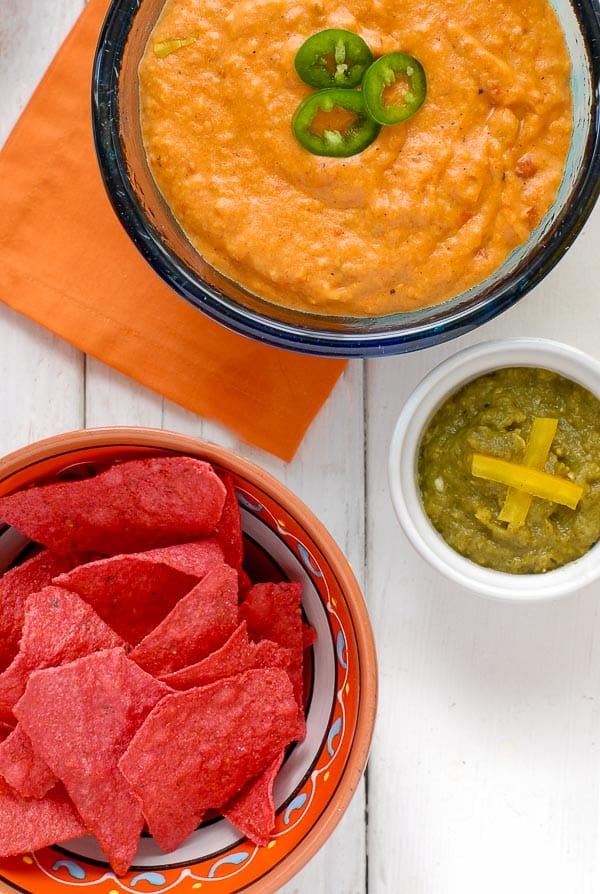 Roasted Jalapeno Salsa
I first tasted Roasted Jalapeno Salsa at a local El Salvadorian restaurant that was our neighborhood 'go to'. They served chips and a variety of salsas to start a meal.
I had been fascinated with a smooth muted green sauce that was included with the salsas, never able to fully pinpoint the flavors. It also had a wonderful heat profile in that it takes about three seconds after eating to feel the heat building.
I finally asked about it and learned it's a jalapeno salsa. Our server described how they made it and I decided to try to make it at home. I was so glad I did as it has become a favorite.
The salsa is very basic with only four ingredients but truly is unlike any other I've tried. The combination of the roasted jalapenos and garlic are sublime. It's bursting with big flavor and heat! It would be fantastic on grilled chicken or fish too.
CAUTION WHEN HANDLING HOT PEPPERS: be sure to wash hands thoroughly after handling hot pepper and do not touch any mucus membranes before washing hands to avoid skin irritation.
SUGGESTED DRINK PAIRING: Peach Margaritas or a Peach Spritzer (non-alcoholic)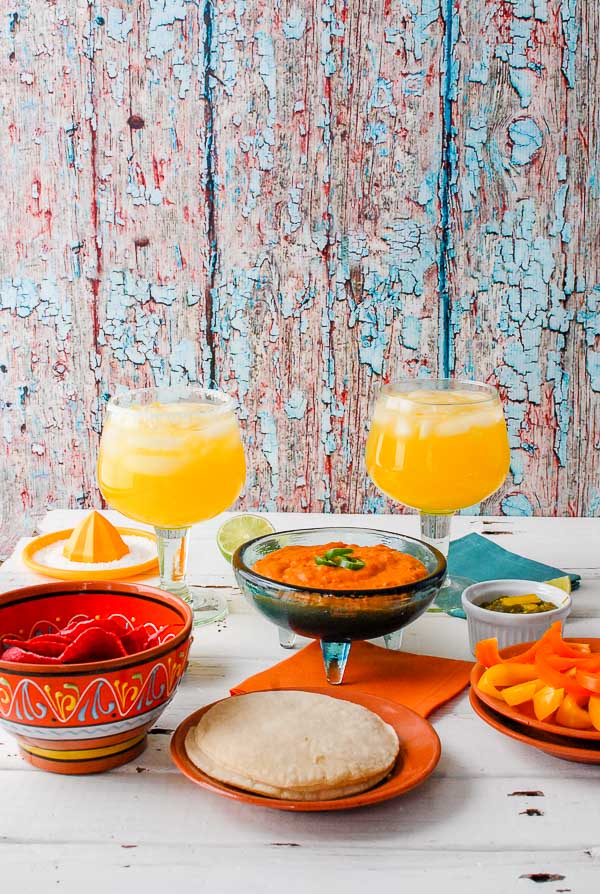 SUGGESTED SUPPLIES FOR MAKING CHILE CON QUESO AND ROASTED JALAPENO SALSA
Most supplies for these recipes are kitchen staples.
Chile con Queso: large heavy saucepan, immersion blender or regular blender, mini crock pot to keep the dip warm and fluide if serving at a party
Roasted Jalapeno Dip: baking sheet, zipper plastic bags, mini chopper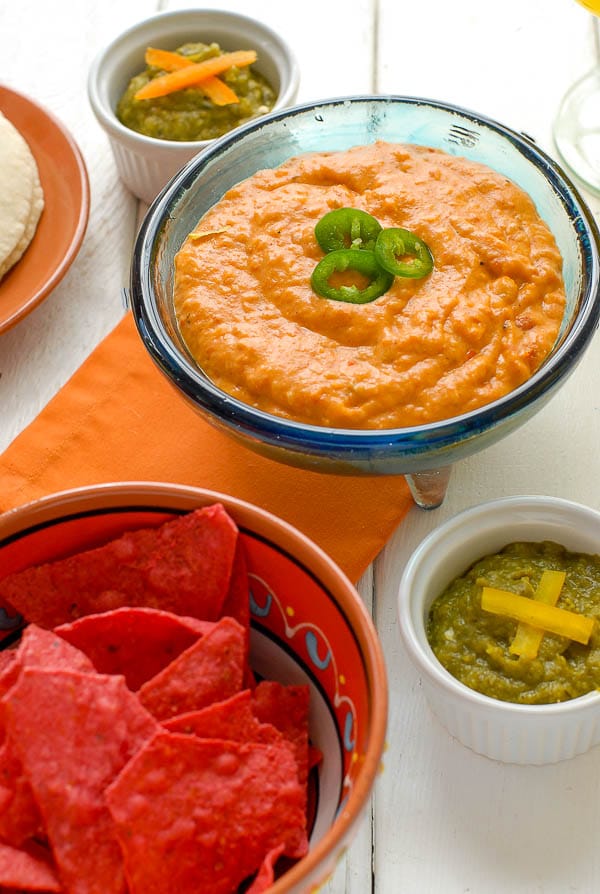 If you've tried this Chile con Queso or Roasted Jalapeno Salsa recipe or any other recipe on BoulderLocavore.com please don't forget to rate the recipe and let me know where you found it in the comments below, I love hearing from you!
Please SUBSCRIBE and FOLLOW ME on FACEBOOK, TWITTER, INSTAGRAM and PINTERST to see more delicious food, travel and what I'm up to!
How to make Chile con Queso and Roasted Jalapeno Salsa – Step by Step: