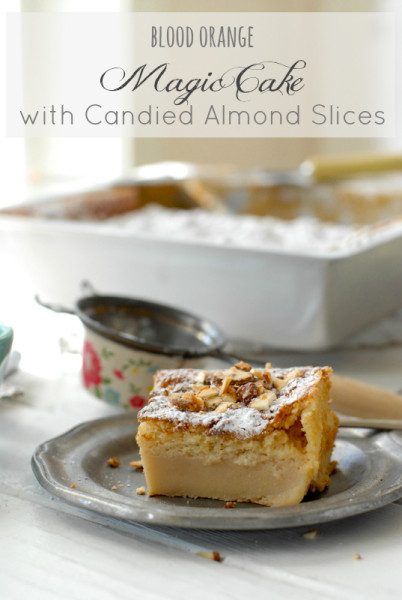 Have you ever heard of 'Magic Cake'? Chances are if you are not a food blogger you haven't. And probably uttered a little gasp of enchantment when reading the name.
If you ARE a food blogger, you will be rolling your eyes and saying 'her too?!' I'd venture to say it's a Cake-Gone-Viral on social media and food blogs. Normally I'd head the other direction when something begins to be mass replicated, always striving not to do what everyone else is doing. However I have a penchant for whimsy, am a sucker for a good recipe name (Hummingbird Cake for instance) and love anything that transforms itself while baking (early Easy Bake Oven memories I suppose). And despite reading 'all the cool kids are making it' (a very funny blog post featuring a hazelnut version of the recipe from local food blogger Donna Currie) I became feverish to find the source of such a charming notion of a dessert, wanting the real original scoop.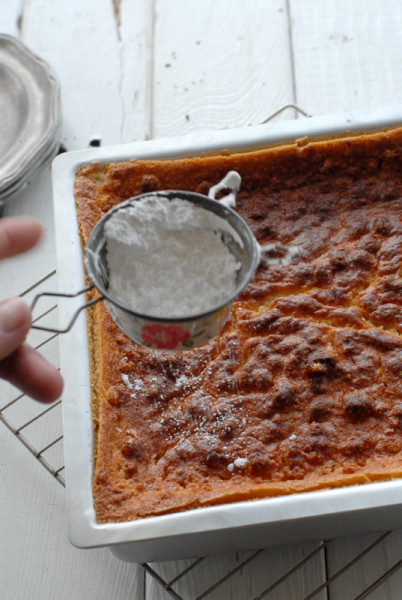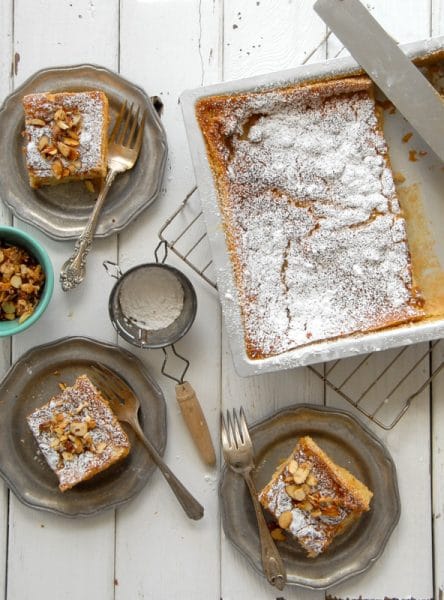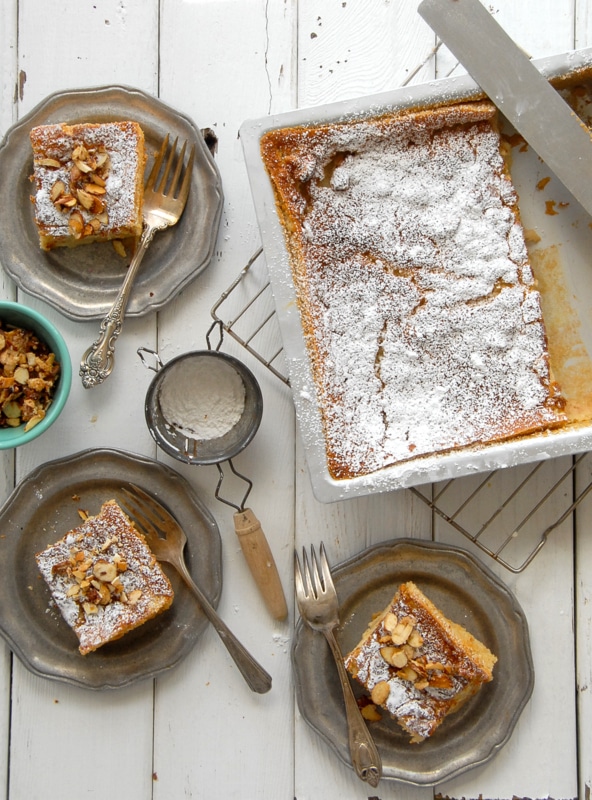 As background I spend a fair part of my day flitting on social media. It's part of the blogging craft and in the process many fantastic recipe dishes pass by me. I began to see Magic Cake in my peripheral vision over the past month. For non-social media readers, think of it like driving down the highway and a lemon yellow vintage VW Beetle in pristine condition passes by. There is a vague recognition but no conscious mental registration of it. Then over the next days and weeks there are more….and more of them. To the point you go out in the morning anticipating the next one and decide you must own one or you'll die. That's Magic Cake for me.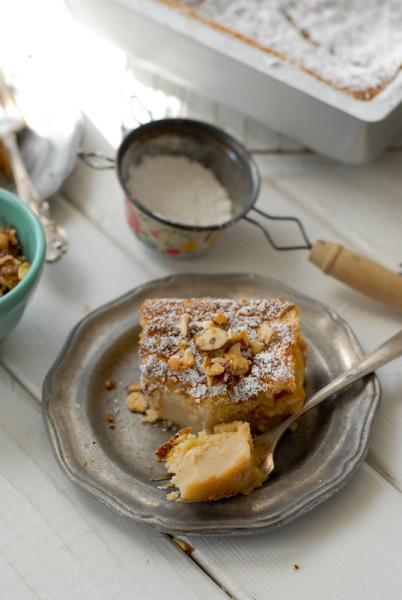 'Tarta Magica' is the seeming invention of Mabel Mendez, who writes the Spanish blog 'Pasteles de Colores'. I traced the recipe back to her and watched with rapt attention the video she made, all in Spanish (written words, no speaking), of a funky looking watery batter that emerged from her oven in three distinct layers of a crust, custard middle and light top layer. It reminded me of a family recipe my mother and Grandmother made for Lemon Custard with a Pillow Top or Parfaits by Jello that would miraculously separate into three layers while tucked away in the fridge. Loving when science and cooking meet, I decided to endeavor my own spin on Magic Cake of course making it gluten free.
When I am making recipes I tend not to look around much on the internet before making them. I like to keep my mind open for ideas and not be influenced by other's renditions. After making my version though I did some Googling to find I was not alone in my adoration of this recipe, as well as at least three of the bloggers who had made the recipe, came back with a second and even third version; and I completely get it. This recipe is simple with most of the key ingredients being something you have in your refrigerator as you read this. It's easy to change up with flavors that inspire you. It has that 'Christmas Morning' effect once it has cooled and one observes the lumpy, watery batter has magically transformed into an elegant surprise of a dessert. The dessert is not like any other cake in that it's light, more a cross between a bar and a cake and is not hugely sweet. Once cooled it has the gentle flavor of citrus and an oh-so-light hint of pink in the custard from the blood oranges.
At its core Magic Cake is beguiling. And don't we all want a bit more of that in our day?!
Recipe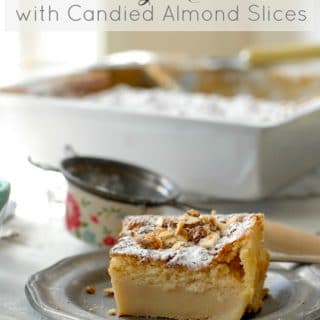 Blood Orange Magic Cake with Candied Almond Slices
It's not the simplicity of making this cake that calls for it's name but that once in the oven it magically transforms into three distinct layer; a thin crust, custard and a light top. Lightly sweet and flavored with blood oranges it's a fanciful dessert for any occaision.
Print
Save Recipe
Recipe Saved!
Pin
Rate
Ingredients
Ingredients for Blood Orange Magic Cake:
1 ½

cups

milk

, lukewarm

½

cup

Half and Half

, lukewarm

1

stick unsalted butter

, melted and cooled (cannot be hot) (plus some unmelted butter for preparing the pan)

1 ½

cups

Confectioners' Sugar

(plus some for dusting the top of the finished cake)

4

Eggs

, room temperature and separated

1/8

teaspoon

White Distilled Vinegar

½

cup

freshly squeezed Blood Orange juice

(about 4 medium oranges)

1

cup

gluten free flour

(I used a combo of Pamela's and King Arthur's all purpose GF flour blends)
ingredients for Candied Almond slices:
¼

cup

granulated Sugar

½

cup

sliced Almonds
Instructions
Instructions for Blood Orange Magic Cake:
To warm milk: combine milk and ½, place in microwave container and warm in 15 second increments until luke warm (took about 1 minute for me)

Preheat oven to 325 degrees. Butter an 8x8 baking pan and set aside.

Combine room temperature egg whites and distilled white vinegar and whip eggs with a mixer on the highest speed until forming stiff peaks. Set aside (note the vinegar helps stabilize the peaks which is a key to success especially at high altitude).

In a second bowl, mix together the egg yolks and sugar until fully combined and sunny yellow! Add melted butter and blood orange juice; mix on low speed until the mixture is fully combined.

Add the flour very gradually to the batter while mixing to allow the flour to integrated with the rest of the batter.

While keeping the mixer running on low speed, trickle the milk/Half and Half mixture into the batter allowing it to incorporate with the batter. By trickling the milk it has time to mix in easily. Note: by the end the batter will be very watery and should be so.

By hand, fold in egg whites one fourth at a time, stirring to combine with the liquidy batter. There will be small lumps of egg white in the end and the batter will still be fairly liquid.

Pour into the prepared pan and place in the preheated oven for 50-55 minutes. The cake will have a browned top but may seem to have some movement when removing it from the oven which is normal.

Allow to cool on a cooling rack for 30 minutes, then cover with foil (shiny side out) and place in the refrigerator for at least an hour. Cut, sprinkle with candied almond slices and serve!
Instructions for Candied Almond slices:
Line a baking sheet with parchment or wax paper.

In a large skillet over medium-high heat combine the sliced almonds and sugar. Stir constantly so as the sugar begins to melt it does not burn. Sugar will melt and being to caramelize; approximately 5 minutes

When sugar is has begun to melt/caramelize, remove the sugared almonds and spread them out on the prepared pan attempting to make one layer. Allow to harden, break apart and serve on Magic Cake.
Notes
*The original recipe called for three hours cooling time at room temperature. I found allowing the cake to rest until it reached room temperature (about 30 minutes) then putting it in the refrigerator for at least an hour worked just as well. The marjority of the 'total time' is for cooling and baking.
Nutrition
Calories:
255
kcal
|
Carbohydrates:
40
g
|
Protein:
6
g
|
Fat:
8
g
|
Saturated Fat:
2
g
|
Cholesterol:
82
mg
|
Sodium:
51
mg
|
Potassium:
168
mg
|
Fiber:
2
g
|
Sugar:
29
g
|
Vitamin A:
245
IU
|
Vitamin C:
7
mg
|
Calcium:
97
mg
|
Iron:
1.1
mg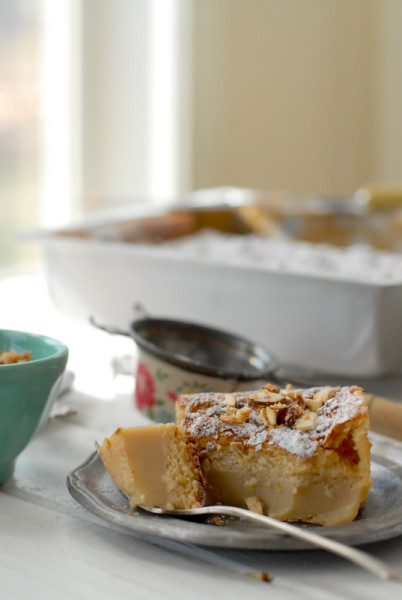 Other versions of Magic Cake to check out:
Mabel's Mendez's Chocolate Magic Cake {Pasteles de Colores}
Magic Custard Cake {White on Rice}
Chocolate Magic Custard Cake {White on Rice}
Peanut Butter Magic Cake {Cookistry}
Nutella Magic Cake {Kirbie's Cravings}