Kung Pao Chicken is loaded with tender, spicy chicken stir-fried with red chilies and peanuts in a show stopping sauce. It's a Chinese takeout dish that's fast and easy made at home!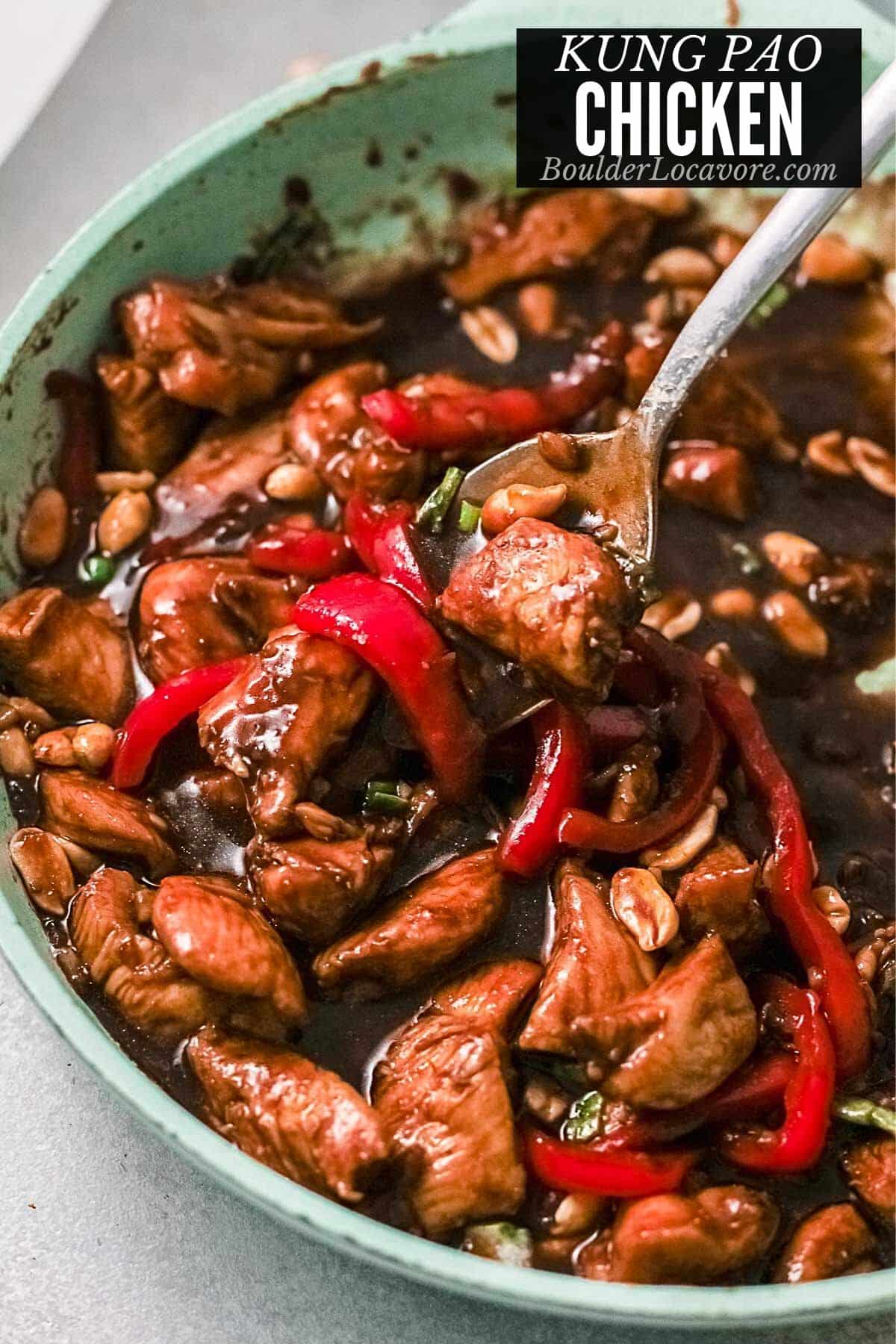 The only thing better than take out is realizing how easy it is to make at home!
Stir Fry recipes are fast and flavorful. And this Kung Pao Chicken is no exception.
Perfect solo over rice or pair it with other favorite dishes like Cashew Chicken, Mongolian Beef and Singapore Street Noodles for a full home buffet meal.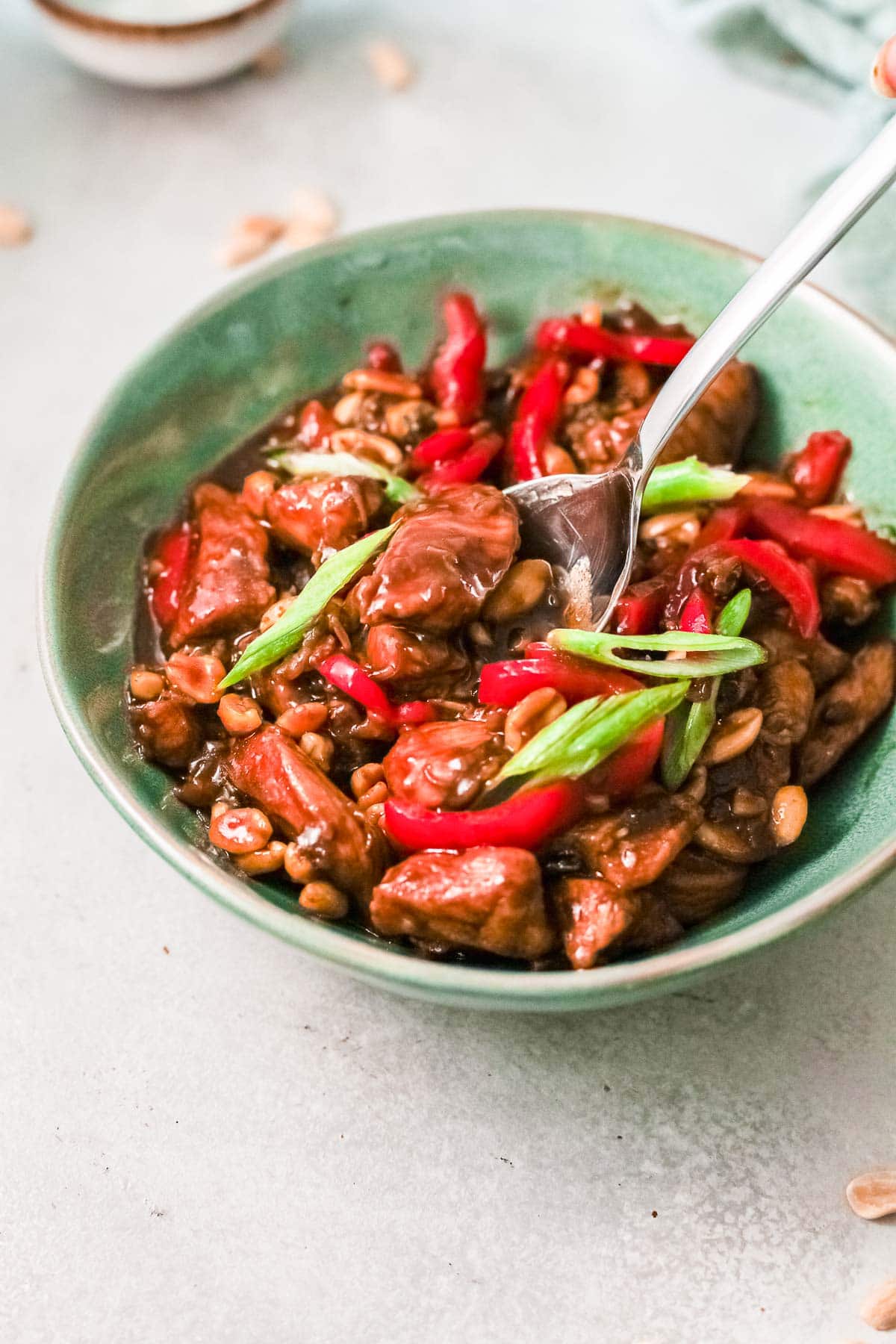 What is Kung Pao Chicken?
You've probably enjoyed Kung Pao Chicken at your favorite local Chinese restaurant.
It's that delicious chicken dish with peanuts in a spicy sauce.
Kung Pao Chicken originates in the Sichuan region of China. It's a staple menu item at Chinese restaurants in the United States.
The Chinese name for this meal is 宫保鸡丁 (Gong Bao Ji Ding). You may see it called Kung Pow and Kung Po too.
What does Kung Pao Chicken taste like?
If you haven't tasted it you are in for a treat!
The Kung Pao sauce is the star combining sweet, salty, tangy and spicy flavors.
The chicken is moist and tender with peanuts adding a crunch in every bite.
The heat from the peppers and the salty-sweet sauce make this Kung Pao Chicken is absolutely delicious. Serve over rice for a complete meal.
Our recipe recreates all the flavors you love from the restaurant version.
We've taken guidance from our Chinese friends who make this dish to create an authentic Kung Pao Chicken recipe.
And one made (hopefully) easy for American home cooks too.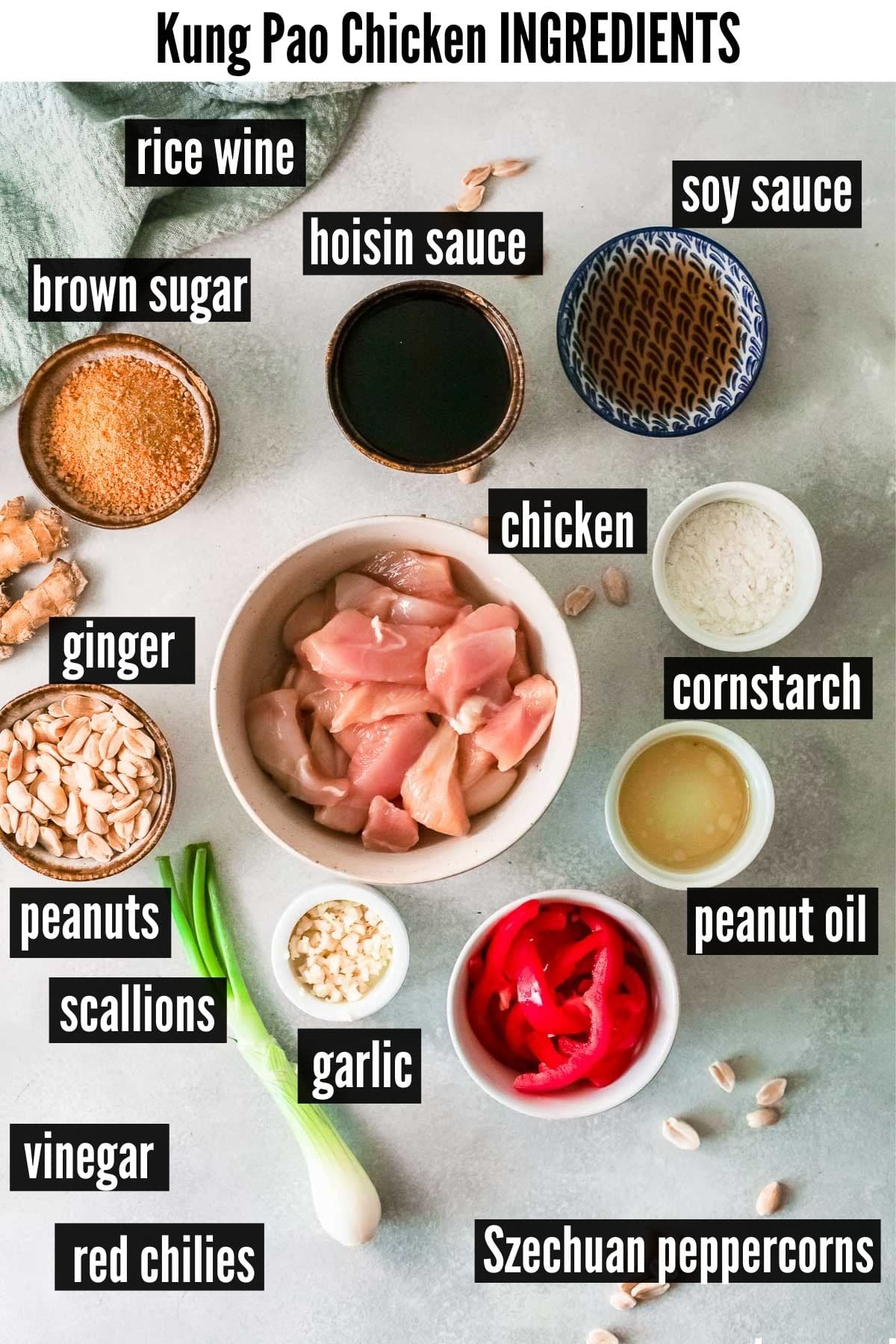 Recipe Ingredients + Notes
Boneless skinless chicken breasts or thighs. Boneless skinless chicken breasts or thighs can be used. Thighs will take a minute or two longer to cook.
Cornstarch. Some will be used in the marinade to tenderize the chicken and some in the sauce for thickening.
Chinese cooking rice wine. If you can't find it substitute dry sherry or Mirin which is also a rice cooking wine (its a bit sweeter than Chinese cooking wine but not much is used). Widely available in the Asian grocery section.
Soy sauce. Regular or gluten-free soy sauce (Tamari) can be used. It's used both in the marinade and sauce.
Hoisin Sauce. Regular or gluten-free can be used in the sauce.
Chinese black vinegar. A very small amount is used. If you don't have it already or can't find it substitute balsamic vinegar.
Light Brown Sugar. Adds a sweet flavor note to the sauce.
Crushed Szechuan peppercorns (aka Szechuan pepper or Sichuan peppercorns). This ingredient is classic and makes the Kung Pao Chicken authentic.
These little peppercorns are citrusy tasting with a signature mouth-numbing tingly heat unlike the spiciness from the red chili peppers (only a few are needed).
They can be purchased at Asian markets or online on Amazon. To substitute use a combination of black pepper and coriander seed.
Peanut oil. This oil is used specifically for flavor but also because it has a high smoke point meaning it can cook over high heat without smoking.
Another high smoke point oil like Safflower oil or Sunflower oil can be used.
Dried red chilies. These should be small dried Asian chilies (not dried Mexican chilies). Look for them in the Asian cooking section of the grocery store or at a dedicated Asian supermarket.
If you can't find dried Asian chilies, use dried Thai chilies or Birds Eye Chilies. These are smaller but also hot.
Garlic. Fresh garlic is a signature flavor in Kung Pao Chicken.
Ginger. Fresh ginger is also a classic stir fry ingredient.
Scallions (green onions). Each the white and green portions are used. The white goes into the stir fry directly. The green is used as garnish.
Unsalted roasted peanuts. These are stirred in toward the end of the recipe and are a signature ingredient in Kung Pao Chicken.
Optional Ingredient
Sliced red bell pepper. This is not traditional to Kung Pao chicken but adds some color to the recipe which otherwise is all the same color.
If using the bell pepper it can be added after the chicken is cooked to cook just a few minutes.
A Note on using Dried Red Peppers
Don't let the size of the dried chili peppers fool you! They are hot!
Cooking them with the oil releases their flavor and spicy heat into the oil so all the other ingredients will be infused.
This is a case where more is not better. Don't use more than 6-8 of the peppers.
Some people slice or crush them, I do not recommend that.
It's easier to find and remove them when someone is eating if they are whole. They are only an inch long. Small but fierce.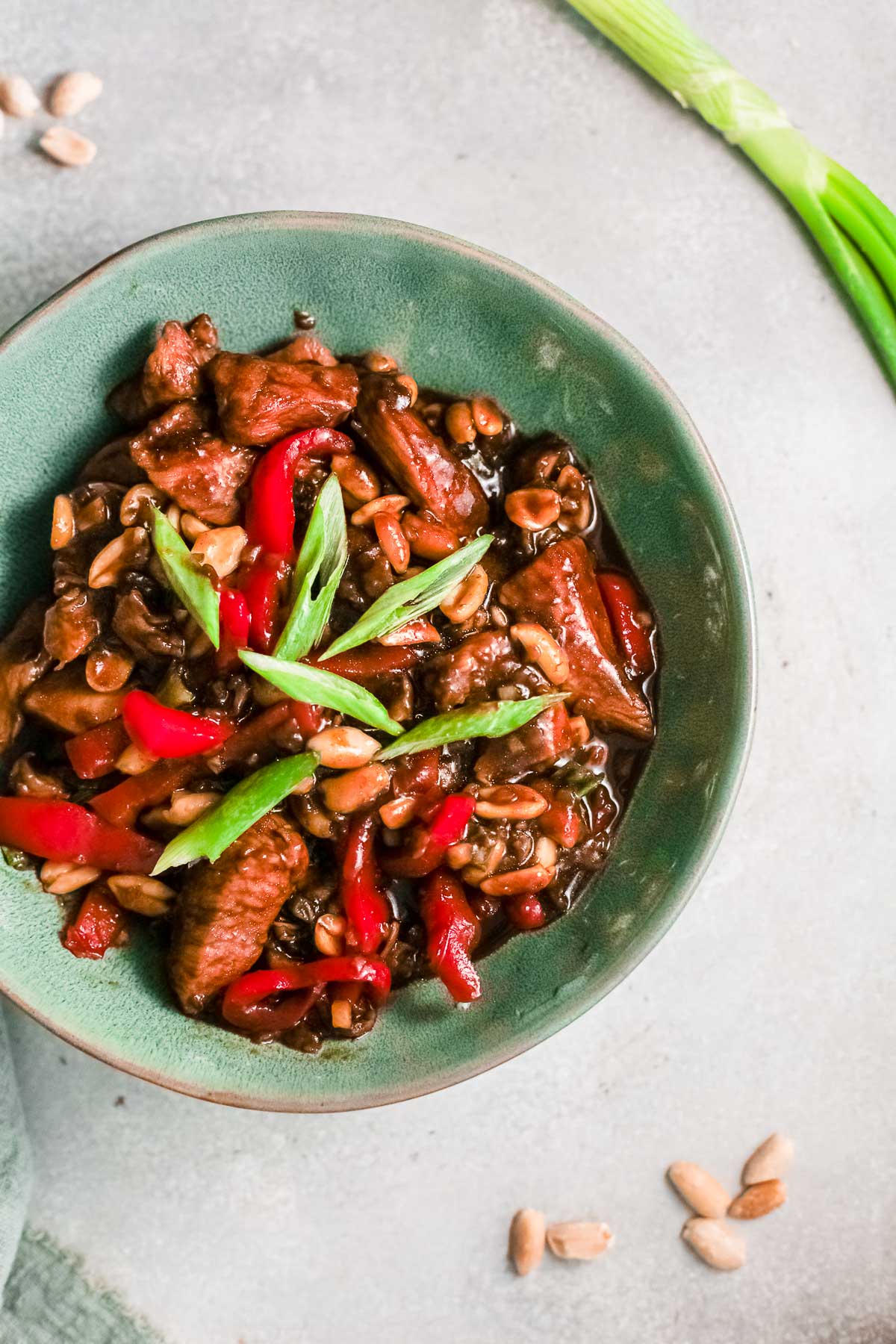 How to Make it – Step-by-Step
Before you start cooking this Kung Pao Chicken recipe, have all your ingredients ready to go.
Stir-fry is a lighting quick cooking method. There's no time to prep as you go.
STEP 1. Marinate the chicken
Stir together 1 tablespoon each of soy sauce, cornstarch and rice wine. Coat the chicken pieces completely in the sauce.
Let it sit in the sauce at room temperature for 15 minutes (photo 1).
STEP 2. Make the sauce
In a separate bowl mix together the sauce ingredients (photo 2 and 3). Whisk together until the cornstarch and sugar are dissolved.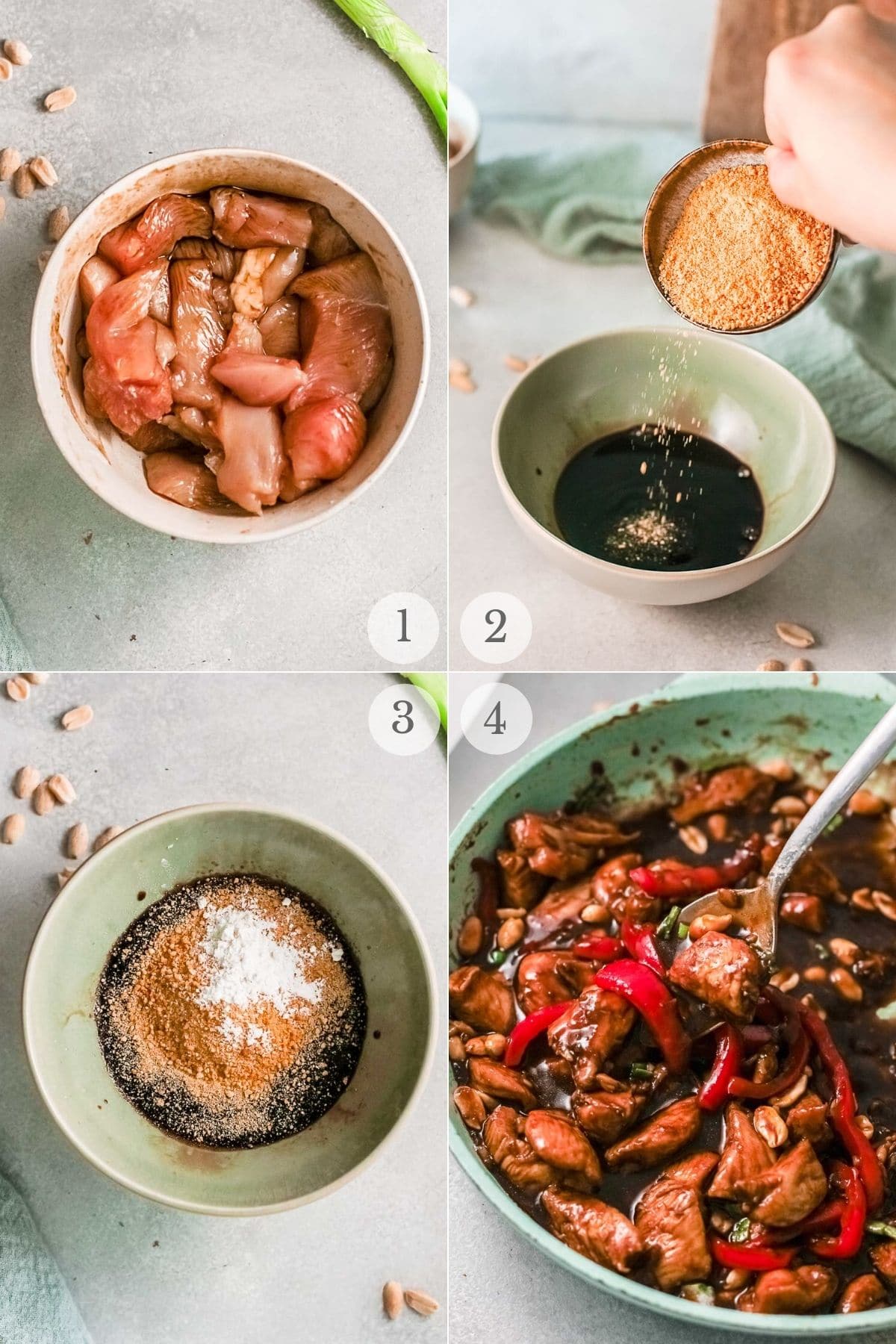 STEP 3. Make the Kung Pao Chicken
Heat a wok or large skillet over high heat and turn on the kitchen exhaust fan.
Pour the peanut oil into the wok.
Toss in the dried chilies to the hot oil and cook for 30 seconds.
Add the ginger, garlic and the white part of the scallions and cook for 30 seconds.
Add the chicken and marinade into the pan.
Cook the chicken until no pink is showing (4 -5 minutes) stirring periodically.
The chicken will be about 80% cooked and will finish cooking through the remaining steps.
If you're using the red bell pepper, add it now.
Add the sauce to the wok and stir. Toss in the peanuts and cook another 1 -2 minutes (photo 4).
How to Serve it
Kung Pao Chicken is perfect served over white rice and garnished with green scallions.
It's also delicious over brown rice or other grains like quinoa for a healthier twist. (Not authentic, but still delicious.)
If you can't get enough spice, serve the chicken with some chili garlic sauce on the side.
Recipe FAQ's + Pro Tips
Have all the ingredients assembled and prepared before you start cooking. Stir Fry recipes cook very quickly. All ingredients need to be prepped before beginning and close to the stove.
Make sure the sauce, chicken and other ingredients are an arm's length from the wok for easy reach.
Can this recipe be made without the Szechuan peppers?
A link for buying them online is included in the Recipe Ingredient section above. However if you need to substitute, use a combination of black pepper and coriander seeds.
Szechuan peppers is a key ingredient when making authentic Kung Pao Chicken.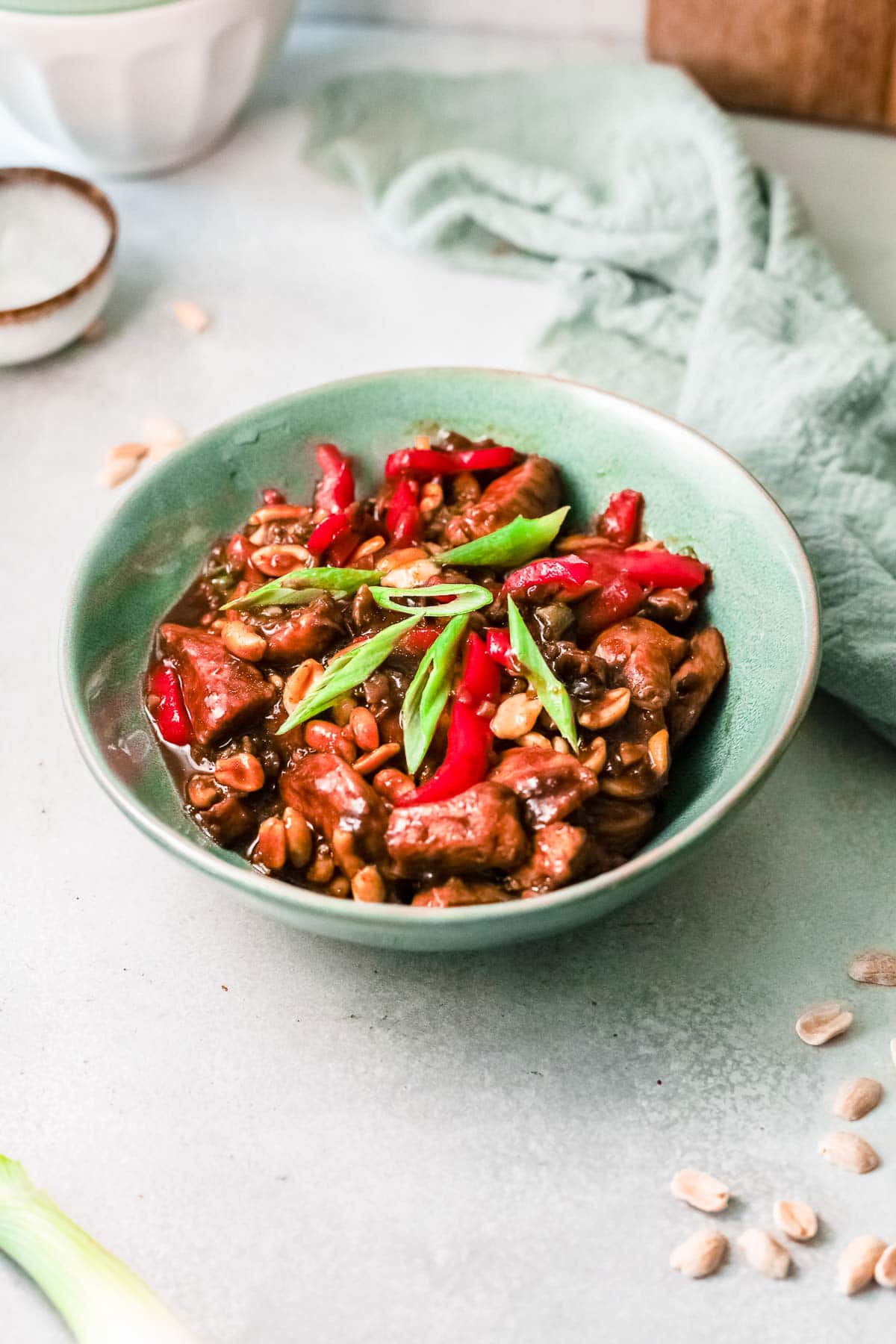 Storing Leftovers
Leftover Kung Pao Chicken should be stored in an airtight container in the refrigerator. Enjoy within 2 -3 days.
Can you freeze Kung Pao Chicken?
Yes, if you want to store leftovers longer, freezing is a great option. Let the chicken cool, then transfer to freezer bags. It'll keep well in the freezer for 2 months.
When ready to enjoy, let the frozen Kung Pao Chicken thaw in the fridge overnight. Rewarm on the stove top or in the microwave.
More Recipes You'll Love!
Did you make it? Please RATE THE RECIPE below!
Please SUBSCRIBE and FOLLOW ME on FACEBOOK , TWITTER , INSTAGRAM and PINTEREST !