Cotton Candy Rice Krispie Treats are pretty in pink! Like the classic treat version, this rice krispie treats variation is soft, sweet and always a hit with all ages!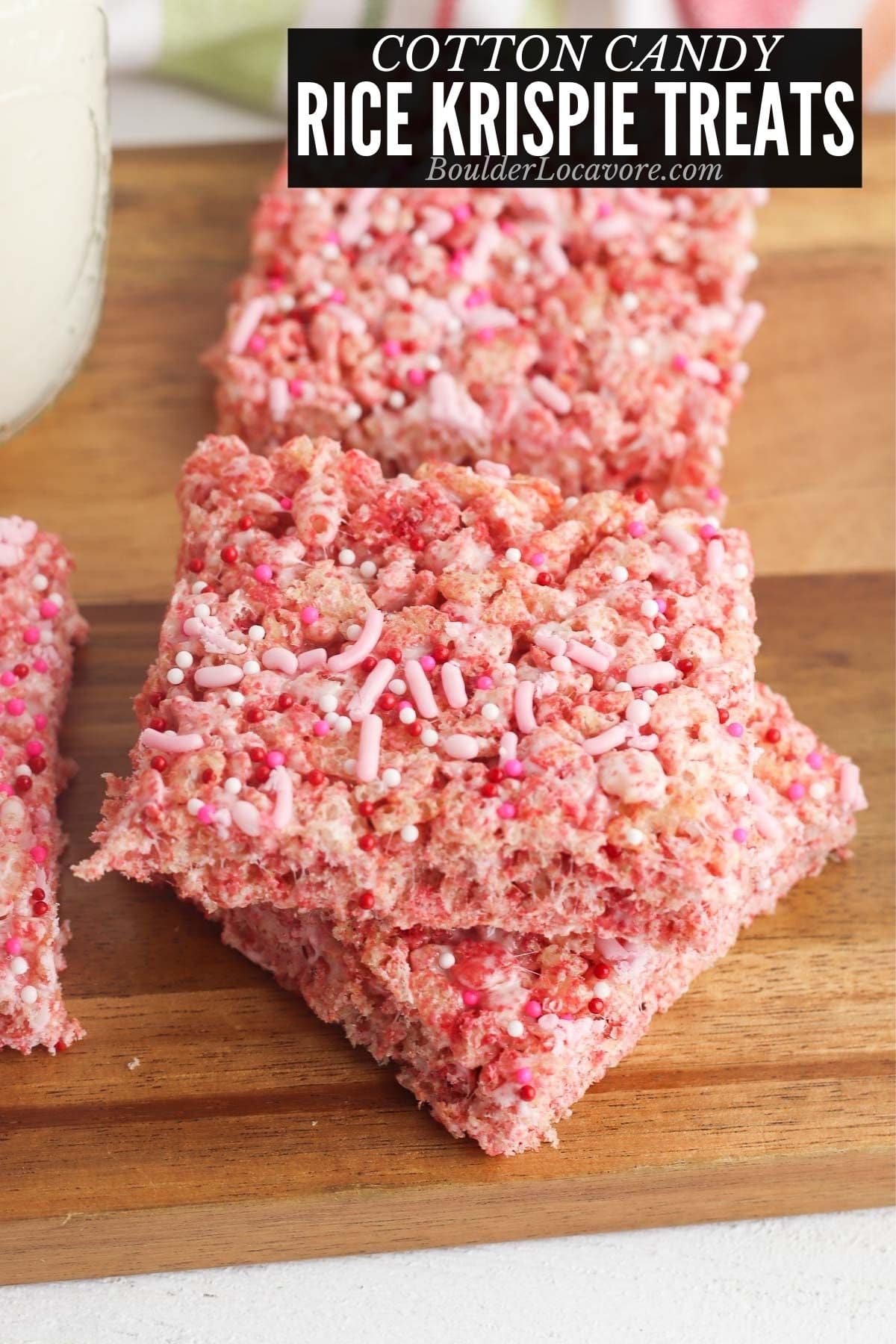 You're never too old for Rice Krispie Treats. And cotton candy feels like a celebration.
We combined the two for these chewy, buttery dessert treats you'll love!
Fun to make and even more fun to eat!
Don't miss these Brown Butter Rice Krispie treats or Fruity Cereal Treats for Easter too.
Cotton Candy Rice Krispie Treats
When you need to make a special treat, Rice Krispie Treats are always a win.
Changing them up is half the fun.
Pink cotton candy is the star ingredient in this variation of rice krispie treats.
Cut into one of these bars and you'll see sticky pink marshmallow ribbons in every bite.
Sprinkles on top always feel like party is going to happen.
Easy, delicious and no baking time required!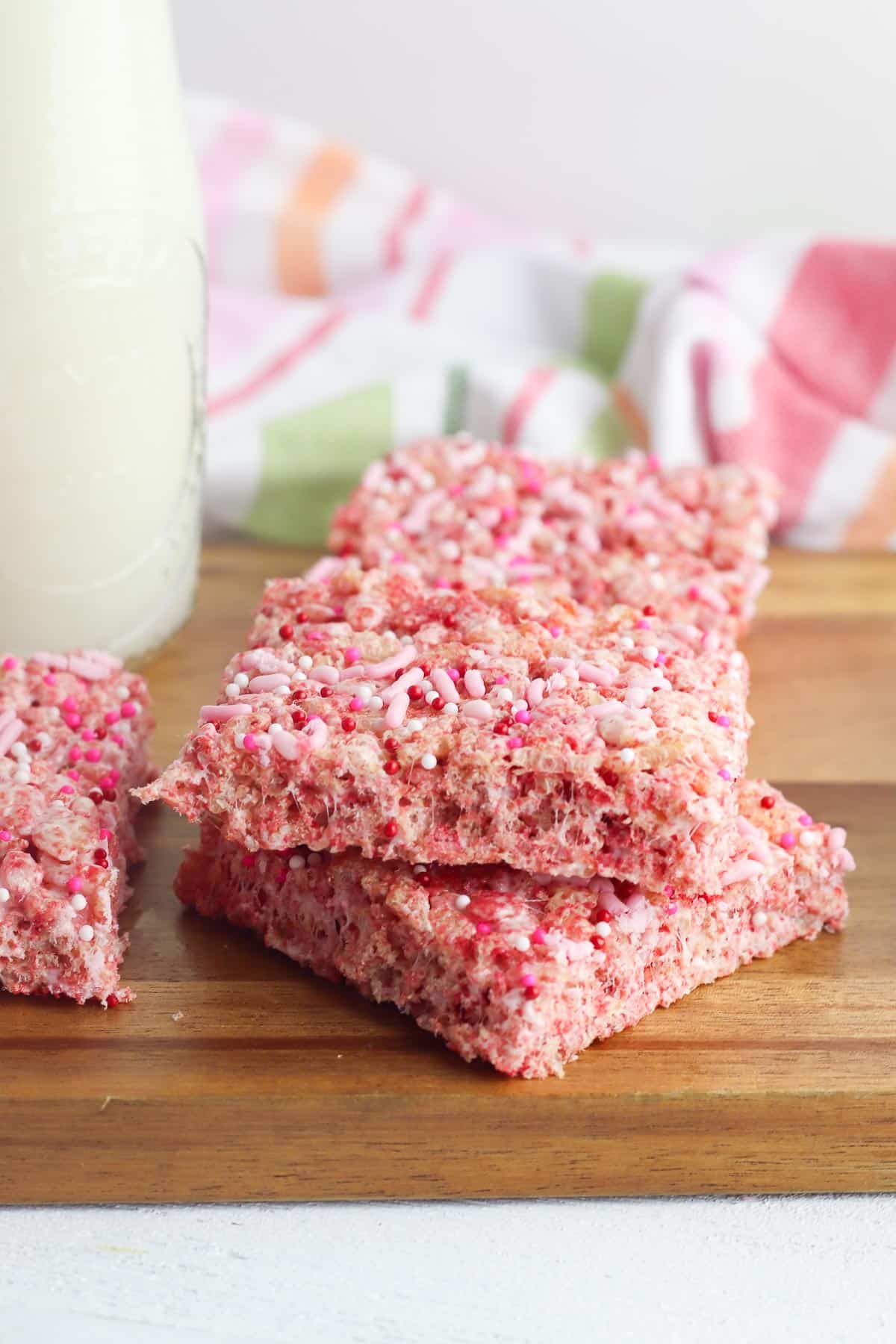 Strawberry Rice Krispie Treats
The original version of this recipe shown in the photos used Strawberry Rice Krispies cereal.
It added the pink color and strawberry flavor to the treats.
Unfortunately that cereal flavor has been discontinued.
We've added the option to swap in strawberry marshmallows to give this recipe some strawberry flavor!
All details in the recipe card at the end of the post.
Recipe Ingredients + Notes
Unsalted butter. The butter is melted and mixed with the marshmallow to help them melt.
Marshmallows. Regular mini marshmallows can be used.
For a delicate strawberry flavor use strawberry marshmallows!
They can be found at stores around Valentine's Day or online. They'll add pink color too. Details in recipe card below.
Pink cotton candy. Cotton candy can be purchased at stores like Target or Walmart or online.
Rice cereal. Use any rice cereal you prefer. For those gluten-free verify the brand used is gluten-free (not all are).
Sprinkles. Pink, red and white jimmies style sprinkles were used for these treats. Smaller sprinkles work best.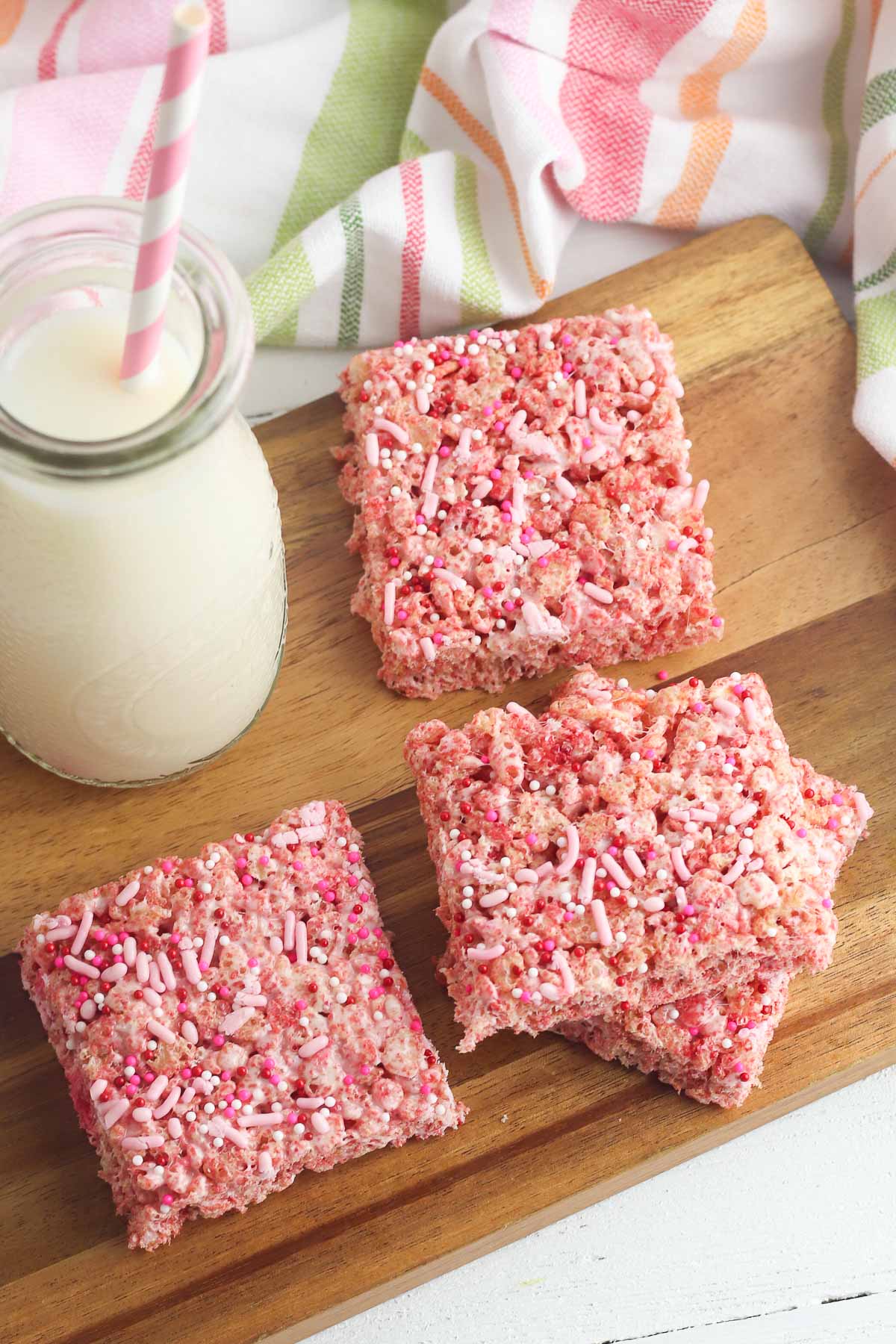 Rice Krispie Treats Variations
Use cookie cutters to make fun shapes. Instead of making traditional squares with a knife use cookie cutters.
Think hearts for Valentine's Day or an eggs for Easter.
These Easter Rice Krispie Treats are a great example.
If using cookie cutters lightly grease them with butter for smoother cutting.
Use a different color cotton candy to change up the color all together.
Use different sprinkles. Any colors or sprinkles can be used. This would be fun for a gender reveal party! Smaller sprinkles will stick better.
Try different flavors of rice cereal. Keep an eye out for seasonal flavors or new flavors to swap into the recipe.
Use different flavors of marshmallows. Vanilla marshmallows a or fruity marshmallows are great choices.
You can even use Peeps marshmallows and they'll both flavor and color the treats!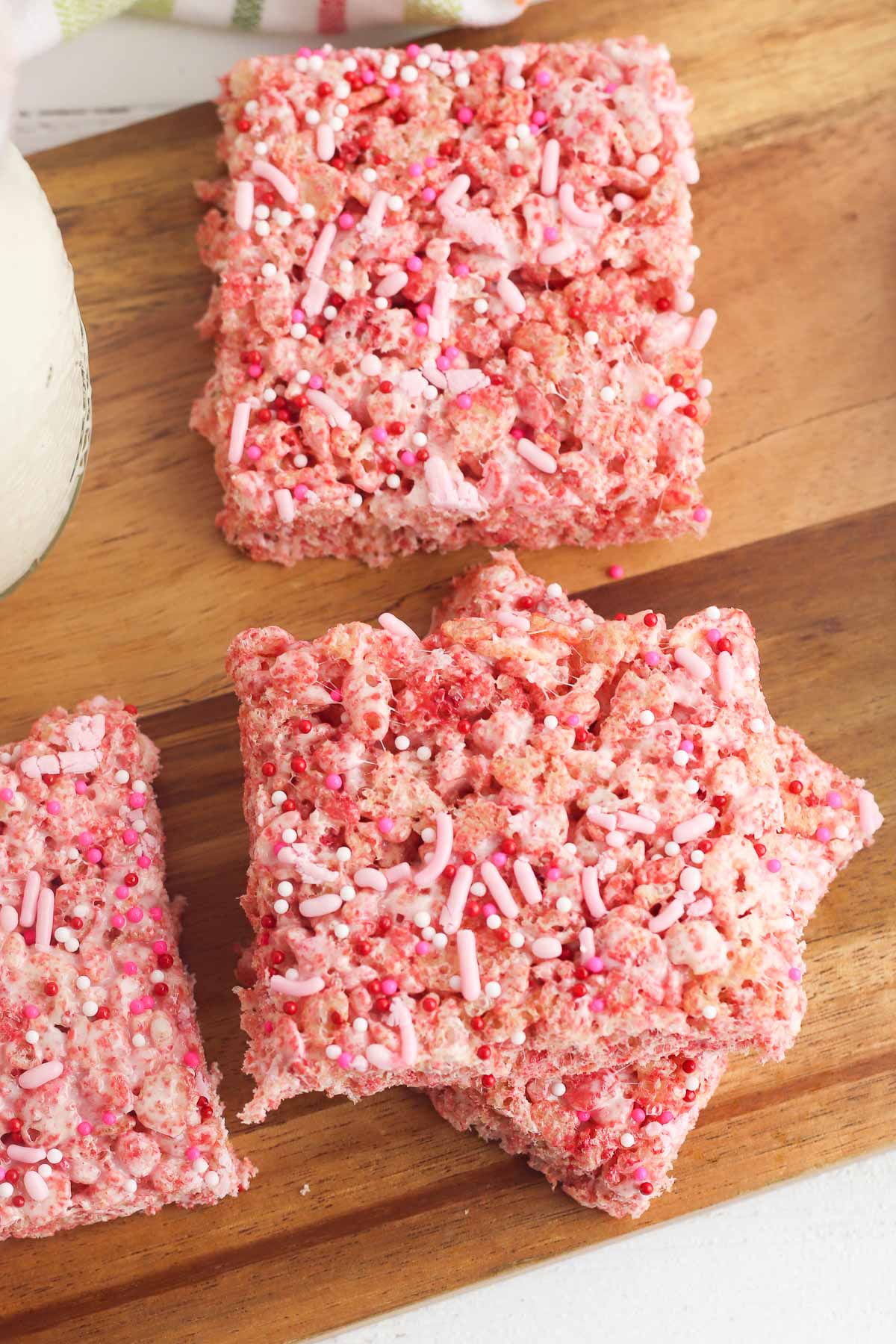 How to Make it – Step-by-Step
STEP 1. Preparation
Line a 9-inch by 13-inch baking pan with parchment paper.
STEP 2. Melt butter and marshmallows
Add the butter to a saucepan and melt over medium-low heat.
Add the marshmallows and stir until they are melted (photo 1).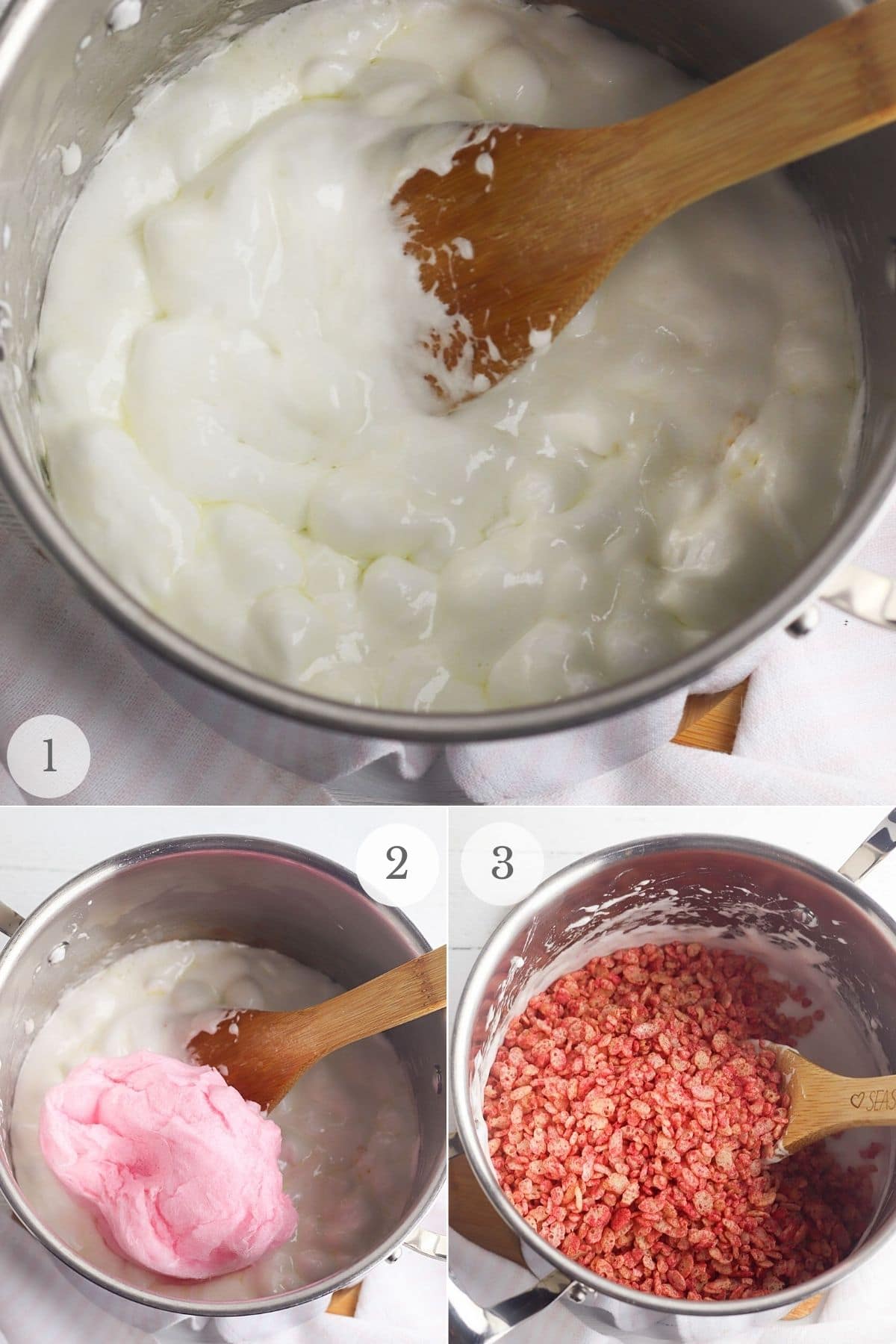 STEP 3. Add cotton candy and cereal
Lower the heat and add the cotton candy to the pan (photo 2). Stir into the marshmallows until fully melted.
Add the rice cereal (photo 3). Stir to combine.
STEP 4. Press into pan
Spread the cereal marshmallow mixture over the prepared pan.
Lightly press the cereal into the pan with the tips of your fingers (photo 4).
Cover the treats with sprinkles (photo 5) and gently press into the top of the bars.
Allow the treats to set for 30 minutes than slice into bars.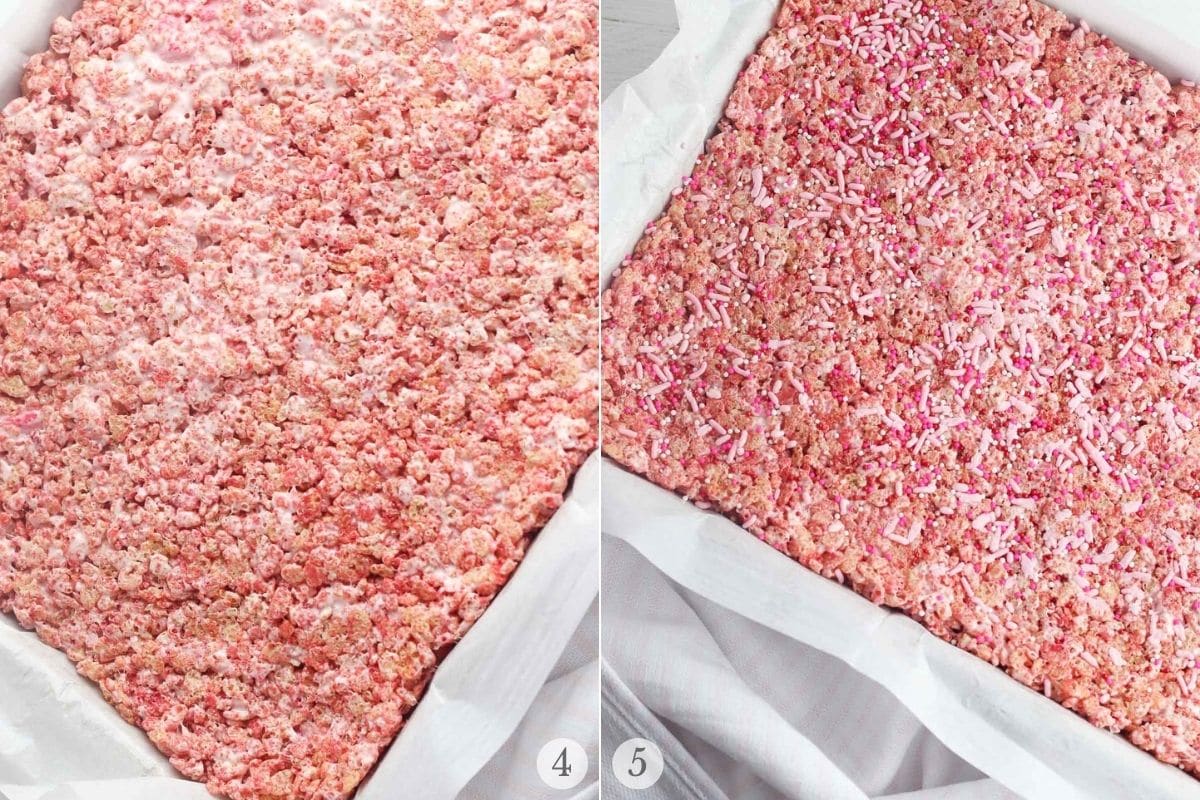 Recipe FAQ's + Pro Tips
Crumple the parchment paper. If the parchment paper is crumbled then smoothed out it will better adhere to the pan's shape.
Always line the pan with parchment paper to prevent rice krispie treats from sticking.
Don't press too hard on the cereal mixture when adding it to the pan. The harder you press, the harder the finished treats will be.
Use a light touch just to unsure they create an even layer. They should feel solid but not rock hard.
Do these taste like cotton candy?
These treats have just a hint of cotton candy flavor. The cotton candy primarily adds sweetness and color.
If using plain marshmallows and plain cereal, you may notice the cotton candy flavor more.
Can these treats be made with marshmallow fluff?
We have only made this recipe as written with actual marshmallows.
Unfortunately we've never made them with marshmallow fluff to provide that guidance.
How do you cut rice crispy treats?
Use a sharp knife to cut into bars. Cookie cutters lightly greased with butter work well too.
How to Store
Store at room temperature in an airtight container. Add a layer of parchment or wax paper between layers to keep them from sticking together.
Enjoy within 5 days for best freshness!
Can you freeze Rice Krsipy Treats?
To preserve the soft chewy texture of the treats freezing is not recommended.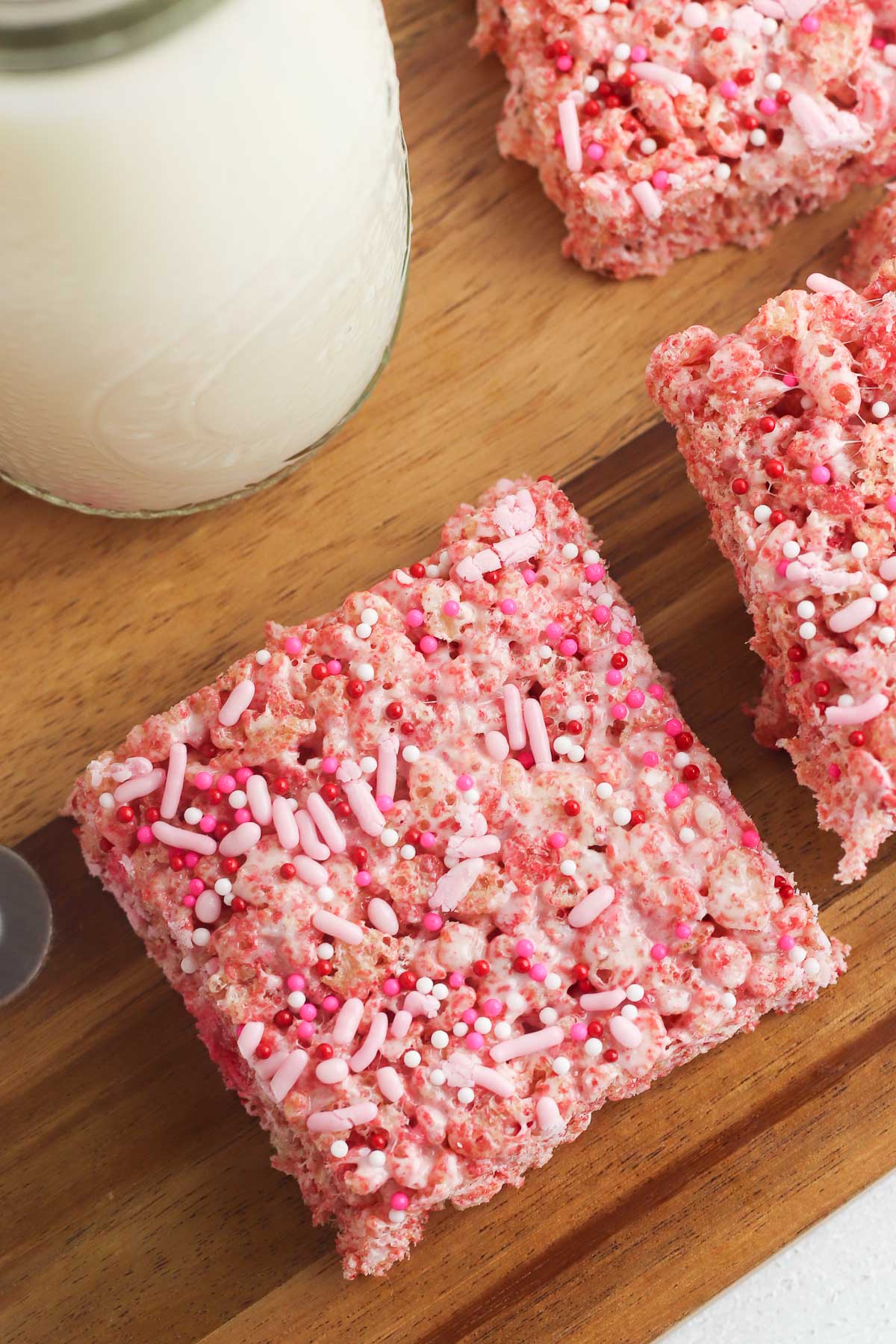 More Recipes You'll Love!
Did you make it? Please RATE THE RECIPE below!
Please SUBSCRIBE and FOLLOW ME on FACEBOOK , TWITTER , INSTAGRAM and PINTEREST !