Transform plain hard boiled eggs into beautiful marbled Chinese Tea Eggs by soaking in tea and aromatic spices. A traditional recipe for Chinese New Year!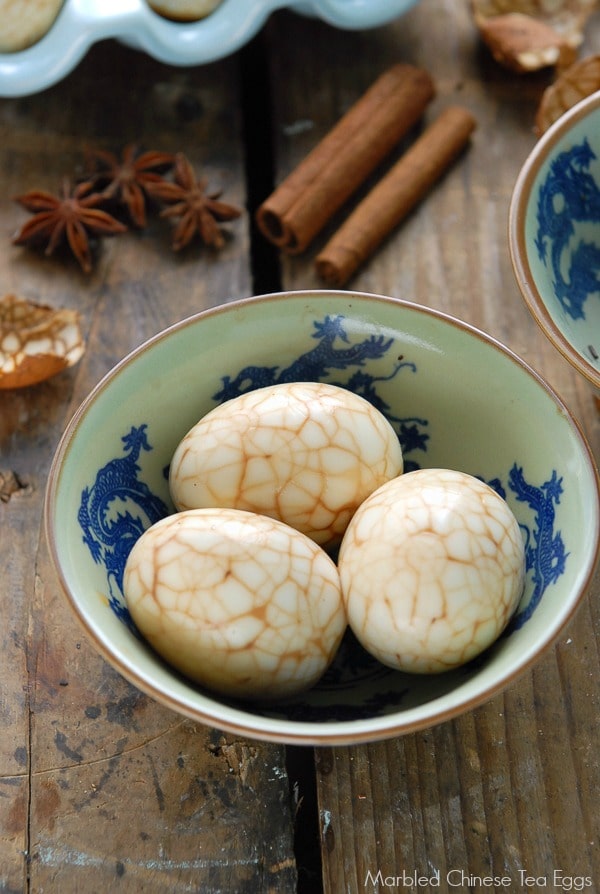 Gong Xi Fa Cai! Happy Chinese New Year! We have been full of holidays the past two weeks on Boulder Locavore between Valentine's Day and Mardi Gras; and now we are celebrating the year of the Sheep for the Lunar Calendar 2015. I happen to have a little sheep (or goat, or ram; they seem interchangeable depending on which Chinese Zodiac chart you consult) who will be turning 12 this weekend so it's a fun celebration and an auspicious year.
Unlike the Gregorian calendar which is based on the sun's rotation around the earth (taking 365 days), the Lunar Calendar is based mainly on the moon's cycles. The Lunar Calendar began in 14th century BC and is tied to the agricultural cycle.
Each month is 28 days long, and the New Year timing is based on complicated calculations leaving the next year to begin between late January and mid-February though on a different date each year. The celebrations last a few weeks during which special symbolic foods, like the Chinese Tea Eggs, are enjoyed to bring healthy and prosperity for the upcoming year.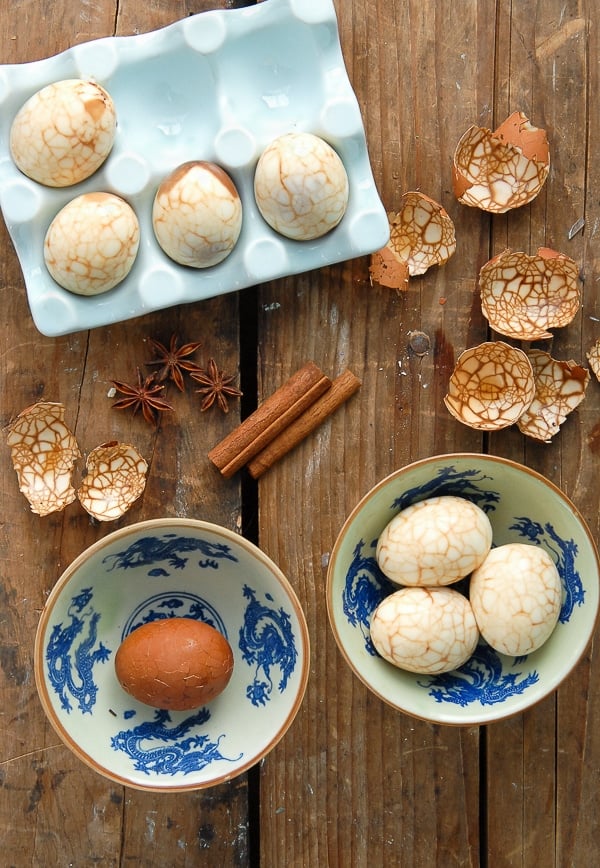 Much like the Zodiac associated with the Gregorian calendar, there is a Chinese Zodiac bearing 12 animal totems with different qualities. Those born in the lunar years of 1919, 1931, 1943, 1955, 1967, 1979, 1991, 2003, this is your year though if your birthday falls in January or early February you'll need to consult a Chinese horoscope chart to confirm your sign.
Each zodiac personality is broken down to a natural element as well; for instance my tot is a Water Sheep/Goat who is said to be fun-loving, carefree, go with the flow, like to put down roots and are enjoyable to be around. More on Sheep/Goats may be found on this Chinese Astrology website.
We have been lucky to have celebrated Chinese New Year often between places we've lived and traveled. My husband just returned from a trip to China for business where preparations were underway to usher in the Year of the Sheep/Goat/Ram.
Between living in San Francisco and Singapore I've been fortune to have my share of authentic foods and participate in celebrations for the New Year. Both my children have besties from China so get scoop on the culture from them. We will be attending the Chinese New Year Gala this weekend with my 'sheep's' BFF who is also a sheep. There promises to be acrobats, singers, jugglers and many other talents displayed. We are excited to go and celebrate!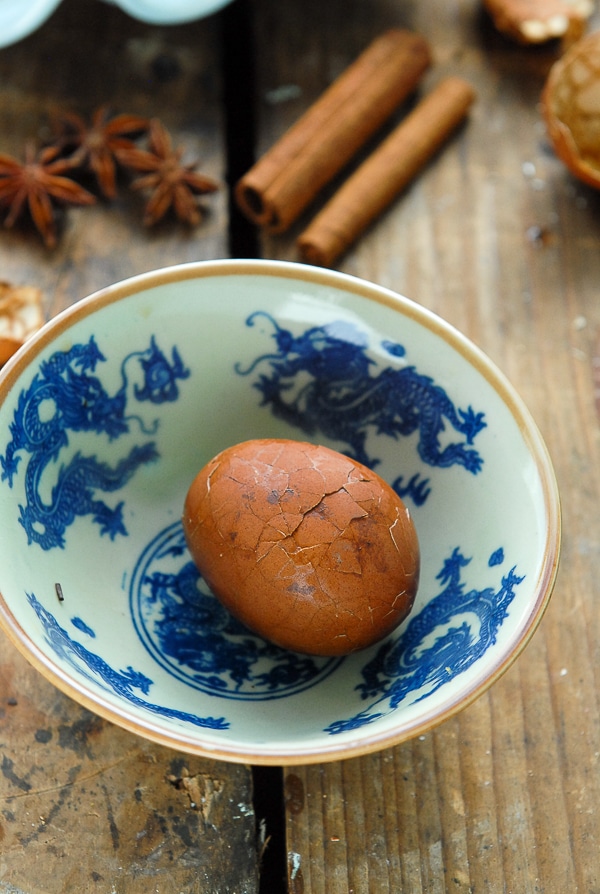 I decided to ring in the New Year with a traditional recipe; Marbled Chinese Tea Eggs. The eggs symbolize fertility and wealth and will be found at Chinese New Year banquets. The eggs are very simple to make and enchanting to behold once done.
Create Beautiful Chinese Tea Eggs At Home
Chinese Tea Eggs are hardboiled then the shells are gently cracked with a spoon to allow a soaking liquid of black tea and spices to seep inside and color the eggs where they are cracked. When eaten the eggs bear a gentle flavor of the soaking liquid of black tea, star anise, cinnamon, and in my version Szechuan peppercorns, Chinese Five Spice, brown sugar and dried orange peel.
Whether celebrating Chinese New Year or making them just for fun, these Chinese Tea Eggs are a delicious and artistic project with beautiful results.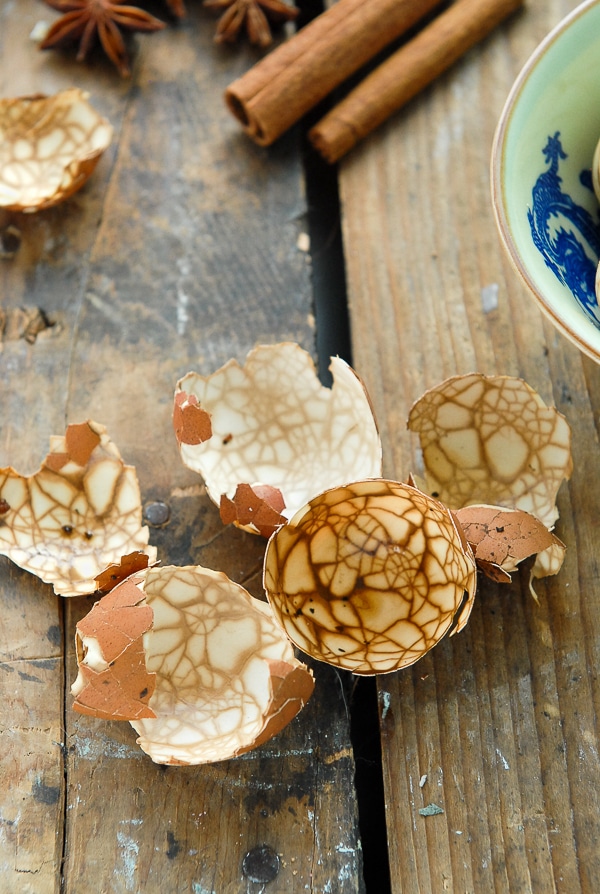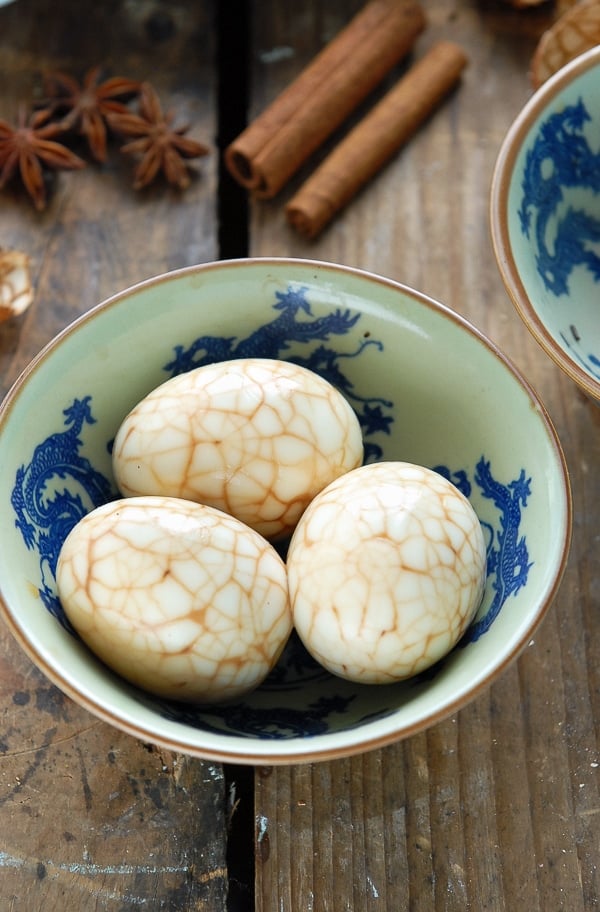 Marbled Chinese Tea Eggs Recipe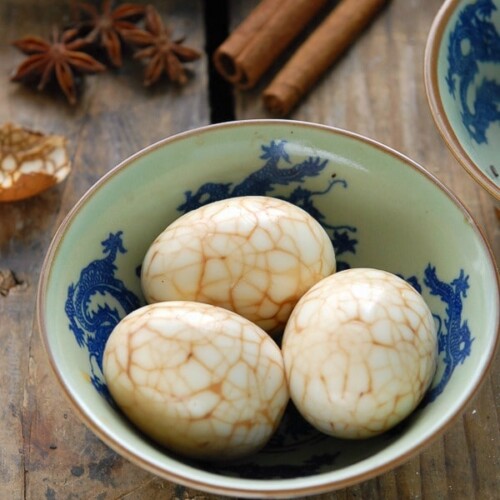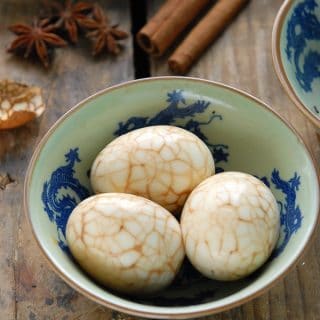 Marbled Chinese Tea Eggs
Marbled Chinese Tea Eggs are a traditional lucky food for Chinese New Year. Symbolizing fertility and wealth, they will be prominent on most menus. They are easy to make filling the kitchen with exotic smells of star anise, cinnamon, black tea, Chinese five spice and orange peel. Hard boiled eggs are lightly cracked and soaked in the tea-spice mixture for several hours revealing artistic, delicious eggs.
Print
Save Recipe
Recipe Saved!
Pin
Rate
Ingredients
8

large Eggs

3 ½

cups

Water

2

tablespoons

loose Black Tea

2

Star Anise

, broken into pieces

1 3-

inch

Cinnamon Stick

1

teaspoon

Brown Sugar

1

tablespoons

Tamari

(or soy sauce if you eat gluten)

½

teaspoon

Chinese Five Spice

1

teaspoon

Chinese Szechuan Peppercorns

, cracked (black peppercorns can be substituted)

½

teaspoon

dried Orange Peel

(spice)
Instructions
Place the eggs in a medium saucepan that allows room for all the eggs and at least ½ inch of water over the top of the eggs. Bring to a boil and lower heat to a simmer. Simmer for 20 minutes.

With a slotted spoon, remove the eggs from the hot water (retain the water in the pan for the tea mixture) and place eggs in a bowl of cold water. Allow the eggs to fully cool. Note: cracking the eggs before they are cold may lead to the shell coming off.

Using the back of a small dining spoon, gently tap the shell all over causing cracks (as shown in the photo). The goal is to crack the shell all over but not dislodge the shell from the egg. Once cracked, set the eggs aside.

Add the remaining ingredients to the saucepan of water: black tea, star anise pieces, cinnamon stick, brown sugar, tamari sauce, Chinese five spice, peppercorns and orange peel. Add the eggs to the saucepan and bring to a low boil; then lower heat to a low simmer.

Simmer the mixture for two hours watching to ensure the water level continues to cover the eggs. Turn off heat and allow the eggs to soak in the tea mixture another 2-3 hours. To deepen the coloration inside the egg further, place eggs and tea mixture in a covered container in the refrigerator overnight.

After soaking, remove the egg shell to reveal the marbled eggs!
Nutrition
Calories:
69
kcal
|
Carbohydrates:
1
g
|
Protein:
5
g
|
Fat:
4
g
|
Saturated Fat:
1
g
|
Cholesterol:
163
mg
|
Sodium:
194
mg
|
Potassium:
65
mg
|
Fiber:
0
g
|
Sugar:
0
g
|
Vitamin A:
240
IU
|
Vitamin C:
0.2
mg
|
Calcium:
36
mg
|
Iron:
1
mg