Herb Butter, or Compound Butter, is easy and fun to make. These 8 recipes with suggested uses will punch up the flavor of any recipe they are added to.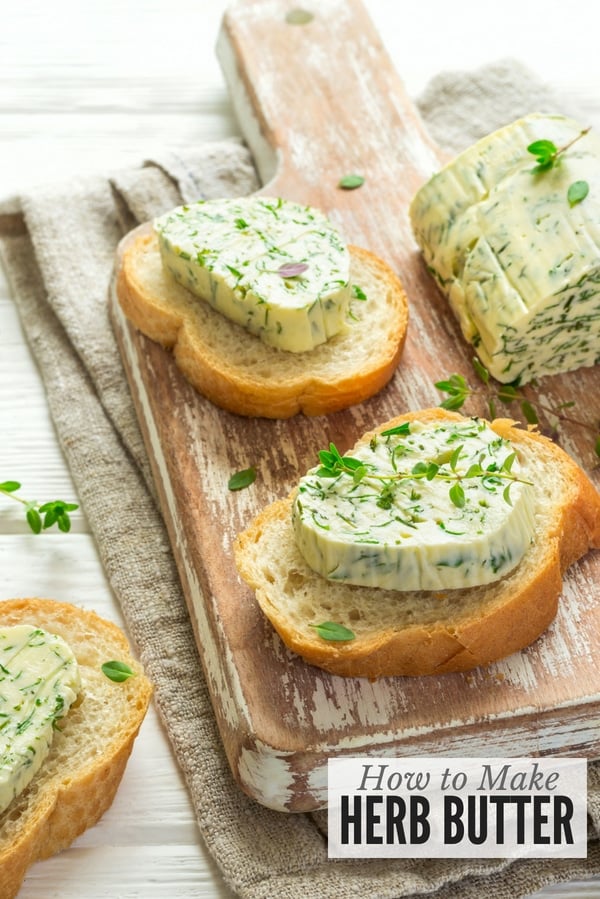 Sometimes it's a special condiment that makes a meal. Herb butter, also known as compound butters, are a fantastic trick to have up your culinary sleeve.
Homemade herb butters are easy to make and fun to serve. Spoon the butter into a butter mold or shallow bowl or roll it into a log and serve it sliced into pats.
Offer a variety of butters on a buffet table, or put an assortment into little serving bowls and give to friends. Any combination of flavors can be used to customize your recipes and impress diners (with little effort).
What is Herb Butter or Compound Butter?
Herb butter, also known as 'compound butter', is butter that has been mixed with fresh or dried herbs. It usually is formed into a log, chilled until firm and sliced to serve on foods.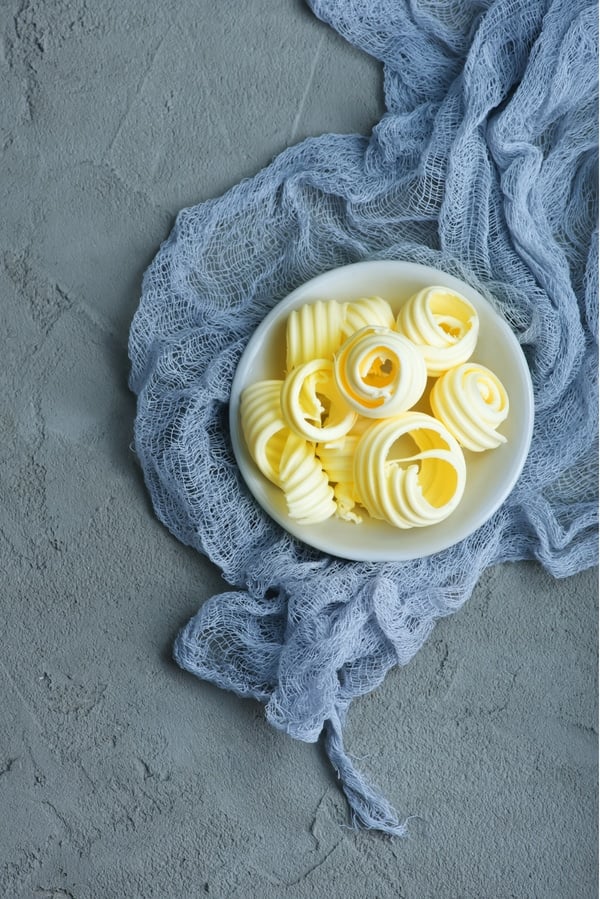 How is Herb Butter Used?
To enhance the flavors of other foods. There is herb butter for grilling steak, for turkey and for fish. It can be used on corn on the cob, on vegetables, when making garlic bread or even on mashed potatoes.
Any time you'd add butter to a savory dish, you can create an herb butter to add a punch of flavor.
Unsalted or Salted Butter for making Herb Butter?
Either unsalted or salted butter may be used when making homemade herb butter or compound butter. For certain dishes, like when planning herb butter for steak, adding some salt to unsalted butter or using regular butter is the way to go.
Butters that have been flavored with herbs are a delicious surprise to accompany breads, vegetables, poultry, fish and meat.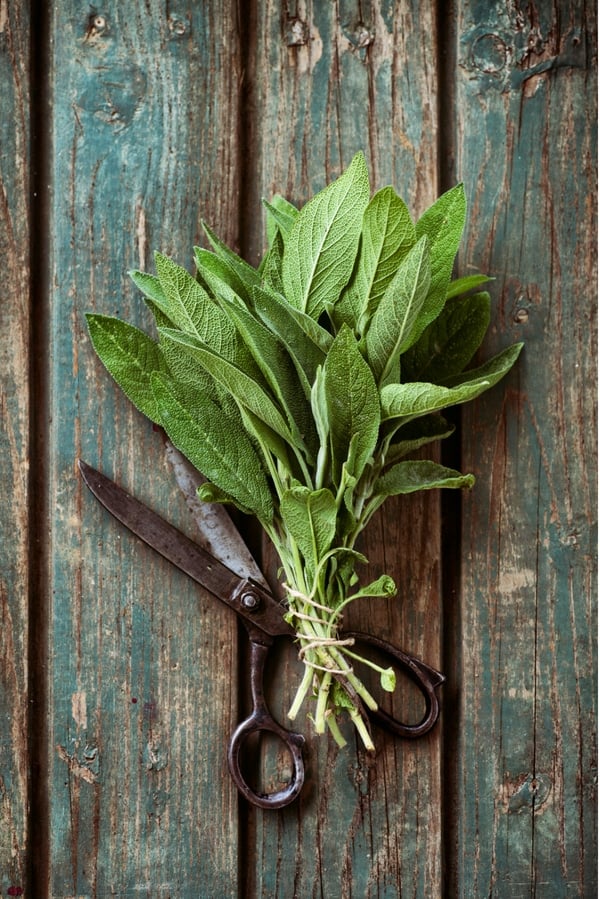 How to Make Herb Butter
It's very easy to make fresh herb butter or compound butter at home. Here are the basics:
Start with a good brand of fresh butter.
Let the butter soften to room temperature for several hours or soften in the microwave on 10% power or with a softening function. The butter should be easy to stir.
Both dried and fresh herbs may be used to season the butter. If you are using fresh herbs, rinse them thoroughly and allow them to air dry for several hours prior to chopping.
Pro Tip: Consider using a sharp pair of kitchen shears to cut the herbs instead of chopping with a knife.
Following are step-by-step photos for making herb butter (this batch is making Basil Butter):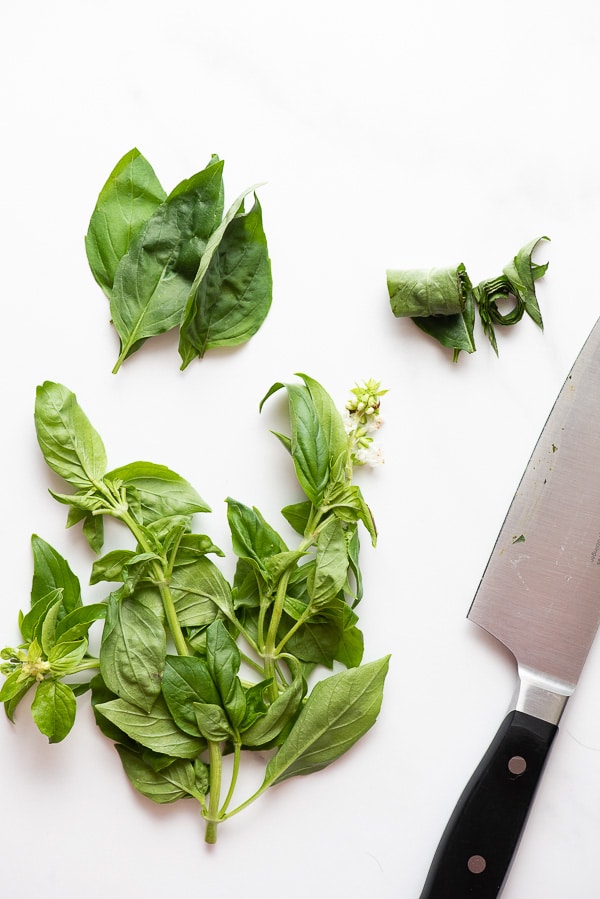 The first step when using a larger leaf herb like basil is to 'chiffonade' the basil.
Chiffonade is a term describing a method of slicing or shredding done by layering the herb leaves, rolling them then slicing the roll. It creates long strands of the herb as shown in the photos below.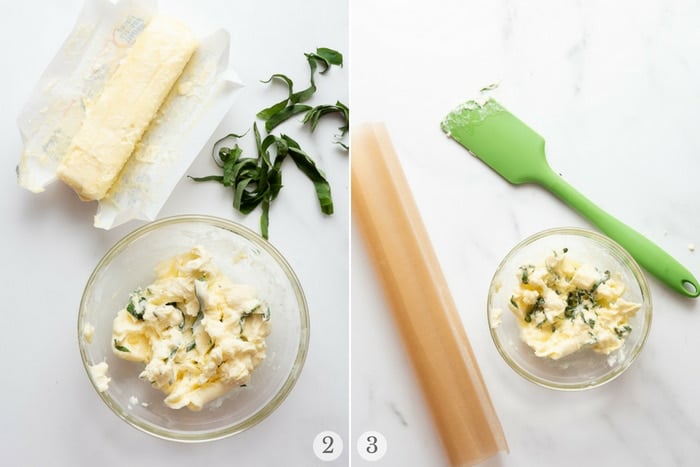 Step 2: Softened butter is mixed with the sliced basil.
Step 3: The butter mixture will next be placed in a butter mold or on a piece of wax paper to be rolled and chilled.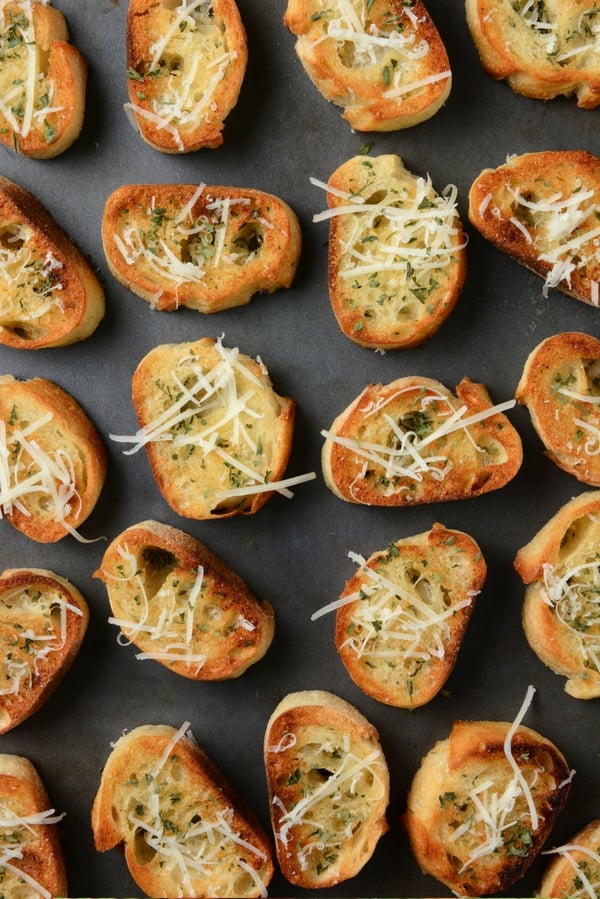 How Long Does Herb Butter Last in the Refrigerator?
Herb Butters can be stored in the refrigerator for several days, preferably in a sealed container (the wax paper roll may be sealed in a plastic zipper top bag).
Can Herb Butter be Frozen?
Yes, it can be frozen for two months. If freezing, allow the herb butter to thaw before using.
To freeze the butter molds, place them on a flat surface in the freezer. When the molded butter is well frozen transfer the molds to a plastic freezer bag.
Making Herb Butter Logs or Butter Molds
Herb butter can be made into logs and sliced for serving or molded into individual herb butter pats.
Herb Butter logs
Select one of the Herb Butter recipes below (the photos illustrated making Basil Butter). You'll need wax paper to make herb butter logs.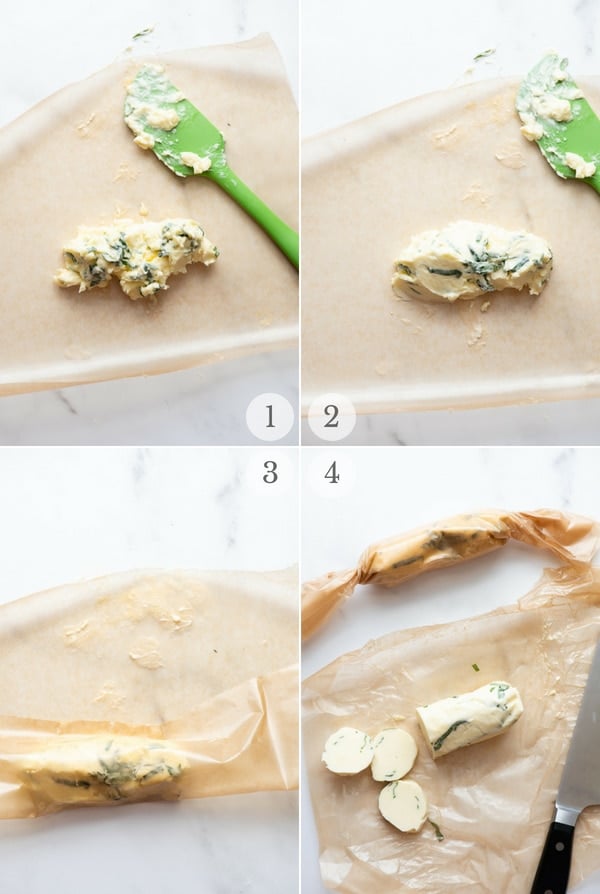 Step 1: Spoon the prepared herb butter onto a 6-8 inch wide piece of wax paper.
Step 2: Form the butter into a log shape using a spatula.
Step 3: Fold one side of the wax paper over the herb butter log and roll into a tube, shaping with your fingers outside the wax paper as needed. Twist the ends to seal.
Step 4: After chilling the herb butter log until firm, unroll and slice into 1/4-inch thick pats to serve (photo shows final herb butter tube and sliced chilled herb butter).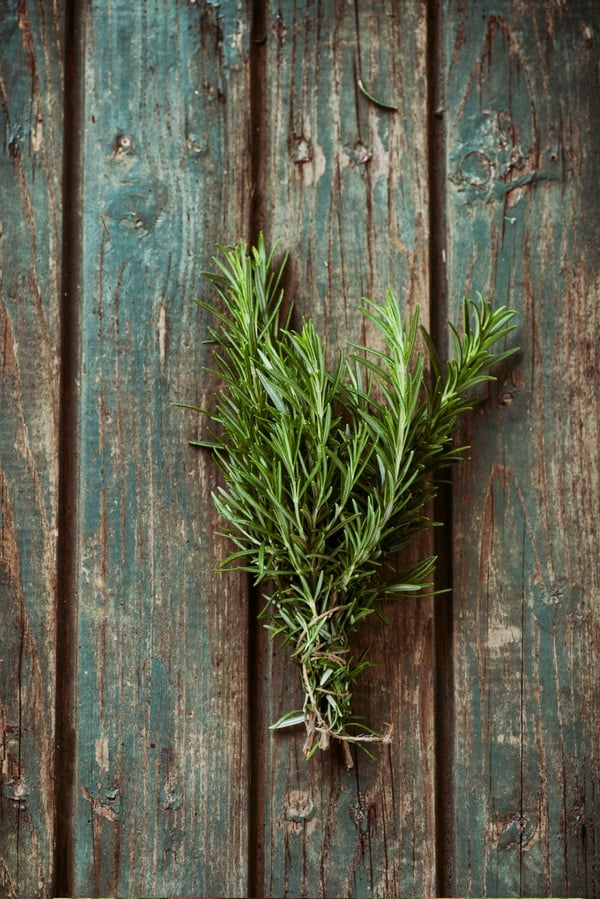 Molded Herb Butter
Choose one of the recipes below. You'll also need Butter Molds, available from Amazon.
Spoon the softened butter into butter molds. Chill the mold(s) for several hours and remove the butter from the mold.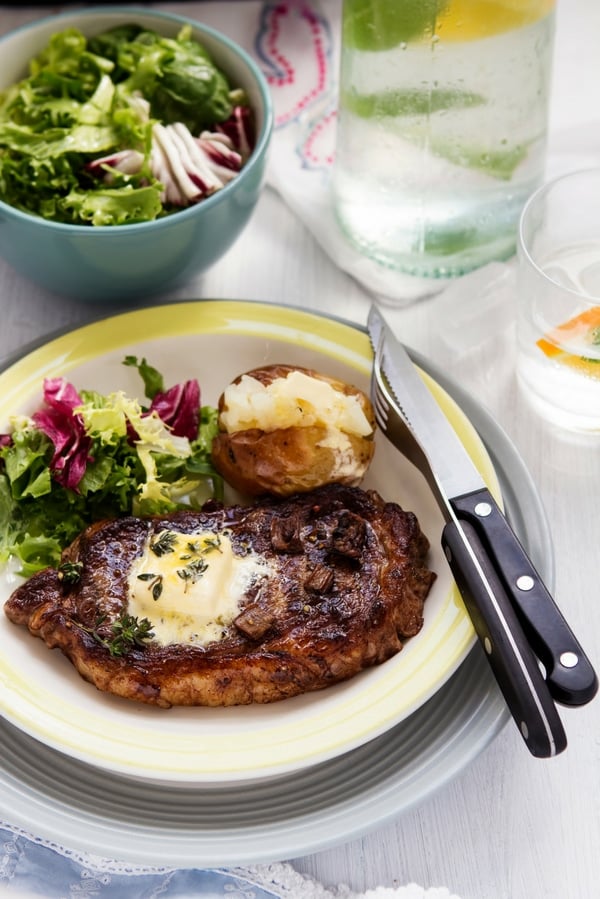 8 Herb Butter Recipes & How to Use Them
The possibilities for herb butter or compound butter combinations are endless. I've included 8 favorite recipes to get you started. The ingredients and instructions are included in the printable recipe card below. Here are some ideas how to use them:
Parsley and Chive Butter: Try this butter on baked potatoes, green beans, corn-on-the-cob,or red meats.
Basil Butter: This butter is especially appealing on vegetables, chicken, fish, or scrambled eggs.
Garlic Herb Butter: The perfect topping for garlic bread. Let the butter soften after the flavors have blended for easier spreading.
Sage Butter: Use on seafood, chicken, fresh green beans, or biscuits.
Fines Herbes Butter: This butter will enhance the flavor of vegetables, fish, or French bread.
Mint Butter: The perfect accompaniment to lamb or peas.
Tarragon Butter: Rub the butter over lamb, chicken, or fish before you roast it.
Horseradish and Chive Butter: Pat this butter on grilled steaks as soon as they come off the grill.
How to Make Herb Butter – Printable Cheat Sheet
Download a handy one-sheet printable How to Make Herb Butter CHEAT SHEET with the combinations listed above! It's a great way to have them all in one place!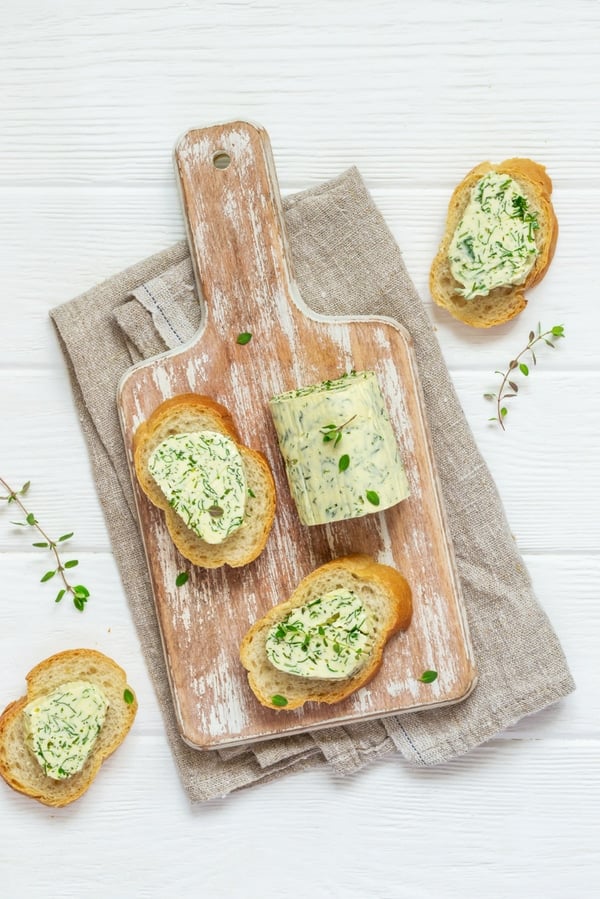 More Recipes You'll Love
If you've tried any of these recipes please RATE THE RECIPE below!
Please SUBSCRIBE and FOLLOW ME on FACEBOOK , TWITTER , INSTAGRAM and PINTEREST to see more delicious food, travel and what I'm up to!
Originally published: July 15, 2018