French Green Bean Casserole takes the classic Thanksgiving side dish and gives it a fresh twist. Fresh ingredients in a flavor-packed creamy, cheesy casserole you'll love!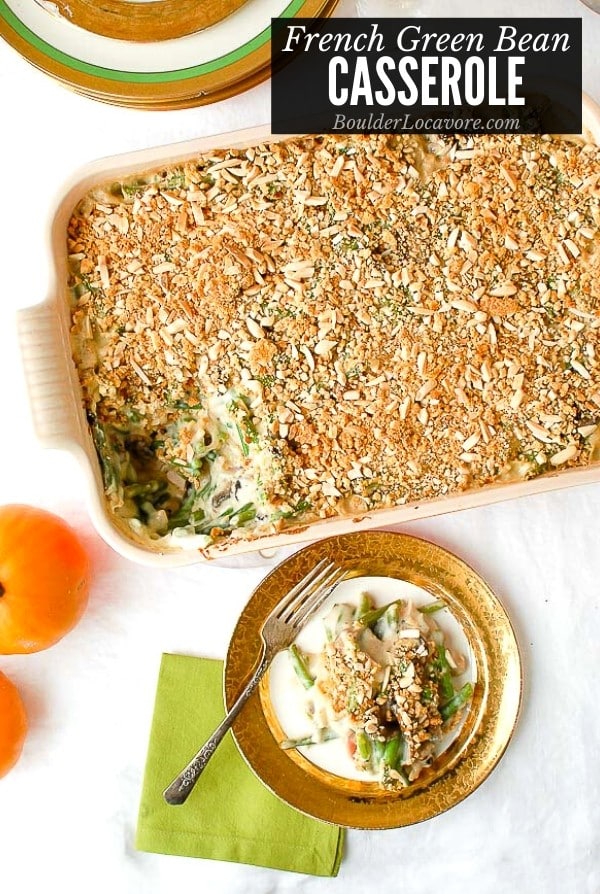 Classic holiday recipes; we love them, we hate them.
Calling all Green Bean Casserole lovers! We've taken a traditional favorite and changed it up with a French twist.
All the familiar ingredients are there but done up in a new way.
And if Green Bean Casserole has never been your thing, try this version and see if maybe it is now!
An Updated Fresh Green Bean Casserole Recipe
This French-inspired re-do of the classic Green Bean Casserole takes the beloved side dish to a whole new level.
The BIG DIFFERENCE: All the ingredients are fresh.
Delicate, slender Haricot Vert green beans replace traditional green beans.
Fresh sautéed mushrooms take the place of canned mushroom soup.
Shallot rings, bacon, fresh thyme and Gruyere cheese top off this flavor-packed, creamy side dish.
Topped with French bread crumbs and slivered almonds, the casserole still delivers a crunchy bite!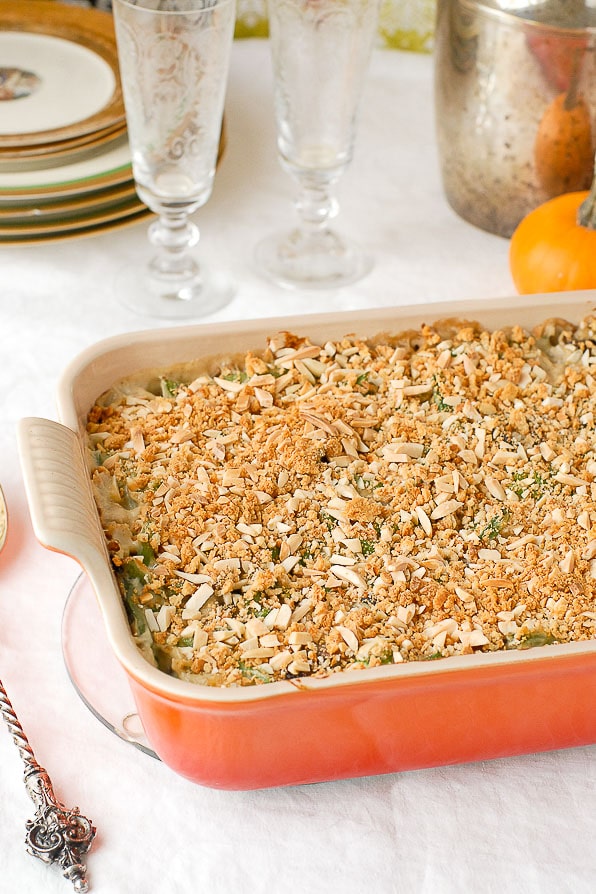 The Original Green Bean Casserole
The 'American Century Cookbook: the Most Popular Recipes of the 20th Century' says the Green Bean Casserole is one of said most popular recipes.
Campbell's Soup 'home economists' created the recipe in the mid 1950's and people immediately loved it as they continue to today (except me apparently).
A selling point for the recipe, in addition to being easy to make, is it 'leaves room for creativity'.
The original green bean casserole recipe included cream of mushroom soup, milk, frozen green beans, canned French-fried onions, soy sauce and pepper.
For a variation, corn soup could be swapped for the mushroom and top with slivered almonds.
Or the beans and mushroom soup could be swapped out for broccoli and broccoli soup.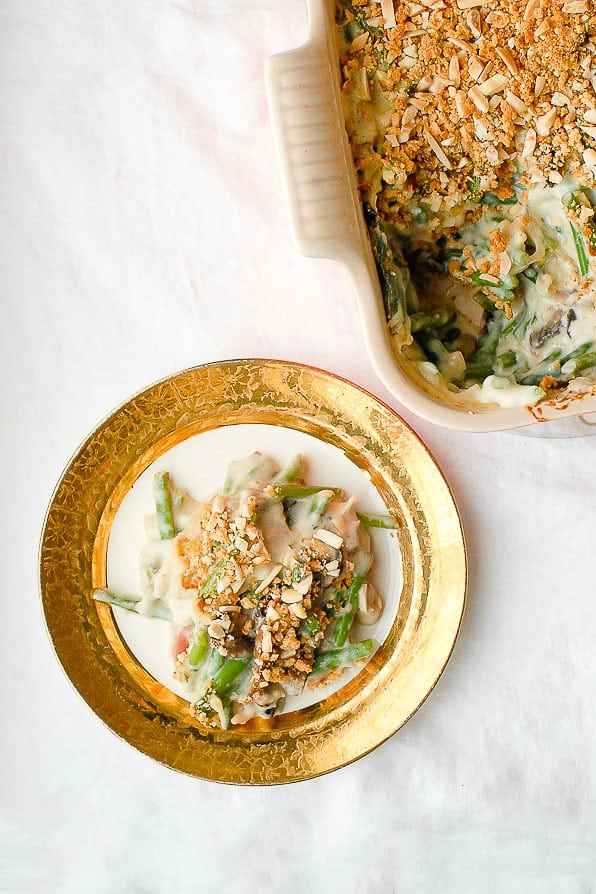 French Green Bean Casserole Recipe
Some fresh changes delivers a flavor-packed, hearty green bean casserole perfect for Thanksgiving and any other meal!
French Green Bean Casserole Ingredients
Haricot Vert (French Green Beans)
Instead of frozen green beans fresh Haricot Vert (pronounced 'hair-a-coe vair-t') green beans are used.
If you haven't tried Haricot Vert (literally translated from French is 'green bean') they originate in France and are a much thinner, and usually shorter variety of green bean.
They are often sold in packages in the produce department of all grocery stores, especially at this time of year.
They have a wonderful texture and flavor. Perfect for an easy French-inspired swap in this green bean casserole.
Substitution Ideas
Can't find fresh Haricot Vert: Use frozen, thawed Haricot Vert. Do a QUICK THAW by placing them in the colander and running them under cold water.
NOTE: skip the first recipe step of blanching the French green beans if substituting frozen/thawed Haricot Vert.
Can't find any Haricot Vert: regular green beans can be substituted.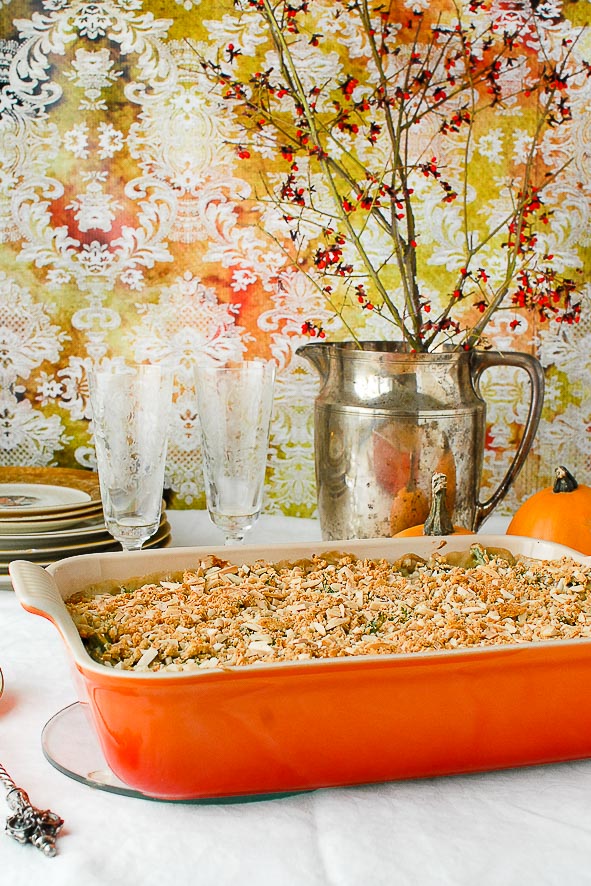 Fresh Sautéed Mushrooms
Instead of mushroom soup, fresh sautéed mushrooms create a delicious amount of flavor in this green bean casserole.
A combination of Cremini mushrooms and Shitake give fantastic flavor.
Cremini mushrooms are often called 'baby bellas' because they are a young portabella mushroom. Portabellas have a meaty texture and flavor.
Shitake mushrooms have a rich, savory taste perfect for this green bean casserole.
Both types of mushrooms are available in the produce department of the grocery store.
Stores with a wide variety of produce like Whole Foods are a great source.
Subsitution Ideas
For Cremini mushrooms:
Substitute Portabella mushrooms if needed. They are a lot larger then Cremini mushrooms so should be cut into smaller pieces.
Dried cremini mushrooms can be reconstituted (soak them in water so they plump back to a normal texture).
For Shitake mushrooms:
Frozen shitake mushrooms are available. Thaw before using.
Dried shitake mushrooms can be reconstituted by soaking in water. Drain the water before using the mushrooms.
NOTE: Cremini mushrooms can be used as the only mushroom in the green bean casserole too.
Use 1 ½ pounds of Cremini mushrooms if unable to find shitake mushrooms.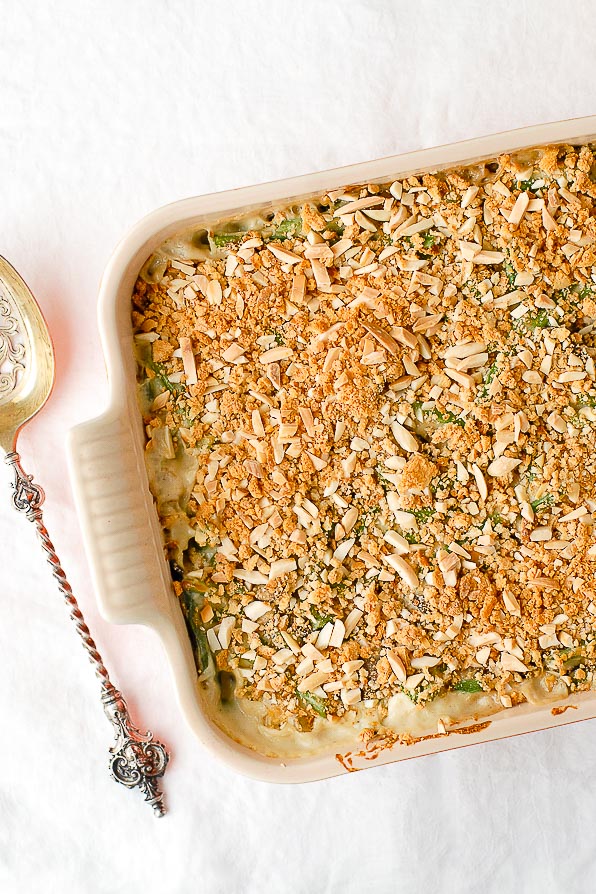 Crunchy Onion Topping
The crunchy canned fried onions on the top of the traditional green bean casserole have also been updated.
Fresh sautéed shallot rings are mixed into the casserole for the familiar onion flavor.
The crunchy topping is a combination of French bread crumbs and silvered almonds.
More Star Ingredients
Sliced bacon, fresh thyme and Gruyere cheese give creamy, smoky layers of flavor and beans that still have a good bite (no soggy beans).
Use Store Bought or Homemade Bread Crumbs
Use store bought or homemade bread crumbs.
Refer to the recipe card NOTES at the end of the blog post for instructions on how to make your own.
Use regular or gluten-free bread crumbs.
Gluten-Free Green Bean Casserole
To make French Green Bean Casserole gluten-free, use gluten-free bread crumbs.
All other ingredients are naturally gluten-free.
Shortcuts for Making this Fresh Green Bean Casserole
Purchase mushrooms pre-sliced. Most grocery stores offer them in the produce department and have a good variety of options.
Use pre-made bread crumbs instead of making your own. Any type will do though a neutral flavor works best.
Do the prep work the day before. Trim the beans, slice the shallots, grate the cheese, slicie the bacon, make the bread crumbs and slice the mushrooms all the day before assembling and cooking the green bean casserole.
Prepping everything only leaving sauteing, combining and baking for the serving day will keep things simple!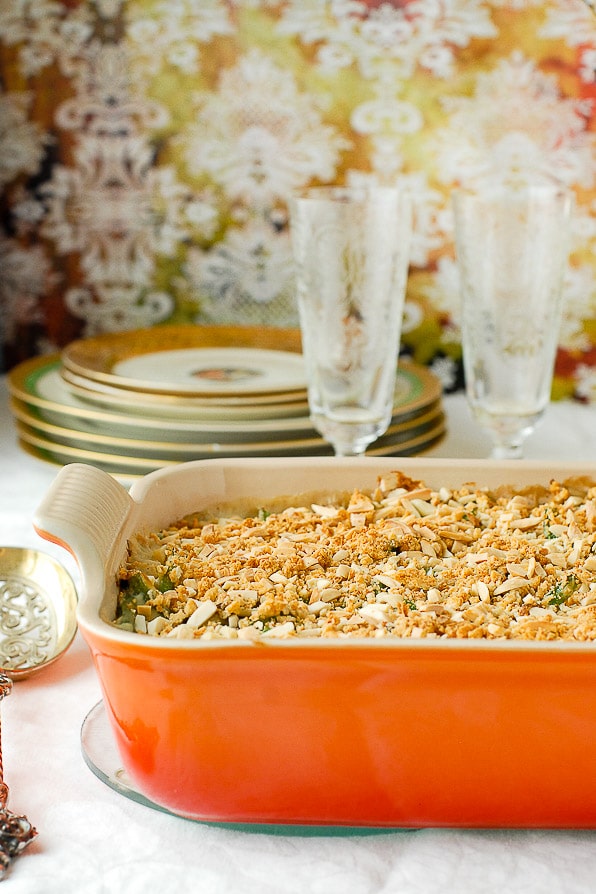 Try these French-inspired recipes too!
Did you make it? Please RATE THE RECIPE below!
Please SUBSCRIBE and FOLLOW ME on FACEBOOK , TWITTER , INSTAGRAM and PINTEREST !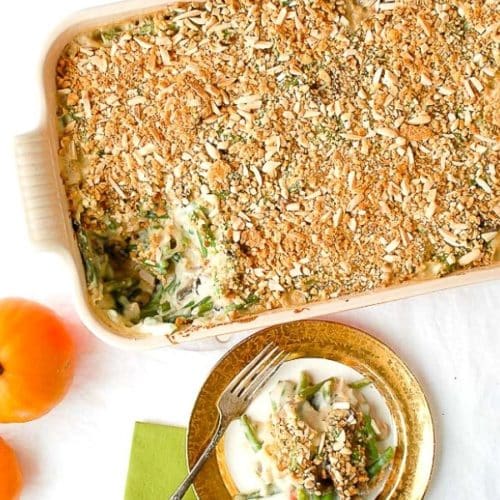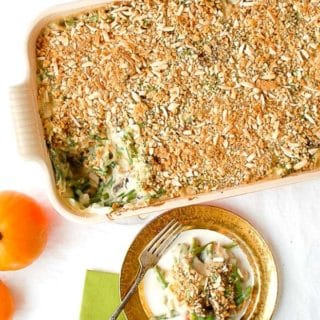 French Green Bean Casserole
This French-inspired re-do of the classic Green Bean Casserole elevates the beloved side dish to a whole new level. All ingredients are fresh!
Print
Save Recipe
Recipe Saved!
Pin
Rate
Ingredients
2 ½

pounds

Haricot Vert

, ends trimmed and cut in half (to yield approximately 1 ½ inch lengths) Tip: kitchen shears make this go quickly!

½

cup

uncooked Bacon

, sliced across the slice in 1/8-inch strips (2-3 slices of bacon; will vary due to bacon thickness)

8

tablespoons (1 stick)

Unsalted Butter

1

pound

Cremini Mushrooms

, sliced

½

pound

Shitake Mushrooms

, sliced (tops only )

6

sprigs fresh Thyme

, leaves only

¾

teaspoon

plus a large pinch Kosher Salt

¾

teaspoon

plus a large pinch freshly ground Black Pepper

1 ½

cups

Shallots

, 1/8 inch slices across the shallot; separate slices into individual rings

½

cup

Flour

regular or gluten-free

3

cups

Whole Milk

1

cup

low sodium Chicken Stock

1 ¾

cups

Gruyere Cheese

(.3 pounds), grated

1

cup

French Bread crumbs*

(refer to recipe notes below)

½

cup

Slivered Almonds

, rough chopped
Instructions
Preheat the oven to 350 degrees.

Blanch the Haricot Vert: process batches through boiling, lightly salted water for 1 ½ minutes then place them into an ice bath (large mixing bowl of cold water and ice) until they are full cooled. Place them on a clean kitchen towel to drain and pat dry.

In a large pot (or large deep skillet) sauté the bacon over medium-high heat until the fat is rendered (begins to liquefy) and the bacon lightly browns; 2-3 minutes. NOTE: The bacon will not cook fully and should still be pliable. Remove from the pan and set aside.

Add 4 tablespoons of butter to the bacon drippings in the pan and allow it to melt over medium heat.

Add the mushrooms and thyme, a sprinkle of salt and pepper, and sauté until the mushrooms release their moisture and begin to reduce; 3-4 minutes.

Add the shallots and continue to sauté until the shallots begin to turn translucent.

Add the bacon and haricot vert to the mixture and stir to fully incorporate. Remove from heat.

In a large saucepan melt remaining 4 tablespoons of butter over medium heat.

Once the butter is melted whisk in the flour forming a roux (a thickener base for French sauces). Slowly pour in the milk and chicken stock, whisking constantly to fully mix together smoothly. Continue to stir the roux over medium heat until it thickens (3-5 minutes).

Add the cheese to the roux, whisking to help melt the cheese and to make a smooth mixture.

Add the cheese sauce, along with ¾ teaspoon of each Kosher Salt and Pepper, to the bean mixture. Stir well to mix all the ingredients together.

Spoon mixture into a 13 x 9 inch 4-quart baking pan and smooth to uniformly fill the pan.

Mix together the bread crumbs and chopped almonds and spread evenly over the top of the casserole.

Bake for 30 minutes or until heated through.
Notes
How to Make Bread Crumbs:
I used Udi's gluten-free French Baguette to create gluten-free bread crumbs. Purchased bread crumbs of a different variety may be substituted as well, though a neutral flavor profile is suggested.
Toast bread in the toaster or underneath the oven broiler.
Break into pieces and process through a chopper, food processor or blender to make crumbs.
If the bread is still moist, place on a baking sheet and place underneath the oven broiler, checking frequently, to dry (about a minute); watch them carefully so they don't burn.
Shitake mushrooms: reserve stems for future soup stock!
Nutrition
Calories:
298
kcal
|
Carbohydrates:
28
g
|
Protein:
17
g
|
Fat:
14
g
|
Saturated Fat:
6
g
|
Cholesterol:
33
mg
|
Sodium:
216
mg
|
Potassium:
724
mg
|
Fiber:
5
g
|
Sugar:
9
g
|
Vitamin A:
1150
IU
|
Vitamin C:
15.4
mg
|
Calcium:
403
mg
|
Iron:
2.7
mg
Originally published: November 10, 2014