Thai Chicken Mushroom Coconut Soup is an easy and light slow cooker soup recipe. The Asian chicken soup bursts with flavors of ginger, lemongrass, kaffir lime, garlic and more. It's easy to make and delicious in every season.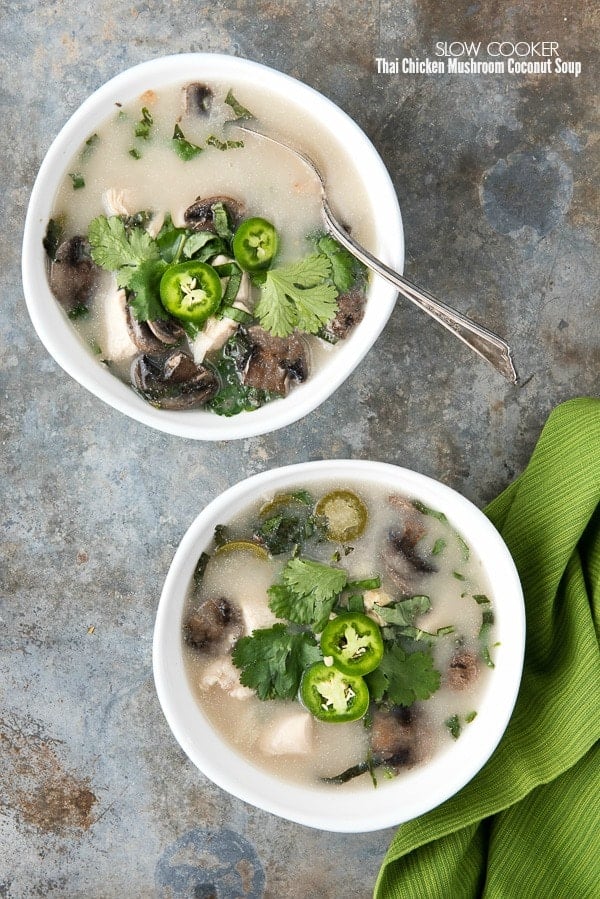 This post is shared as part of Boulder Locavore's ongoing partnership with Silk, exploring healthy lifestyle choices and exciting plant-based dietary products.
Can you believe we are almost ready to wave goodbye to January? How are those New Year's Resolutions coming along? This is generally the time of the year that the passion to get to the gym gives way a bit to sleeping later in a warm, cozy bed. If you started January hot on the trail of salads and smoothies maybe that's getting tired even if you see a smaller waistline emerging.
I for one am running my slow cooker constantly finding it a life saver to do the cooking for me while I'm whacking off my To Do list during the day like a super hero in a brawl. What I notice for myself, especially when I'm trying to improve my eating habits or cut out calories my life doesn't depend on, is that I need bold flavor in my food. Those flavors are exciting and satisfying on their own which doesn't require eating a large volume to feel sated.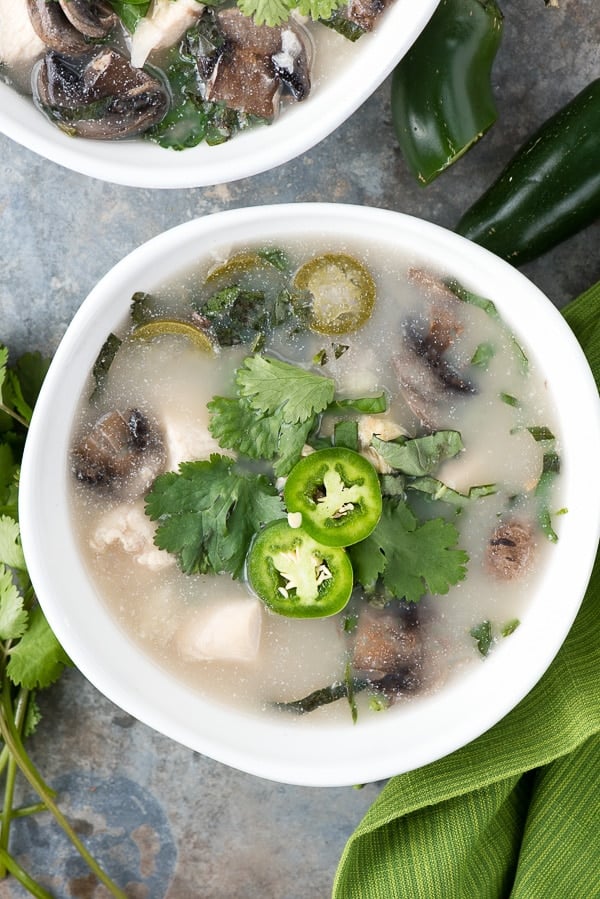 I love Thai food flavors and whipped up a delicious Slow Cooker Thai Chicken Mushroom Coconut Soup. It is a light soup in constitution but big in flavor: lemongrass, ginger, garlic, jalapeno, lime, basil and coconut. Instead of using full fat coconut milk from a can I used Silk's Unsweetened Almond-Coconut Blend milk. It delivers perfect flavor and has no added sugar, which you don't need in your milk all the time….especially at this time of year when you are striving toward your personal health goals. It has 35 calories a cup/serving, no cholesterol and 50% more calcium than dairy milk as a bonus.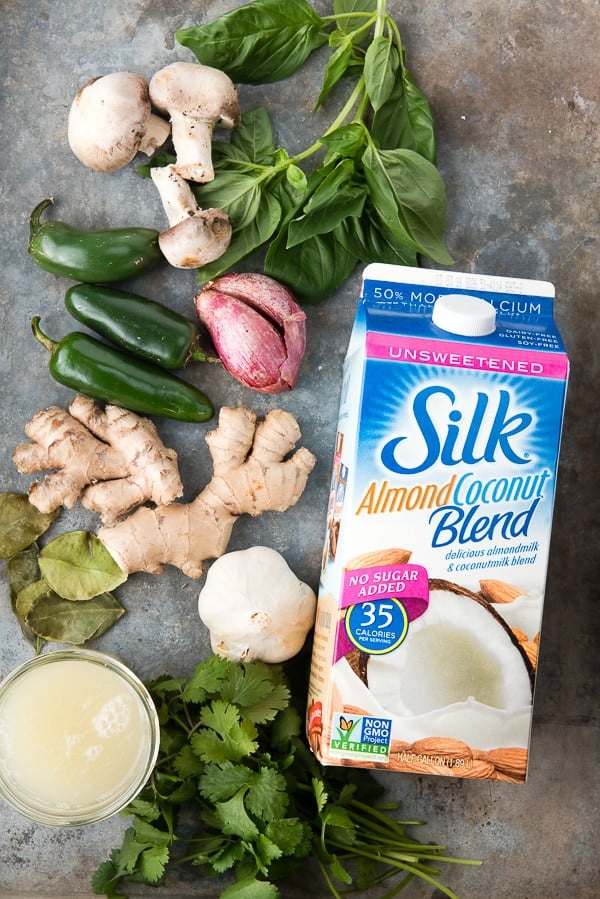 For kicks, I looked up the calorie content in traditional canned coconut milk and the can I checked was about 420 calories per cup! Silk's Almond-Coconut Blend has 3 grams of fat in 1 cup; the canned coconut milk I checked has 14 grams of fat in 1/3 cup! This soup delivers loads of flavor without extra calories and fat that I'll bet you really don't want!
Enough nutrition chit chat. This Thai chicken soup rocks! It's a fantastic blend of exciting flavors with a bit of spicy heat that will surely brighten your day!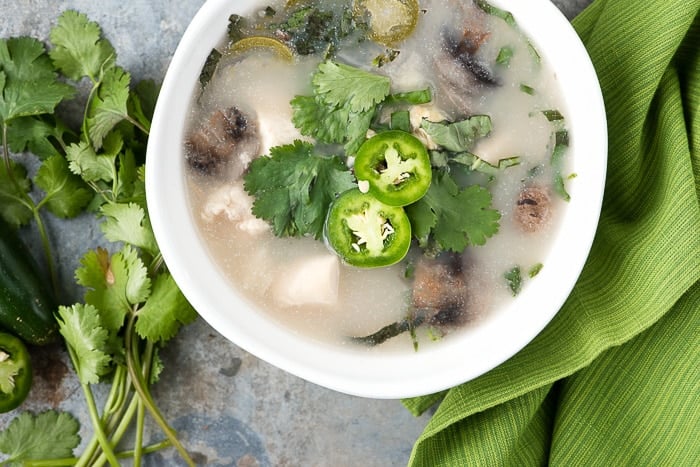 How to Make Slow Cooker Chicken Mushroom Coconut Soup:
You will need a 6 quart slow cooker (or larger) to make this chicken soup recipe.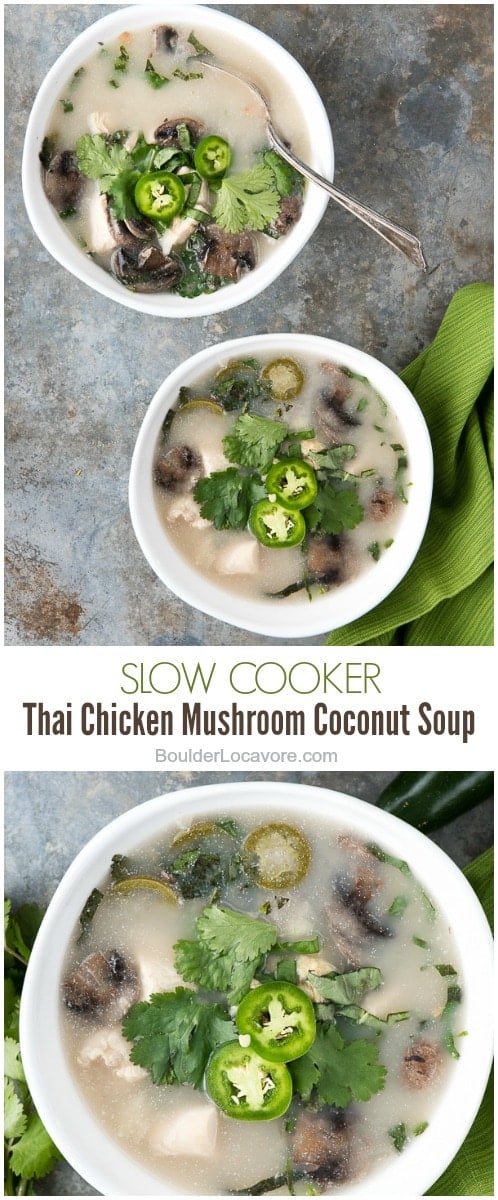 This is a sponsored conversation written by me on behalf of Silk. The opinions and text are all mine.