Tomato Pie is my all time favorite recipe of summer. Fresh, flavor-packed summer tomatoes combined with fresh basil, mouthwatering cheeses, baked to a crisp with a garlic breadcrumb topping. Even tomato-haters love it!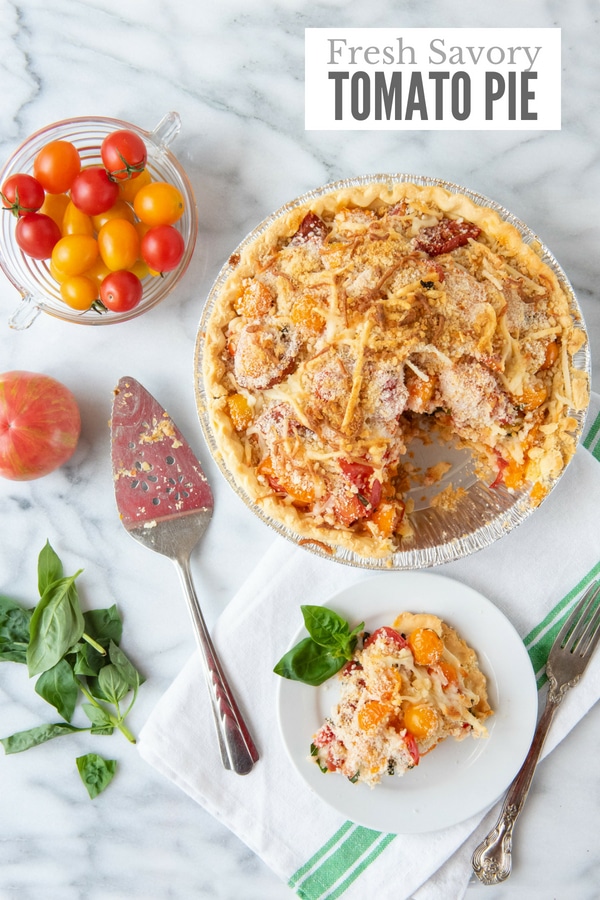 Originally published August 25, 2011; updated July 6, 2018
This dish,Tomato  Pie, is my all-time summer favorite recipe; bar none. It is one I set my sights on at summer's start, barely able to wait until when the tomatoes are perfect to make the tomato pie recipe.
Tomatoes seem to have a polarizing effect; you love them or you don't, very little middle ground. I've made this tomato pie for many over the years, and it has caused even 'tomato haters' to swoon. Seriously.

What is Tomato Pie?
Tomato Pie is a savory pie with a traditional pie crust filled with a mix of fresh tomatoes for filling. The tomatoes are tossed with fresh basil, breadcrumbs, two types of cheese and garlic.
When baked the tomato pie recipe retains a nice texture of fresh tomatoes and the flavor is irresistible. This tomato pie illustrates that it only takes a few wholesome ingredients combined in the right way to have a fantastic recipe.
This is Not the Same as Southern Tomato Pie!
If you search for tomato pie recipes online you'll find a popular southern version that includes mayonnaise and cheddar cheese. It makes a more dense pie of a different sort.
This tomato pie recipes has only a handful of wholesome ingredients: tomatoes, garlic, breadcrumbs, basil and cheese (less fatty types of cheese which help keep the tomato pie fresh and not soggy).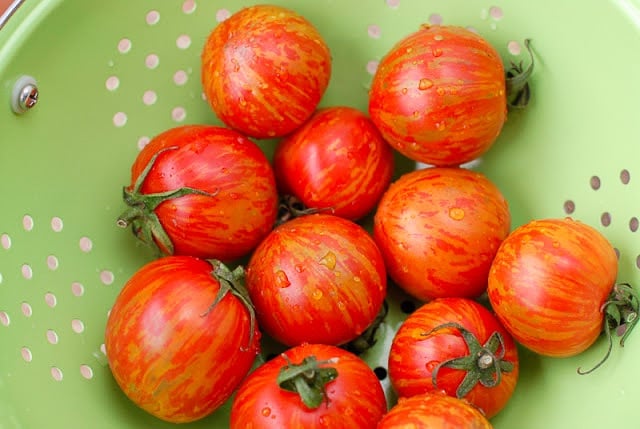 What Does Tomato Pie Taste Like?
First when cooking the Tomato Pie, the house fills with the buttery smell of pie crust punctuated by the flavor of cooking garlic (is there any better smell in a kitchen?).
When taking a bite, the tomatoes are firm; there is a wonderful crunch from the bread crumbs, the distinct flavor of Pecorino cheese, garlic, and the buttery taste of the crust.
Though it's best served right after cooking, it does stand up the next day. It does not get watery or sloppy in the crust as one might expect.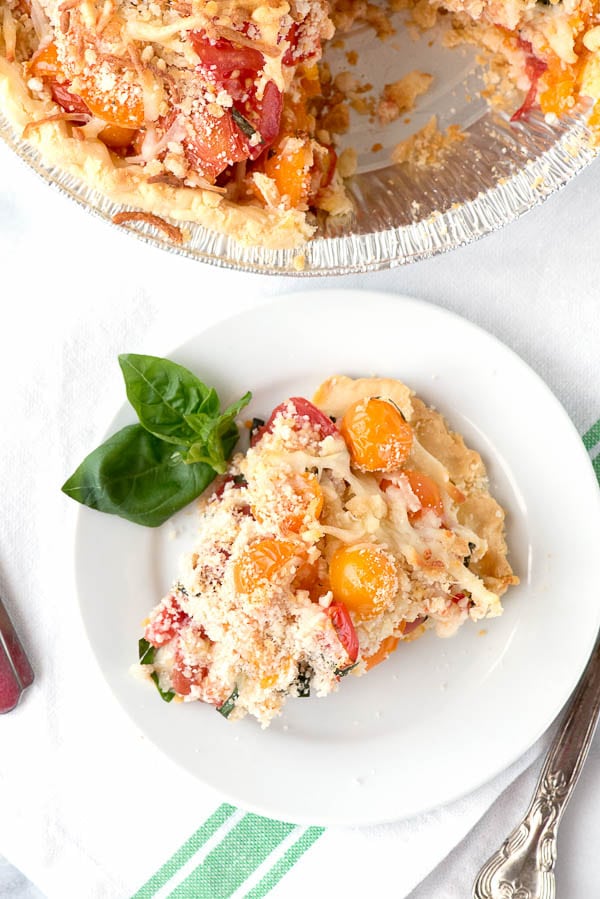 How to Make Tomato Pie
A prepared pie crust is pre-baked (also known as 'blind baking') and set aside.
A mixture of fresh sliced tomatoes, halved yellow cherry tomatoes and halved red cherry tomatoes are tossed together in a mixing bowl.
In a separate small mixing bowl, salt, pepper, minced garlic and fresh basil are combined and tossed in with the tomatoes. The mixture is left to sit for 10 minutes.
In another bowl, grated mozzarella cheese, pecorino (or asiago) cheese are tossed together with breadcrumbs.
Some of the breadcrumb/cheese mixture is sprinkled in the pre-baked crust, followed by a layer of the tomatoes. The layering is repeated ending with a sprinkling of the breadcrumb mixture.
The pie is baked for 20-30 minutes and served warm immediately.
TIME SAVING TIP: use a prepared crust! All you'll need to do is bake it, not make it!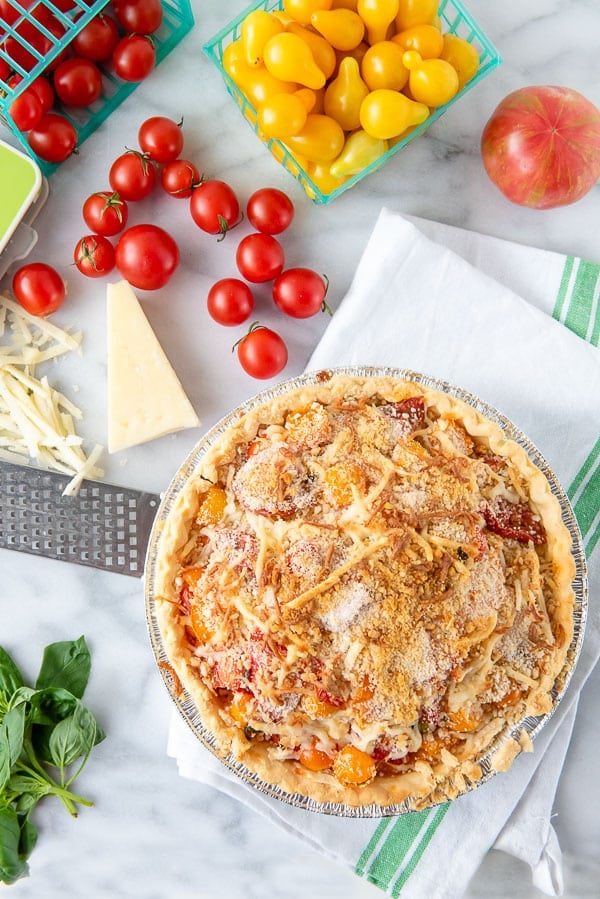 Why This Tomato Pie Is Never Soggy
In the years I've been making this tomato pie recipe it has never been soggy. I believe there are some specific reasons why:
Pre-baking the crust allows the crust to be crisper before adding the tomatoes
Sprinkling some of the breadcrumbs and cheese on the crust before adding the tomatoes may absorb excess liquid
The tomatoes are spooned into the crust with a slotted spoon which drains some liquids before the tomato pie is constructed
The tomatoes are either slices (medium tomatoes) or halved (cherry tomatoes) which releases less juice than chopped tomatoes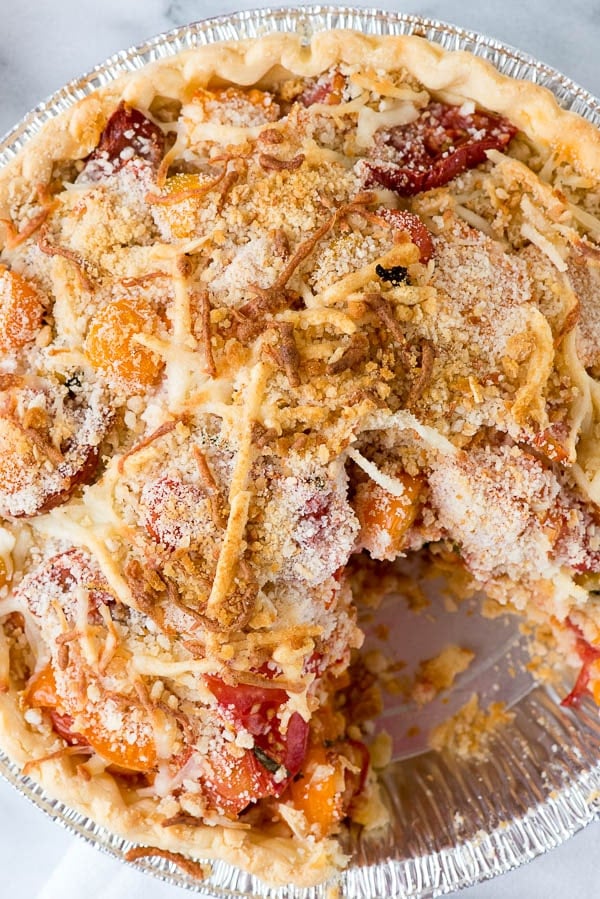 Does Tomato Pie Need to be Refrigerated?
Tomato Pie is best eaten right after it is cooked, either hot or cooled to room temperature. Leftovers can be saved by tightly sealing the tomato pie with plastic wrap and refridgerating.
Reheat chilled tomato pie in a low temperature oven or the microwave.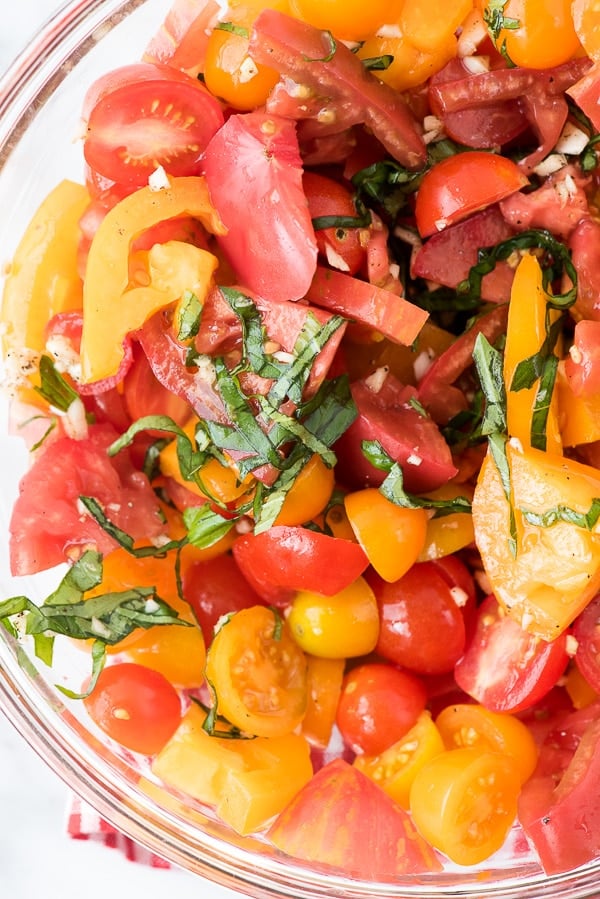 Can Tomato Pie be Frozen?
I have never frozen a tomato pie and feel it's best fresh. Though it probably could be frozen I believe the tomatoes would lose their wonderful texture and the crunch of the breadcrumb mixture would also be lost.
The Origin of this Tomato Pie Recipe
I discovered this dish about ten years ago in one of my favorite cookbooks Fresh From The Garden Cookbook by Ann Lovejoy. Admittedly it was the diminutive size of the cookbook that first drew my attention, however after flipping through it, the seasonal recipes really spoke to my food tastes.
Ann hails from the Pacific Northwest which is the equivalent of foodie Nirvana in my opinion. Every aspect of the foodscape is available locally there, from wonderful local produce, seafood, meats and fantastic growing opportunities in one's garden.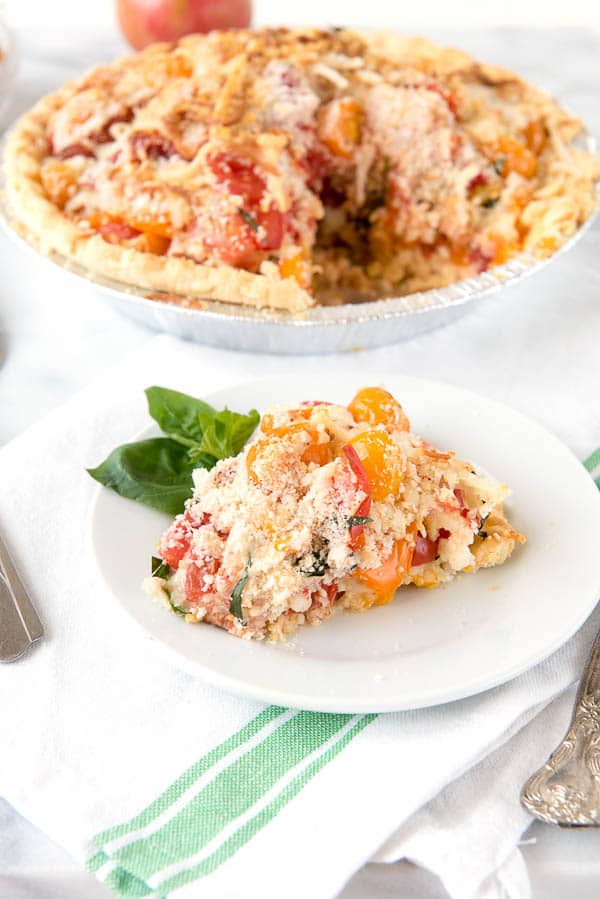 If you've tried this Fresh Savory Tomato Pie recipe please RATE THE RECIPE below!
Please SUBSCRIBE and FOLLOW ME on FACEBOOK , TWITTER , INSTAGRAM and PINTEREST to see more delicious food, travel and what I'm up to!
How to Make Fresh Savory Tomato Pie – Step by Step: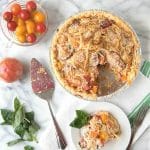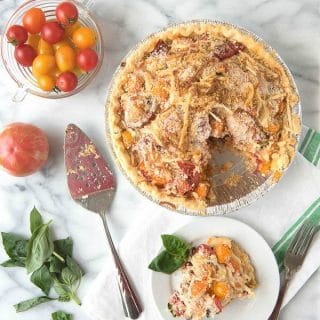 Fresh Savory Tomato Pie
Fresh Savory Tomato Pie has been my favorite summer recipe for years now, and I feel sure you'll agree once making it. It has even swayed the most vehement of 'tomato-haters' to reconsider their position! The original recipes suggests using a range of ripe tomatoes to achieve the fullest possible flavor, mixing succulent heirlooms with new hybrids. I fully agree. A variety of cherry tomatoes also adds color and flavor.Use your favorite pie crust recipe, gluten-free or regular, or substitute a prepared pie crust. The results will be equally delicious!
Ingredients
Prepared Pie Crust recipe for an 8 inch to 9 inch pie crust

(or purchased pie crust)*

¼

teaspoon

Kosher Salt

¼

teaspoon

Black Pepper

, freshly ground

2

cloves

Garlic

, minced or pressed

2

tablespoons

finely shredded fresh Basil Leaves

4

medium ripe Tomatoes

, cored, cut in half and sliced

1

cup

Yellow Cherry Tomatoes

, cut in half**

1

cup

Red Cherry Tomatoes

, cut in half**

1

cup

fine Bread Crumbs

(I used Ian's Gluten-Free Panko Crumbs)***

½

cup

coarsely grated fresh Mozzarella cheese

½

cup

coarsely grated Pecorino or Asiago cheese
Instructions
Preheat the oven to 400 degrees. Line an 8 inch or 9 inch pie pan with pie crust OR take the lazy-girl route like me and use a purchased pie crust (see below). If you are gluten free, adapt the crust type to your needs.

Prick the crust all over with a fork and bake until lightly browned (8-12 minutes; check frequently after 8 minutes so it does not brown too much). Remove the crust and set aside. Leave the oven on.

While the pie crust is cooking, place all the tomatoes in a medium sized mixing bowl.

In a separate small mixing bowl, mix together the salt, pepper, garlic and basil. Sprinkle over tomatoes, gently stir to incorporate with the tomatoes and let sit for 10 minutes.

In another medium mixing bowl, combine the cheeses and bread crumbs. Toss to fully combine.

Sprinkle a light layer of the bread crumb-cheese mixture in the bottom of the prepared pie crust. Using a slotted spoon, add a layer of the tomatoes on top of the bread crumbs and cheese. Continue layering in this way, ending with a sprinkling of the bread crumbs and cheese.

Bake until warmed through, about 20 to 30 minutes. Serve immediately.
Recipe Notes
Recipe adapted from Fresh from the Garden Cookbook.
*I often use Whole Foods Gluten-Free Pie Crust found in the frozen section. Let it thaw before using.
**Use any combination of colored Cherry Tomatoes you love. The color adds a great dimension to the recipe as well as varied flavors.
***Another option with bread crumbs is to make your own which I often do. Toast some slices of bread either in a toaster or under a broiler. Process them through a blender or food processor into crumbs. If they are still moist, spread them out on a baking sheet under a broiler for 30 seconds (keep an eye on them so they don't burn). Extras can be stored in the freezer in a sealed plastic bag or freezer-proof container.
Nutrition Facts
Fresh Savory Tomato Pie
Amount Per Serving
Calories 132
Calories from Fat 27
% Daily Value*
Total Fat 3g 5%
Cholesterol 14mg 5%
Sodium 288mg 12%
Potassium 250mg 7%
Total Carbohydrates 19g 6%
Protein 5g 10%
* Percent Daily Values are based on a 2000 calorie diet.