Cool, refreshing Gazpacho soup is perfect to take the edge of summer heat. Packed with fresh, ripe vegetables and big flavor. It's so easy and fast to make!

Gazpacho is a classic cold Spanish soup that's perfect for summer.
It's thirst quenching and very easy to make. No cooking required!
Everything goes into a blender or food processor, and the soup is ready in less than five minutes.
Chill it for the flavors to blend and then you'll be sipping it all summer long.
Jump to:
Serve as a traditional soup or in shot glasses for a quick drink on the hottest of days!
Packed with fresh vegetables it's fast to make, skinny on calories and big on flavor.
Recipe Ingredient Notes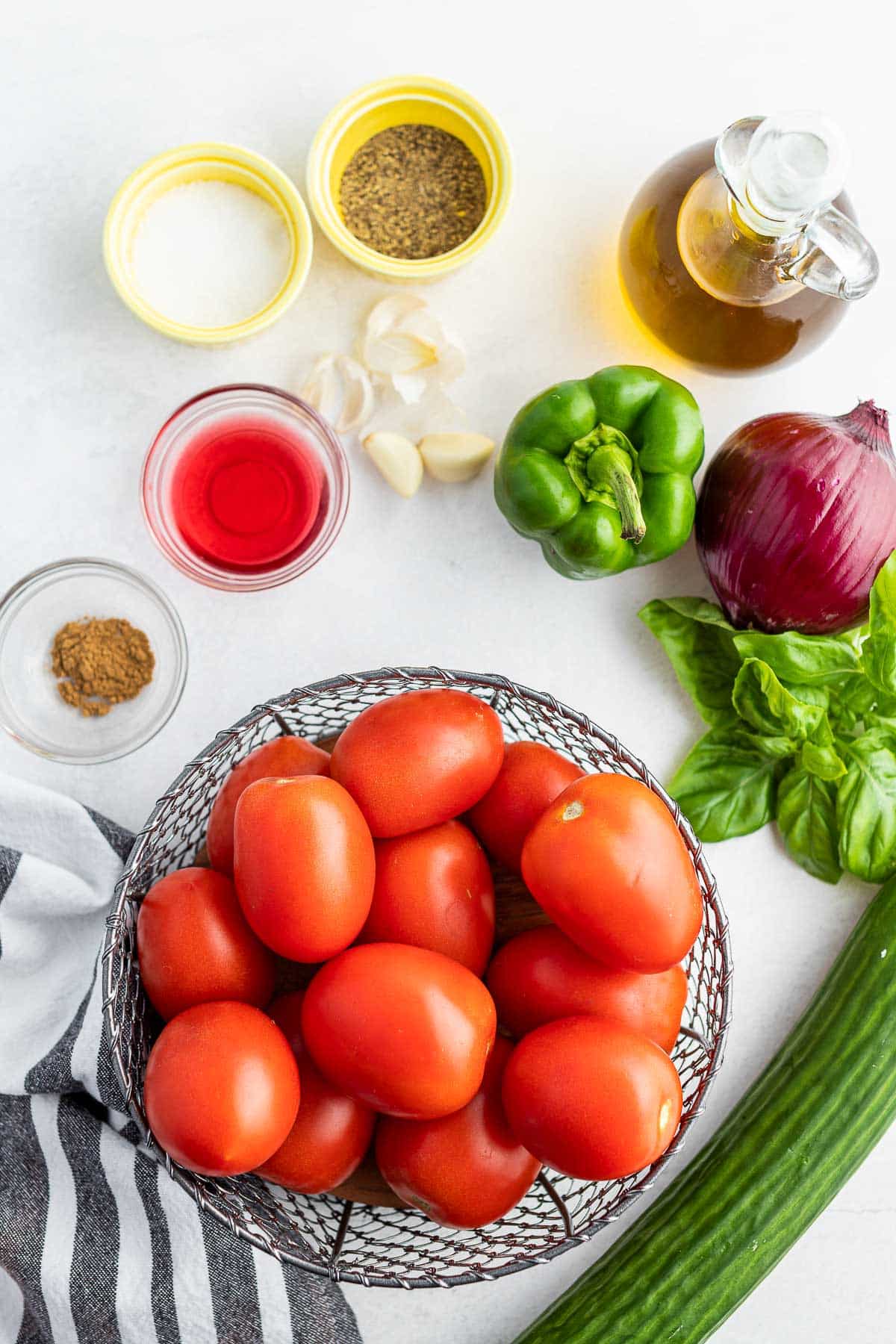 A key to great Gazpacho is ripe, flavorful ingredients. Choose ripe from your garden or the store for the best flavor.
Olive Oil
Red wine vinegar or sherry vinegar
Kosher salt
ground Black Pepper
ground Cumin
Red Onion
Garlic Cloves
Cucumber. Either traditional or English cucumber can be used. If using a regular cucumber you'll use more and need to scoop out the seeds first.
English cucumbers are larger so you'd just use 1/2 of one. Peel it but no need to remove the seeds.
Green Bell Pepper. Traditional Gazpacho 'experts' will tell you the bell pepper MUST be green. The flavor it slightly different adding to the signature soup flavor. If you have a different color, feel free to use it. The gazpacho will still be delicious.
ripe Roma tomatoes. The ripeness note goes for all the vegetables but it probably most important for the flavor of the tomatoes. A truly ripe tomato is full of natural flavor. Tomatoes that aren't naturally ripe do not offer the rich natural flavors that make this recipe sing.
Roma tomatoes are specifically used because they have a denser tomato flavor perfect for the soup and less liquid in them.
How to remove tomato seeds:
Scoop out and discard the seeds before adding the tomatoes to the blender or food processor.
How to remove tomato seeds:
Halve the tomatoes lengthwise.
Use a small paring knife to cut out the stem area.
Use a large dining spoon to scoop out the seeds and core.
Is there Bread in this recipe?
A secret of many Gazpacho recipe makers to put a moistened piece of baguette in the soup before blending to give is a smooth texture.
This recipe does not include bread. The texture is excellent whether you make it smooth or chunky.

Serve it Chunky or Smooth
This soup recipe can be served with some texture (chunky) or smooth. It's really up to personal taste.
The recipe is written to allow you to make the decision at the end about leaving it with some texture or pureeing it smooth.
To serve smooth: use a traditional blender or food processor.
To serve chunky: A regular blend or food processor can be used too.
If you want precise control of the texture, using an immersion blender is also possible.
If wanting to use this option make the soup in a large bowl or non-reactive pot.
How to Make Gazpacho – Step-by-Step:
NOTE: If using a Vitamix or similar powerful blender all vegetables can be added and once.
They do not need to be added and blended between each vegetable as noted in the recipe.
STEP 1: In a blender or food processor pour in olive oil and red wine vinegar (photo 1). Pulse a few times to mix.
STEP 2: Add salt, pepper and cumin, pulse briefly to mix (photo 2).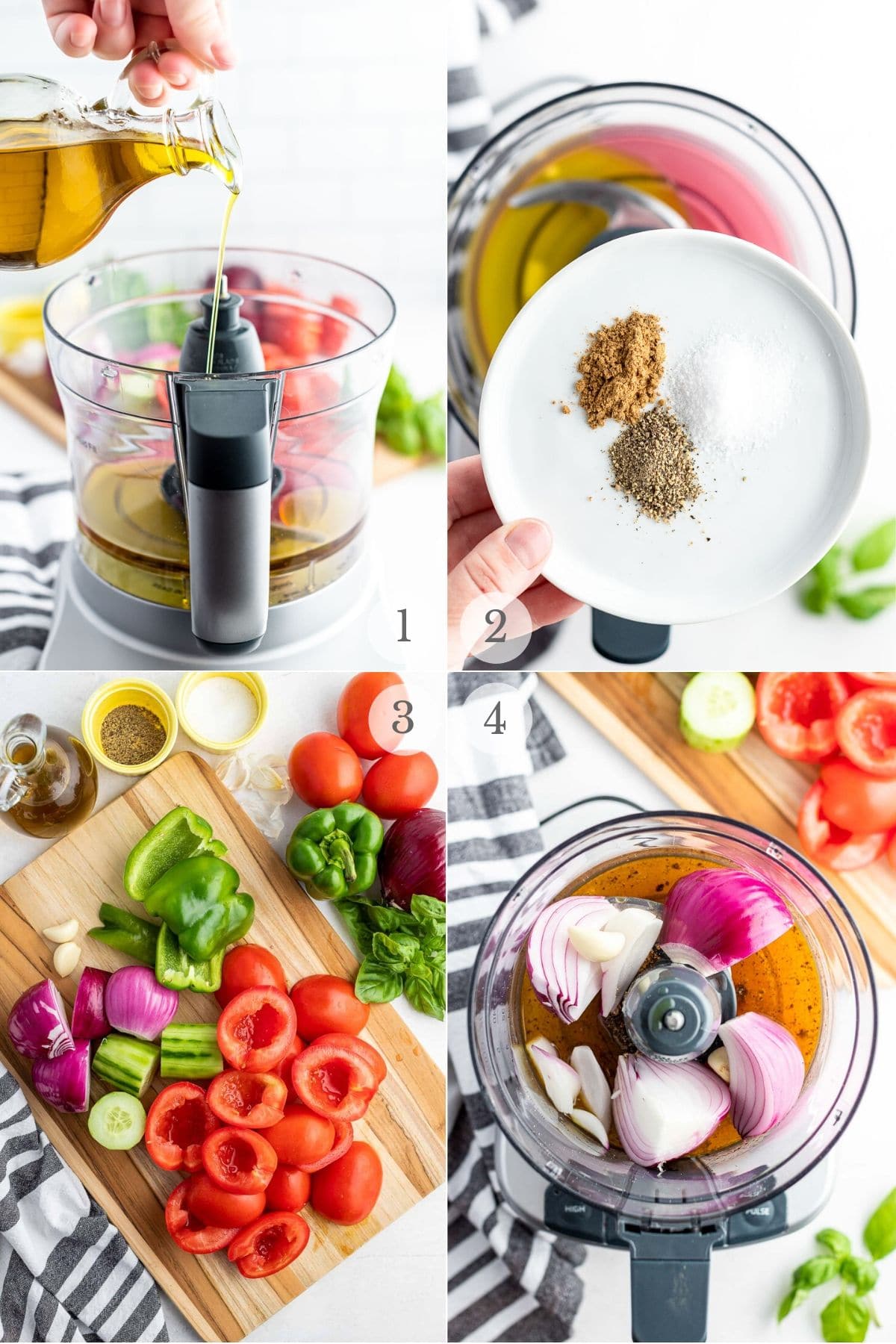 STEP 3: Cut all of the vegetables into large chunks that will fit into your blender or food processor (photo 3).
STEP 4: Add garlic and onion, pulse to chop (photos 4-5).
STEP 5: Add cucumber (photo 6) and chop but do not puree (post processing texture in photo 7 underneath the green pepper).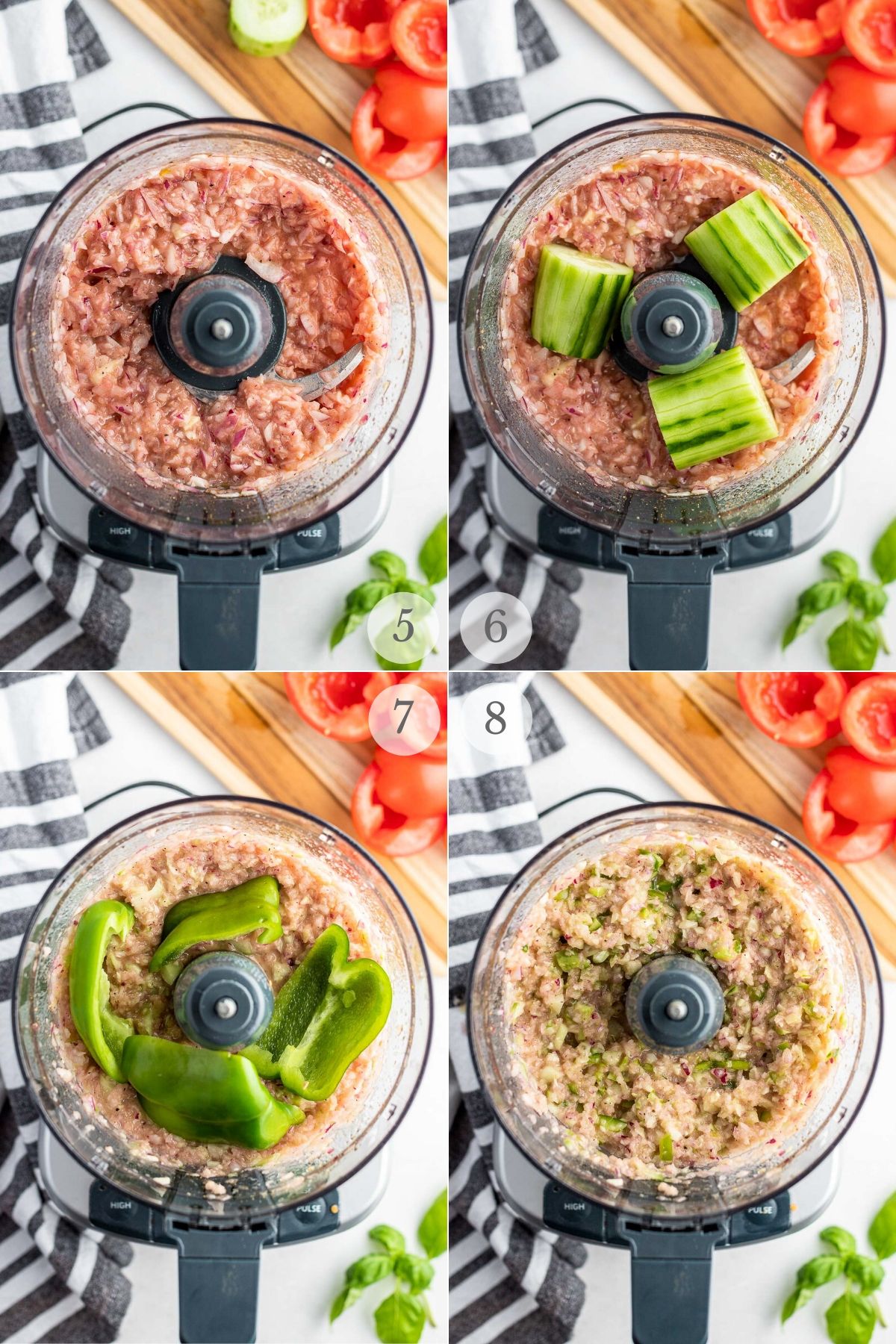 STEP 6: Add the bell peppers (photo 7) and once again chop but do not puree (photo 8).
STEP 7: Place tomatoes in the food processor/blender (photo 9) and pulse once again (photo 10).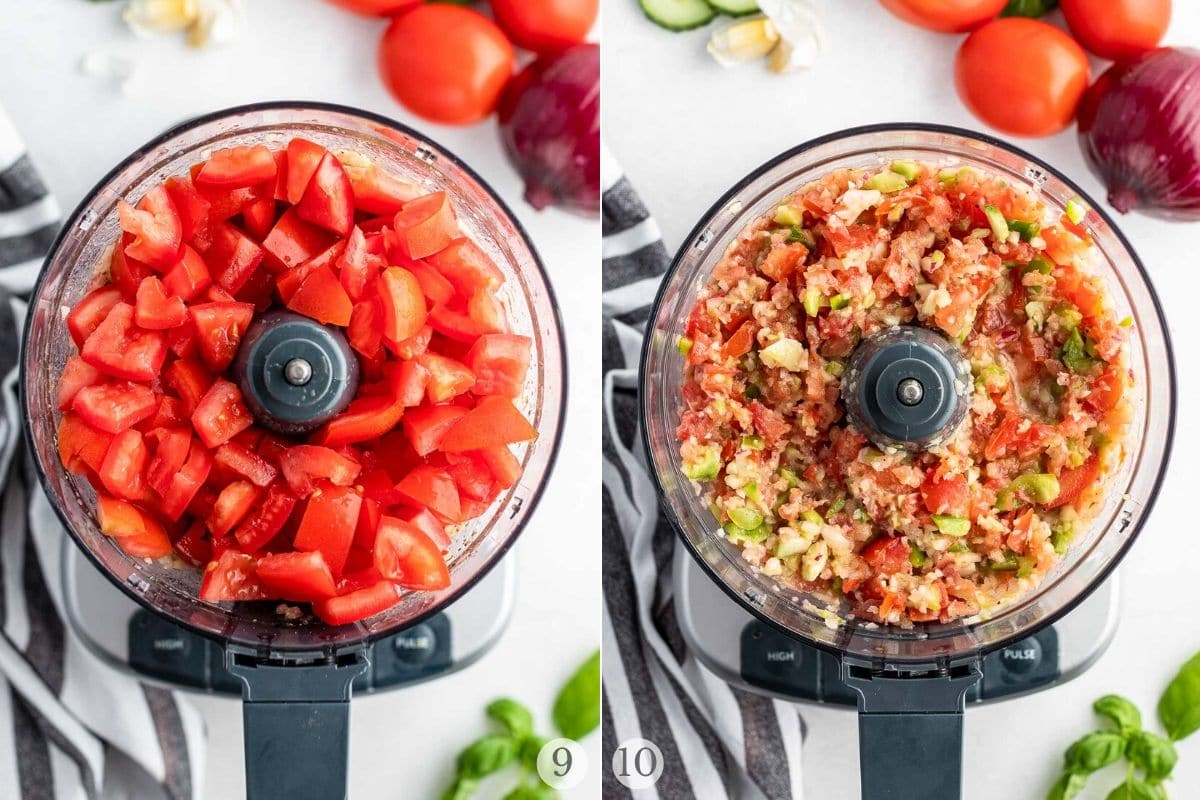 If you prefer a chunky consistency, stop the recipe here. It will look like this….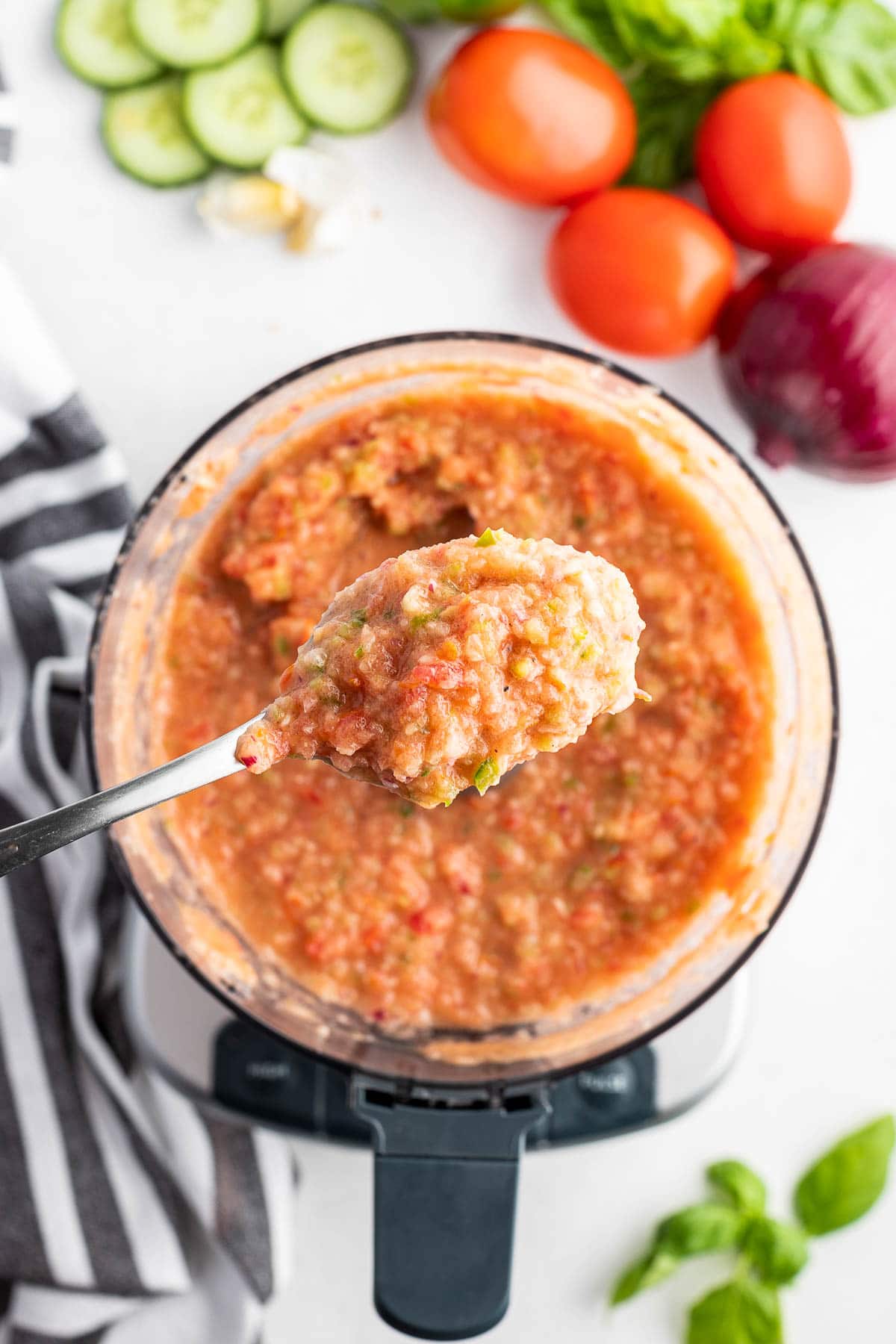 If a very creamy consistency is desired, blend thoroughly at this point…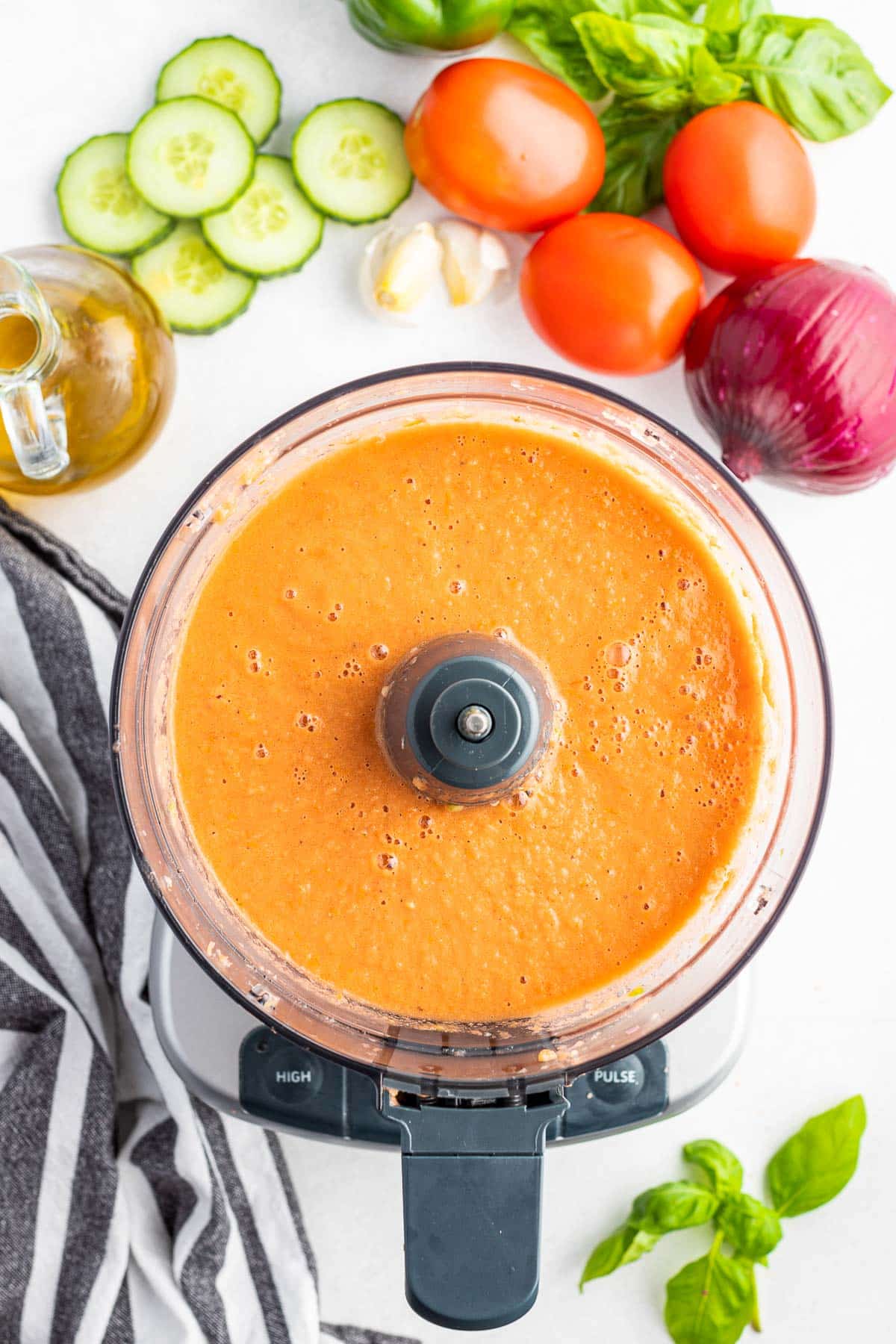 Pour soup into a non-reactive container, cover, and chill for at least one hour to allow flavors to blend.
I use a large glass Mason jar.

How to Serve it
Serve the gazpacho chilled or room temperature with a drizzle of olive oil, chopped herbs (fresh basil, cilantro or Italian parsley) and/or any chopped gazpacho ingredients (cucumber, green pepper, tomato) diced.
A side of crusty baguette slices is all you need!
How to Store it
This soup will keep well in the refrigerator for up to 3 days.
Be sure to mix the soup thoroughly before serving as the water in the vegetables will tend to separate and rise to the top.
Can you Freeze Gazpacho?
You can! The smooth version will weather freezing and thawing best to retain a pleasant texture.
Freeze in a freezer safe container for up to 3-6 months. Thaw in the refrigerator before serving.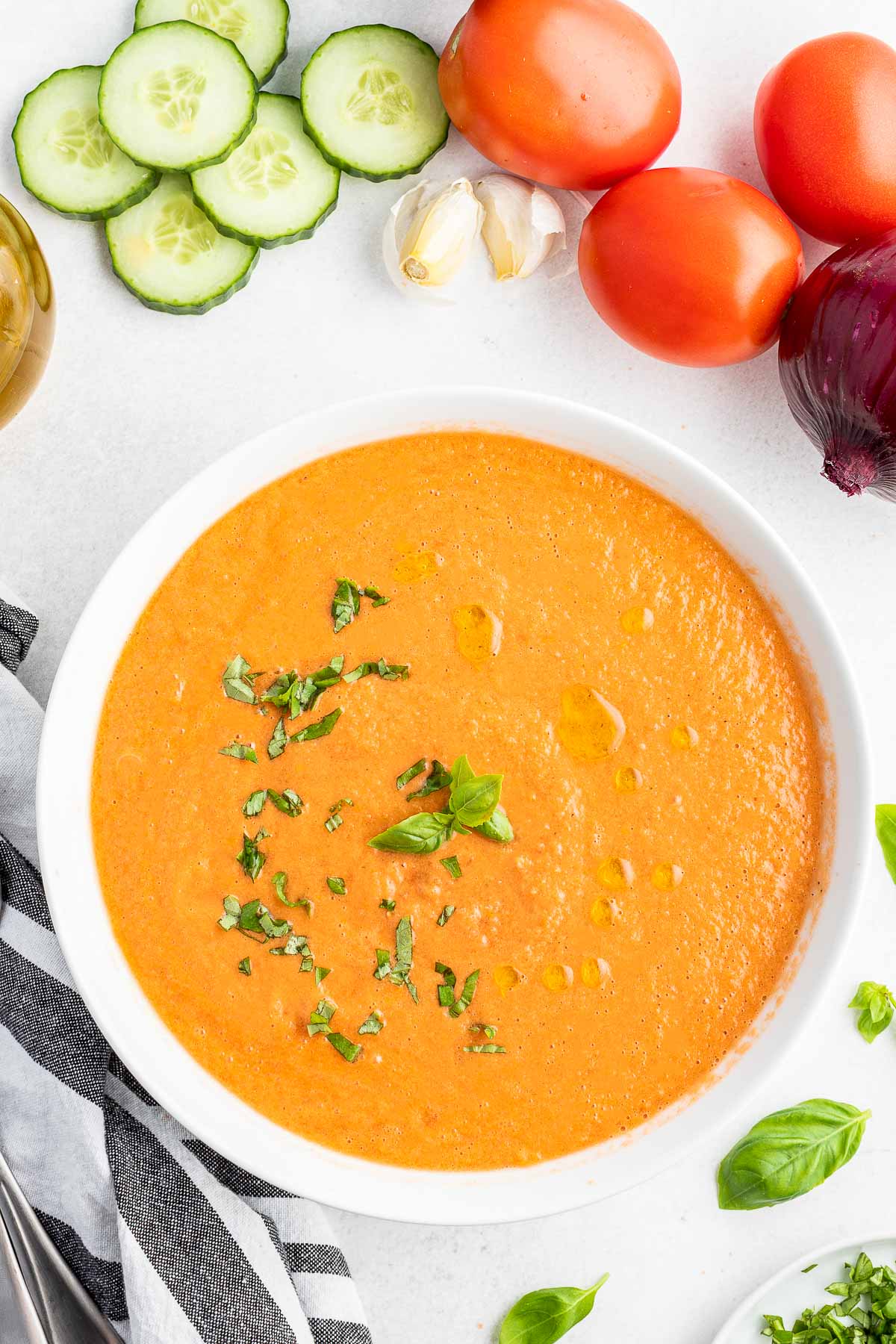 More Soup Recipes You'll Love!
Try these Recipes too!
Recipe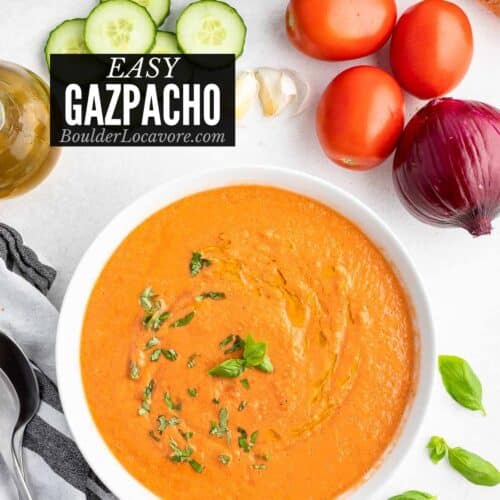 GAZPACHO RECIPE
This recipe offers a method to make either a slightly chunky OR smooth Gazpacho. Makes 4 ½ cups Prep time: 15 minutes
Print
Save Recipe
Recipe Saved!
Pin
Rate
Servings:
9
1/2-cup servings (total yield: 4 1/2 cups)
Ingredients
1/4

cup

Olive Oil

2

tablespoons

Red wine vinegar or Sherry vinegar

1

teaspoon

Kosher salt

½

teaspoon

ground Black Pepper

1/2

teaspoon

ground Cumin

½

small

Red Onion

peeled

2

small

Garlic Cloves

peeled

1

medium

Cucumber

peeled and seeds removed (or ½ English cucumber, peeled)

1

medium

Green Bell Pepper

rinsed, seeds and stem removed

1 ½

pounds

ripe Roma tomatoes

rinsed, cored with seeds removed
Instructions
In a blender or food processor pour in olive oil and red wine vinegar. Pulse a few times to mix.

Add salt, pepper and cumin, pulse briefly to mix.

Cut all of the vegetables into large chunks that will fit into your blender or food processor.

Add garlic and onion, pulse to chop.

Add cucumber and chop but do not puree.

Bell peppers can be added now and once again chop but do not puree.

Place tomatoes in a food processor and pulse once again.

If a very creamy consistency is desired, blend thoroughly at this point. If you prefer to have bits of veggie, you are done with chopping.

Pour soup into a container, cover, and chill for at least one hour to allow flavors to blend.

Serve chilled or room temperature with a drizzle of olive oil, chopped herbs (fresh basil, cilantro or Italian parsley) and/or any chopped gazpacho ingredients (cucumber, green pepper, tomato)
Nutrition
Calories:
77
kcal
|
Carbohydrates:
5
g
|
Protein:
1
g
|
Fat:
6
g
|
Saturated Fat:
1
g
|
Sodium:
264
mg
|
Potassium:
242
mg
|
Fiber:
1
g
|
Sugar:
3
g
|
Vitamin A:
695
IU
|
Vitamin C:
22
mg
|
Calcium:
15
mg
|
Iron:
1
mg