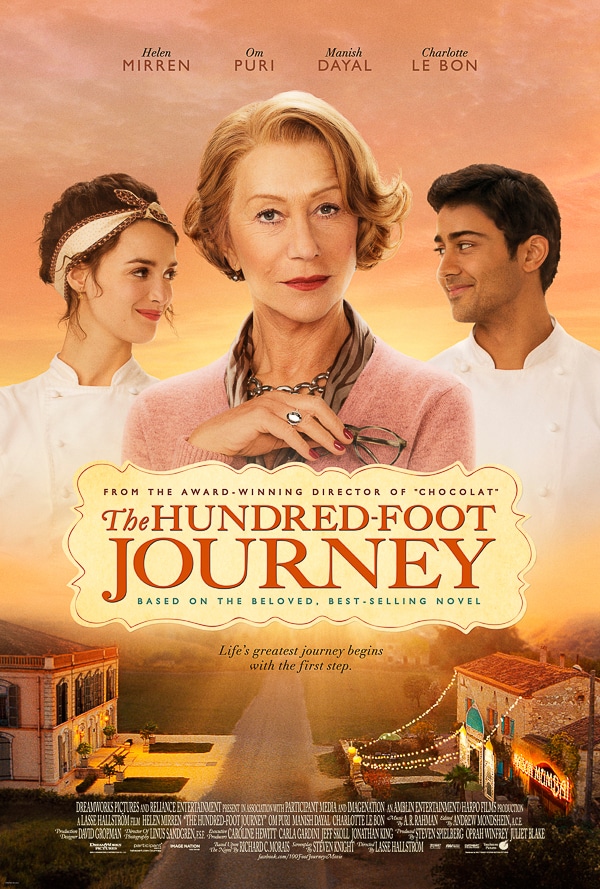 I love to travel and I love movies for very similar reasons. Movies are a form of travel really, transporting the watcher to a different place, time or life situation. I'm sure you've seen movies leaving you changed by the time you depart the theater, or feeling completely rejuvenated and excited. I have one of those gems to share with you today!
I received an email from Dreamworks this week, letting me know about a new movie they are releasing in August, directed by Lasse Hallström (who directed 'Chocolat') and produced by Steven Speilberg, Oprah Winfrey and Juliet Blake; The Hundred-Foot Journey. At first it seemed a funny thing to send to a food blogger but when watching the trailer I fell instantly in love. This movie is for everyone, and those who love food will be over the moon as it showcases the sensory pleasures of food we all universally share. It offers some fantastic 'armchair travel' to the south of France to meet rich characters, engaged in a heart-warming plot with beautiful food leaving the viewer completely uplifted! What could be better? Have a look yourself…..
In "The Hundred-Foot Journey," Hassan Kadam (Manish Dayal) is a culinary ingénue with the gastronomic equivalent of perfect pitch. Displaced from their native India, the Kadam family, led by Papa (Om Puri), settles in the quaint village of Saint-Antonin-Noble-Val in the south of France. Filled with charm, it is both picturesque and elegant – the ideal place to settle down and open an Indian restaurant, the Maison Mumbai. That is, until the chilly chef proprietress of Le Saule Pleureur, a Michelin starred, classical French restaurant run by Madame Mallory (Academy Award®-winner Helen Mirren), gets wind of it. Her icy protests against the new Indian restaurant a hundred feet from her own escalate to all out war between the two establishments – until Hassan's passion for French haute cuisine and for Mme. Mallory's enchanting sous chef, Marguerite (Charlotte Le Bon), combine with his mysteriously delicious talent to weave magic between their two cultures and imbue Saint-Antonin with the flavors of life that even Mme. Mallory cannot ignore. At first Mme. Mallory's culinary rival, she eventually recognizes Hassan's gift as a chef and takes him under her wing.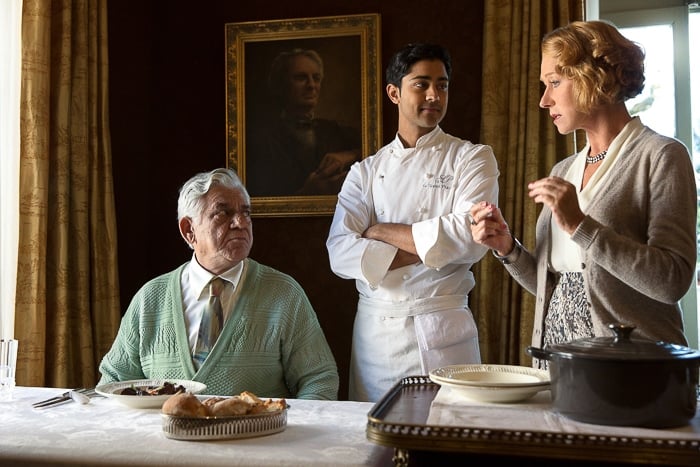 "The Hundred-Foot Journey" abounds with flavors that burst across the tongue. A stimulating triumph over exile, blossoming with passion and heart, with marjoram and madras, it is a portrayal of two worlds colliding and one boy's drive to find the comfort of home, in every pot, wherever he may be.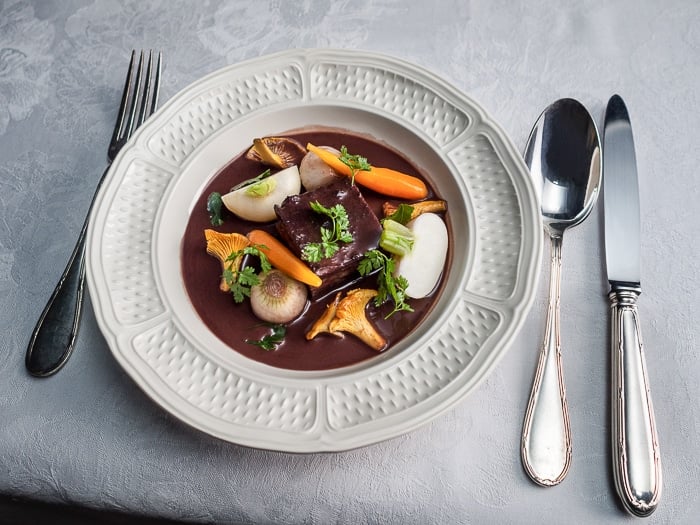 To further pique your interest, I'm sharing a recipe today from The Hundred-Foot Journey for Beef Bourguinon a la Hassan. A French classic dish melded with Indian spice as the movie trailer suggests! Gluten-free chefs: please substitute your favorite gluten-free flour blend for the AP flour.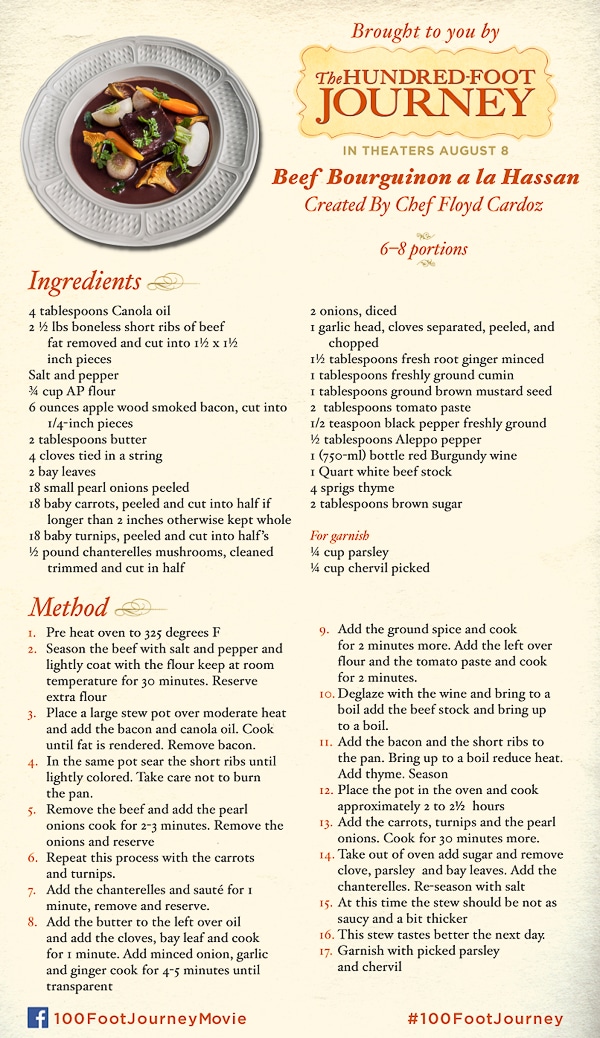 The Hundred-Foot Journey will be released in theaters on August 8, 2014 (the film is not yet rated). It is absolutely on my summer list and I'm sure you won't want to miss it either!
My thanks to Dreamworks for supplying the photographs, recipe, trailer and movie plot synopsis for The Hundred-Foot Journey!