Calling all Mad Men fans and sandwich lovers, you won't want to miss this Brooklyn Avenue Sandwich! Pastrami on rye bread with cole slaw on the sandwich and Russian Dressing. Lunchtime really doesn't get much better than this.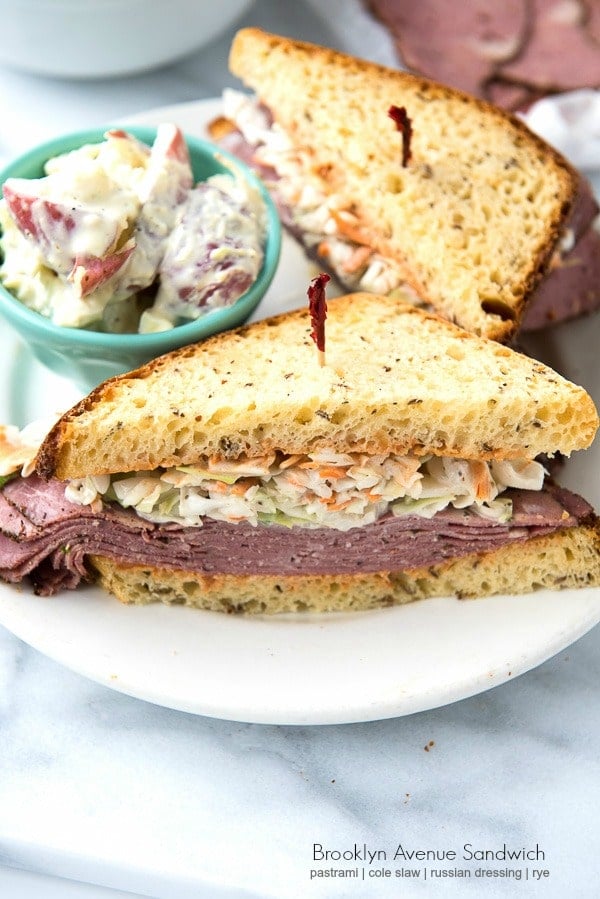 About 3 or 4 years ago when my son was still in elementary school, I was working on a project with a few teachers.
After meeting one-on-one with the only male teacher in our school, a young, hip, highly coveted teacher by the students, he asked me if I watched Mad Men.
I didn't. He said I really reminded him of one of the characters in the show. Not watching it I did not think to ask which one.
Fast forward to today. I've just spent the last two weeks immersed in the 1960's, binge watching all 7 seasons of Mad Men.
I tend to watch series, usually online, and love well-developed characters, sophisticated plots and scenarios that so draw you in that you feel as if you've traveled to the location or era.
A few friends strongly encouraged that Mad Men had to be my next watch, and I'm so glad they did.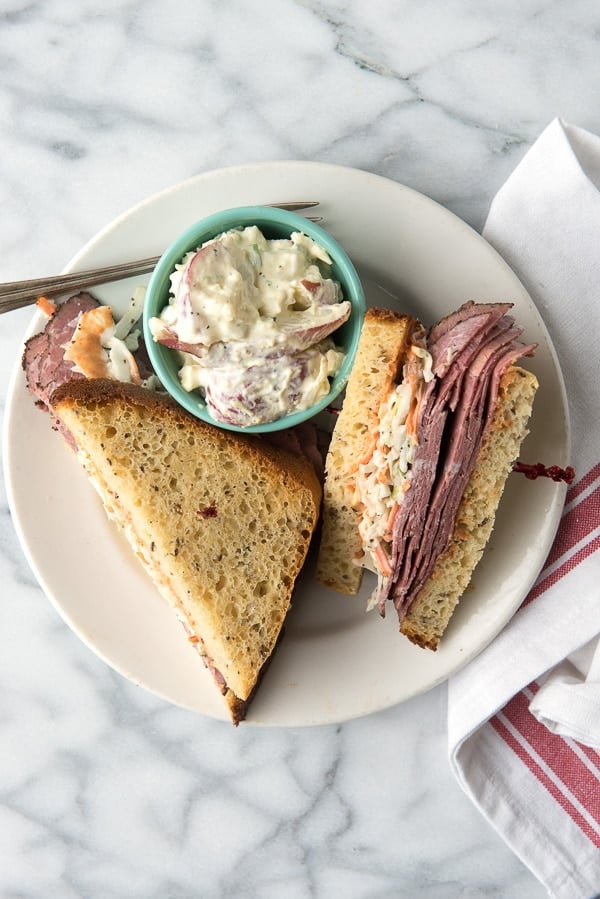 Candidly it took a little while to engage with the show for me. For those who have not watched, it is an AMC series about an ad agency in New York City spanning the entire decade of the 1960's. There is a quorum of key characters, Don Draper being the main focus (played by Jon Hamm), and the audience rides side car as they navigate the trends and perils of the time usually smoking and drinking a lot.
Watching from 2015 many things struck me in addition to the complexity of the characters.
They would generally roll into work not so early, ask their 'girl' for coffee as she hangs up their coats and then drink straight booze from the stylish bar carts in their office at any happening, good or bad, all through the day.
Don Draper frequently 'lays down', having all his calls held, as he naps during the day before unfurling a genius ad slogan which really is his sole worth.
It took me about half of the first season to not feel I was going to hurl just watching all the smoking, everywhere from restaurants to meeting rooms and airplanes.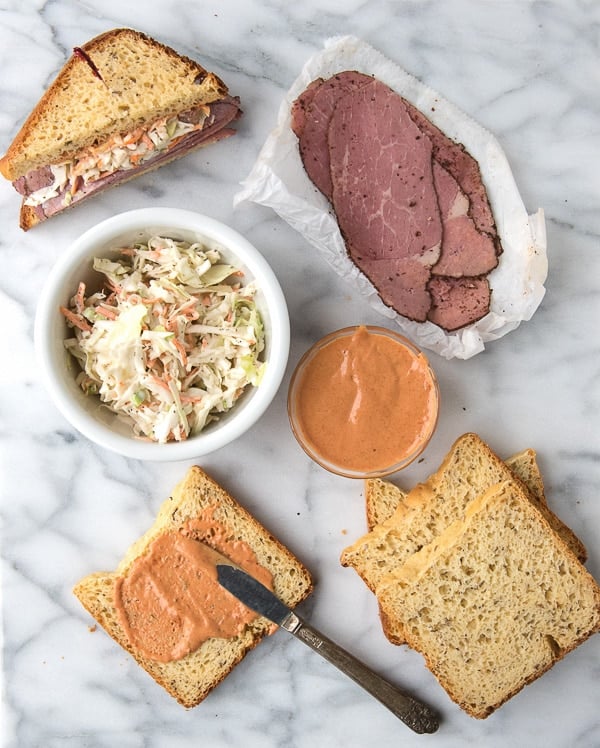 I was initially captivated by the characters and their roller coaster plot lines.
The secretary who becomes a copywriter, really facing what I'm sure women did in a man's work force in that era.
A voluptuous red head office manager becoming a partner and savvy business woman battling for men to take her seriously in the board room rather than wanting to spend time in the bedroom.
The men's indiscretions in their personal lives and work, coming within an inch of their lives of being caught.
But usually like a cat, living out more than nine lives before things crashed down on them.
The housewives dedicated to a clean house, impeccable make up and dress, the entire priority of their day being a dazzling dinner on the table when their ad men husbands arrive home (which is usually much later than they promise; and of course there were no cell phones to communicate in a timely way).
My attention broadened to notice the series impeccable attention to detail.
Every article of clothing, furniture, turn of phrase in perfect place.
I almost had a heart attack when in one episode near Halloween, there was a 'vintage' decoration of a black cat on an orange accordion stand in Joan's office that I purchased myself from eBay a few years ago.
I love the fashion. Have searched eBay for some particular bar glasses they use in the latter season and spied many items I recall from my Grandmother's kitchen.
I also loved the discovery of big brands we know today in their nubile form just starting out needing a catchy ad campaign.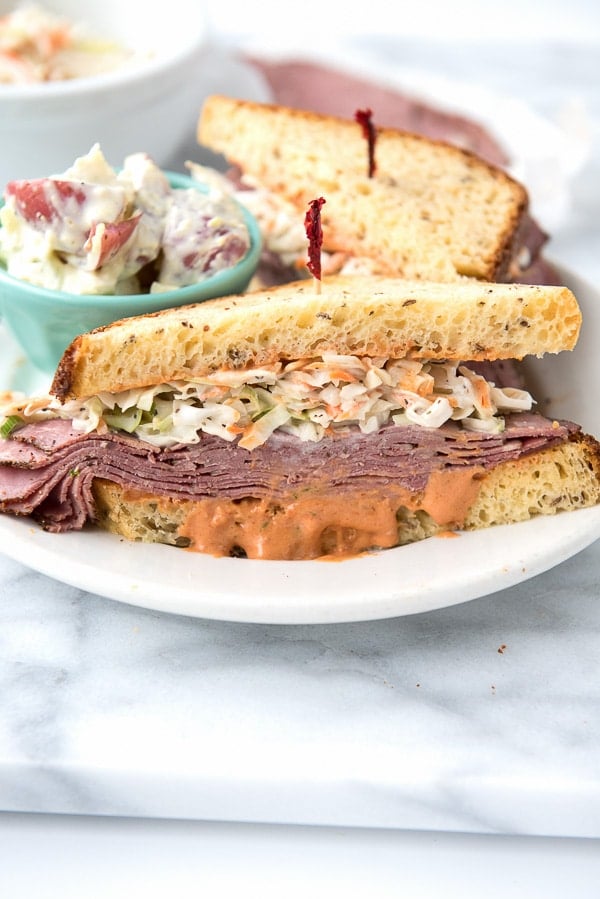 Brooklyn Avenue Sandwich
Somewhere in the midst of season 6 when Pete Campbell is working in Southern California with his distinct tan and receding hairline, he takes visiting Don Draper to a deli where they have a Brooklyn Avenue sandwich.
Pete is raving about how it's like New York on the west coast (though the bagels are terrible per his opinion) with pastrami on rye with cole slaw directly on the sandwich. Insert the sound of cartoon brakes screeching to a halt now.
Origins of the Sandwich
I paused the show right then, wrote down the name of the sandwich, began to text all my friends from the New York area and spent two hours researching.
I had thought the sandwich was originally from New York and served at this Los Angeles deli but that was not correct. The sandwich was conceived at Canter's Deli in Los Angeles, a Jewish-style deli opened in 1931 originally on what was Brooklyn Avenue (and is now Cesar Chavez Ave) in Boyle Heights.
The only thing about the sandwich I could find online was from their menu.
Pastrami, cole slaw and Russian Dressing on rye with a side of potato salad.
Turns out the Mad Men Episode was filmed at Canter's and not one thing in the restaurant had to be changed to be 1960's authentic; it is still exactly the same as it was in the '60s.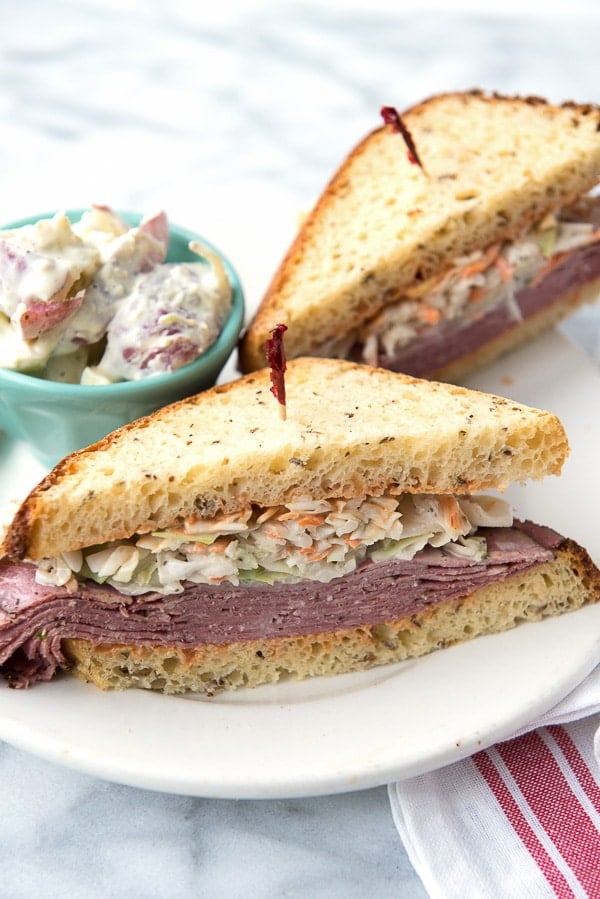 Though I'm not a big sandwich gal, this sandwich had my name all over it.
Pastrami is not a common lunch meat any more and I was immediately hungry for it.
It took me several calls locally before I could find traditional beef pastrami (thank you Whole Foods) rather than turkey or bison pastrami. The crunchy sweetness of cole slaw ON the sandwich? Where do I sign up?
And Russian Dressing.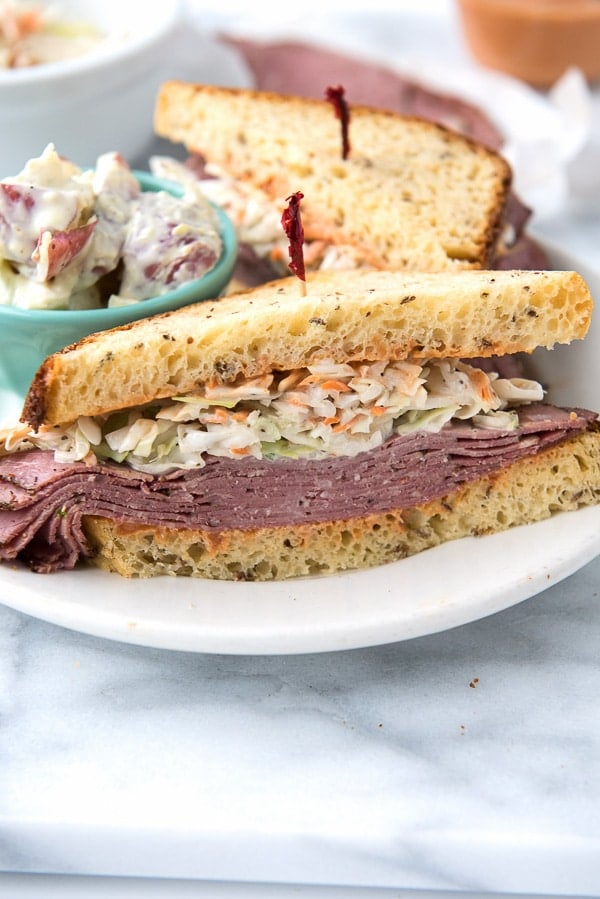 Though it takes a bit of time to whip up fresh cole slaw and the Russian Dressing (which should be made before hand to chill for a few hours and thicken), it is completely worth it. I even augmented one of our favorite gluten-free bread mixes to create a 'safe' version of rye bread.
The flavors of this sandwich are fantastic; sweet, salty, spicy. The texture and mouth-feel is out of this world between the thin pastrami and the crunch of the cole slaw. My family gobbled it up and quickly went out to buy more pastrami! Served with a side of traditional potato salad and you are set. Check out the Mad Men series and definitely the sandwich!
I never have figured out which character the teacher felt I reminded him of. But I'm glad his comment piqued my interest to watch. For this sandwich alone!
Inspired by an episode of Mad Men featuring this sandwich from Canter's Deli in Los Angeles, the Brooklyn Avenue may become your favorite sandwich ever! Spicy Russian dressing slathered on rye bread, with pastrami topped with cole slaw! What's not to love? Included is a recipe for ample Russian dressing and cole slaw. Planning for 4 ounces pastrami (or to your preference) per sandwich, there will be ample ingredients to make several sandwiches. Each the Russian dressing and cole slaw recipes may be made independently for different uses and increased by keeping the proportions the same. I personally amended our favorite gluten-free breadmaker mix to make a mock rye bread that is gluten-free! Those details are shared in the Notes section below.