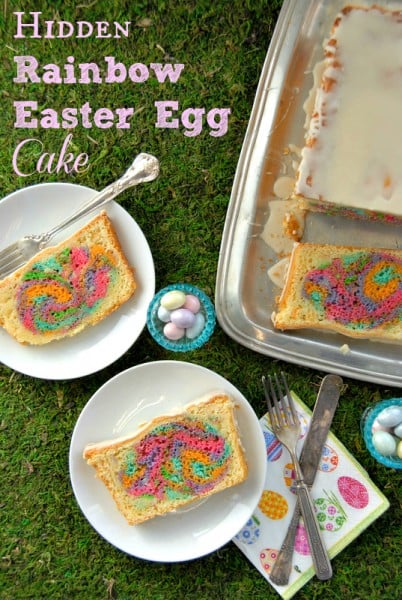 It was about 3.4 nanoseconds after cutting into the Hidden Heart Cake recipe I created for Valentine's Day that I began to think about an iteration for Easter. It seemed such a perfect holiday for sneaking away an unexpected egg where one would not think to look; in the middle of a cake!
We all have memories of that last Easter egg gone missing. My most 'fond' would be when I was in Junior High. In the early summer the off-putting odor of sulfur began to emanate from my closet. After several attempts to locate the source of the stench, I finally found a beautifully dyed hard boiled egg rotting in the pocket of my ski parka. I did curse the Easter Bunny for the putrid odor that did not dissipate quickly.
No risk of that happening in this case. The making of this cake actually includes two methods; making a Rainbow Cake and the nesting of a cake-inside- a cake. Since I am a gluten-free baker I have chosen to use pound cake. Gluten free cake tends not to be as dense as cake with gluten (gluten is a binder that holds things together), so desiring the most dense cake possible I've found pound cake works well.
I think you'll agree the ease of creating a Rainbow Cake is one that is easily adaptable for many forms of cake and occasions. It is a bit mystifying to imagine how it turns out as it does; a seemingly unsophisticated, random method of slopping colored batter in layers that magically transforms during baking to yield a swirling rainbow extravaganza.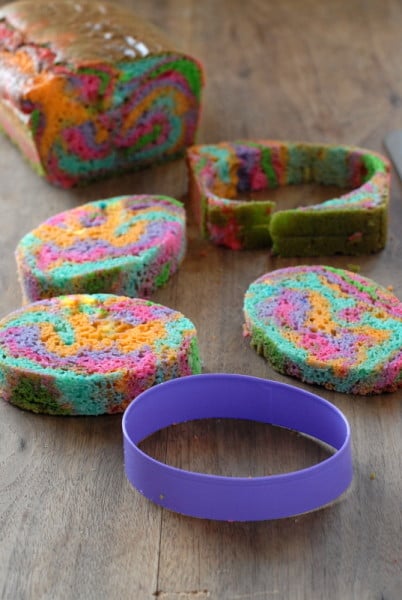 However magical the rainbow cake may be, there is no greater surprise then to cut into an unsuspecting Lemon-Glazed Pound Cake to find a Technicolor egg waiting! The bright lemon flavor celebrates the freshness of spring along with the festive egg.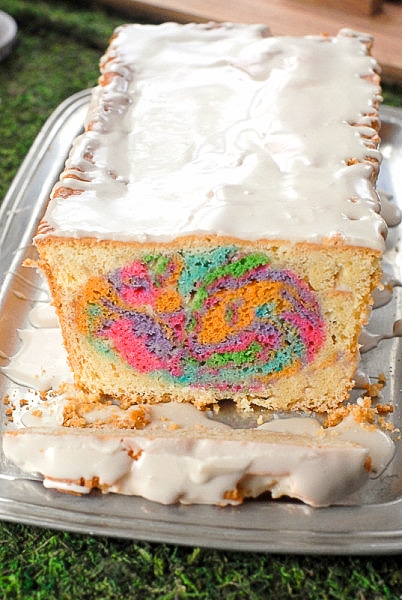 Recipe notes:
Food Coloring: there are many options for coloring food to fit your needs and preferences. Wilton colorings come in a myriad of bold and brilliant colors and may be found in craft or cake decorating stores. Traditional coloring kits are available in the spice aisle at the grocery store and can be mixed to form your preferred color. I personally love India Tree Dyes which are all vegetable based and natural. Part of the choice is the color hue you desire; vegetable dye will be an earthier, muted tone vs. the other options.
Color mixing: Flashback to elementary school art and recall color mixing instruction (click here for help). As I mixed up a brilliant shade of lemon yellow for my rainbow cake it struck me as not the best color since my outer pound cake would be light yellow naturally. Trying to save the batter I added a bit of violet coloring to make the most ghastly shade of putrid brown. Ick. Mix colors thoughtfully!
Swapping cake mixes: I received a number of emails from readers who had made the Hidden Heart Cake with different types of cake mix not just pound cake. Experimentation is much of the fun. If you want to use a different type of cake mix just follow the directions for your selection.