This easy, fun, no-bake treat is perfect for large groups and kids can help make them too. Valentine's Chocolate Marshmallow Pops are the right combo of marshmallow, chocolate and sprinkles to brighten the occasion.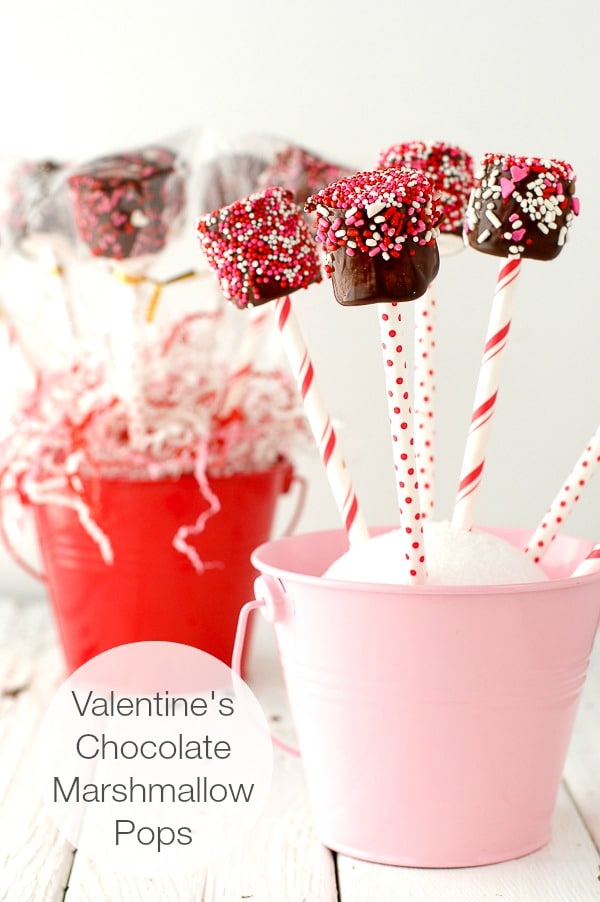 I have always loved Valentine's Day, since I was a child. More than a holiday it felt like a magical happening to me. Out of nowhere seem to burst red, pink and white at every store. Treats wrapped in shiny foil appear only for a few weeks, tempting all with a sweet tooth to celebrate the love-saturated February 14th.
Secret messages on conversation heart candy were the currency of young crushes on paper cut heart Valentines. I guess that was as close to the contemporary truncated text language of today; LOL.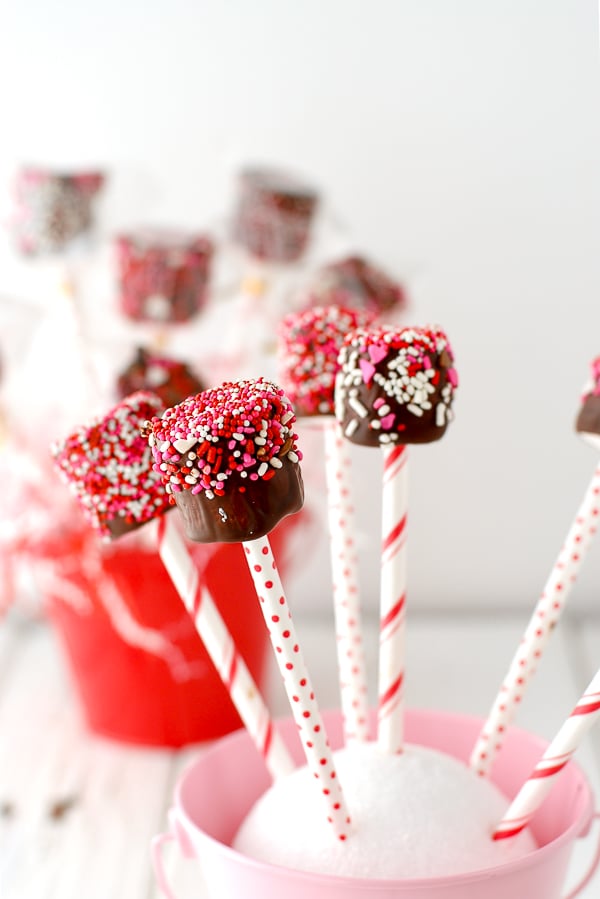 When my kids were younger they always made Valentines for classmates. We'd set aside a weekend day with loads of craft supplies and a class list to work their muse through all the kids they know, with doily hearts, sparkly glue, stickers galore and sometimes an added treat of a Valentine's themed pencil or lollipop for the perfect accent.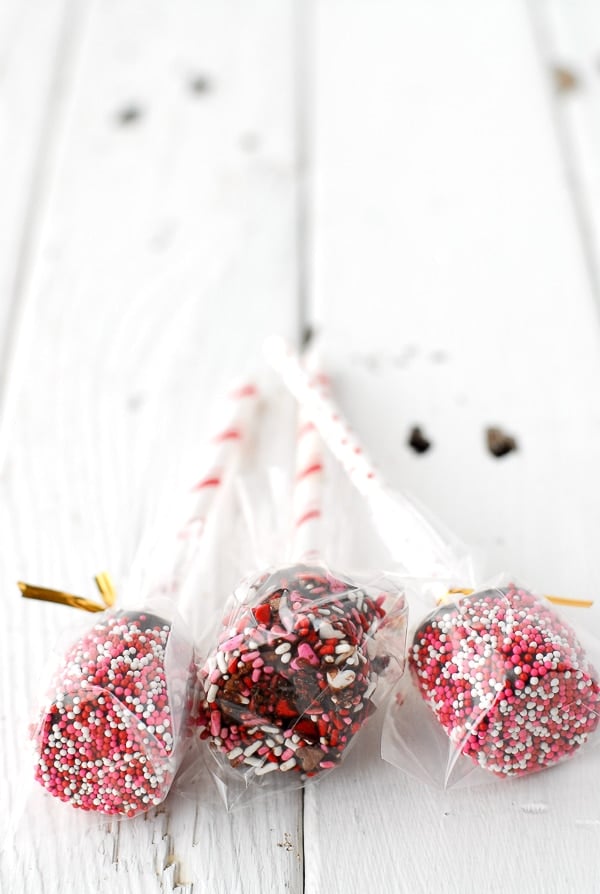 Time grows shorter for extra projects the older we all get however my son and I were at a craft store last week picking up supplies for the infamous Rainbow Loom (those with elementary schoolers will completely understand the current obsession). I wanted to look through the Valentine's supplies as I never know what will awaken my creative juices.
In the midst of the crafting kits and Cupid cookie cutters was a display full of Valentine's candy. Familiars like Reese's Peanut Butter cups are temporarily transformed into heart shapes. Junior mints tout the same with colored fillings. Dots are pink, white and red for the celebration.
It caught both of our attention along with lesser known confections dazzling with glittery packaging. My son perked up, reaching for an enormous chocolate heart which had marshmallow cream inside. I like an occasional S'more as much as the next girl but the idea of eating what looked like a half pound heart of marshmallow was too much for me. However it got me thinking…..I knew we could do better.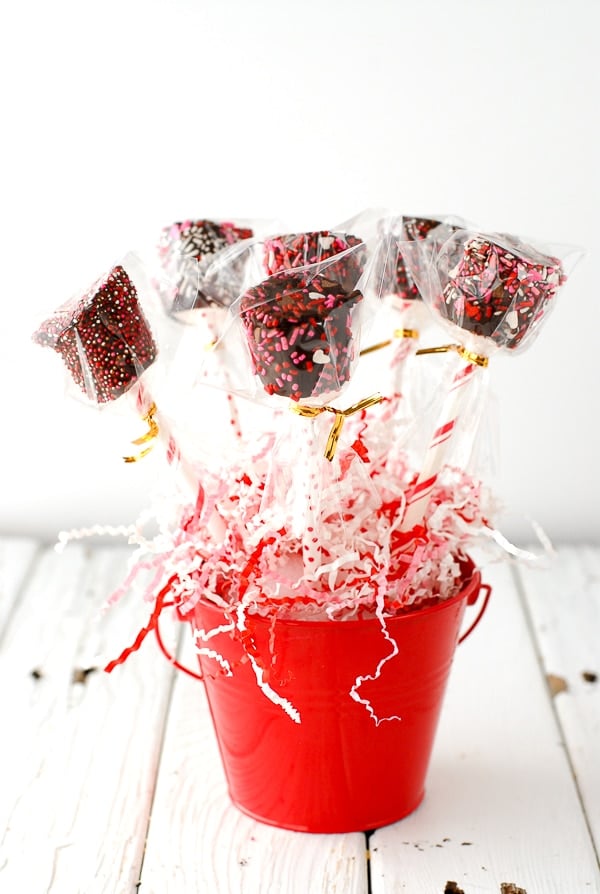 The other thing that I ponder at this time of year is school party treats or little special nods of fun for those in my daily life, in my children's or my husband's co-workers. Things that are easy to prepare in larger quantities and are unexpected. After some experimenting I was delighted with the outcome of these Valentine's Chocolate Marshmallow Pops.
One marshmallow, rather than a ½ pound, swirled in chocolate and adorned with happy sprinkles on a cheery stick. Once I settled on my method and ingredients, the dipping and decorating were quick with about 30 minutes of chilling to set everything.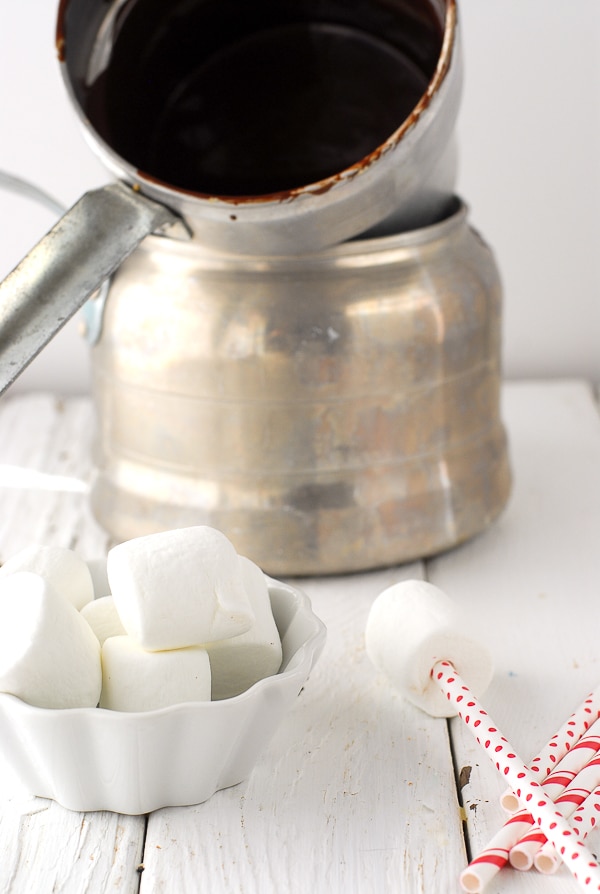 How to make Valentine's Chocolate Marshmallow Pops – Step by Step:
Almost more of a craft project than a recipe, Valentine's Chocolate Marshmallow Pops are easy and fun to make for all ages. The recipe can adjusted for your needs; I tried to use an entire bag of chocolate chips and marshmallows (fortunately I have access to a passel of always willing and hungry teen taste tester in my daughter's friends so I wasn't left with 50 pops to consume in our family). I think you'll agree they are happy-making and just the right amount of sugary fun!
Full size marshmallows at stuck onto the top of a decorative cake pop or lollipop stick and swirled in melted chocolate.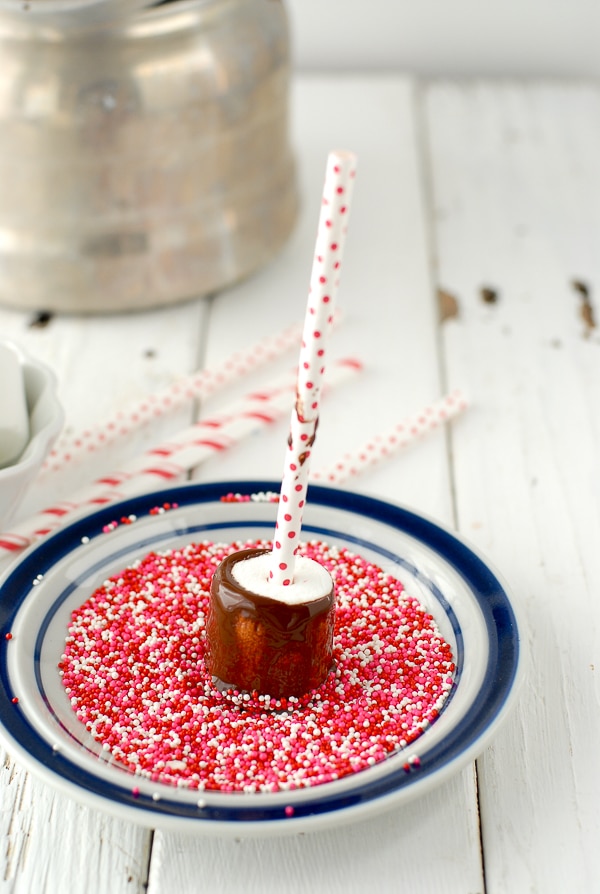 While the chocolate is still wet, the coated marshmallow is rolled in decorative sprinkles.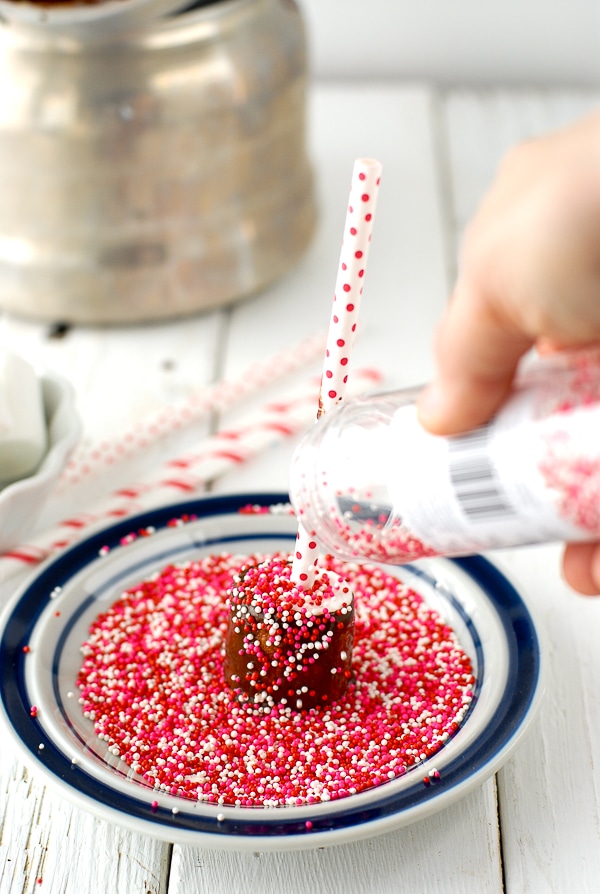 They are rolled until the chocolate on the marshmallow pop is totally covered.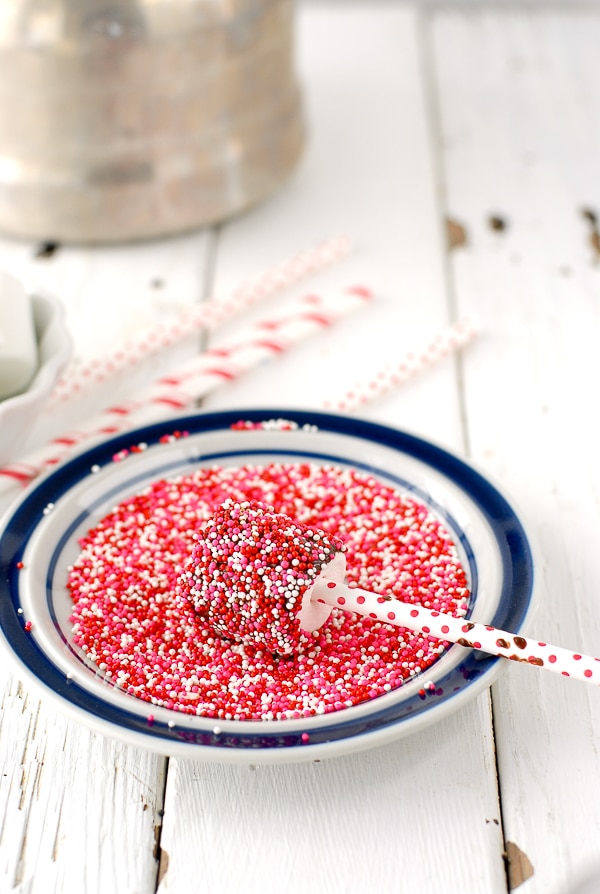 After being coated, the marshmallow pops are left to harden.