If you love the chocolate-cherry flavor combination, this easy from-scratch Chocolate Cherry Cake recipe will be a new favorite. The cake is moist and luscious topped with maraschino cherries and walnuts!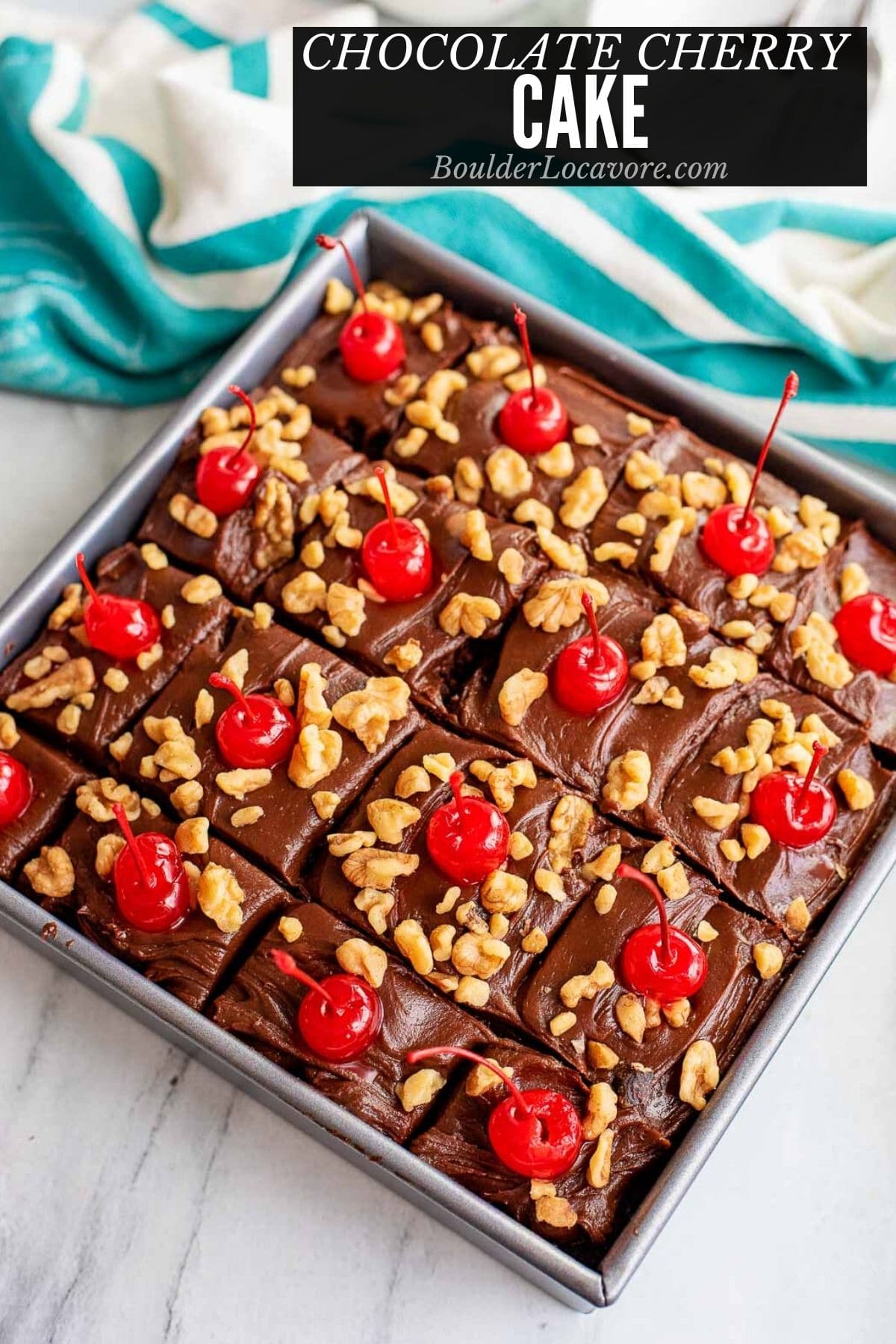 This easy chocolate cherry cake is light and delicious plus it looks so cute!
One peek has everyone scrambling to the dessert table!
Jump to:
Easy Chocolate Cherry Cake From Scratch
Chocolate and cherries is a classic flavor combination. No question why! The two bring out the best in each other.
The deeply sweet chocolate is elevated by the bright cherry sweetness and the other way around.
When making a chocolate cherry cake many fold cherry pie filling into a chocolate cake. We approach it differently.
Instead, we start with a moist, rich easy to make chocolate cake batter from scratch. Then add both chopped maraschino cherries and maraschino cherry juice.
This delivers a delicious cherry flavor that blends perfectly with the chocolate.
It's a one layer cake similar to a snack cake in size. The richness of the cake plus the frosting PLUS the toppings make it a perfect dessert any time.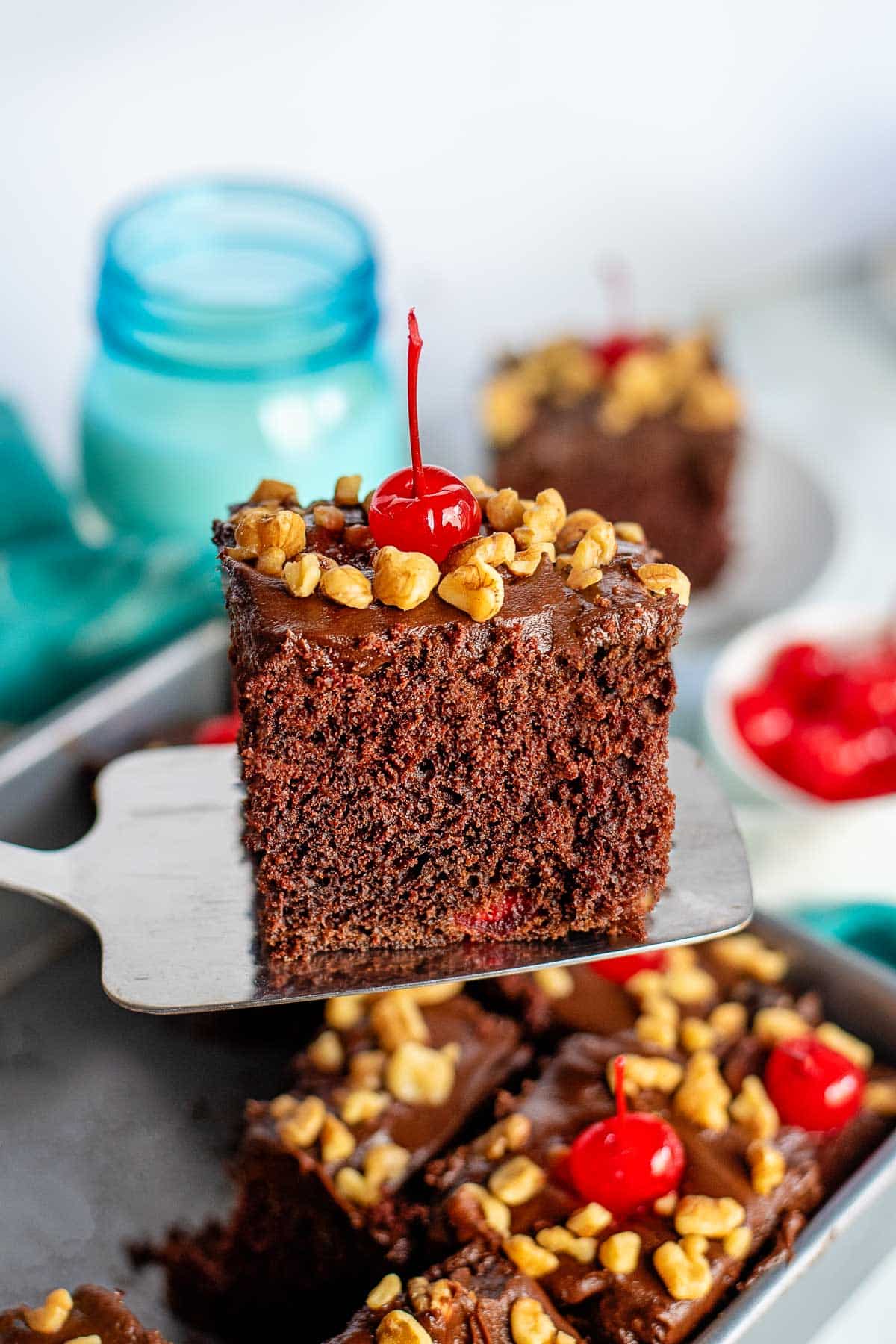 Chocolate Cream Cheese Frosting
We love this cake with our Chocolate Cream Cheese frosting recipe. It's rich, chocolatey with a bit of tang too.
It's a from-scratch frosting recipe that's easy and worth the extra few minutes to make.
Any frosting can be used. For a time saving shortcut store bought chocolate frosting can be used too.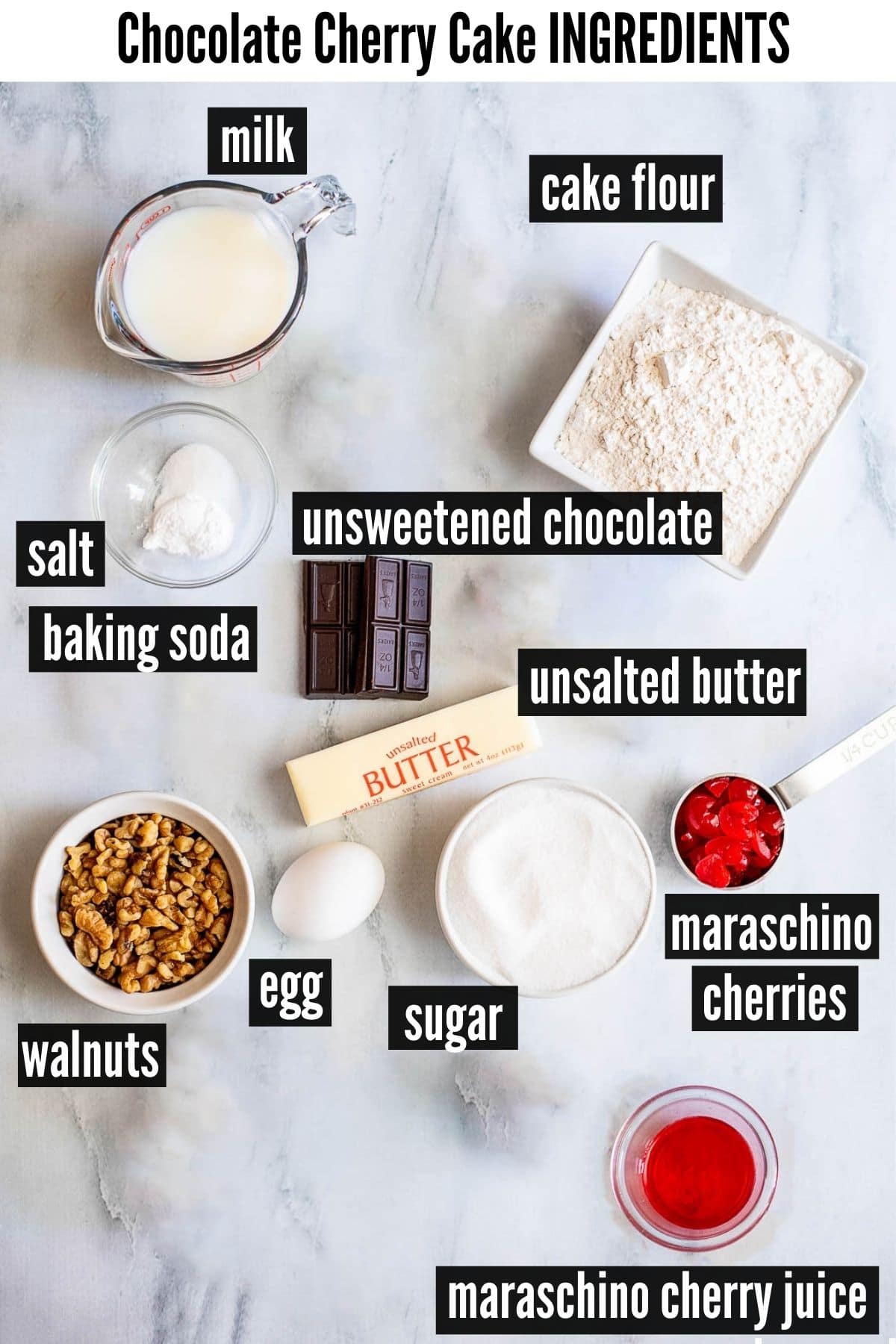 Recipe Ingredients + Notes
Unsalted butter. Start with softened unsalted butter to ensure it mixes fully with the other ingredients.
Granulated sugar. Uses for sweetening the cake.
Egg. One large egg is used.
Unsweetened chocolate. We used baking squares. This gives great flavor. No cocoa powder is used.
Cake flour. Regular or gluten free. If cake flour is not available, all purpose flour can be substituted. (See notes below.)
Baking soda. Allows the cake to rise.
Salt. We always recommend kosher salt which is a less salty tasting salt.
Milk. We recommend dairy milk due to the fat content. We have not tested the cake with plant milks.
Maraschino cherries + juice. You'll need some for the batter and more for decorating.
Chopped walnuts. These are folded into the cake and added to the frosting on top (optional).
Chocolate Cream Cheese Frosting. Use homemade for a truly "from scratch" cake. Store bought frosting can also be used on the cake.
Ingredients for the frosting include: cream cheese, powdered sugar, heavy whipping cream and semi-sweet chocolate chips.
Why Use Cake Flour?
Cake flour further breaks down the gluten in wheat flour making a light, tender cake as an end result.
The same holds true when used with gluten-free flour. Airy baked goods are the end result.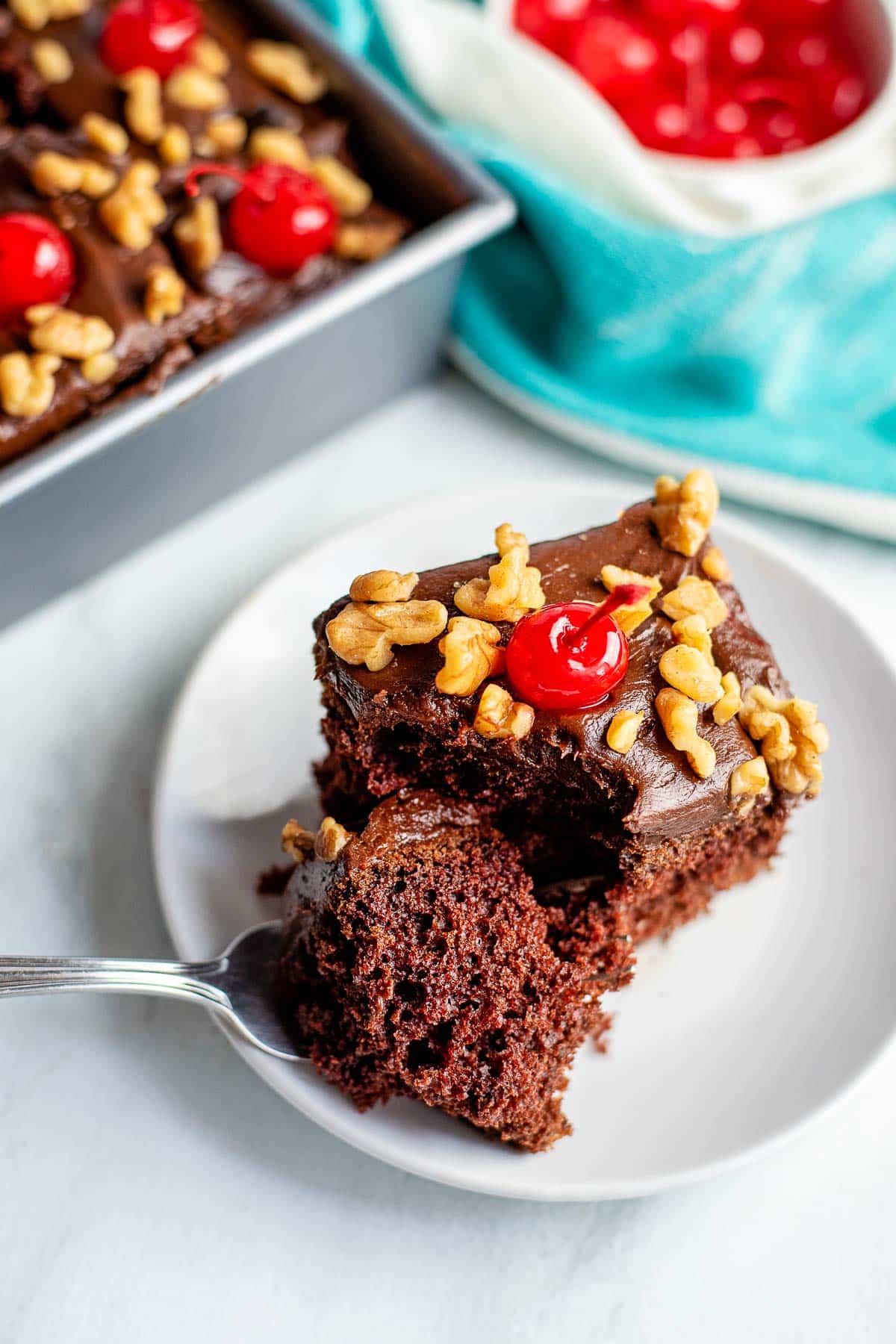 How to Make Homemade Cake Flour (regular or gluten-free)
Cake flour is available to purchase in wheat flour. It's also very easy to make at home in either regular or gluten-free form. I have not seen a gluten-free version sold in stores.
For each 1 cup of flour remove 2 tablespoons of the flour
Replace it with 2 tablespoons of cornstarch
Sift together or whisk to fully blend.
If making a gluten-free version we recommend using Bob's Red Mill gluten-free 1-to-1 Baking Flour as the base flour.
How to Make it – Step-by-Step
We've included step-by-step photos so you can see everything!
Chocolate Cherry Cake simple and easy to make.
STEP 1. Preparation
Preheat the oven to 350 degrees F. Spray an 8-inch by 8-inch square baking pan with non-stick cooking spray.
STEP 2. Beat the butter, sugar and egg
Using a hand held or stand mixer, Beat the butter (photos 1-2).
Add the sugar and beat until light and fluffy (photos 3-4).
Add the egg and beat well (photos 5-6).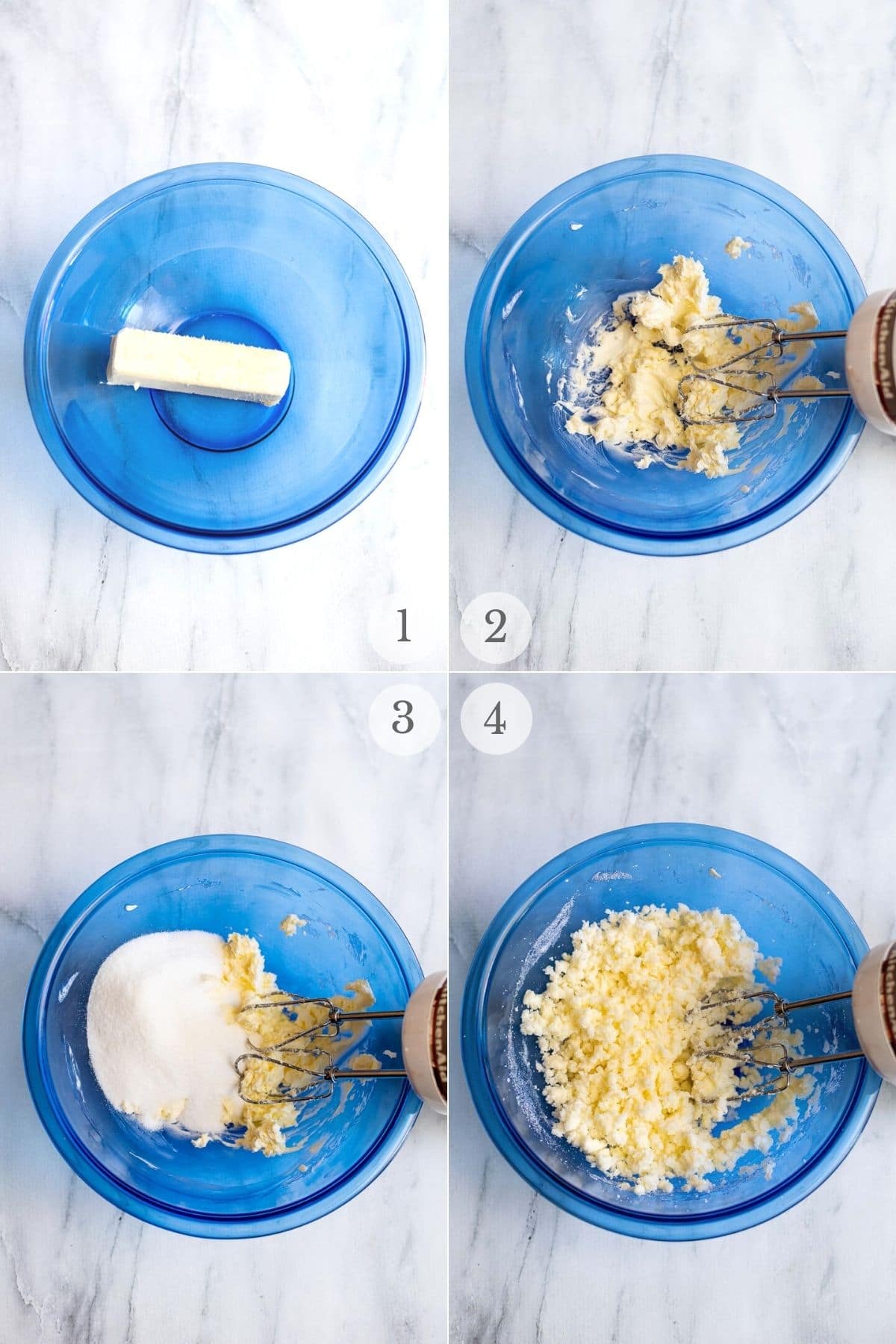 STEP 3. Melt the chocolate
Using either the stove top or microwave method details below, melt the chocolate (photos 7-8).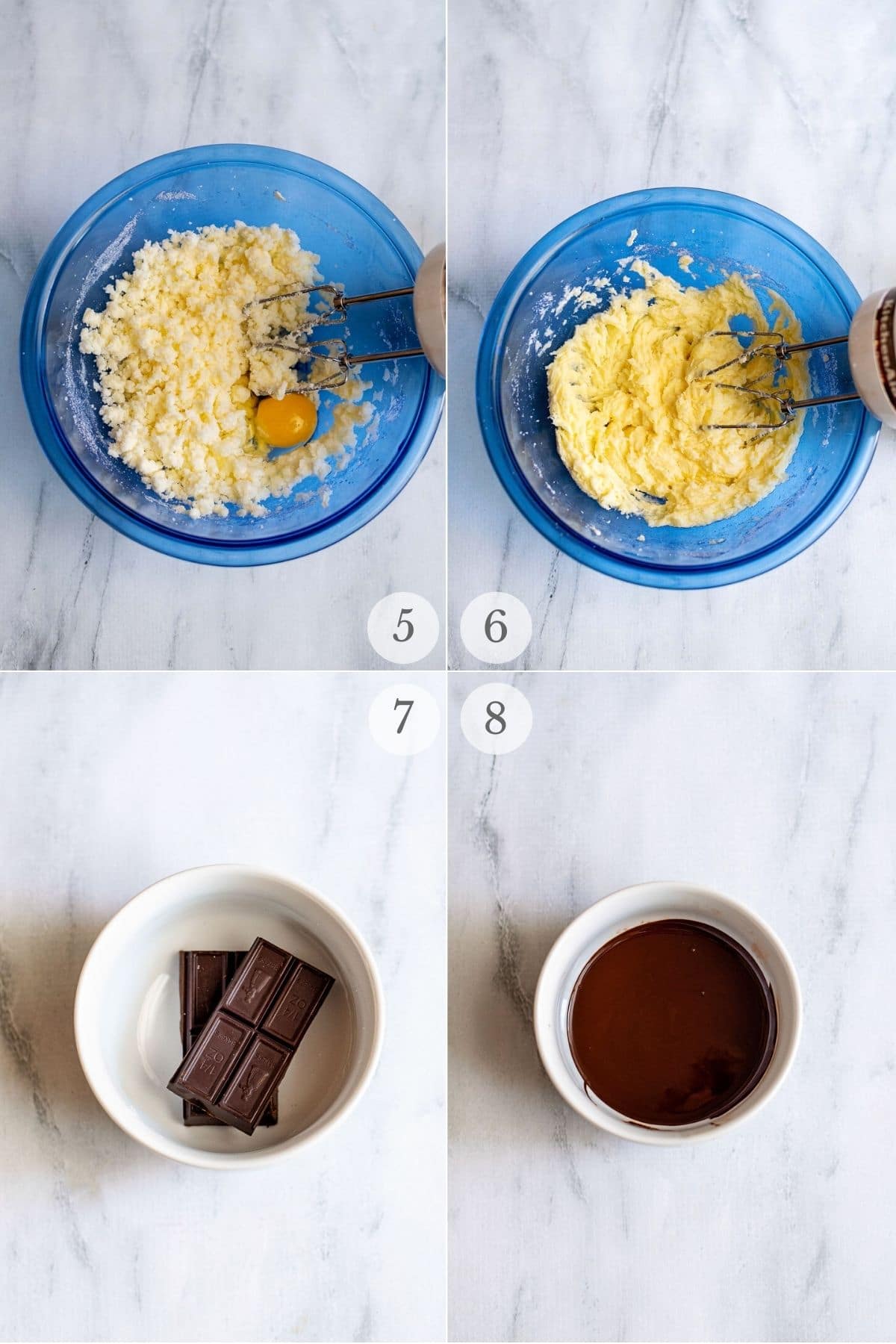 STEP 4. Finish making the cake batter
Beat the melted chocolate into the butter mixture (photos 9-10).
Whisk together the dry ingredients in a second bowl: flour, baking soda and salt (photo 11).
Add the dry ingredients to the chocolate mixture alternating with the milk (photos 12-13) Beat after every addition. Begin and end with the flour mixture (photo 14).
Fold in the chopped cherries, cherry juice and nuts (photos 15-16)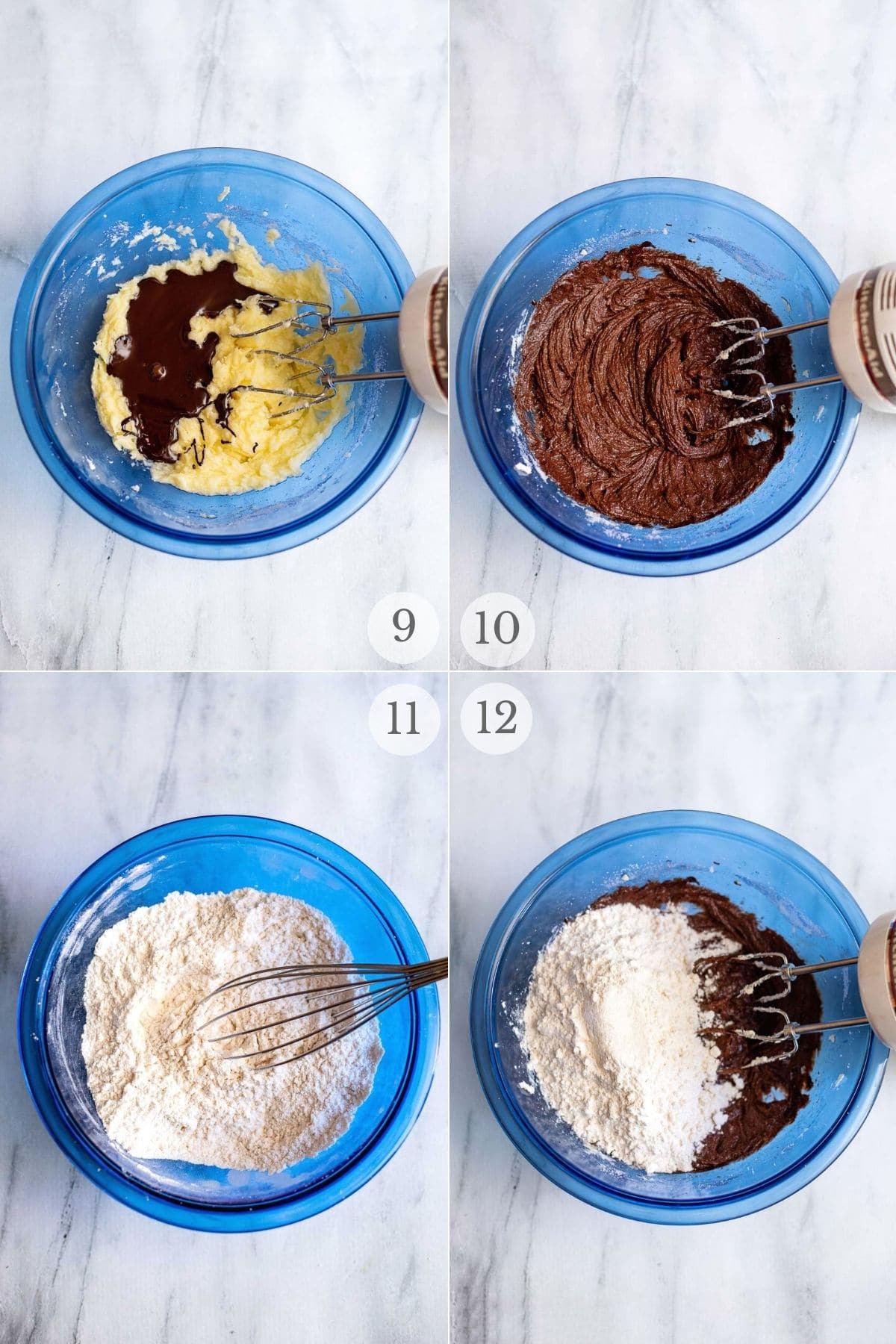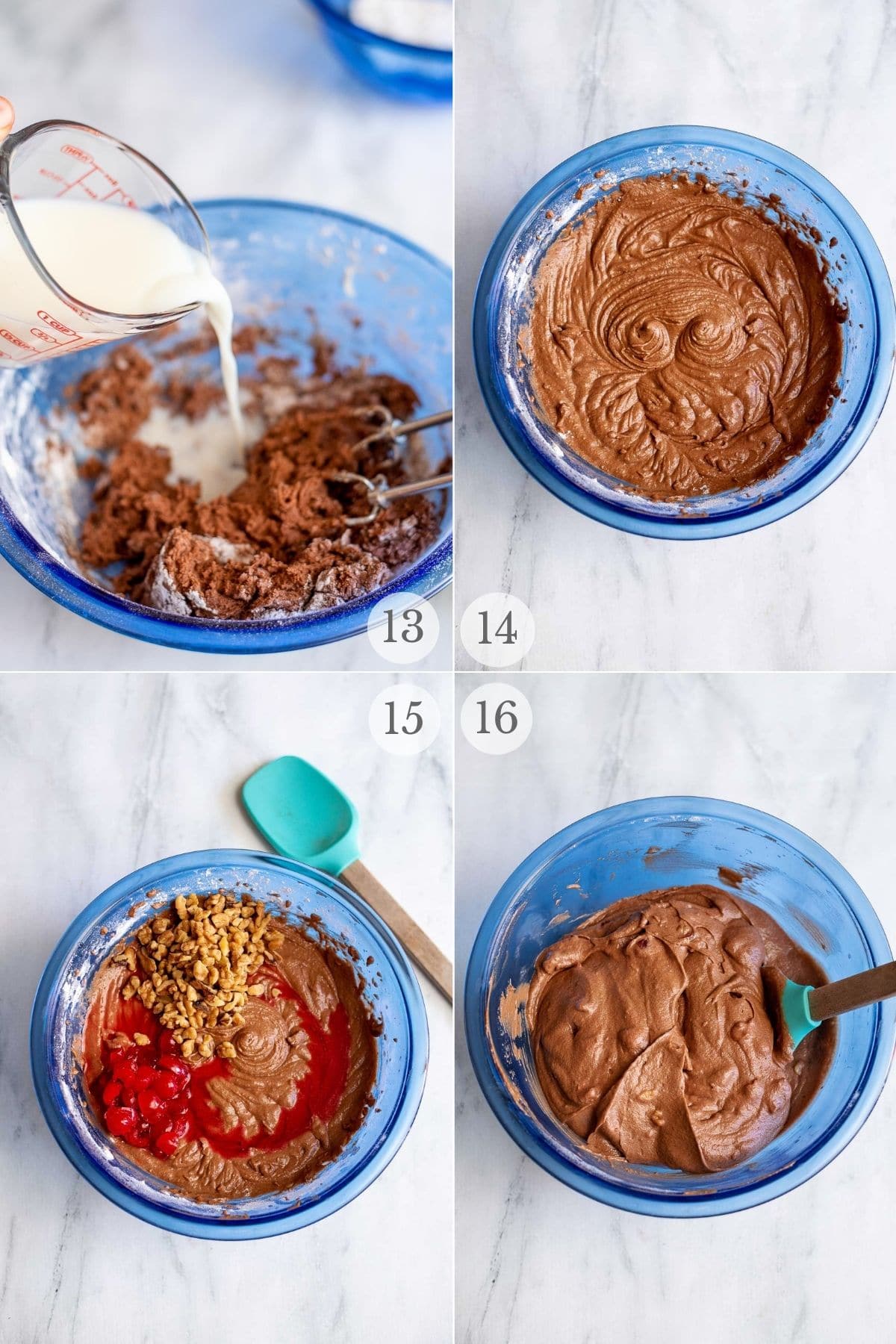 STEP 5. Bake and cool the cake
Spoon the cake batter into the prepared pan and smooth (photo 17-18).
Bake for 40-45 minutes or until a toothpick inserted in the center comes out clean (photo 19).
Cool completely on a wire rack before frosting.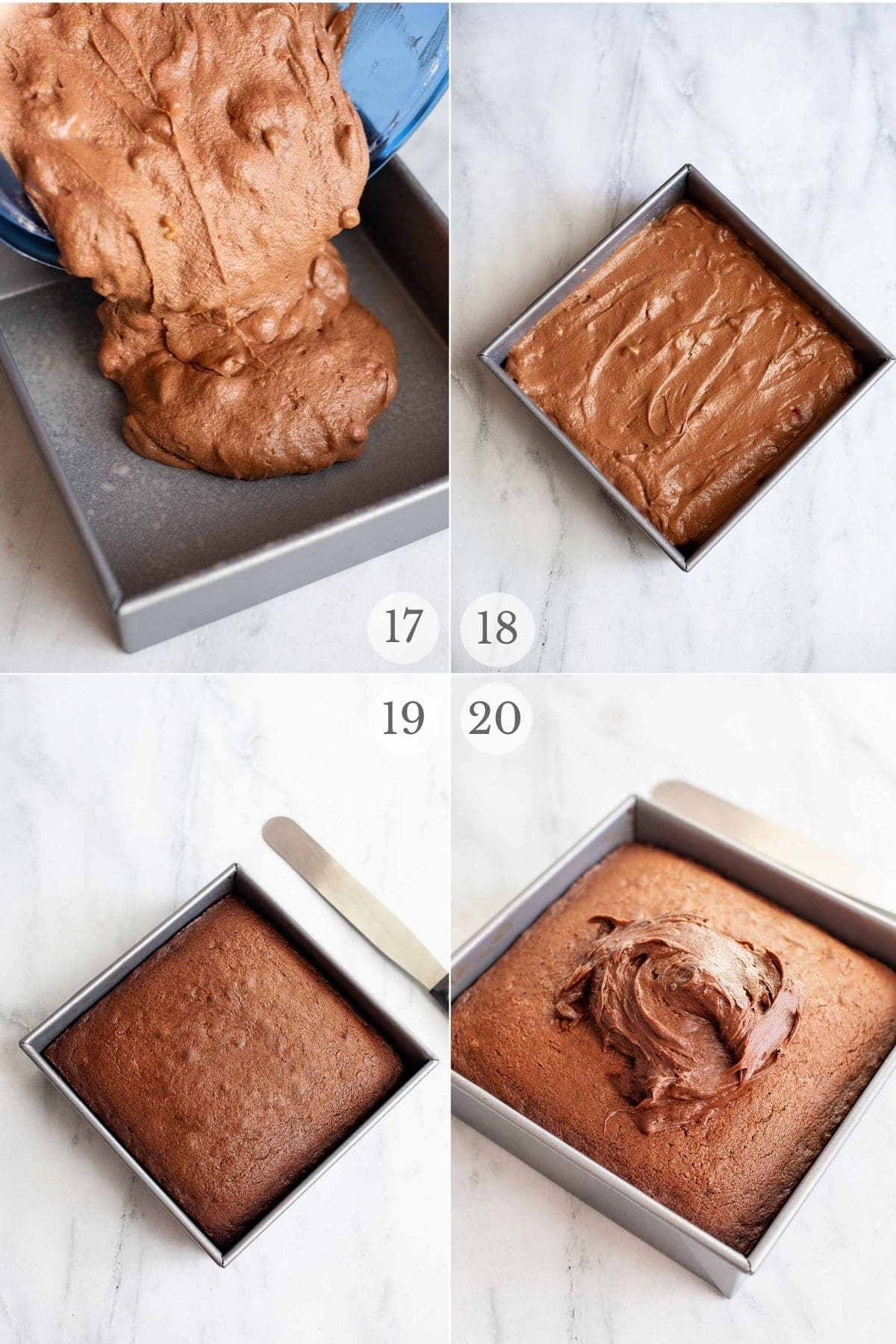 STEP 6. Frost the cake
Once the cake is completely cool, spread the Chocolate Cream Cheese Frosting evenly on the cake (photos 20-21).
If desired, sprinkle on more chopped walnuts on top (photo 22) along with the reserved cherries.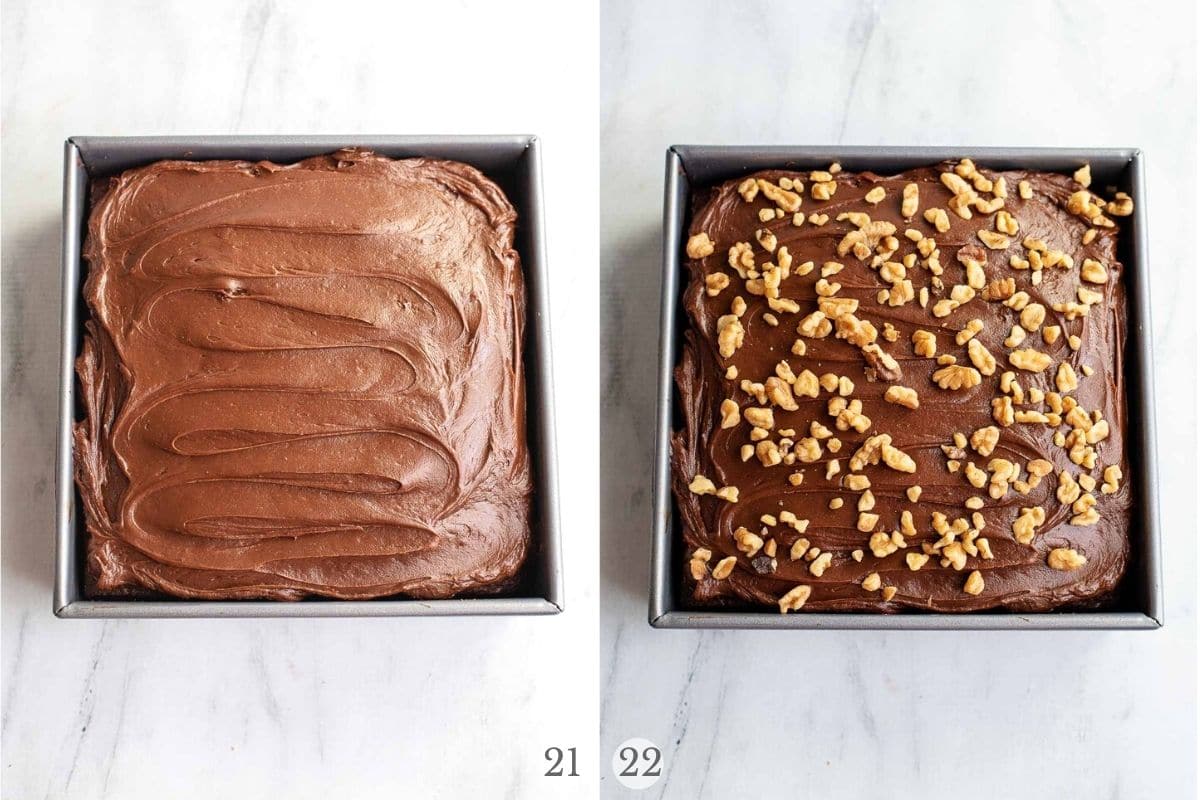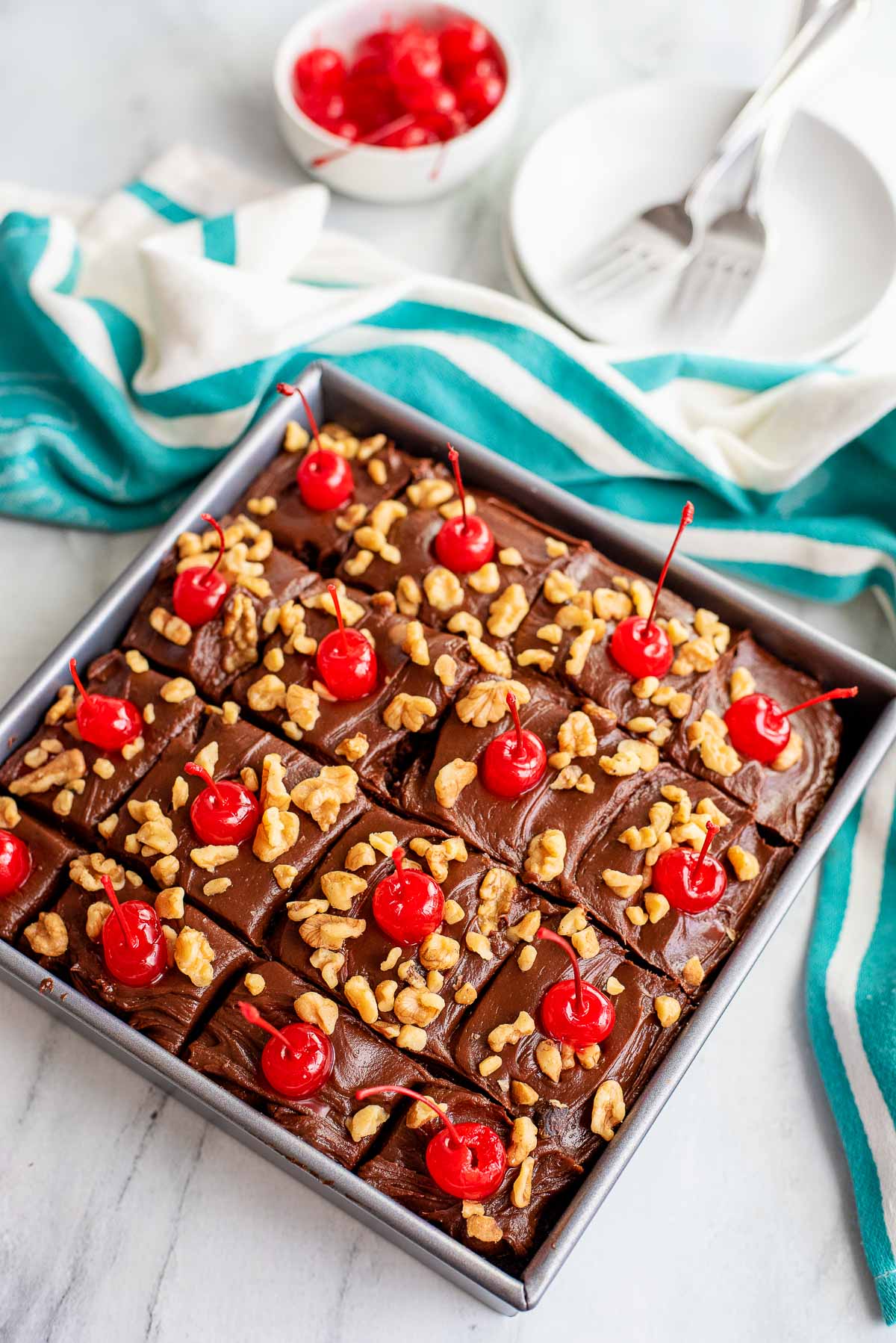 What's the best way to melt chocolate?
The following two methods are our recommended methods. Both keep the chocolate away from a direct heat source and with monitoring melt it easily and smoothly.
Microwave method
The microwave is fast and easy but needs to be monitored. If over cooked the chocolate can 'seize' (dry out) and cannot be salvaged.
Keys to success: don't rush it and stir well between microwave cycles.
Place the chocolate in a microwave-safe bowl.
Cook for 30 seconds on HIGH.
Stir well.
If needed, continue to cook in 10-15 increments and stir well between each cooking cycle until the chocolate is fully melted.
When microwaving chocolate it can appear to not be melted but a thorough stirring can dissolve final pieces so don't skip the stirring!
Stove top method
If melting on the stove top use a double boiler or a heatproof metal bowl over a sauce pan of simmering water.
This method uses the heat and moisture from water simmering below to gently melt the chocolate.
Key to success: don't rush it and do not let the bottom of the boil touch the surface of the water.
Bring a small saucepan of water to a simmer (not a full boil).
Place the chocolate in a metal heatproof bowl on top of the saucepan.
Stir constantly especially as the chocolate begins to melt.
Remove from heat once the chocolate is fully melted and smooth.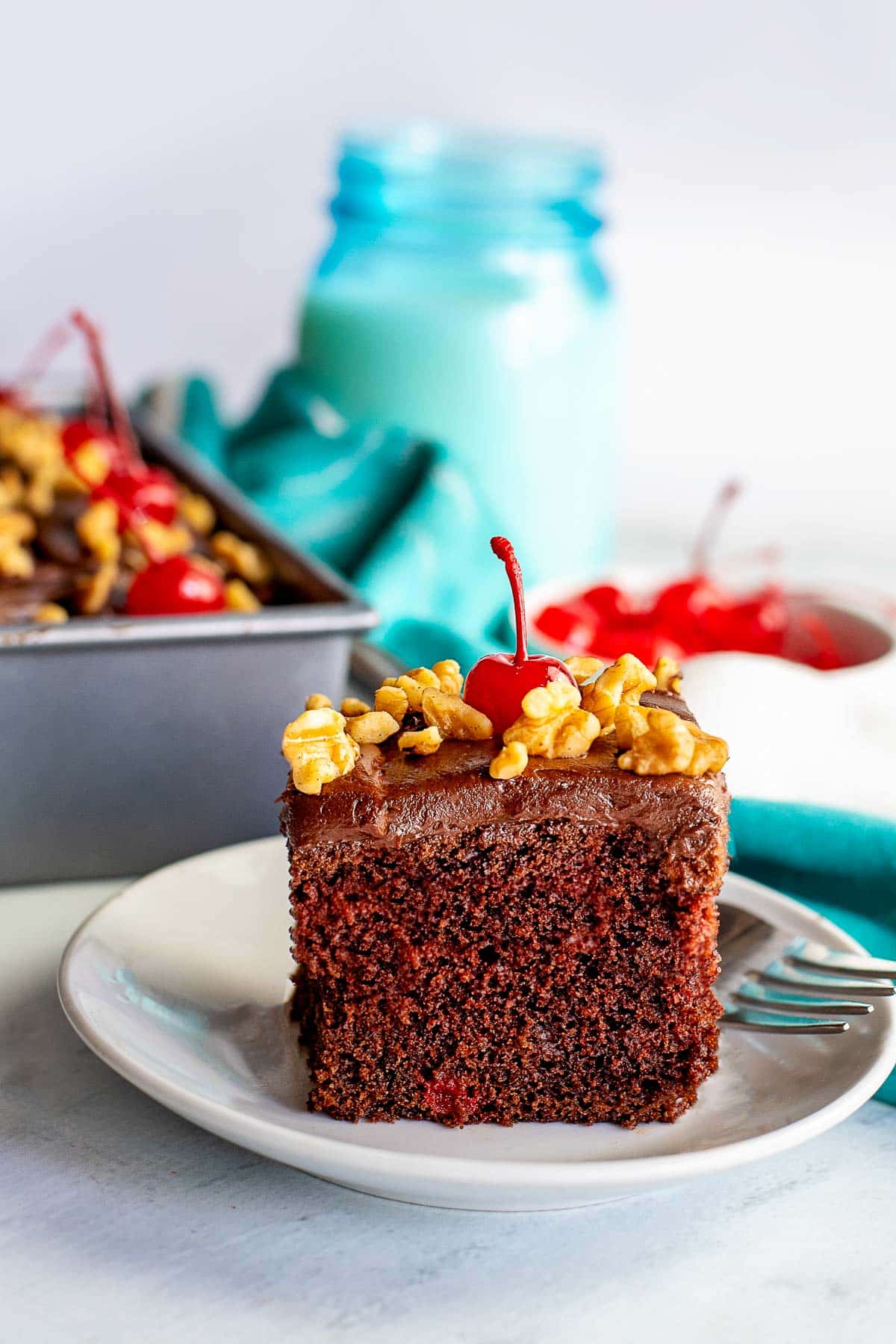 Frequently Asked Questions
Can this cake be made with fresh cherries?
Maraschino cherries have a distinct flavor and softer texture than fresh cherries. Chopped, pitted fresh cherries could be substituted but will add a different texture and lighter flavor. We recommend if making this swap the Maraschino juice still be used.
How to Store it
Due to the cream cheese frosting this cake should be left out no longer than 2 hours.
Store leftovers sealed or in an airtight container in the refrigerator for up to 3 days.
Can you freeze cherry chocolate cake?
Yes, you can freeze this cake before it's frosted.
Allow the cake to fully cool.
Wrap well in plastic wrap (use a few layers).
Place into a freezer-bag or airtight freezer safe container.
Freeze for up to 3 months.
Thaw in the refrigerator. Allow to come to room temperature before frosting.
More Recipes You'll Love
Did you make it? Please RATE THE RECIPE below!
Please
SUBSCRIBE
and
FOLLOW ME
on
FACEBOOK
,
TWITTER
,
INSTAGRAM
and
PINTEREST
!
Recipe