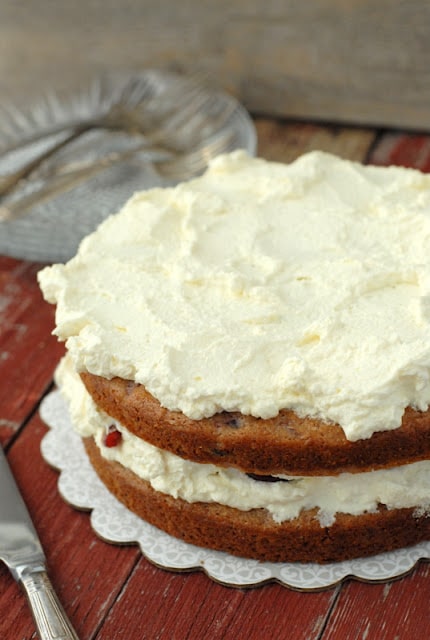 When I was growing up we had a pie cherry tree in our backyard.

Today I would be over the moon to have such a treasure in close proximity since I travel far to pick my own pie cherries every summer.

However as a teenager, with picking and pitting cherries being one of my chores, I was tempted to buy a chain saw and do away with the tree on more than one occasion rationalizing George Washington did the same and his life turned out ok.
We are in the heart of cherry season right now.

I find when eating seasonally one is flooded with a given fruit or vegetable, often to the point of overload and then it's gone.

I'm in the 'what else can I make?' phase of cherries.

I've made a large batch of gorgeous ruby-colored jam.

I've eaten them raw in high volume.

I've made Cherry-Blueberry Cloud Pie, tons of fruit salad and I still have 1 ½ gallon-sized Ziploc bags full thanks to a generous friend who bought 20 pounds from a local orchard.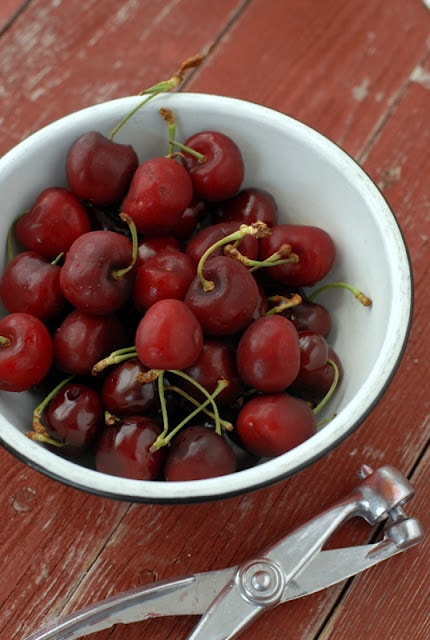 When perusing my vintage recipe boxes I noted Cherry Cake was very popular between the 1930's and 1950's in my collection and did not appear following.

Very mysterious.

I tend to go through the recipe collections that are either given to me, I find at thrift stores or on eBay and cull out interesting sounding seasonal recipes using whole ingredients only.
One recipe stood out for Sour Cream Cherry Cake.

I loved the notion of it though it used white cake mix and canned pie filling.

I decided to reverse engineer the ingredients to use the 'from scratch' equivalent of white cake mix, which I did by combining the dry ingredients from two vintage white cake recipes used as guides, and made my own cherry pie filling with my mother lode of fresh cherries.

Despite the convenience of mixes, which I'm sure were truly the hip thing to do at the time of this recipe, I opt for 'from scratch' baking.

Funny how trends change over time.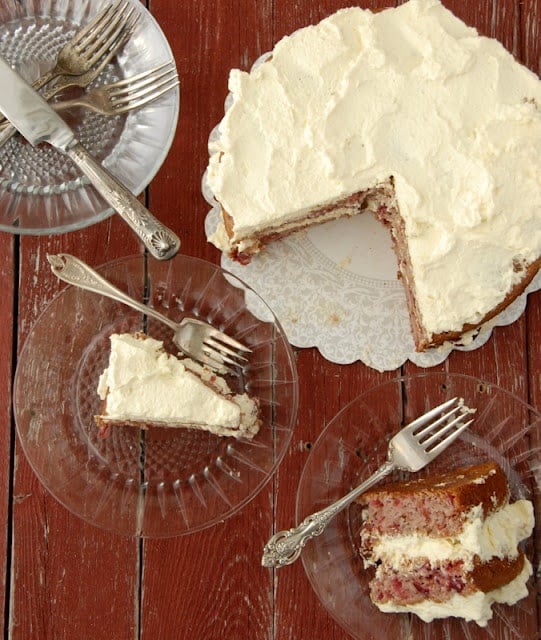 The cake emerged from the preparation the most luscious shade of purpley pink.

Its flavor was of cherries but a natural flavor, not overpowering or overly sweet.

The cake's consistency is more of sponge cake than a flakey cake which gives it a nice 'bite'.

The original recipe called to make a sheet cake with no frosting.

I have a soft spot for a layer cake, especially one with a bit of whimsy, and decided to merely use homemade whipped cream with some extra fresh cherries placed between the layers for good measure.

It's a charming, rustic cake and one that was quickly gobbled up by my taste testers!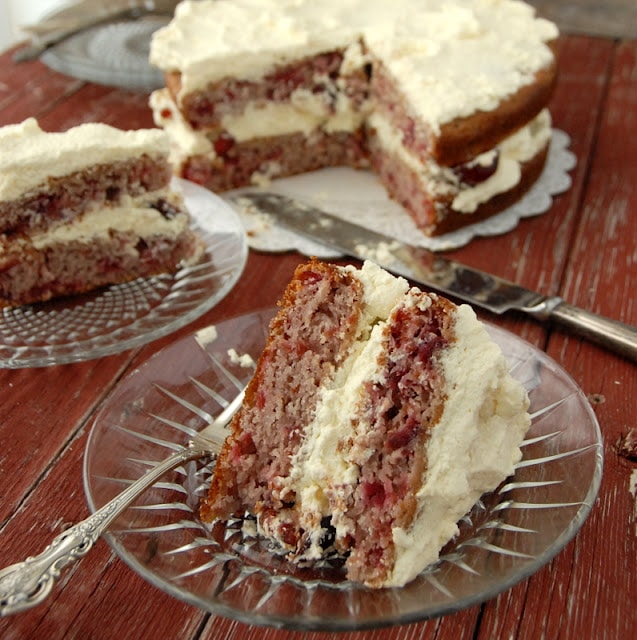 One of the best gadgets I've purchased has been a cherry pitter.

I have a hand held pitter that worked great for the cherries given to me by my friend which were only slightly smaller than golf balls it seemed.

For regular size cherries my mass-production pitter is perfect.

A cherry is placed in an indentation, the pitter pushes down a lever and the pit is quickly and easily extracted with no muss or fuss.

Had these been around when I was a teen I might not have thought I was working off past life sins with the effort pitting required.

Click here for more info.

I just purchased a similar model by another manufacturer for a friend that can be cranked onto the side of the countertop holding it in place (click here).

Believe me even though it's only used at this time of year, it's a life changer.