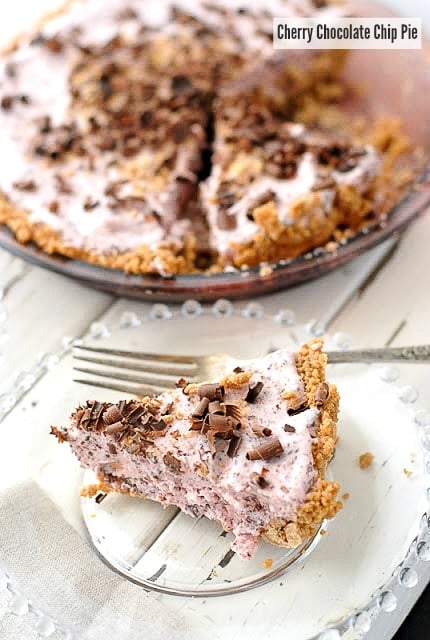 Memorial Day kicks off a season full of food favorites doesn't it? Best grilling recipes come out of hibernation to move families into dining al fresco. The deck or porch become another room in the house often used for daily dining for us. The sweltering heat of summer calls for innovative desserts that flaunt big flavor but aren't too heavy either. Today's recipe for Cherry Chocolate Chip Pie delivers everything a summer dessert should. It's a light, creamy, frozen pie that cools the heat with fabulous flavors of cherry and chocolate in a graham cracker crust. Easy to put together and even better to eat!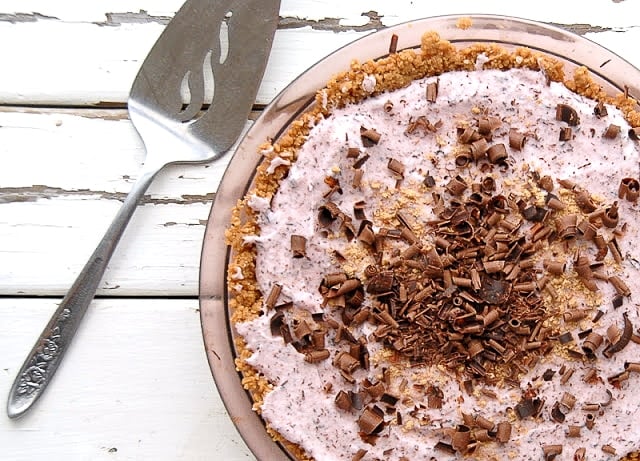 I originally tried this pie after finding the recipe in a batch of vintage recipes I'd purchased at a thrift store. Whenever I come into a batch of vintage recipes I tend to go through all of them looking for recipes that are unique, translate to modern times for the ingredients, use whole ingredients (no Jell-O or cans of soup) and frankly are not overly complex. I love food and sophisticated food but I rarely have the time to labor over recipes with extensive ingredient lists but still want a pleasing end result.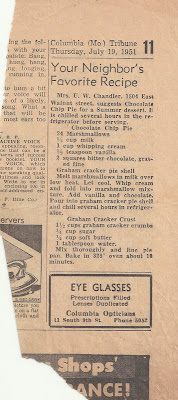 This recipe for Chocolate Chip Pie caught my attention. The advertisement of a 'summer dessert' placed in my 'to try' pile especially with summer right around the corner. I always make vintage recipes verbatim the first time. I will say this is the first time that the crust recipe totally tanked from the original recipe. When I pulled it out of the oven it had converted from the formed pie crust I inserted into the oven to a bubbling, buttery mess. I had decided I wanted to freeze the pie similar to a Grasshopper Pie I make so I created a crust recipe that was more friendly to that method and it turned out great.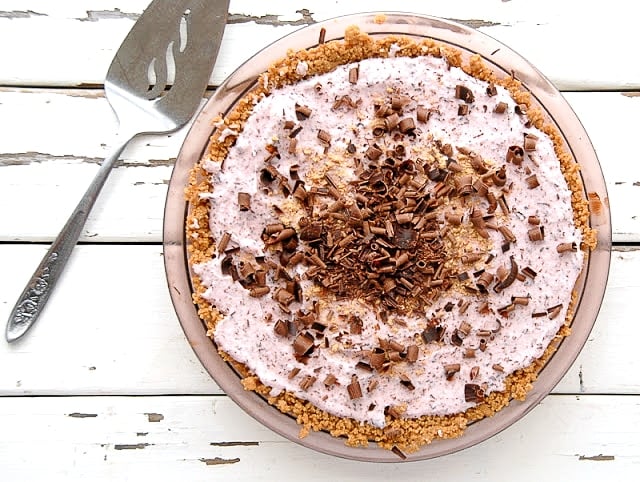 When purchasing the chocolate for the pie I found the variations of chocolate irresistible and decided instead of the original bitter chocolate to use Dark Chocolate with Cherries from local (and nationally distributed) Choco-love. It seemed a great kick off to summer. As noted in the recipe other chocolate certainly can be substituted both to suit your palate and as is convenient in your area.