When visiting Santa Fe, New Mexico, taking a day trip to El Sanctuario de Chimayo offers a taste of the history, culture and religion of the area set in the serenity of the countryside. The healing properties of the dirt draws hundreds on personal pilgrimmages annually to this charming shrine and National Historic Landmark.

Forty minutes north of downtown Santa Fe, seemingly out in the middle of nowhere sits El Sanctuario de Chimayo.
Perhaps one of the most important Roman Catholic churches in the U.S. for those seeking healing and a divine connection, the sanctuary attracts over 300,000 visitors a year, many of whom make pilgrimages on foot during the holy week.
I hadn't visited Chimayo for many years. All I had remembered was the main church and the 'blessed dirt'. I found there was so much to explore.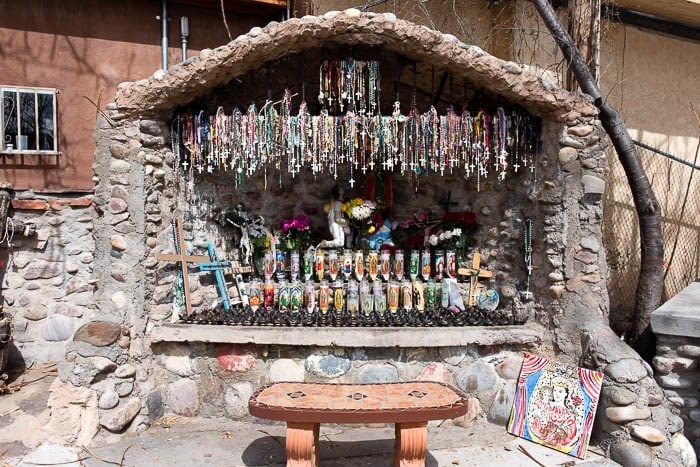 El Sanctuario de Chimayo is a holy place for those with religious intention and signs prompt paying respect for those there for acts of devotion. Those who are visiting without religious aspirations are also very welcome
The dirt of the area is believed to have healing powers. A small room with an earthen floor off to the side of the 1800's (main) church altar offers visitors a chance to take a small amount of the dirt and rub it on themselves, or to bring some home with them, in hopes of divine healing. An adjoining room houses an abundance of discarded crutches as a testament to those healed, as well as photos of those healed and those to pray for.
TIP for collecting 'blessed dirt': Bring a small plastic bag orjar to collect dirt. If you don't have something to put the dirt in, the nearby gift shops sell small containers for the dirt and the holy water which is in front of the entrance to the church. The dirt may even be 'ordered online' and shipped for a small suggested donation (details on the website)!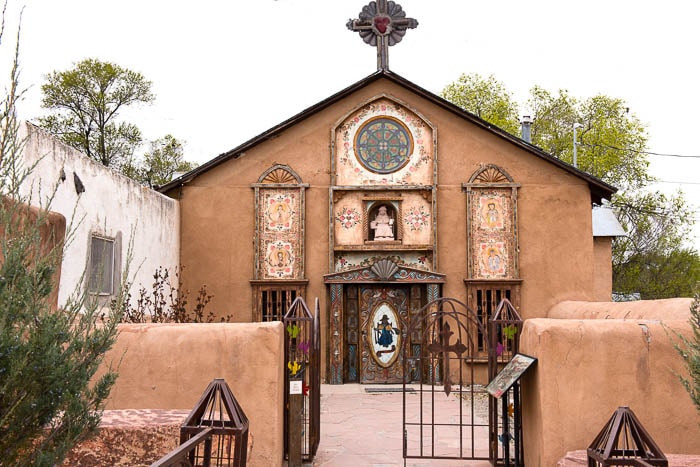 What started as a small chapel has grown into a compound with multiple themed chapels, a restaurant and small mercantile shops selling religious items, crafts, locally grown chilies and other seasonings. I really loved the church for the children though was overwhelmed at the display of tiny shoes of those departed.
The trading post to the right outside the entrance to the main church has a great collection of chile powders; chimayo, chipotle, taco spices and more. All local to the area and very well priced. I bought plastic bags of multiple dried chile powders each for five dollars or less.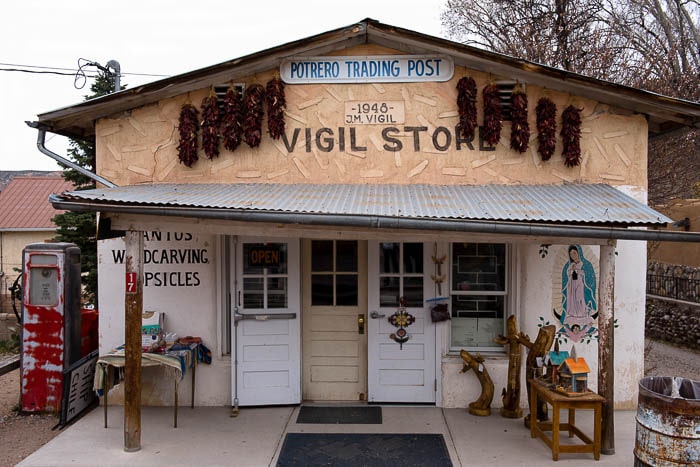 It is a picturesque, peaceful area boasting classic regional architecture that is interesting to explore regardless of one's religious persuasion. Active religious services are conducted at El Sanctuario de Chimayo (as well as Confession) with times available on their website.
Nearby Rancho de Chimayo Restaurante (recently honored with a James Beard award) serves fantastic Northern New Mexican food and will be a participant on the Santa Fe's Margarita Trail as well.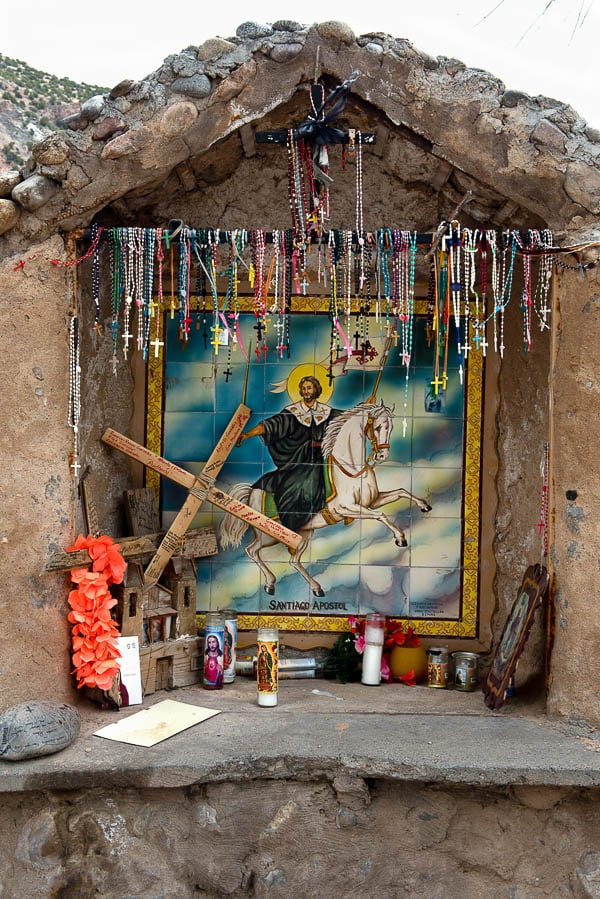 Planning A Trip to El Sanctuario de Chimayo
Visiting Chimayo offers a look into culture, history, and religion of this area. Regardless of which interests you, touring the various churches, shops and art throughout, offer a rich and reflective view into a special spot in the area, out of the tourist bustle of The Plaza (unless visiting during a pilgrimmage when it's packed).
Where is El Sanctuario de Chimayo?
Located 40 minutes north of Santa Fe, between Santa Fe and Taos, New Mexico.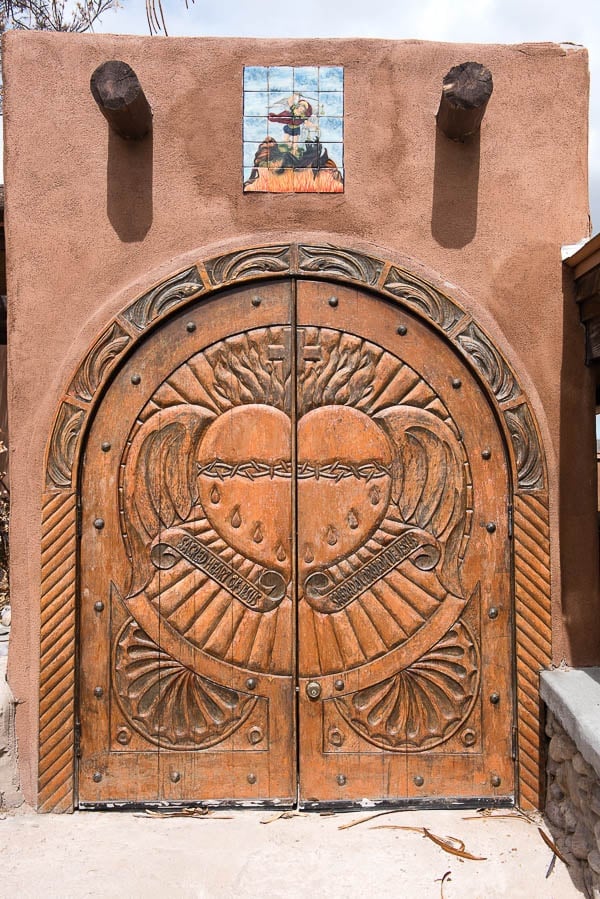 Hours of El Sanctuario de Chimayo
The hours of the El Sanctuario de Chimayo vary slightly during the year, opening at 9 a.m. daily and closing at 5:00 or 6:00 p.m. depending on the season (verify hours on their website before going). Check the website for information about the multiple pilgrimmages that occur during the year to participate or choose when to visit (it will be less crowded outside the pilgrimmage times).
There is free parking onsite.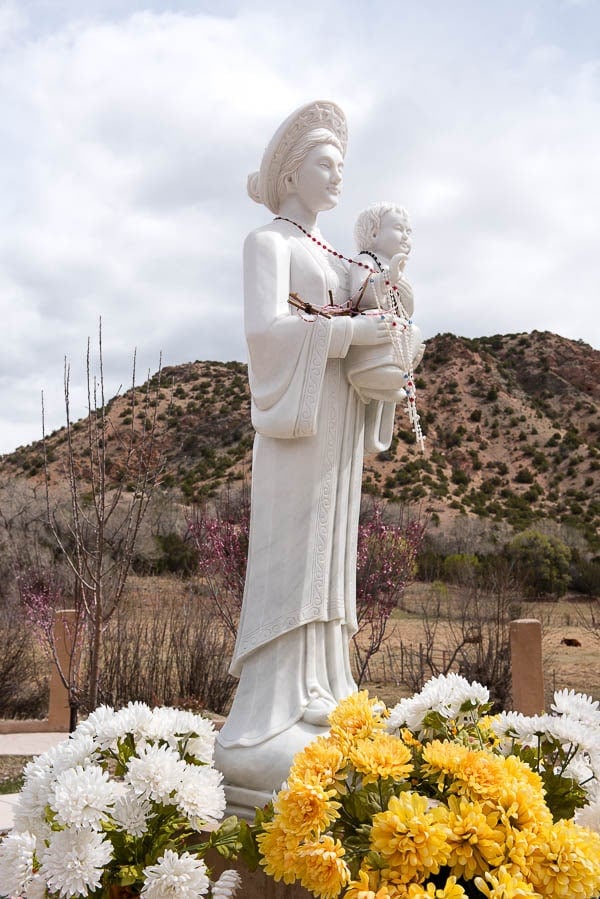 What to Wear at El Sanctuario de Chimayo
The weather can be variable in the spring, fall and winter. Layering allows the most comfortable experience, along with good walking shoes.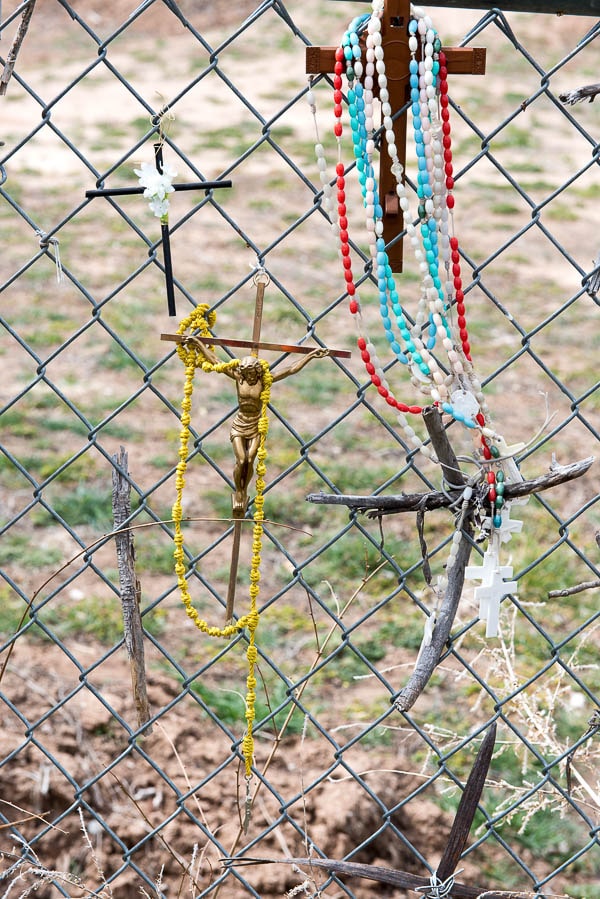 Whether religious or not, this is a very interesting place to visit and spend a few peaceful hours or a whole day.