Santa Fe, New Mexico is brimming with sights to see and places to dine. For those who like to explore less touristed activities this list of 10 Unexpected Family-Friendly Things to do In Santa Fe is for you (and it even comes with a local recipe from one of the activities)!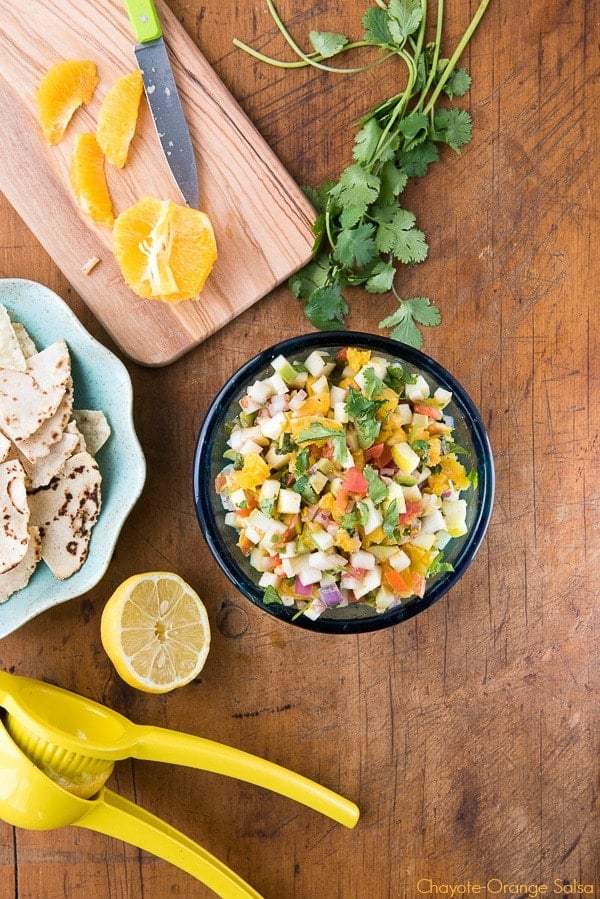 Updated in 2018
I've traveled to Santa Fe (New Mexico) many times but have never stayed there for more than a few days at one time. I find when revisiting a favorite vacation spot without an intention to discover new places, it's easy to keep repeating what is familiar, or stick solely to tour book recommendations.
This year I decided to spend a full week in Santa Fe on a quest to experience the 'Santa Fe less traveled' for visitors; family-friendly spots where visitors might experience lesser known options to learn more about the culture and art, the beautiful desert landscape and the irresistible local cuisine. Unexpected things to do in Santa Fe. With my tween son (12) and teen daughter (16) in tow, we hit the open road and found some gems to share!
Things to Do in Santa Fe
One of my favorite long weekends in Santa Fe was with my husband before we were married. We lived in California and flew in for the weekend. We hiked in Bandelier National Monument, visited Ten Thousand Waves and rented an outdoor 'room' after dark to soak in a hot tub and watch the stars. We took a cooking class at the Santa Fe Cooking School as well as dined at the uber happening fusion restaurant Santacafé and the iconic Café Pascual's for breakfast.
It was a fantastic sampling of the best things to do in Santa Fe to me. My mission was the same on this trip, however more catering to families and a roster of even broader venues. Today I'm sharing some 'don't miss' spots to check out when visiting!
Take a cooking class at the Santa Fe Cooking School
Celebrating their 25th year, the Santa Fe Cooking School is a treasure trove of classes, ingredients, prepared foods, unique cookware, tableware and regional cookbooks. I've relied on their online market website for keeping well stocked with their unique New Mexican chilies for making my favorite Southwestern recipes at home.
They offer a number of Southwestern themed cooking classes for home cooks, young and old, which are affordable and are only a few hours long. My husband and I took our class with them about 18 years ago. It was a highlight of our trip, as was taking a Salsa making class for my kids and me.
If kids are old enough to manage the kitchen tools and interested in cooking the school is delighted to have them enroll in a class.
Our Salsa 1 class was led by skilled Chef Cano who coached us through knife skills, dicing tips and flavor concepts when making salsa at home. We made four salsas and had enough time for him to teach us how to make corn tortillas from scratch.
I loved making the tortillas so much, I ordered my own cast iron press online the night of the class to be waiting for me when I returned home to Colorado.
As simple as salsa can be to make, it was a perfect class choice for us being gluten-free, and we all walked away with new skills and kitchen ambition. The Santa Fe Cooking School has allowed us to share one of their delicious recipes today!
I was delighted to finally know what a chayote is and how to use it after years of expertly avoiding them at the grocery store. It is a member of the squash family and tastes to me like a cross between a green apple and jicama. We did not need to peel the chayote we used nor remove it's soft pit.
CHEF'S TIPs: If chayote are older and the skin is thicker, peel it before eating. A great salsa tip from Chef Cano was to caution against over seasoning salsa when making it. Allowing it to sit a bit before eating, naturally allows the flavors to blend thus reducing the need for extra seasoning from salt and pepper.
We took leftover containers of all the salsas we made and ate them, happily, over our week long trip. They were all fantastic even after numerous days.
Santa Fe Cooking School also lead restaurant tours and have some delicious recipes on their website. The recipe for Chayote Orange Salsa is at the bottom of this post.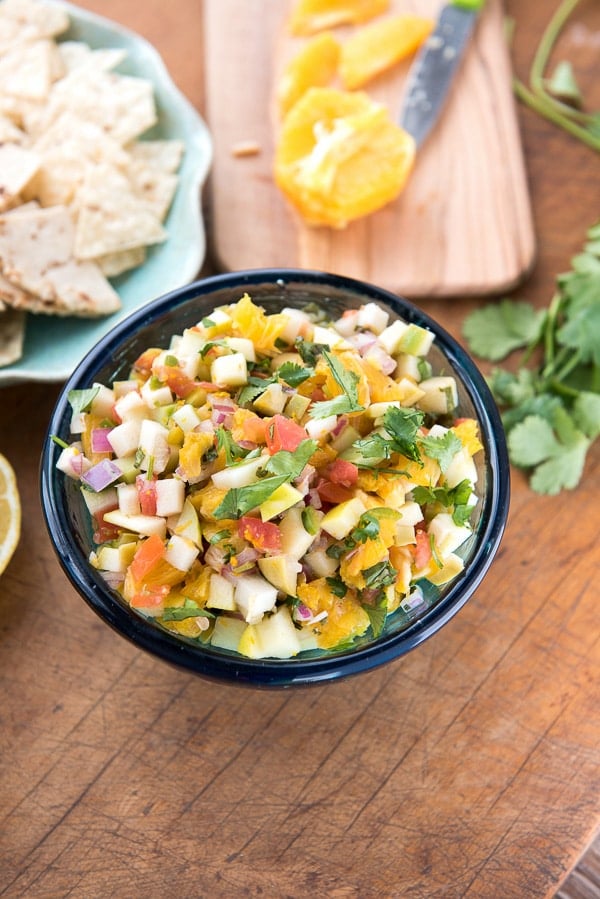 Eat Where the Locals Eat
Santa Fe is a great eating town and one which offers the unique flavors of Northern New Mexico not easily found outside the region. There are wonderful restaurants in every price points and I've shared some of the more popular from The Plaza area in prior travel posts (The Shed, Casa Sena, Guadalupe Cafe, Original Frito Pie at the 5 & Dime).
I really wanted to scratch the surface of the restaurants covered in every Santa Fe travel guide to be eating where the locals are. After querying everyone I could working at the local museums, thrift stores, antique stores, hotel workers, parking lots and more, I found a common list.
I checked out several local recommendations in Santa Fe and just outside of Santa Fe and have compliled a list of the Best Restaurants in Santa Fe Where the Locals Eat. You'll find great options for Northern New Mexican cuisine and other great eats without the tourists! It's food not to miss.
Visit Museum Hill
Up on a hill off the Santa Fe Trail is a grouping of fantastic museums sharing a sculpture-studded courtyard. Each offers its own focus and all, with the exception of the Museum of Indian Arts and Culture and the International Folk Art Museum, are small and relatively quick to go through so manageable with smaller kids.
Museum of Indian Arts and Culture. This museum is a compendium of all the local 22 tribes and 19 pueblos. It has been thoroughly curated with artifacts and stories from all aspects of Native American life and history. There is a lot to see so it might be a bit dense for smaller children; however they'll breeze through the smaller galleries and the interactive children's room for making art and game play happily.
Smaller thematic galleries feature exhibits such as the current Turquoise, Water, Sky: The Stone and Its Meaning exhibit or more modern David Bradley paintings with future exhibition information available on their website. Highlights for me were the one room pottery gallery illustrating pottery styles from the different tribes and a 1970's documentary of Maria Martinez, the famous potter from the San Ildefonso Pueblo whose iconic glossy black pots may be seen in the Smithsonian as well as other museums and galleries. It illustrates her process from gathering the clay in the hills, through firing the earthen pots over a cedar-stoked fire, the pots covered with scrap metal cafeteria trays and maneur give birth to her sleek, midnight-black pots, each now worth several thousand dollars.
The Museum of Spanish Colonial Art. The only dedicated Spanish Colonial museum in the U.S., it is occupies a Pueblo Revival style house built in the 1930's. Exhibits of everyday artifacts fill each room conveying the feel of living in the era. It is an easily digestible museum and has a Costume Corner of traditional garments for children to try on.
The International Folk Art Museum. On the opposite end of the Museum Hill Courtyard from the Museum of Native American Arts & Culture, the colorful, vibrant Folk Art Museum is a lively visual feast of examples of rustic folk art found around the globe. When we visited there was an extensive pottery exhibition with videos featuring pottery groups from the south eastern U.S. An interactive gallery providing reflection on Immigration was thought provoking.
The main gallery is filled with colorful international artifacts, including a full townscape in miniature. Definitely a museum which would appeal to kids with its light, happy feel. Great gift shop too featuring wares from all over the world.
Santa Fe Botanical Garden. Across the road from the Museums, the 2 acre Botanical Garden provides an outdoor respite from the indoor art studies. Dotted with sculptures and benches to perch and ponder the beautiful mountain vistas, the gardens are in a formative stage showing off regional species and promising new gardens which are underway. Though small, if touring with kids it provides a nice spot to get some air and exercise before heading into another museum. Best visited in the growing season, June through early fall.
Dining Tip: There is a restaurant on the Museum Hill courtyard, aptly named the Museum Hill Cafe, featuring fresh, modern Mexican and American options for brunch through lunch, including a morning coffee service, and later afternoon wine and drinks, often with live entertainment. The restaurant's shaded outdoor dining faces the Museum Hill coutryard for some lazy people and sculpture watching over one's meal.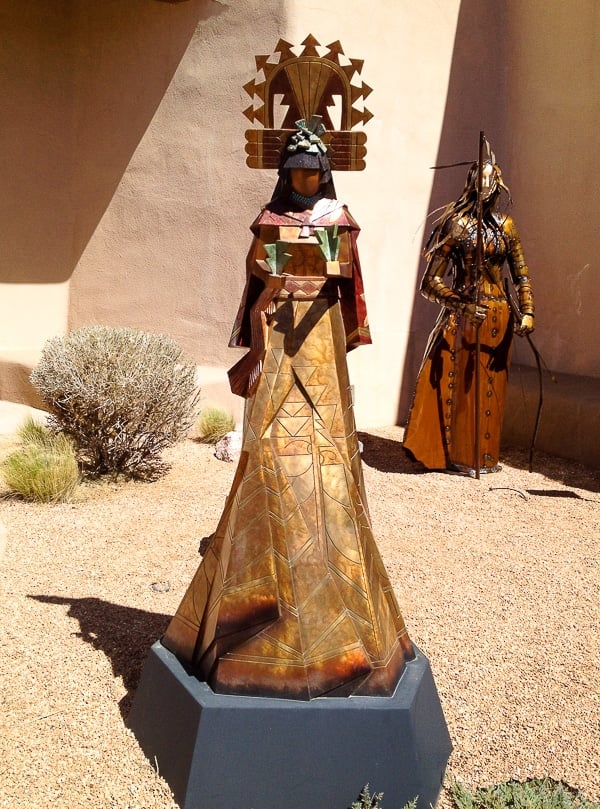 Some off site museums worth a visit:
The Museum of Contemporary Native Arts. One block east of the Plaza, across the street from the St. Francis Cathedral Basilica, this museum offers a view into the most progressive, contemporary Native American artists. It's a small museum with multiple galleries featuring varied mediums of art. Some of the content when we visited was a bit edgy with some explicit language in photos and nudity that might not be appropriate for young children however it was marked. Pop across the street for a peek into the cathedral too (free).
Georgia O'Keefe Museum. Also downtown, this museum is dedicated to the life and art of Georgia O'Keefe exhibiting her paintings, her photographs, and photographs of her with an interesting 12 minute documentary film sharing her journey as an artist and strong iconic figure of New Mexico. An audio tour is available which covers twenty of the paintings in great detail.
A free scavenger hunt and sketch pads are also available for children visiting the museum (ask at the ticket desk). It piqued my interest enough to want to visit her home in Aibiqui which I'll hope to do on a future visit. Programs for children and families are listed in a drop down menu on the museum's website.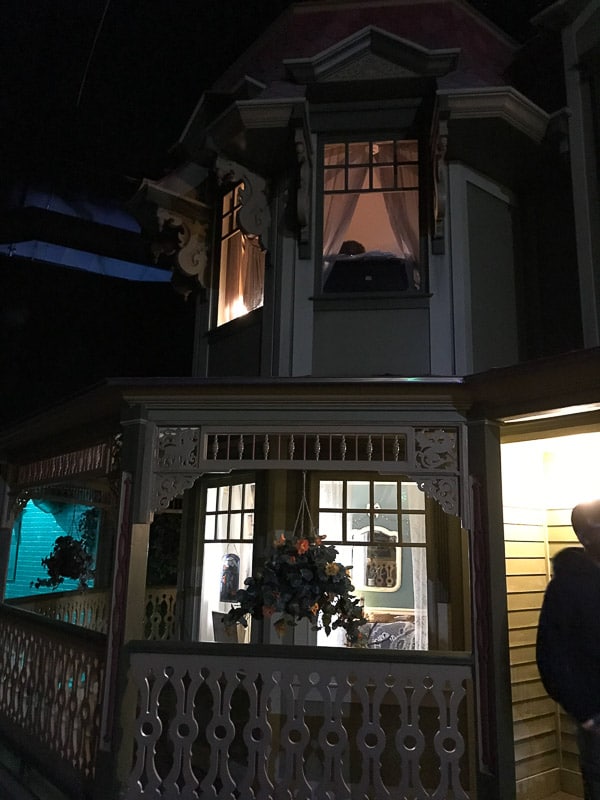 Meow Wolf is a totally inspired and unique stop in Santa Fe's well established art scene. Trying to describe Meow Wolf is like trying to describe a color. Unlike any other art experience I've encountered, Meow Wolf has layers of experience.
One enters after watching a sci fi briefing video to find a full size two-story house in the dark. Walking into the house begins the adventure with the instant feeling of intruding and then realizing the more interaction, the more surprises there are. The biggest faux pas in visiting someone else's kitchen, looking in the fridge, reveals a passage to a completely different space area.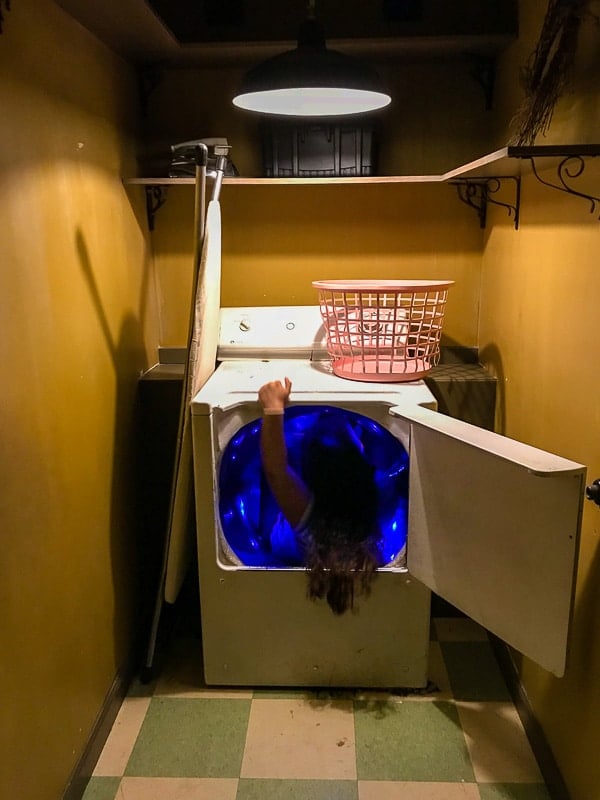 Layered on the myriad areas to explore is the story of a family and a mystery that befell them. Video snippets punctuate the extensive space tying together their story. Secret doors, spiral staircases, musical encounters (a harp shooting lines of light into the air that can be plucked by running one's hands through the air across the light strings), whimsical landscapes, define this unusual space.
Meow Wolf has sought to fill an open spot in Santa Fe's art experience and with the help of George R. Martin (Game of Thrones writer and Santa Fe resident) purchased an abandon bowling alley for this massive art experience.
I found myself wanting to know more about the conceivers of this concept; was it a brilliant mind, an insane mind, replication of a dream state or prompting more curious behaviors. It seems the experience captures all of these things while broadening one's mind, and prompting curious behaviors to trump social protocols.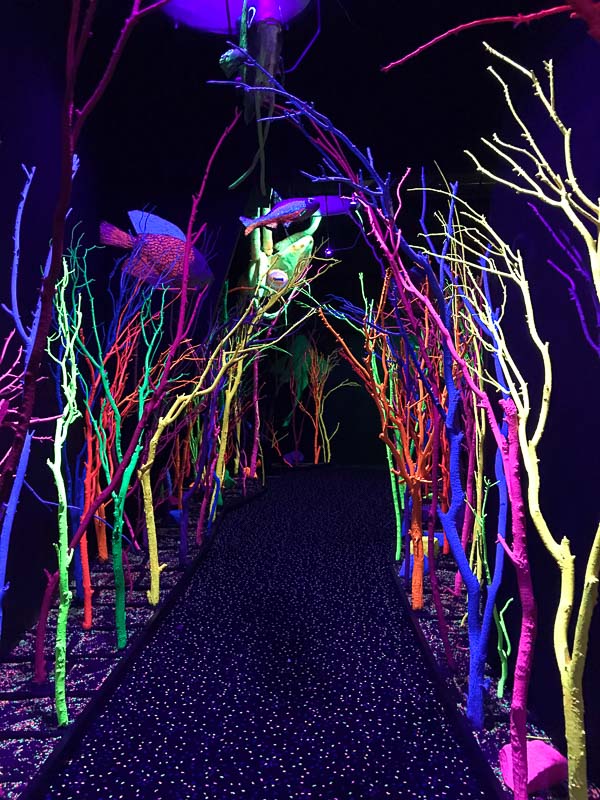 I don't want to give away too many specifics because personal discovery is the magic of Meow Wolf. Wristbands purchased for admission are good all day so visitors can leave and come back the same day if desired. Wearing good walking shoes, comfy clothing to crawl through fireplace openings and other obscure places is a good plan. Great for all ages. Little kids will especially love the whimsy and crawling through portals like the washing machine!
VISIT TIMING TIP: If going to Meow Wolf during a busy time of the year (summer, holidays, school vacation break, etc) go toward dinner time. I'd plan to allow 2-4 hours for your first visit (completely self paced so the total time is up to you) but arriving later in the day avoids heavy crowds making it easier to see and experience everything.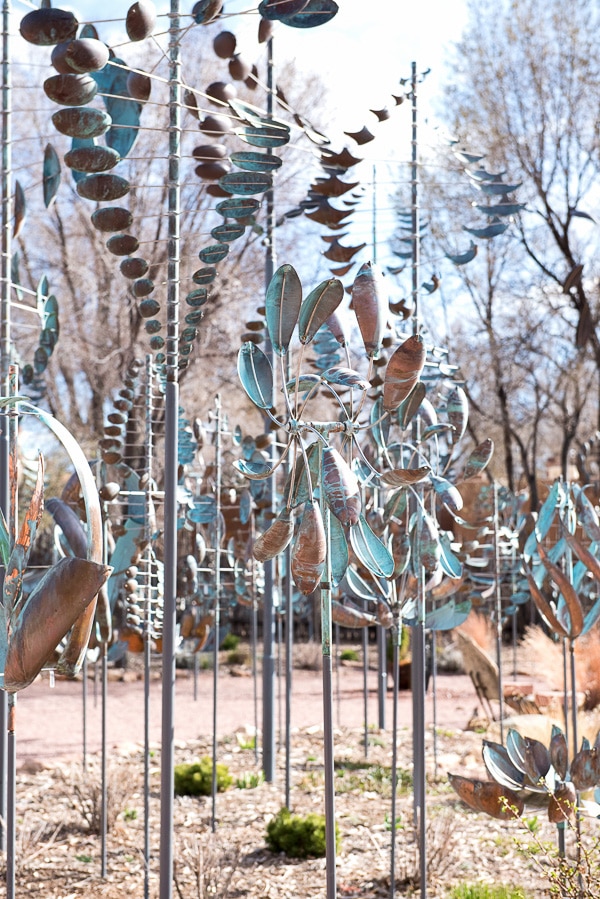 The Wind Sculpture Gardens on Canyon Road
Canyon Road is the art gallery center of Santa Fe. Shoulder to shoulder galleries line the popular winding street offering all mediums of art one craves.
When traveling with children, or for those less art-inclined, it can become overwhelming. However there are a number of galleries with outdoor sculpture, the most whimsical of which are the gyrating wind sculptures.
The most awe inspiring of these outdoor galleries is undoubtedly the Wilford Gallery featuring the kinetic sculpture of Lyman Whitaker. Tucked off Canyon Road in a sprawling courtyard, one can walk amongst the towering forms undulating in the breeze (motion photos on the gallery's website give a hint at the whimsy of it all). The outdoor galleries are free and something children will love.
Recipe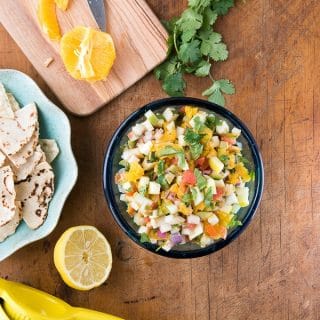 Ingredients
1

large

Chayote

, finely diced (it does not need to be peeled or pitted unless the peel is thick)

2

Roma Tomatoes

, finely diced

2

Oranges

1

Lemon

1

garlic clove

½

Red Onion

, diced

1-2

Serrano Chilies

, destemmed, seeded and diced

1/3

cup

fresh Cilantro

, coarsely chopped

½

teaspoon

ground Coriander

White Balsamic Vinegar to taste

Olive Oil to taste

Salt and Pepper to taste
Instructions
Combine the diced chayote, tomatoes, and red onion in a large mixing bowl.

Zest one orange over the bowl. "Supreme' both oranges (see link; peel both oranges with a knife leaving the exposed fruit without the outer membrane when hand peeled and cut them into wedges); then finely chop the wedges and add them to the bowl.

Zest ½ of the lemon over the bowl. Microplane the garlic into the salsa (if not available, dice the garlic).

Add the red onion, chilies, cilantro, coriander and blend well. Add additional lemon juice, or the vinegar, olive oil and/or salt and pepper to season.
Notes
Recipe courtesy Santa Fe Cooking School
Nutrition
Calories:
52
kcal
|
Carbohydrates:
13
g
|
Protein:
1
g
|
Sodium:
3
mg
|
Potassium:
249
mg
|
Fiber:
3
g
|
Sugar:
8
g
|
Vitamin A:
535
IU
|
Vitamin C:
59.2
mg
|
Calcium:
39
mg
|
Iron:
0.3
mg
Boulder Locavore thanks to the Santa Fe Cooking School for hosting us and the Santa Fe Tourism Group for all the helpful suggestions and support in our quest to explore Santa Fe.