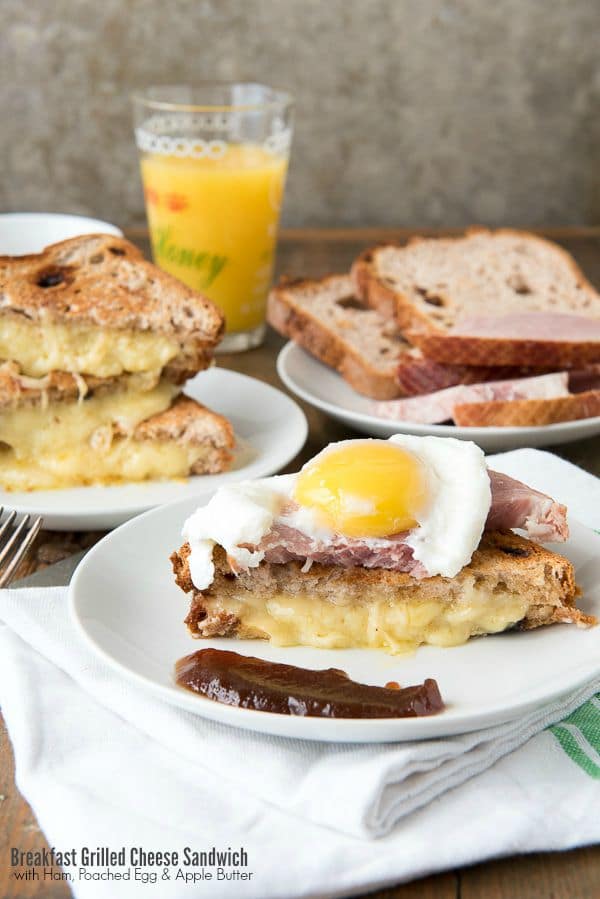 One thing I love about traveling is that is gives me all sorts of fresh ideas about food and recipes to develop when I return home. When recently in Old Quebec City, we had a great breakfast that was full of simple twists on ordinary breakfast foods reviving the sense of what breakfast could be, at least for me.
I should pause to confess I often suffer from 'breakfast boredom'. Somehow mentally it feels like there are about five things a person should eat for breakfast: cereal, toast or bagels, eggs, pancakes, waffles, oatmeal or hot cereal. Perhaps a gross over simplification but that's how it plays out in my mind, certainly on busy weekdays. I would always personally pick something with more protein for breakfast, both because it's what I like but also to give me sustained energy for the day.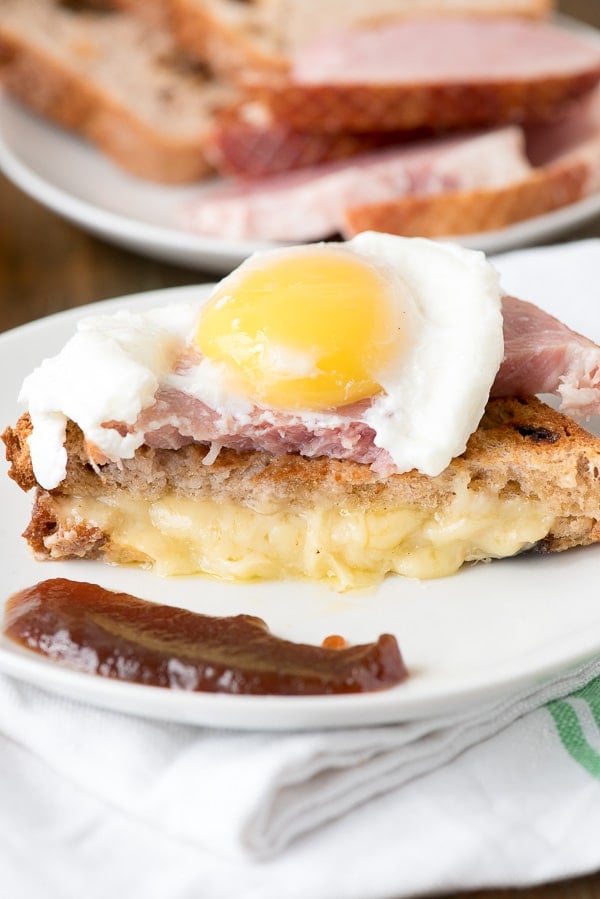 Somehow it seems 'normal' to eat breakfast foods for lunch or dinner but weird to do the reverse. Last year my son picked up a stomach virus, twice in six months, that really left him laid flat. He missed a week of school each time and after the main symptoms had passed, he really was unable to eat anything comfortably; except grilled cheese sandwiches. The doctor and I pondered why his body could tolerate that over more bland options but candidly did not care as long as he could eat something. So grilled cheese sandwiches it was every day before school for about a month. It stretched my thinking to remember most any food is good for breakfast as long as it's not loaded with sugar.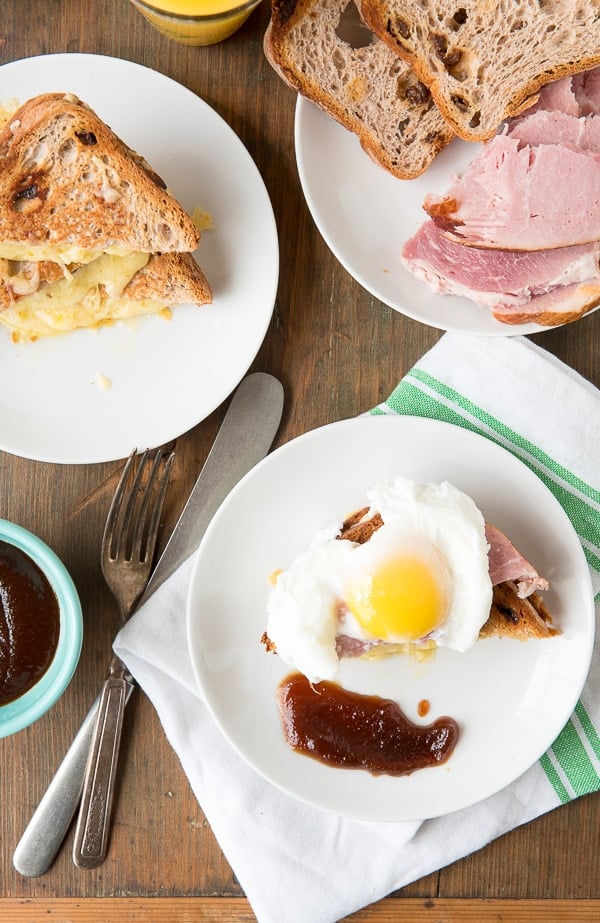 One of my favorite breakfast options is something we ate daily when traveling in Costa Rica; Gallo Pinto. Black beans and rice is a local favorite and I was fortunate to get a recipe for an authentic version while in Costa Rica and make it often at home. Full of meat-free protein that is filling for a great start to the day.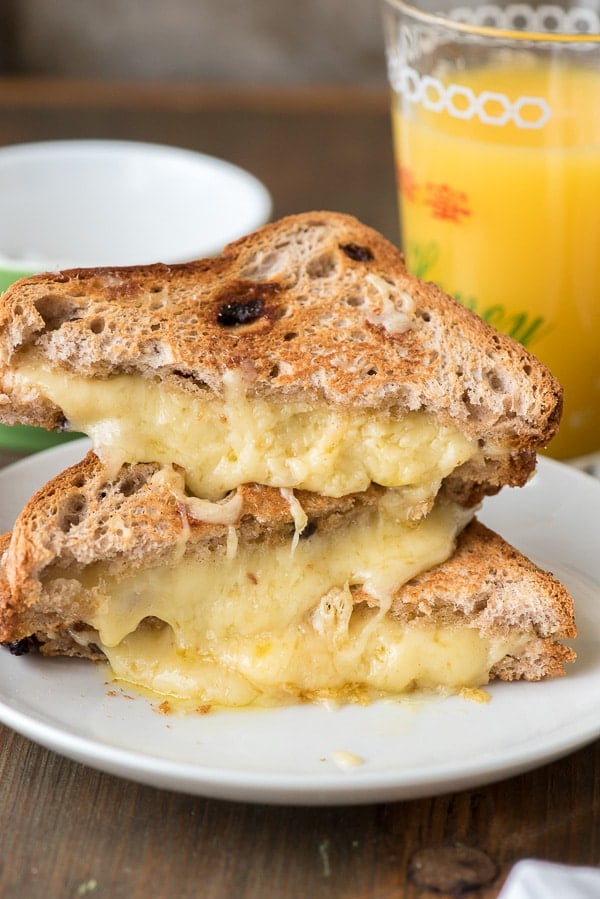 While pondering our breakfast choices at the hip Pain Beni restaurant in Old Quebec City, my son spotted is old standby: grilled cheese. This version was a bit more special with a slice of local ham, a poached egg, a smear of apple butter and made with local Canadian cheddar cheese on raisin bread. He was over the moon and after taking a bite I knew I needed to make it at home.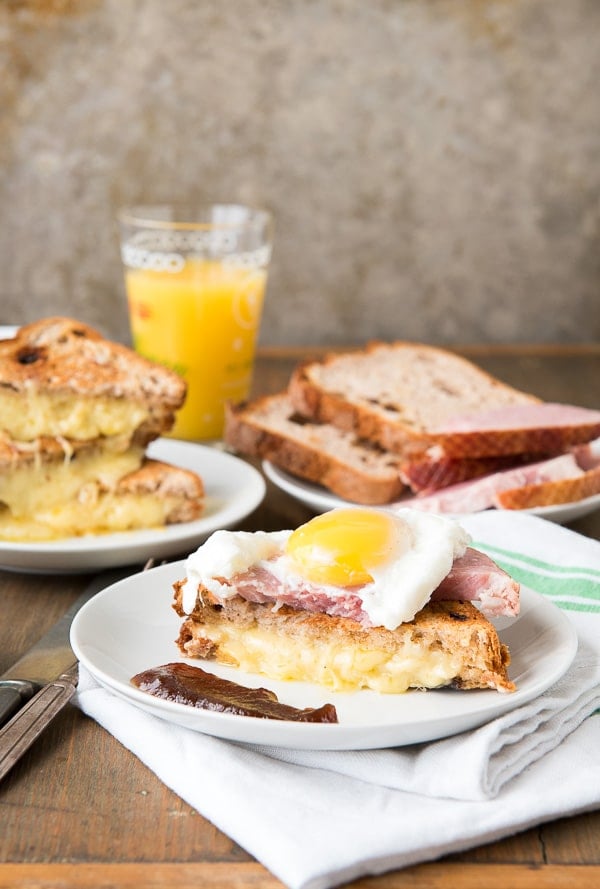 It is truly a sandwich for any meal of the day with gooey melted cheese, sweetness from the bread and apple butter, salty ham and a perfect poached egg. The combination is almost unbearably delicious. After chatting with my local deli-man I used a thick ½ inch slice of a local artisan ham (Tender Belly) that is to die for. A little less dense than traditional ham, it has an easy bite (no tugging on it like a dog pulling on the other end of a rope toy).
I substituted aged English Cheddar cheese which has a stand-up-and-take note saturation of cheddar flavor. Purchased Apple Butter may be used or this simple Slow Cooker Apple Butter recipe would work great (and you'll definitely have lots left for other recipes). If you aren't familiar with how to make a poached egg, I'll share how to make one perfect every time! Regardless of when you make this, for breakfast, brunch, late after a night on the town, as hangover food or any other time, it's perfect, plain and simple.
Recipe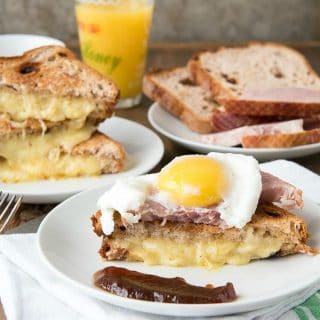 Breakfast Grilled Cheese Sandwich with Ham, Egg & Apple Butter
The mix of flavors in this breakfast sandwich meld together for a perfect bite of gooey cheese, sweet raisin bread, salty ham, egg and homey apple butter. Once served the yolk of the egg can be punctured to cover the sandwich and each forkful should add a bit of the apple butter.
Print
Save Recipe
Recipe Saved!
Pin
Rate
Servings:
1
Ingredients listed for one sandwich, can be multiplied for desired number of sandwich servings
Ingredients
2

slices

Cinnamon Raisin Bread

(gluten-free or regular; I used Udi's Gluten-Free Cinnamon Raisin Bread)

1

tablespoon

of Unsalted Butter

(optional if making the sandwich in a skillet)

1/4-1/3

cup

grated Aged English Cheddar Cheese

(adjust the amount based on the size of the bread you are using and preferred amount of cheese)

1

large Egg

White Vinegar

1/2

inch

thick slice Ham

(can be custom cut in a butcher or deli department); large enough to cover the sandwich

Apple Butter

(purchased or homemade)
Instructions
Preferred method to prepare the grilled cheese sandwich:
In a sandwich maker with griddle plates (smooth) or using the reverse side of waffle plates, heated to 350 degrees, place on slice of the bread on the heated griddle plate, add the cheese and top with the second slice of cheese. Allow to cook until golden brown with all the cheese melted inside.

Alternate cooking method: using a heavy skillet over medium heat, melt the butter and place a slice of the bread in the skillet, cover with cheese, add the second slice of bread on top. Cook until the cheese begins to melt or the bottom slice of bread becomes golden brown. Carefully flip the sandwich over using a spatula and cook until the second slice of bread is golden in color and the cheese is melted.
Poaching the egg:
While the sandwich is cooking bring a small skillet of water to simmering. Add a splash of white vinegar to the water.

Carefully crack the egg and place it in a small bowl or ramekin. Slide the egg gently into the water careful not to break the yolk. Allow the egg to simmer in the water for 3 minutes, spooning some of the cooking water over the top of the egg toward the end. Remove with a slotted spatula or spoon, allowing any excess water to drain back into the pan of water.

Top the prepared grilled cheese sandwich with a slice of the ham and the poached egg on top. Add a dollop of apple butter to the plate and serve immediately.
Notes
The recipe described the ingredients per sandwich and can be multiplied for the number of sandwiches being prepared.
Nutrition
Calories:
422
kcal
|
Carbohydrates:
27
g
|
Protein:
17
g
|
Fat:
27
g
|
Saturated Fat:
15
g
|
Cholesterol:
224
mg
|
Sodium:
434
mg
|
Potassium:
178
mg
|
Fiber:
2
g
|
Sugar:
3
g
|
Vitamin A:
870
IU
|
Calcium:
263
mg
|
Iron:
2.5
mg