Watermelon Mojito, Basil Mojito, an Iguana and Coconut Rum shot. All local Costa Rican cocktails you can sip at home with these authentic recipes!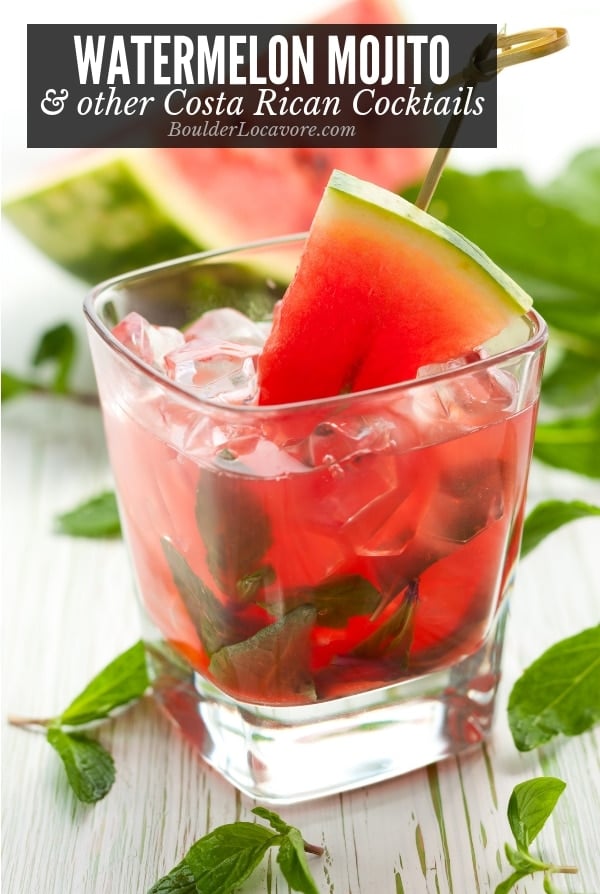 Updated December 2018
To say this vacation was 'planned' would be a gross overstatement. The realization of summer ending, coupled with a frantic call to the dog kennel while using Marriott points as a location divining rod were the instruments landing me in Guanacaste Costa Rica this week.
No complaints certainly. For those landlocked in the middle states it's a perfect exotic hop. A daily Frontier flight from Denver leaves at midnight and arrives in San Jose Costa Rica at 5 a.m.
A bit of sleep on the plane and you are in a lush paradise more affordably than traveling to many of the states in the U.S.
With the complete absence of planning and preparation we've been offered some grace from the Travel Gods.
Guanacaste Costa Rica
This is the rainy season, which we knew, however we did not realize Guanacaste, on the north-west Pacific Ocean side of Costa Rica, is a dry forest (vs. rain forest).
It is certainly verdant and 'jungley' as you'd expect. Humid and hot as well, though a microclimate providing when other regions are experiencing mist and rains, this area is spared some.
We came, knees bent, ready for landlocked days in the JW Marriott and have not found any hindrance to our usual adventurous pursuits.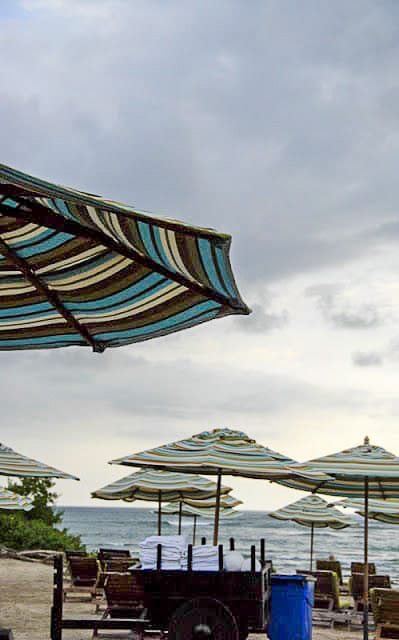 When I travel I appreciate the amenities of a hotel or resort, and the security, though become quickly antsy wanting to get out to see what the real people are doing.
Of course a big part of that is the food. I want to know and eat what's local, how they grow their food, what the local diet is like.
And that goes for the cocktails as well.
After not quite enough sleep on the plane followed by a 4 ½ hour drive to Guanacaste from San Jose, I'm deposited in a beach side table of the Azul Grill at the JW Marriott on Day 1.
It's late afternoon, I'm feeling the effects of needing to ground myself before venturing out. Gazing out at the brooding sea and sky, wondering what it has in store seems the highest degree of ponderance I can muster.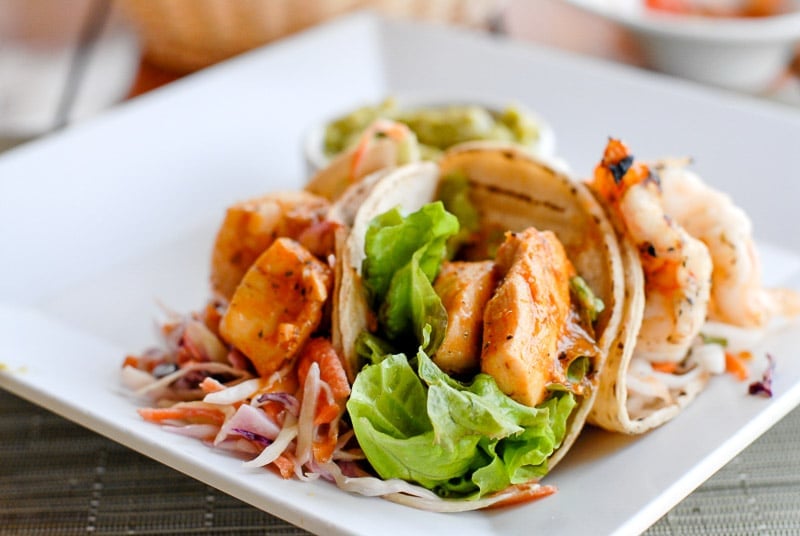 Our friendly 'Tico' (Costa Rican term for a native or local) server beams with what I've found in all my meetings with locals over the few trips I've taken here: they are relaxed, friendly and genuinely happy people.
We begin talking about the food of the region. It is abundant with fresh seafood. The beef in Central America is also notable.
Everyone knows about the coffee and tropical fruits (much of which is exported out of Costa Rica).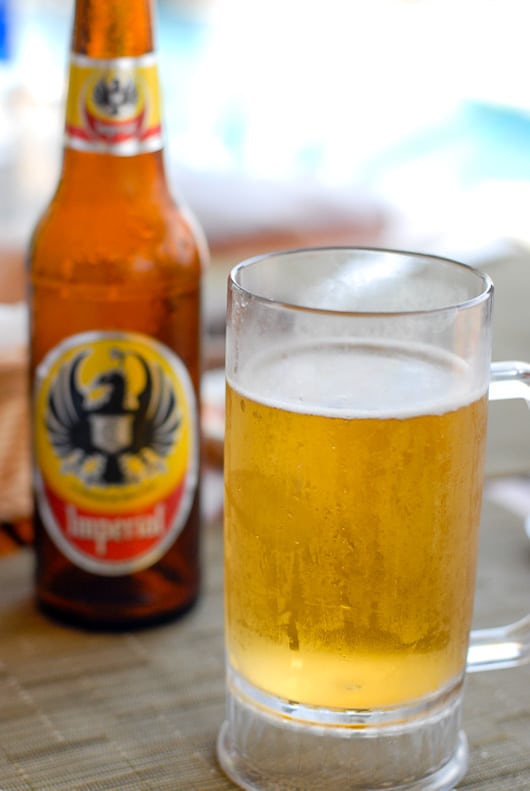 Basil Mojito
When ordering something to drink I had to pass on the Imperial Beer due to gluten but I asked for something was local or a specialty.
Our server returned with something I'd never imagine: a Basil Mojito.
With rum being made locally from sugar cane, it is clearly the liquor of choice.
Everything in this drink is local. It bears the refreshing quality of a traditional mojito but with the fantastic flavor of the basil.
As I sipped slowly, our server politely observed and returned wondering if perhaps I did not care for his concoction. Quite the contrary I told him, could I please have the recipe!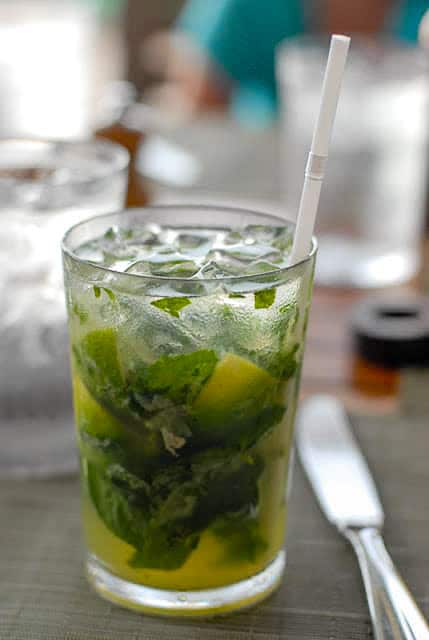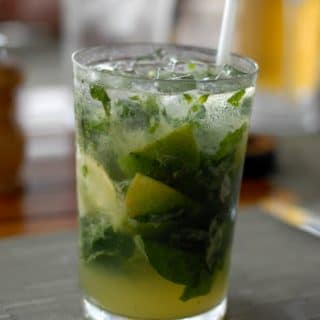 Ingredients
10

basil leaves

5

lime wedges

2

ounces

simple syrup

3

ounces

white rum

Splash ginger ale

Ice cubes
Instructions
In a 16 ounce glass, muddle (mash together) the basil leaves and lime wedges.

Add the simple syrup and rum. Stir to combine.

Fill glass with ice cubes and add the splash of ginger ale.
Nutrition
Calories:
450
kcal
|
Carbohydrates:
76
g
|
Protein:
2
g
|
Fat:
0
g
|
Saturated Fat:
0
g
|
Cholesterol:
0
mg
|
Sodium:
40
mg
|
Potassium:
377
mg
|
Fiber:
9
g
|
Sugar:
47
g
|
Vitamin A:
380
IU
|
Vitamin C:
97.5
mg
|
Calcium:
111
mg
|
Iron:
4.1
mg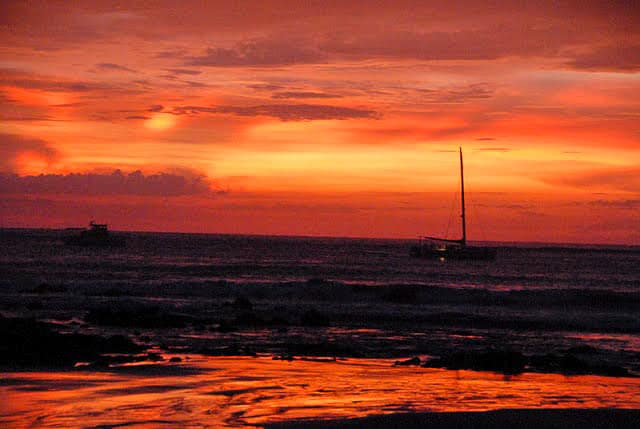 Watermelon Mojito
Another gold star libation (and one noted as a recommendation from 'the Liquid Chef') was a Sandia Mojito; translated a 'Watermelon Mojito'.
This I enjoyed late evening along the side of the winding azure-tiled serpentine pool where it meets the sea watching the most extraordinary sunset I may have ever seen.
Like a light show that never seems to end, presenting full horizon displays of brilliant orange hues mixed with pink. Unforgettable.
Regrettably I do not have a photo of the original cocktail (or this particular sunset to share) but please believe this is as refreshing and delicious on the eyes as it is on the palette.
So much so that I came home and developed a boozy popsicle recipe using the same cocktail! It's very popular!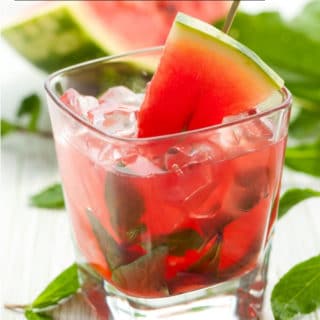 Ingredients
4-2

inch

cubes of seedless watermelon

6-8

mint leaves

1 1/2

ounces

freshly squeezed lemon juice

strained for seeds

1 1/2

ounces

simple syrup

1 1/2

ounces

white rum

Club soda
Instructions
Muddle (mash together) the watermelon, mint leaves with the lemon juice in the bottom of a 16 ounce glass.

Fill glass with ice. In a shaker combine the rum and simple syrup; pour into glass over ice. Add a splash of club soda to fill glass.

In a shaker combine the rum and simple syrup; pour into glass over ice.

Add a splash of club soda to fill glass.
Nutrition
Calories:
260
kcal
|
Carbohydrates:
43
g
|
Protein:
1
g
|
Fat:
0
g
|
Saturated Fat:
0
g
|
Cholesterol:
0
mg
|
Sodium:
28
mg
|
Potassium:
170
mg
|
Fiber:
0
g
|
Sugar:
39
g
|
Vitamin A:
900
IU
|
Vitamin C:
27.6
mg
|
Calcium:
15
mg
|
Iron:
2.1
mg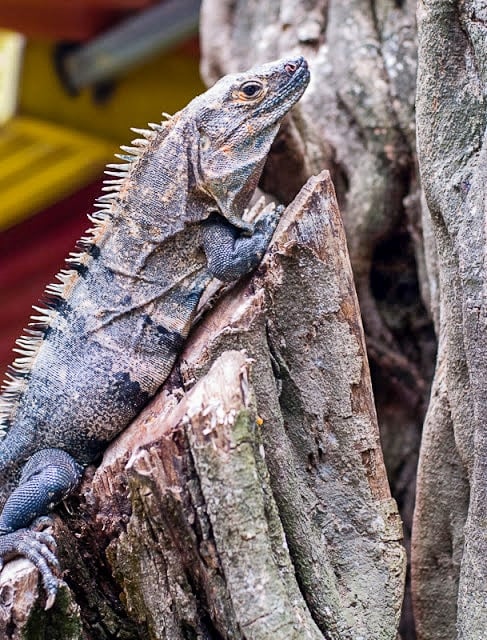 Iguana Cocktail
At the risk of sounding like I turned this trip into a complete booze fest, I tried an 'Iguana' in Tamarindo; a surf town sporting what some believe are the best surf beaches in the world.
A heat seeking missile to try anything novel with merit (I'm not one for kooky concoctions without purpose, or drinks that are a blinding shade of blue), this was simple and worth the try.
A light tequila sipper, it would fall into the family of 'skinny cocktails' before they became en vogue.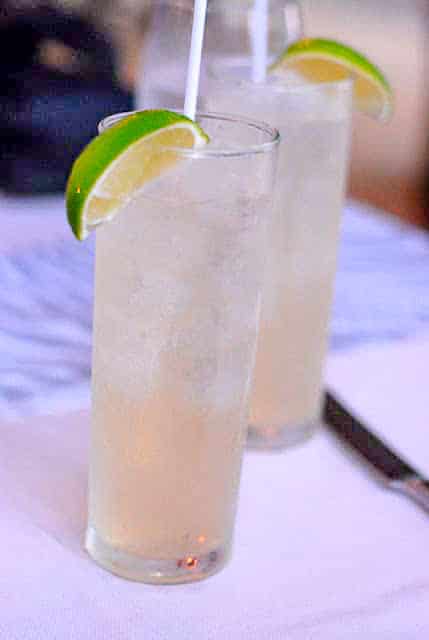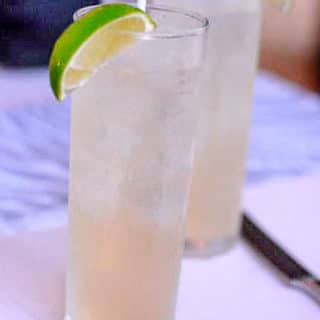 Ingredients
1

ounce

tequila

1/2

Lime

Ginger ale
Instructions
Fill a 12 ounce glass with ice.

Pour in tequila, squeeze the lime (ensure no seeds go into the drink) and finish with ginger ale to fill the glass.
Nutrition
Calories:
75
kcal
|
Carbohydrates:
3
g
|
Protein:
0
g
|
Fat:
0
g
|
Saturated Fat:
0
g
|
Cholesterol:
0
mg
|
Sodium:
0
mg
|
Fiber:
0
g
|
Sugar:
0
g
|
Vitamin C:
9.7
mg
|
Calcium:
11
mg
|
Iron:
0.2
mg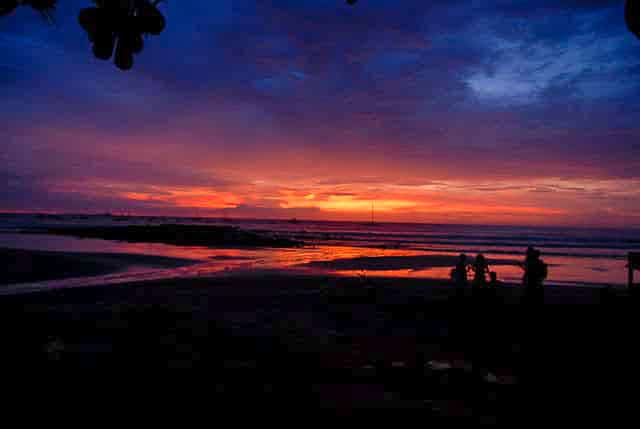 Coconut Rum shot
At this particular restaurant, Nibbana Beach Bar and Grill (Tamarindo), they completed the service by bringing all the diners a shot glass of what they said was 'coconut milk and sugar cane'.
One sip and I was sure it was RUM made FROM sugar cane.
It was quite delicious and not overly sweet. My guess at the mixology.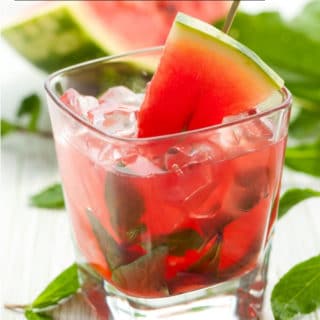 Ingredients
½

shot

white rum

splash

coconut milk

splash

simple syrup
Instructions
Combine all ingredients and drink!
More Costa Rican Recipes and Travel Tips:
Costa Rican Ceviche (marinated fresh fish) Recipe & Dining in Guanacaste Costa Rica
Authentic Costa Rican Gallo Pinto (recipes) & Touring Guanacaste Costa Rica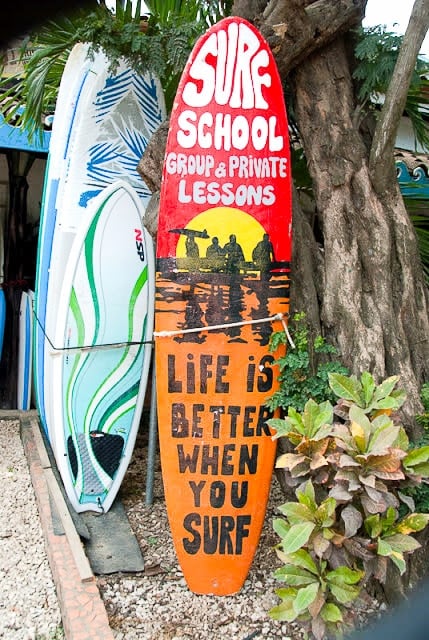 If you've made this Watermelon Mojito or any of these Costa Rican cocktail recipes please RATE THE RECIPE below!
SUBSCRIBE and FOLLOW ME on FACEBOOK , TWITTER , INSTAGRAM and PINTEREST !