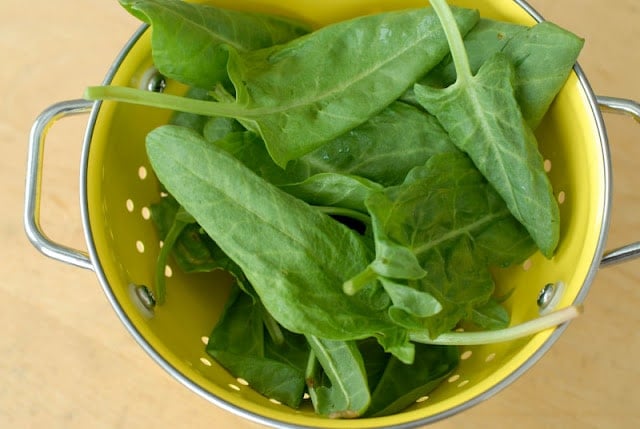 Our Farmer's Market has now been open two weeks. We've been graced by unbelievably wonderful, 'rest of the U.S.' type spring weather the past two Saturdays (market day). This is followed by typical Colorado spring weather of rain/hail/snow and gale force winds on Sunday. I recall last year going in full snow storms and wind so strong the farmer's tents we coming off the ground!
I always arrive about the time the market opens, around 8:00 a.m. There is a fresh feeling in the air, an excitement, everyone happy to be having the market again. At this time of year you can find many plant starters (I bought 8 lettuce plants for $.50 each).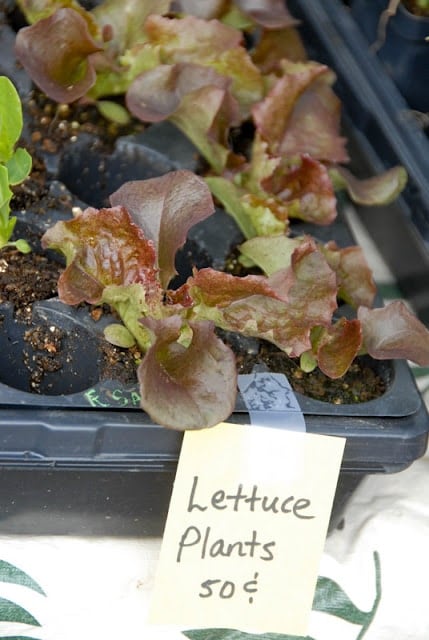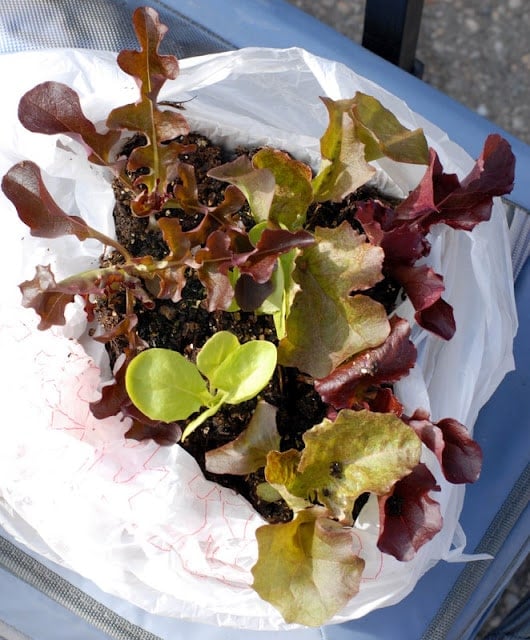 I spoke to Wee Bee Farms who is known for exotic varieties of garlic later in the summer though is now selling vegetables starters including 6 varieties of kale. All gorgeous.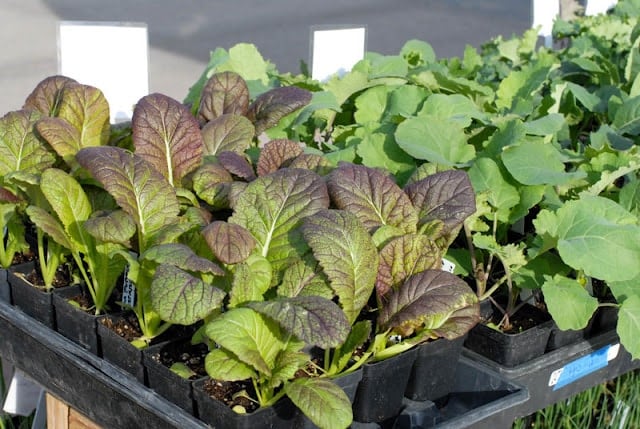 Spinach, arugula, mustard greens abound. As hearty cool weather crops, they lead the way until warmer temps allow more variety to be harvested.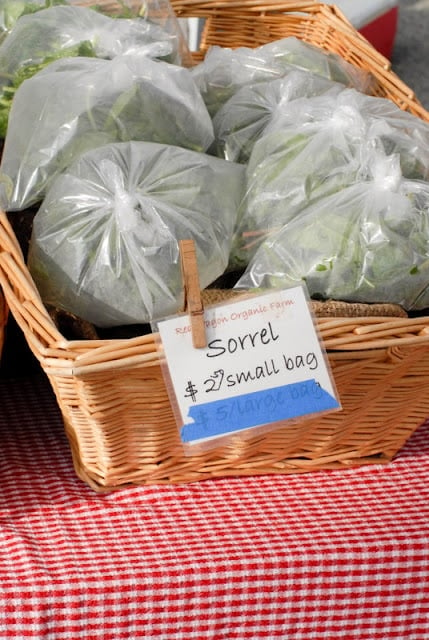 I was so excited this week to find a true spring love; Sorrel. I discovered it a few years ago and it really does grace us only in spring. I look for its appearance each spring like a long lost friend. Sorrel soup may be something you have heard of. I found my favorite use of it though is in scrambled eggs. It's simple and has a wonderful flavor paired with the eggs and some shallots. On its own it has a bit of a bitter bite, almost citrusy.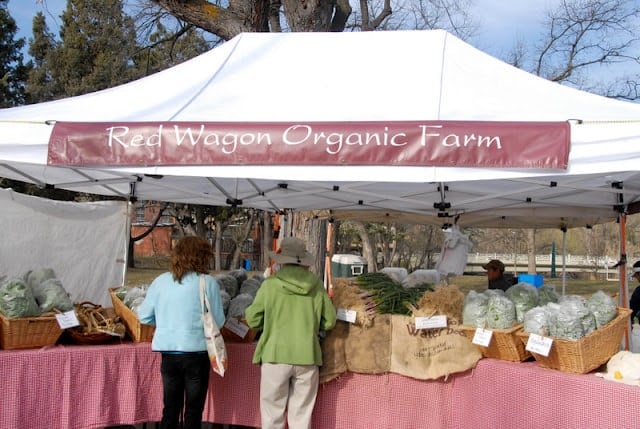 One of my favorite farms at the market is Red Wagon Organic Farms. I like their variety and their aesthetic. The latter might sound like a misplaced criteria but as with anything else, one is drawn to things based on how they appear initially (as with food, you eat with your eyes first). I always find them to be well organized, a great variety with some items only found with them (broccoli Romanesque, mini yellow watermelons, watermelon radishes and sorrel being some examples). They put their sweet cherry tomatoes in mason jars in August instead of cartons (you don't keep the jars) which always look so homey to me. Don't pass up the opportunity to sample if you have the chance. Everything is always delicious.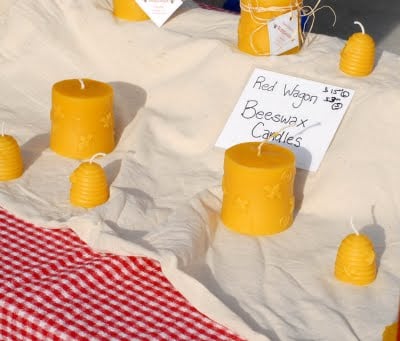 In addition to the market they have a farm stand in the parking lot of 95th and Arapahoe later in the summer and a CSA (click here for more on that). You can find their beautiful produce in many fabulous local restaurants.
I have to admit, scrambled eggs are not the most photogenic subjects on the planet. But don't let the looks fool you! These eggs are incredibly flavorful, in a simple, rustic, buttery way. They may very well become your next favorite breakfast dish. Perfect for a brunch menu when you want something easy, simple that tastes more 'upscale'.
Recipe Ingredients
extra virgin olive oil
unsalted butter
shallot
fresh sorrel
eggs
Salt and pepper to taste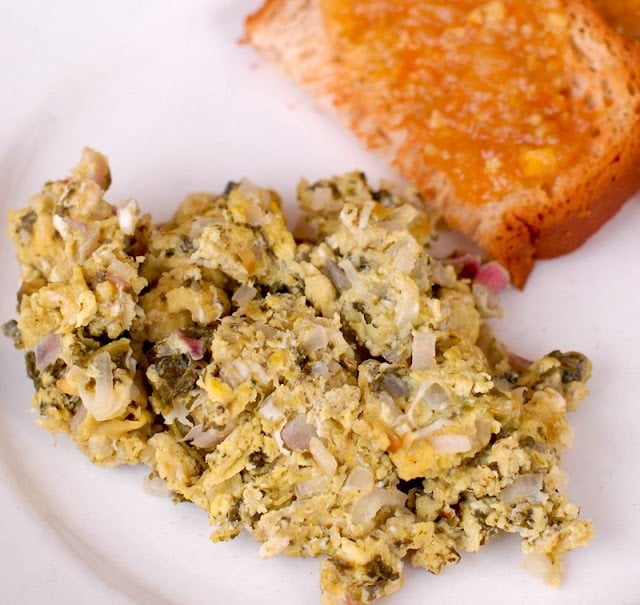 How to Make Scrambled Eggs with Sorrel – Step-by-Step
STEP 1: At medium heat, warm a small skillet and add the butter and oil.
STEP 2: When butter is melted add the minced shallots. Sautee for a few minutes until they begin to soften.
STEP 3: Add the sorrel and stir until wilted. Sorrel will begin to change color from a bright green to a more grayish green color signaling it's done. This only takes a few minutes.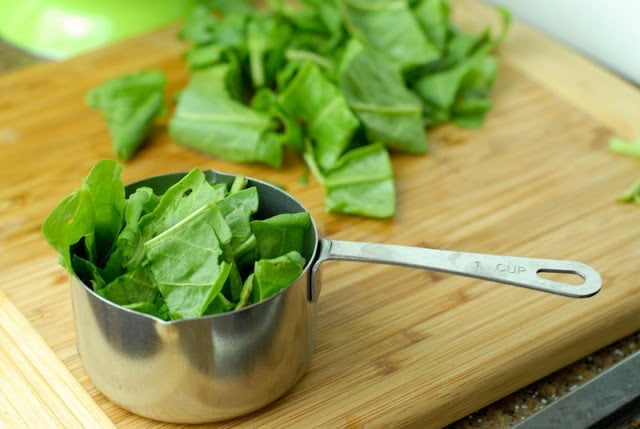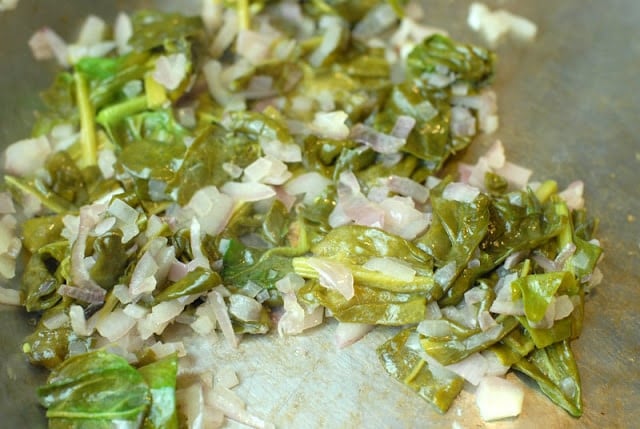 STEP 4: In a bowl whisk the eggs together and pour over the sorrel mixture in the skillet. Add salt and pepper to taste.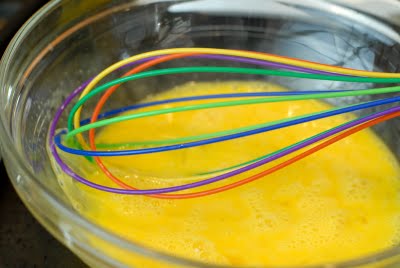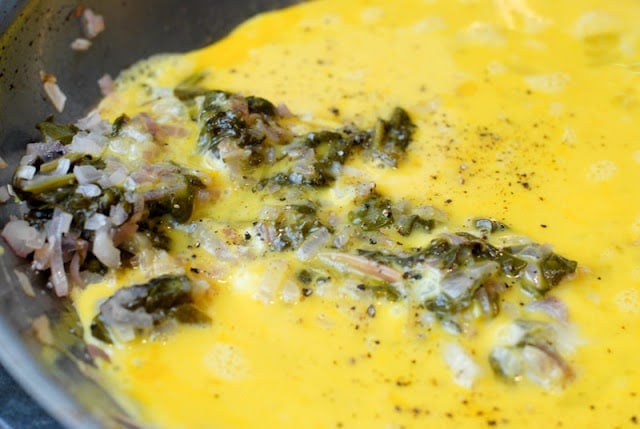 STEP 5: Stir until eggs are cooked!