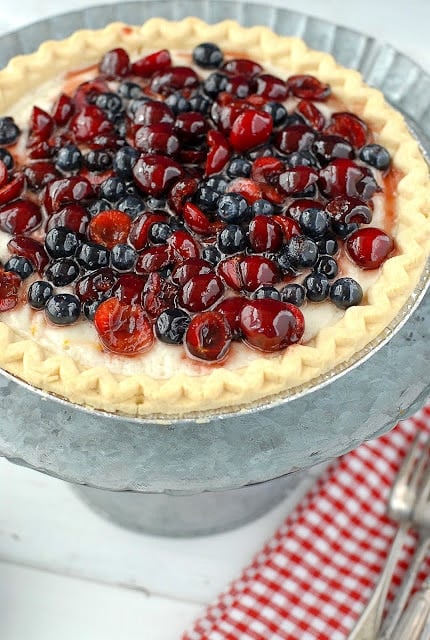 Fourth of July is shaping up in Colorado to be a different beast this year. It seems our entire state is either on fire, in the throes of being extinguished or being monitored for new starts from the severe heat, lightning strikes and wind. We've been front and center in the national news for a few weeks now with a smorgasbord of fires fighting for center stage.
I personally live across the street from Open Space which creeps up and into the foothills. In January about four years ago we noted billowing smoke a fair bit north of us however the whims of wild winds changed the direction in an instant and when I sauntered out to see if I could see the fire on the mountains miles away, I was greeted by a glowing orange halo over the last homes on our street to the north and a policeman on foot giving me 15 minutes to leave. It quickly turned into a game show gone bad, as I was home alone with two small children, three dogs, a non industrial luxury car and a brain gone blank about what to harvest from our seemingly enormous home. It is very frightening and with the conditions of this summer all are on edge knowing one well placed lightning strike and our Colorado landscape which is now tinder with respond furiously.
It's no surprise most cities have canceled public fireworks displays and personal fireworks are forbidden by law with promised penalties to be steep if caught. We generally do not attend mass public fireworks displays but have a distant vantage point from high in our house to see a number of cities' displays from home. It still seems odd that no fireworks will be filling the skies with their shrill whistle and explosions this year. For me, I turn to the food of the day for setting a festive mood since it is a holiday surrounded by food tradition just not as widely recognized or maybe more individually personal than holidays such as Thanksgiving, Christmas, Boxing Day or Easter.
Our temps are still in the mid to high 90's spiking into the 100's every few days. The concept of eating anything with substance or weight or warmth seems a tall task right now. I rifled through my mother's gargantuan recipe files, loaned to me over the winter (and under threat of being reclaimed) feeling sure there was something cool and unique to be found there and indeed I was right.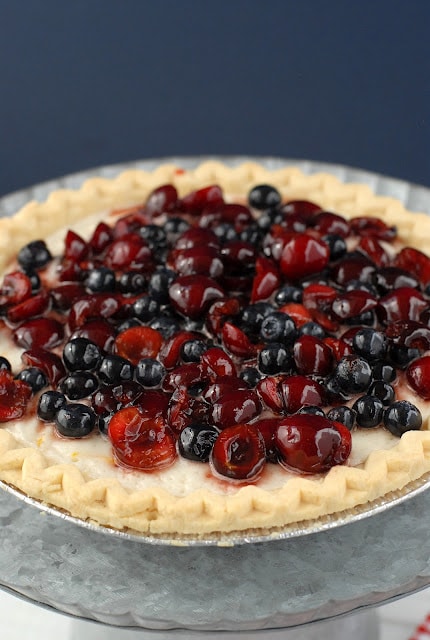 I uncovered a recipe for Cherry-topped Cloud Pie from Sunset Magazine circa 1981. Loving anything with a bit of whimsy I was immediately smitten. From reading the original recipe I couldn't quite get a beat on the consistency or flavor of the pie. I can now say it is a unique middle ground between a true meringue and a light custard. It has a gentle flavor of orange which gives background support to the true flavor generator; the fruit pie topping.
Channeling my inner 'Martha' I could not resist replacing the suggested 1 pound can of pie cherries with a blend of the beautiful fresh Bing cherries now available. I would always opt for fresh fruit especially when the flavor is so perfectly vibrant. I added in some blueberries yielding a delicious blend and of course a Red, White and Blue pie. Couldn't help myself.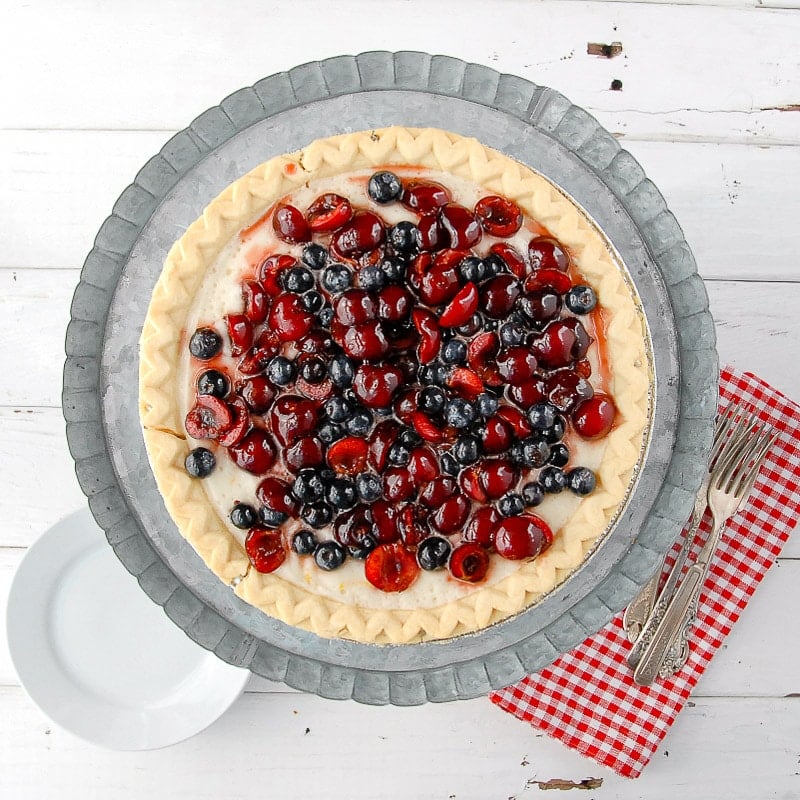 My Favorite Pie Crust recipe
It's an easy pie crust to make, especially if you've struggled with making pie crust from scratch before.
It uses Irish butter which makes it a flexible and reliable recipe.
Recipe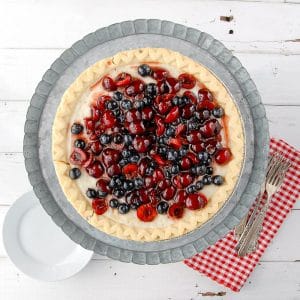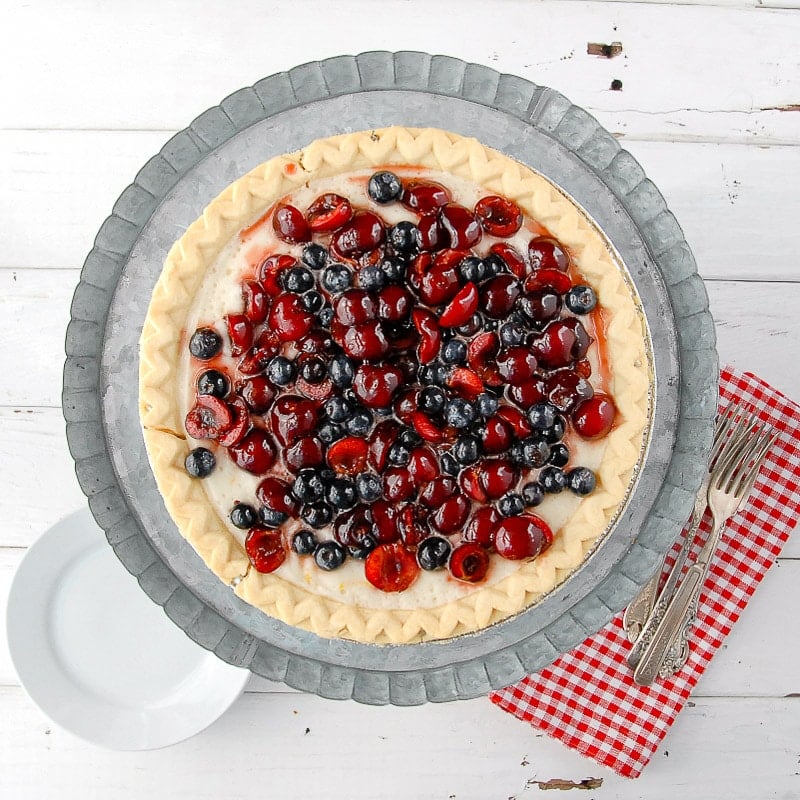 Cherry-Blueberry Cloud Pie
For those like me at altitude, the word 'meringue' strikes fear in the heart of the most skilled baker. Meringues for us are a commitment and endurance test. Hang in and do it; the end result is worth it! If you choose to make this without fresh fruit, the original recipe specified a 1 pound can of pie cherries which is equivalent to 2 cups.
Print
Save Recipe
Recipe Saved!
Pin
Rate
Ingredients
1

baked 9 or 10 inch pie crust

(regular or gluten-free)

1

cup

plus 2 tablespoons sugar

1/3

cup

cornstarch

1 ¼

cups

water

1/4

cup

freshly squeezed Orange Juice

1/8

teaspoon

salt

1

teaspoon

grated orange peel

(zest)

4

egg whites

, room temperature

1/8

teaspoon

cream of tartar

¼

teaspoon

almond extract

1 ½

cup

Bing cherries

, de-stemmed, pitted and sliced in half

½

cup

blueberries

, rinsed
Instructions
Bake pie crust and allow to cool to room temperature.

In medium sauce pan, combine ½ cup of the sugar, cornstarch, water, orange juice and salt. Bring to a boil stirring constantly. Allow to boil 1 minute, still stirring constantly. Remove from heat, stir in orange peel/zest and allow to cool completely to room temperature.

Once mixture above is cooled, in the bowl of a standing mixer or using a handheld mixer, beat egg whites on medium speed until beginning to foam. Add cream of tartar and continue to beat on medium-high until soft peaks form.

With the mixer on high heat very gradually add another ½ cup of sugar and beat until stiff peaks form.

With the mixer on the lowest setting, gradually add the cooled sugar-cornstarch mixture until fully blended.

Pour mixture into the prepared crust. Cover and place into the refrigerator to firmly set; at least 4 hours.

In a medium bowl combine the cherries and blueberries. Sprinkle with 1 to 2 tablespoons of sugar and stir to coat. Cover with plastic wrap and stir occasionally to coat with juices. Fruit can be left at room temperature or chilled.

When filling is firm in the chilled pie, add almond extract to the berries, stir to combine and top the chilled pie with the berries using a slotted spoon to drain excess liquid before adding the fruit to the pie. Serve immediately.
Notes
Recipe adapted from Sunset Magazine 1981 (M.V., Hillsboro Oregon)
Nutrition
Calories:
247
kcal
|
Carbohydrates:
46
g
|
Protein:
3
g
|
Fat:
5
g
|
Saturated Fat:
1
g
|
Cholesterol:
0
mg
|
Sodium:
151
mg
|
Potassium:
132
mg
|
Fiber:
1
g
|
Sugar:
29
g
|
Vitamin A:
30
IU
|
Vitamin C:
6.9
mg
|
Calcium:
7
mg
|
Iron:
0.7
mg