The Hemingway Daiquiri, a favorite cocktail of Ernest Hemingway is bright and citrusy, with rum and luxardo. Originated to his tastes at the bar El Floridita in Cuba, now you can make them at home!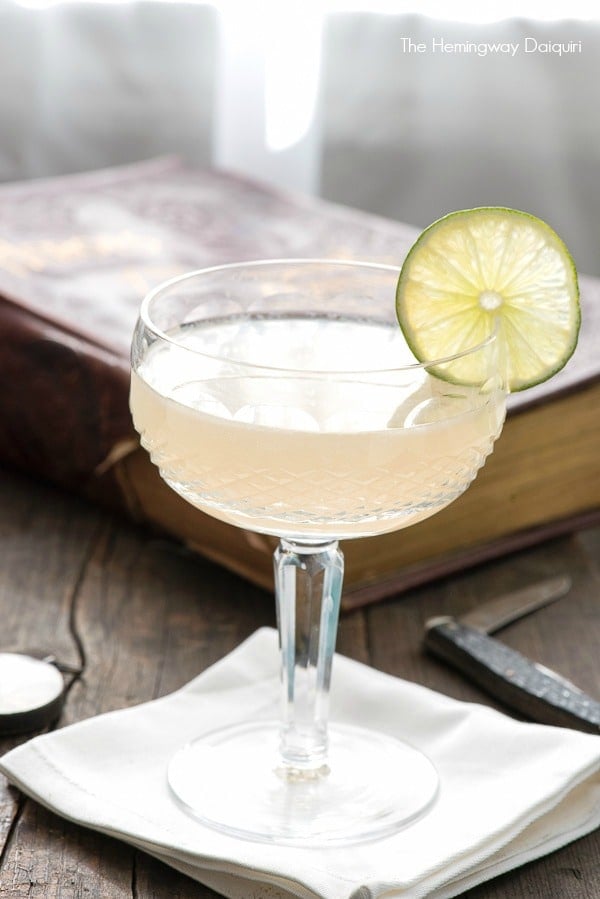 Have you ever been asked that question about picking 3 people to be at a dinner party, figures dead or alive?
Maya Angelou has always been on my list, but I'd love to have Ernest Hemingway there too. He lived life large and hard from what I gather.
A prolific Nobel Prize winning novelist, he palled around with the bohemians of 1920's Paris such as Pablo Picasso, F. Scott Fitzgerald, James Joyce and other artistic luminaries of the time.
They were all probably struggling then while drinking absinthe together but found fame later in their careers or after their deaths.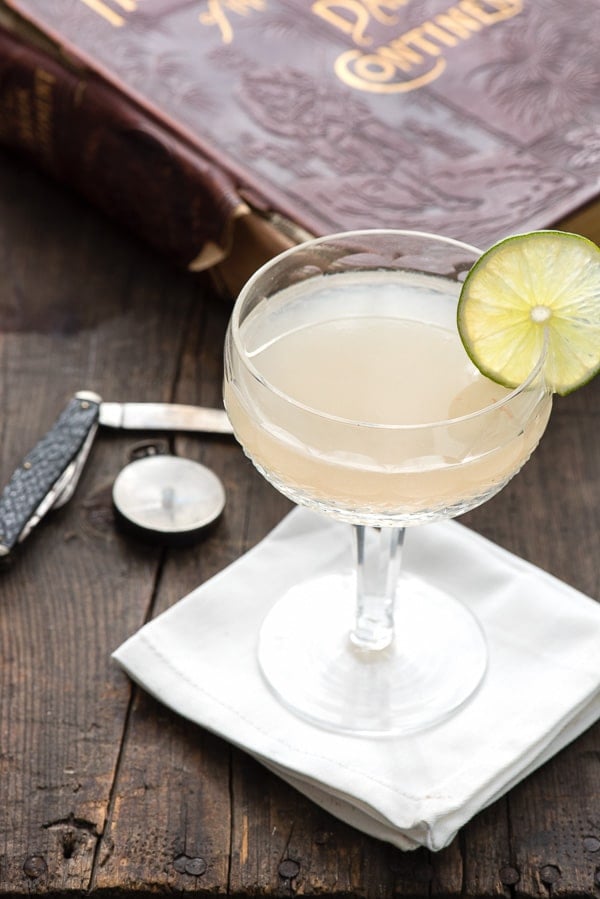 Hemingway was a big game hunter in Africa, loved bullfighting in Spain and deep-sea fishing in Florida where he lived beginning in the late 1920's.
On the tail end of a business trip to Florida years ago, I hopped down to Key West for the weekend. The Hemingway House was open for tours and I gladly went along.
I don't recall many specifics other than that feel of the house, dark woods with an exotic tropical sensibility, was what I imagined his life to feel like.
The property was full of decedents of a 6 toed cat he had that passed the trait down to its ancestors, hundreds of them it seemed, all of which would prowl and pounce unexpectedly throughout the tour.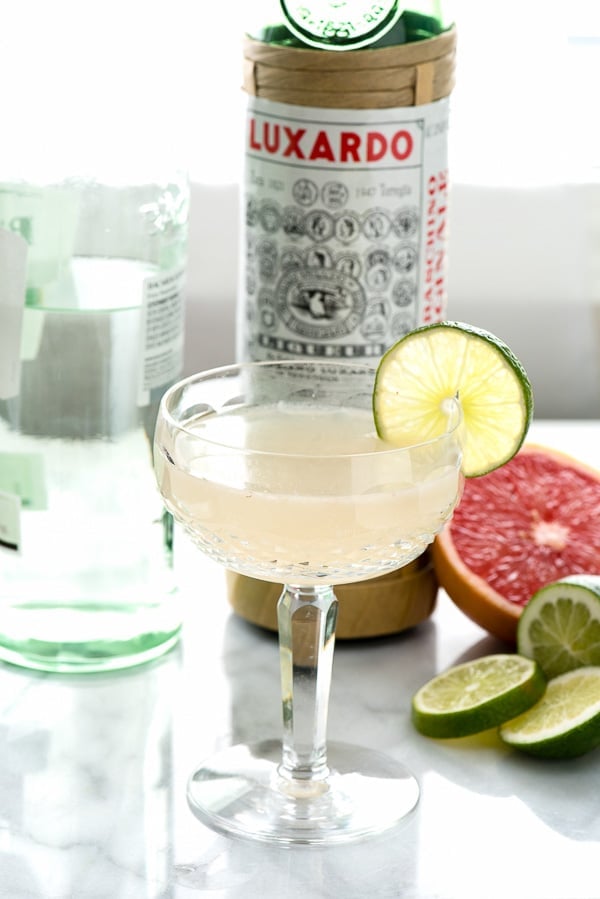 History of the Hemingway Daiquiri
This all brings me to the Hemingway Daiquiri. A cocktail dripping with lore.
Some say it was Hemingway's favorite, and he'd readily down a dozen in a sitting.
Apparently created his favorite watering hole in Cuba, El Floridita, the original recipe emerged after much experimentation with versions of the daiquiri.
What IS a Hemingway Daiquiri?
Unlike the overly sweet, blender vacation drink of the here and now, the Hemingway Daiquiri is to the point. White rum, fresh citrus juices and a bit of Luxardo, a maraschino liqueur (think of the unique flavor in Maraschino Cherries).
What Does a Hemingway Daiquiri Taste Like?
It's fresh yet not flirtatious. A touch of sweetness with a clean finish.
I can't imagine putting down a dozen in a sitting but one or two will remind you of the origins of cocktails; a more sophisticated pleasure, not sweetened with a purpose of tricking one into thinking they are child's play.
The Hemingway Daiquiri is a cocktail of a bygone era….which must mean it's poised to spring back into vogue momentarily!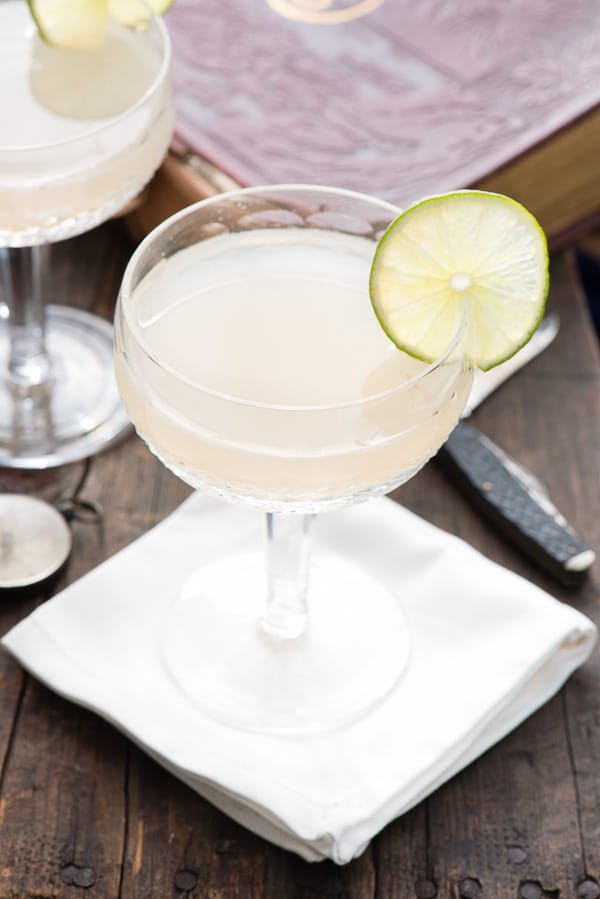 Did you make it? Please RATE THE RECIPE below!
Please SUBSCRIBE and FOLLOW ME on FACEBOOK , TWITTER , INSTAGRAM!
Recipe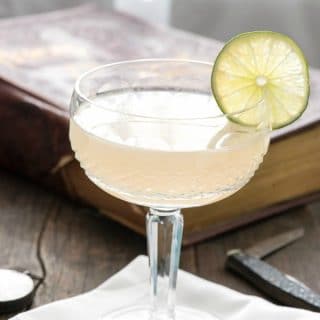 The Hemingway Daiquiri
The supposed favorite cocktail of Ernest Hemingway, originating from a favorite bar in Cuba, El Floridita. Signature flavors of fresh lime and grapefruit combine with white rum and a touch of Luxardo to make a fresh, very lightly sweet cocktail. Fresh in the winter, refreshing in the summer.
Print
Save Recipe
Recipe Saved!
Pin
Rate
Ingredients
2

ounces

White Rum

(Cuban if you have it!)

¾

ounce

fresh Lime Juice

½

ounce

fresh Grapefruit Juice

½

ounce

Luxardo liqueur

Garnish: Lime slice
Instructions
Add all ingredients to a shaker with a handful of ice. Shake vigorously and strain into a chilled coupe glass.
Nutrition
Calories:
186
kcal
|
Carbohydrates:
7
g
|
Sodium:
2
mg
|
Sugar:
6
g
|
Vitamin C:
10.2
mg