Put away the cold cereal for breakfast, I just a much more exciting recipe option! A hearty Bacon-and-Egg Cheese Breakfast Burger is loaded with favorite breakfast ingredients along with some spicy sauce and greens. It takes no longer to make than a regular hot breakfast but is far more unexpected and memorable.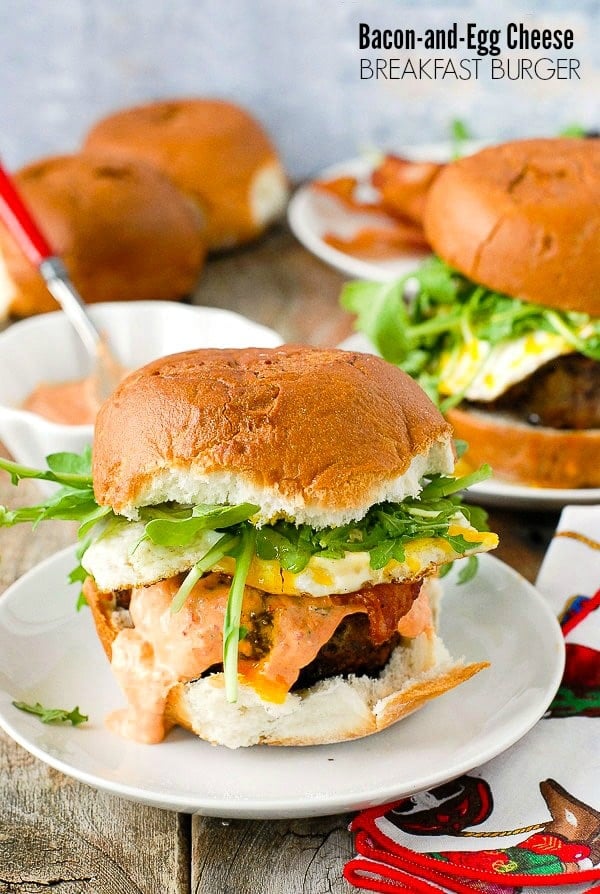 There really is nothing like a good, freshly grilled burger when in the mood! One of my all time favorite smells is that of burgers grilling on the ski slopes in the winter. There is just nothing like it especially when using the pro tips from the Ultimate Burger Grill Guide! Many people think of burgers for lunch or dinner but today I want to change your mind. A Bacon and Egg Cheese Breakfast Burger is great for ANY meal of the day!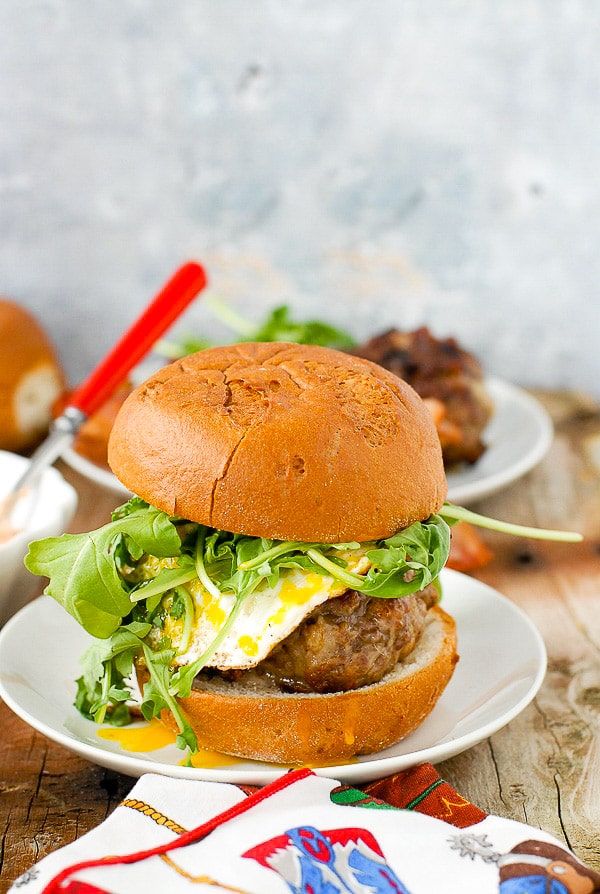 I'm not sure exactly what sparked the idea of combining the best of breakfast with a burger but my muse delivered. A cheesy grilled burger, topped by a fried egg, bacon, arugula and Sriracha-Sour Cream; do I have your attention?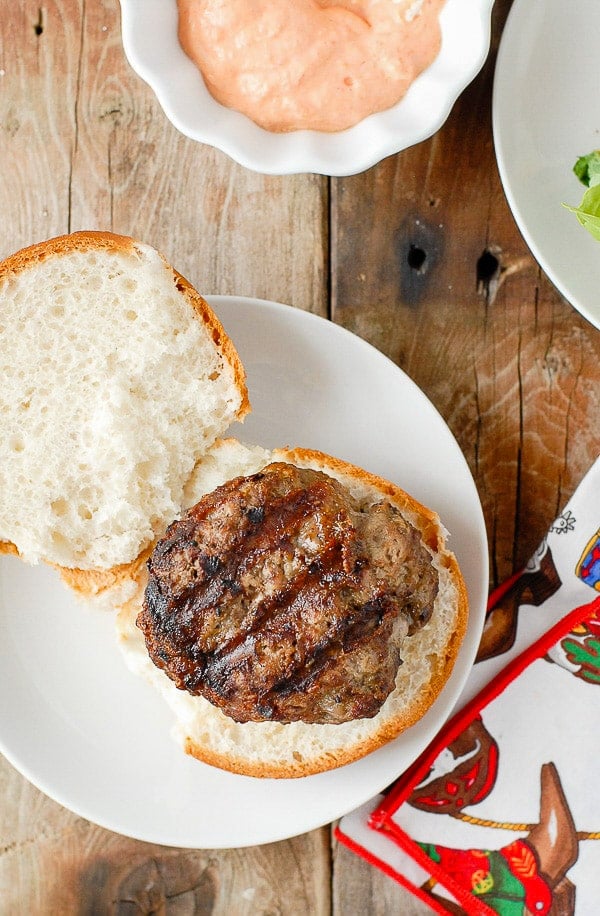 Perhaps the best part of a bacon-and-egg cheese breakfast burger is that when it is squeezed to eat the yolk breaks, runs down the sides of the burger just enough to add to the juiciness. I've developed some tips for grilling the best burgers that ensure my grilled burgers are always juicy, well-cooked but not overdone every time, making it fun to change things up with confidence about the outcome.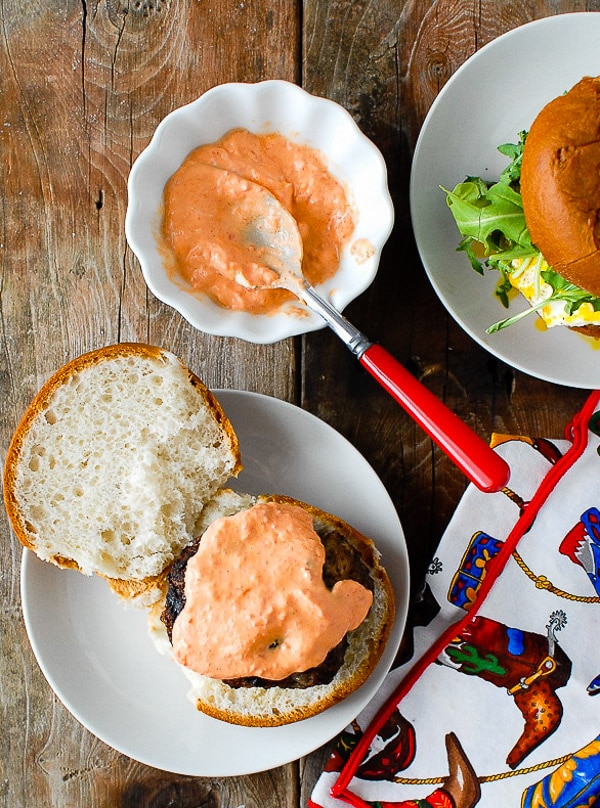 I really can't image a better combination of flavors with the added crunch of arugula which wilts a bit when added on top of the warm burger adding a peppery bite. It struck me when assembling, this probably qualified as 'hangover food' as well; something to take the edge off the morning after a bit too much fun!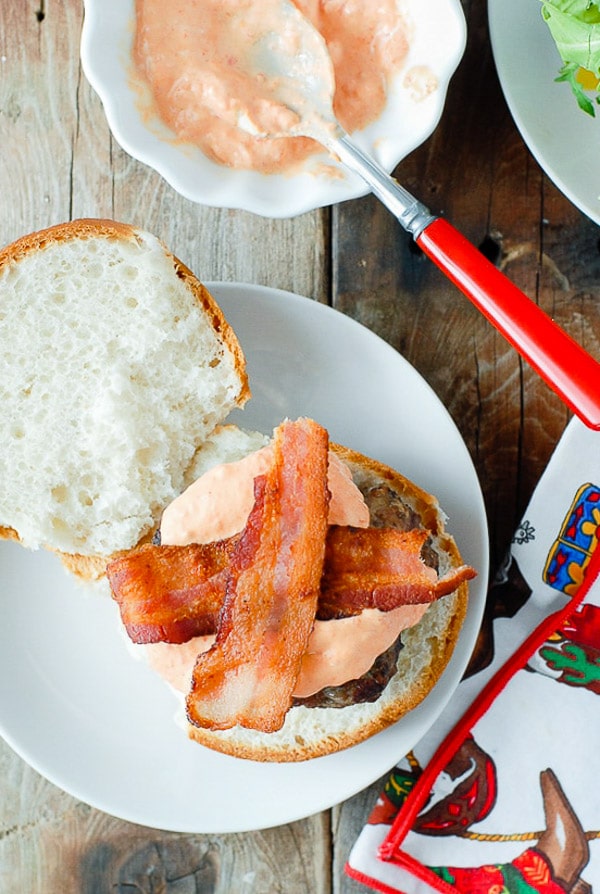 If you are a burger lover and ready to get your grill on I have more ideas you'll love! Some of my favorites are stuffed burgers. Stuffed Taco Burgers are filled with taco ingredients you love! If you are adventurous I'd suggest the Grill-Smoked Green Chile Burgers in a Bacon Weave. They are easy to make, packed with flavor and always impress. Making a bacon weave looks like it would be difficult but they aren't (there is a step by step photo tutorial of how to make them in the recipe post).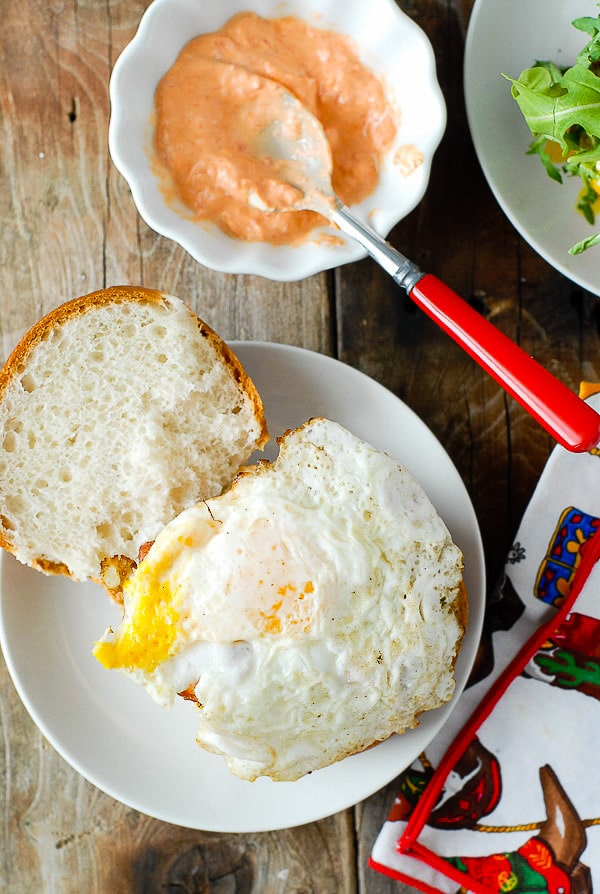 Hay-Smoked Salmon Burgers are a great flavor departure from the norm and do not require a smoker. This collection of 8 Amazing Burger and Hot Dog Recipes You'll Love will kick off your summer grilling season with a bang too! Plenty of delicious, out of the ordinary options to try.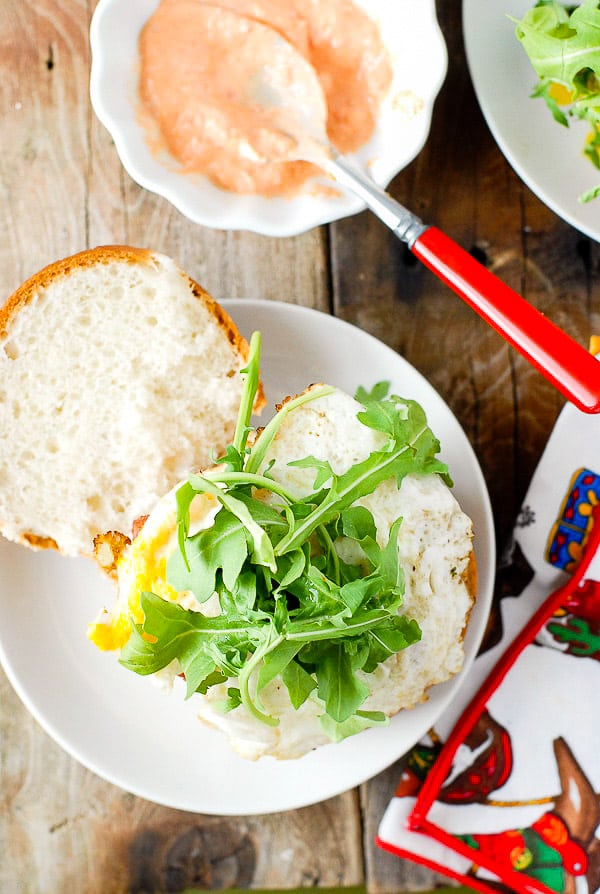 The great thing about breakfast is that it's the one meal people eat all day long! When adding a burger to the fried egg, bacon, sriracha sour cream and cheese, it becomes an irresistible recipe great for any time of the day or night. I mean, look at this bad boy?!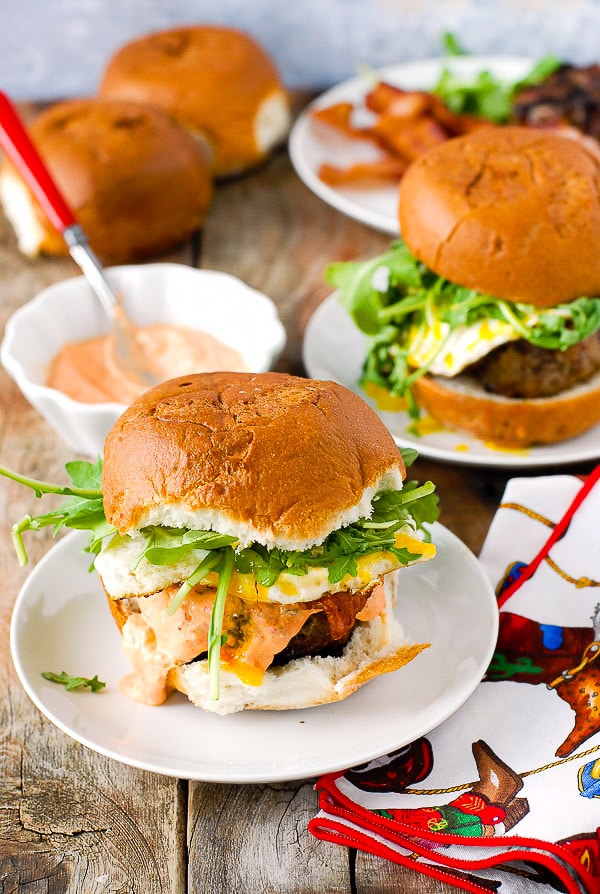 It's funny how foods typically eaten for lunch or dinner are never a consideration for breakfast. This Bacon-and-Egg Cheese Breakfast Burger is about to change all of that. Grilling a burger is fast and easy especially with some great tips on how to ensure they will always be juicy and perfectly cooked.
I can't decide what I love best about this breakfast burger, the smoky burger itself, the fried egg, the sriracha sour cream, the spicy arugula? I think it's everything all combined into one delicious recipe!
Recipe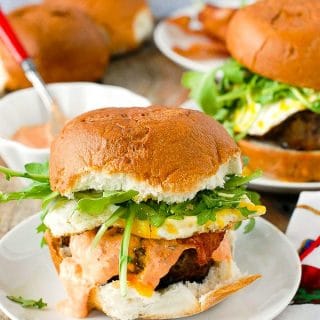 Juicy Bacon-and-Egg Cheese Breakfast Burger
This juicy, mouthwatering burger combines the best of breakfast and a burger to become and unforgettable meal. The egg yolk breaks when squeezing the burger to eat it allowing it to run into the other ingredients without becoming a mess. The arugula wilts slightly though still provides a nice crunch. The recipe can be easily multiplied for the number of burgers desired maintaining the same ingredient quatities.
Print
Save Recipe
Recipe Saved!
Pin
Rate
Ingredients
Ingredient amount per burger:
1/3

pound

85% Ground Beef

, chilled

1/4

cup

Cheddar Cheese

, finely grated

Olive oil

(to baste burgers)

Salt and Pepper

1-2

slices

Bacon

, cooked until done but still pliable; drained

1-2

teaspoons

Unsalted Butter

1

Egg

1/4

cup

Arugula

1

Hamburger Bun

(gluten-free or with gluten)
Instructions
Heat grill to 350 degrees.

In a large mixing bowl combine ground beef, cheese, a pinch of each salt and pepper. Work with hands to fully incorporate all ingredients. Form patty (or patties if making multiple burgers) and refrigerate until grill is fully heated.

When grill is heated, baste one side of burger(s) with olive oil and place face down on grill. Close lid. Allow to cook 3 minutes to develop a sear.

Baste the top of the burger(s) and flip over. Do NOT press down on burgers. Close grill lid and allow to cook an additional 6-8 minutes until juices are running clear (can cut into the top of the burger to ensure cooked to preferred doneness as well). Remove from grill and allow to rest while cooking the fried egg.
Instructions to make Fried Egg:
Heat a large, heavy, cast iron or non-stick skillet heat over medium-high heat and add butter to melt.

When butter is foaming slightly swirl the pan to spread butter. Crack the egg carefully so as to not break the yolk and gently place in the heated skillet.

Allow egg to cook until the white is opaque and firm. For Over Easy Egg: Slide the spatula underneath the egg and gently flip to the other side. Allow to cook 30 seconds to one minute or until browned to your liking. For Sunny Side Up Egg: Cover pan and allow yolk to reach your desired consistency. Egg whites can be basted with the pan drippings for additional flavor and color before covering as well. Remove from pan and layer on the burger.
Assembling the Bacon-and-Egg Cheese Breakfast Burger:
Place the hamburger on the bottom of the bun. Add a dollop of Sriracha-Sour Cream, followed by bacon strips, fried egg, arugula and top bun.
Nutrition
Calories:
752
kcal
|
Carbohydrates:
22
g
|
Protein:
47
g
|
Fat:
50
g
|
Saturated Fat:
22
g
|
Cholesterol:
321
mg
|
Sodium:
701
mg
|
Potassium:
604
mg
|
Fiber:
0
g
|
Sugar:
3
g
|
Vitamin A:
765
IU
|
Calcium:
325
mg
|
Iron:
5.6
mg