Irish recipes abound, just in time for the St. Patrick's Day festivities! These 10 authentic Irish recipes will give you the inspiration you need to create a delicious holiday meal for your family this year! Plus more Irish information on the holiday and food.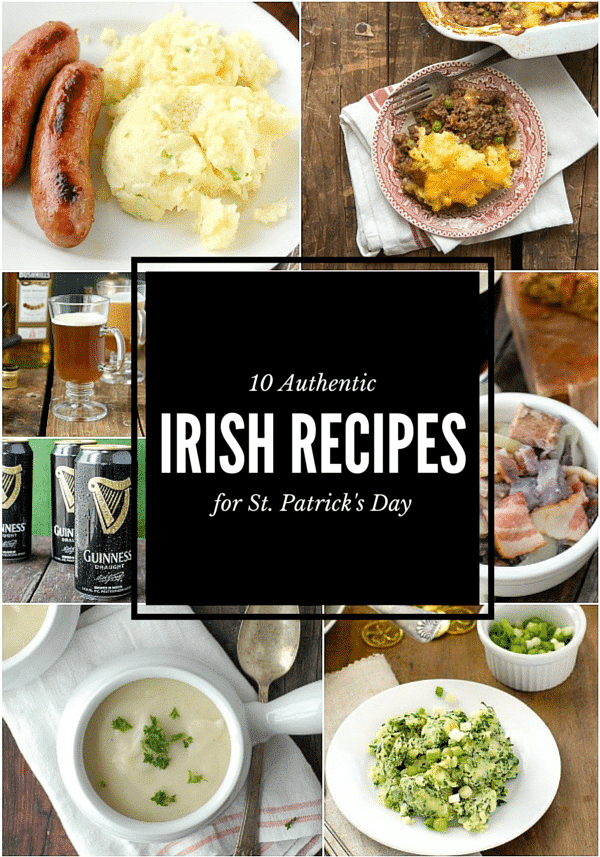 St. Patrick's Day Irish Recipes and Fun
As St. Patrick's Day approaches I love digging through Irish family recipes and those collected while traveling in Ireland for some authentic inspiration.
Ironically many of the foods we are familiar with in the U.S., such as Corned Beef and Cabbage or green beer, is something adapted in the U.S. and isn't typically eaten for St. Patrick's Day in Ireland.
The main thing I love about true Irish recipes is that they are honest, simple and often rustic.
The type of soul-warming food that is at the heart of the most satisfying comfort food.
The food is easy to prepare, never fussy and doesn't demand slaving over the stove.
My friends in Ireland would rather linger over a pint, laughing with friends and family at a pub, than over hours of meal preparation anyway!
I've pulled together a collection of real Irish recipes for you to consider both for St. Patrick's Day as well as for everyday meals.
Some are from Boulder Locavore and come with anecdotes of my experiences of Ireland.
Others I've gathered from authentic Irish sources I think you'll love!
I think you'll enjoy reading if, like me, you enjoy a bit of background on true holiday roots and customs.
The Daily Spud kindly wrote a Guest Post for Boulder Locavore about how St. Patrick's Day is celebrated in Ireland.
Ground beef, peas, carrots, onions cooked with savory seasonings topped with mashed potatoes and cheese.
Cooked in casserole form it's great for a crowd.
A dear friend in the UK always rakes the fork over the mashed potatoes on top to look like a thatched roof of a cottage!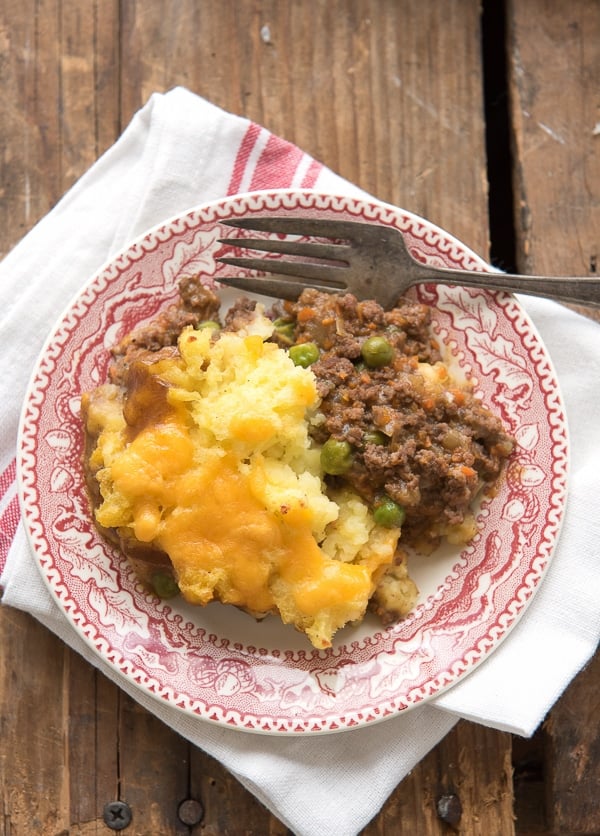 Just what you'd hope it to be; potatoes, onions, stock and milk creating a thick satisfying soup from only a handful of ingredients!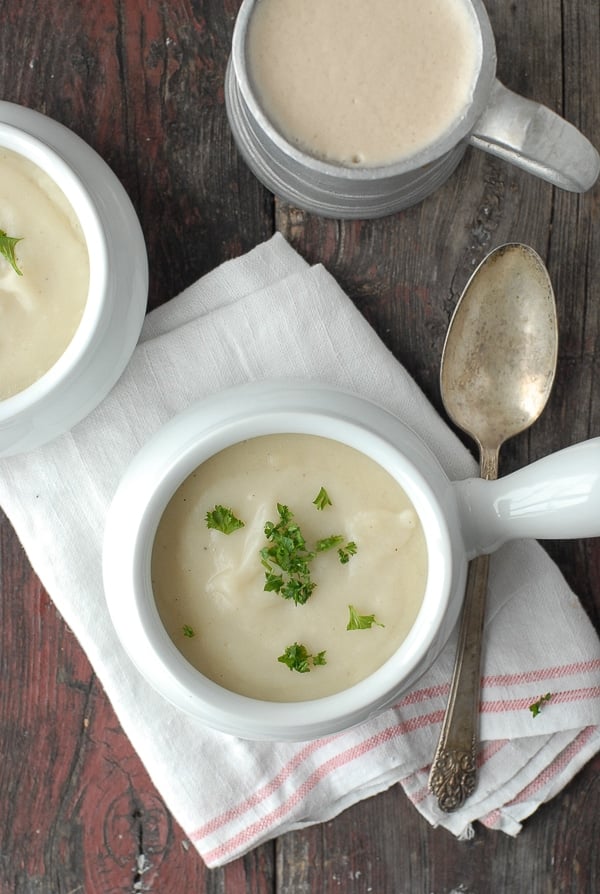 This recipe was given to me on a trip to Ireland many years ago. It's easy rustic bread and can be made with regular or gluten-free flour.
Modifications are included to make Brown Soda Bread (Wheaten bread) and Spotted Dick too.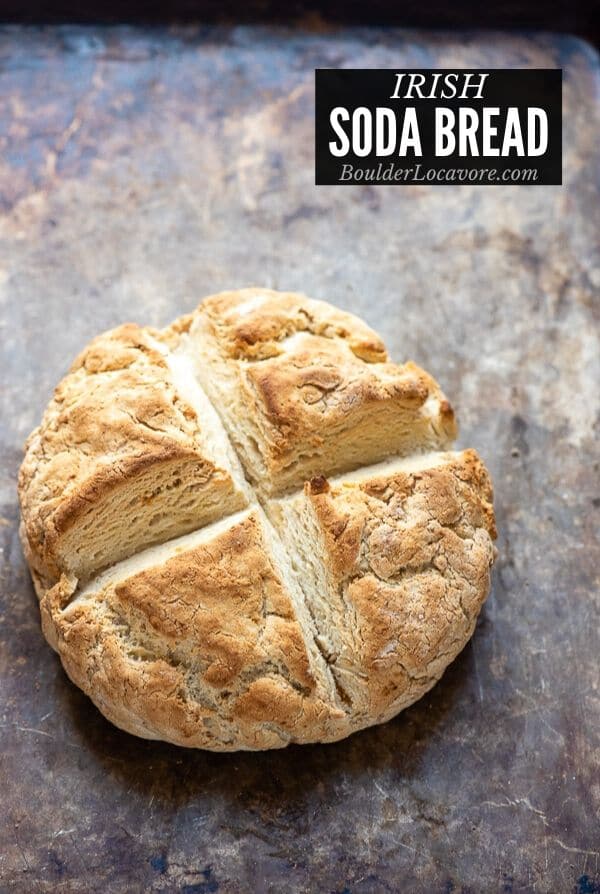 A definite 'must' when in Ireland.
It is sure to take the edge of any cold, damp weather with coffee, Irish Whiskey and a cream float on top.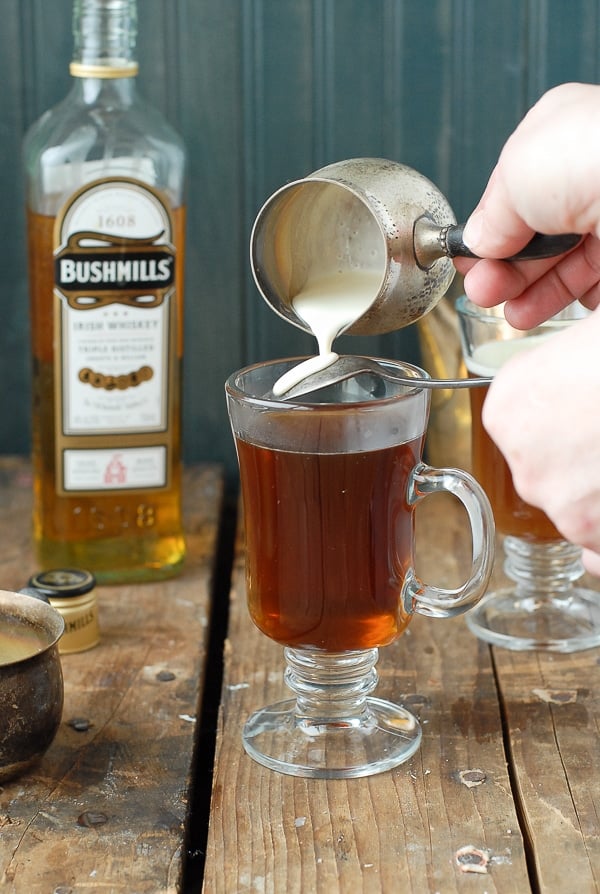 Potatoes, butter, scallions, milk. You'll never guess the holiday when Champ is usually served!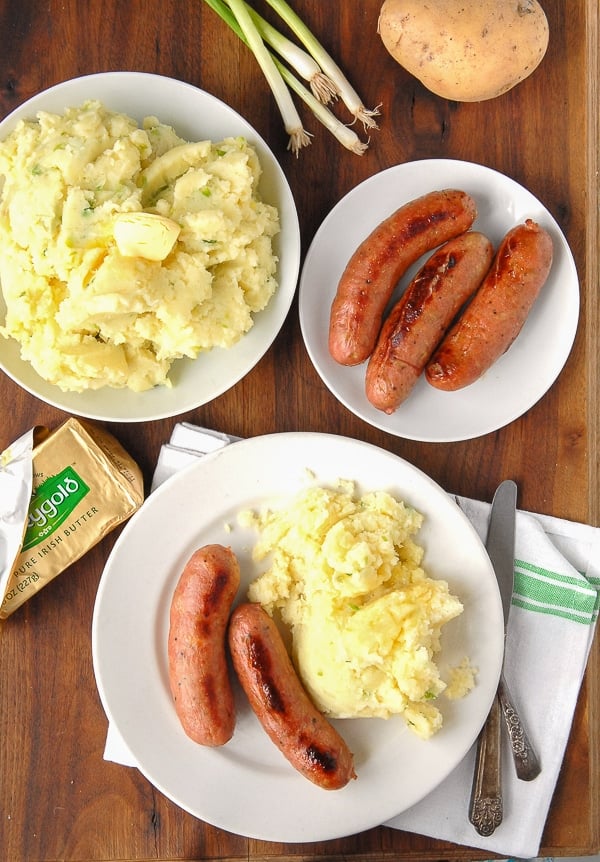 Another fantastic spud recipe this time with curly kale along with mashed potatoes and scallions. Simple ingredients, irresistible recipe.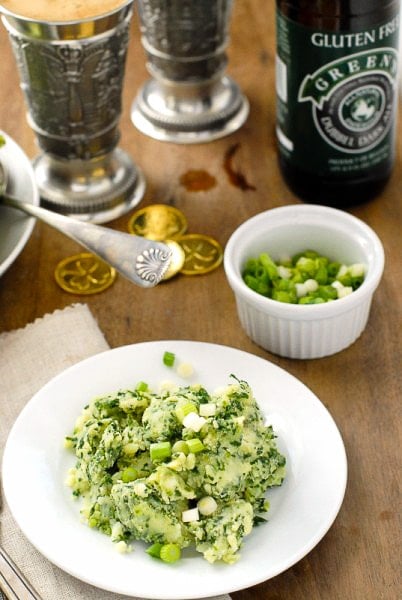 A warming dish of bacon, sausage, onions and potatoes. I served it with Gluten-Free Irish Soda Bread!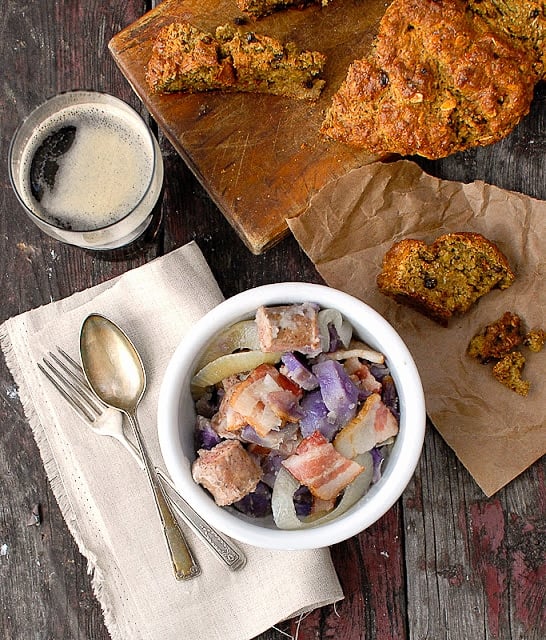 More Authentic Irish Recipes
Boxty from Irish Central
Boxty is a traditional potato pancake made with a combination of mashed and grated potato for a lovely texture.
Irish Stew
No list would be complete without a recipe, or two in this case, for Irish Stew.
Donal Skehan is a well-known Irish cookbook author and TV personae. He periodically makes appearances on the Today Show and you may have seen him there.
His website is full of Irish recipes and gorgeous photography. His recipe of Angie's Skehan Family Irish Stew looks fantastic.
Barmbrack (Irish Tea Cake)
For another delicious bread recipe try this Barmbrack. It's a classic!
Corned Beef and Cabbage
Despite the earlier caveat about Corned Beef and Cabbage NOT being authentic St. Patrick's Day food, I'll insert my Slow Cooker Beer-Simmered Corned Beef and Vegetables recipe for those who want to make it!
I have Instant Pot Corned Beef Brisket too (made with Guinness).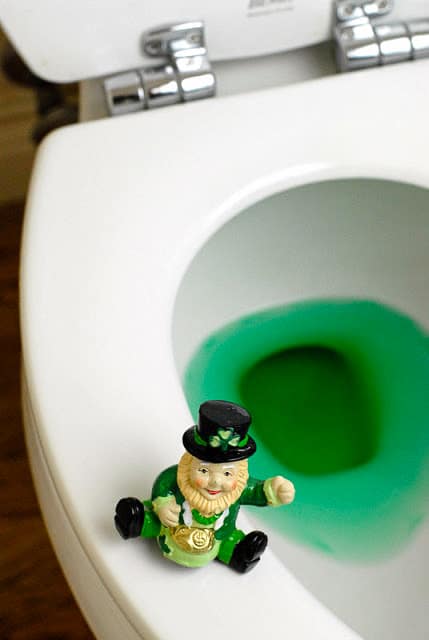 Here's more on the whole-lotta-crazy in the Boulder Locavore house for St. Patrick's Day!
Don't forget to wear your lucky St. Patrick's Day shirt!
Need some gluten-free St. Patrick's Day recipe ideas? Gottcha covered. Also for non-traditional but still completely delicious food and drink recipes this St. Patrick's Day recipe collection will be something you'll want to see.
If you are interested in Irish food, there is no more authentic cookbook than Irish Country Cooking from the Irishwomen's Association. I did a cookbook review when it first came out and was instantly in love with the contributor's short bio's and of course the authentic recipes. It's really a treasure. Don't miss this Black Forest Gateau recipe either!