I have been fortunate to travel and live in other parts of the world. Everywhere I've been holds a unique charm but for me there is no place quite like Ireland. I had no preconceived notion about it before going there on my first business trip more years ago than I care to mention, but remember a defining moment as I exited the plane door onto the top of the stairs down to the tarmac; I felt like I was 'home'.
This feeling was further cemented in my encounters with everyone I met there, from taxi drivers concerned I'd not taken my breakfast before boarding the early morning, long flight home to America to my witty co-workers. Ireland is embedded in my heart and soul, as now is the beautiful cookbook I will share with you today: Irish Country Cooking from The Irish Countrywoman's Association.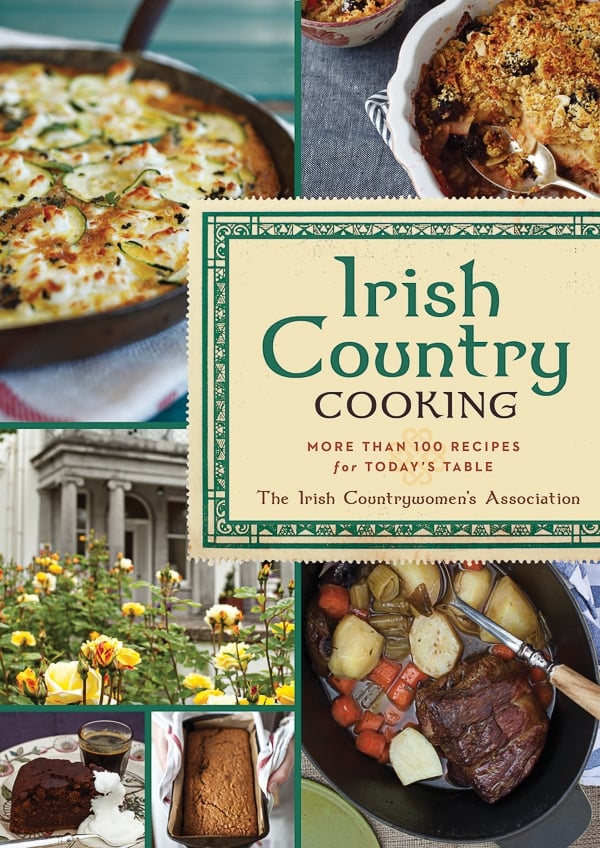 I simply love country food as I feel it is an authentic voice of a food culture. Don't be confused by the term 'country'; that doesn't mean it is unsophisticated in the flavor profiles, it just is straight forward, layered with flavor and 'real'. This cookbook delivers that in spades. Divided by all the familiar recipe categories Irish Country Cooking serves up delicious fare such as Cauliflower and Bacon Soup with Cheese Toasties, Quick Spiced Beef with Orange Cream, Roast Chicken with Onion and Thyme Stuffing, in addition to more traditional recipes for things such as Dublin Coddle, Shepherd's Pie and Lickeen Colcannon. Every course is represented along with helpful tutorials on how to cook for a crowd, how make preserves, how to cook potatoes and more.
I will admit I found myself quite moved when reading the forward to the cookbook written by Liz Wall, the current National President of the Irish Countrywoman's Association. I was touched in realizing the history of what this organization of woman has achieved over the years, including introducing seeds for new vegetables in the late 1920's as well as leading cooking classes on how to use the produce to expand from the potatoes, onions and cabbage which until 1920 were the only local produce in Ireland. The group went on to teach poultry and egg production, cheese-making and bee-keeping in the 1930's to improve member's diets and introduce another form of income, able to be sought for women at home.
The intention and spirit of the ICA is further chronicled in the book as is their deep, committed mission to deliver education and record the history of Irish homemade cuisine. The organization has been in place for over 100 years. Previously published cookbooks of ICA members have become family heirlooms, passed down through the generations. For the first time the best recipes from these cookbooks have been compiled into this 100 recipe cookbook, Irish Country Cooking.
The cookbook is filled with rich, rustic photography conveying not only a visual of the given recipes but also the tone of the food; thoughtful, inspired, traditional and modern Irish food. One touch I found fantastic is that with each recipe is the recipe originator, her county and a bio line. 'Mairead O'Carrol, Cork: Mother of Six Who Loves Entertaining.' 'Marie McGuirk, Louth: Cookery Tutor and Aspiring Golfer.' 'Eileen McGlew, Louth: Gran Who Loves Trying New Recipes'. 'Ada Vance, Cavan: Hill-Walking Granny and Expert Patchworker'. These woman would make a Real Housewives franchise I really would want to watch! After reading the book I wanted to get on a plane to go meet every one of them. And somehow I felt I did so through their food already. The cookbook features some celebrity chef contributions too and each recipe includes both metric and English measurements for ingredients.
This cookbook has soul. The food is real as are the people who serve up the dishes. How often does one get the chance to sample the fare of generations of cuisine, just as current on today's table as it was over 100 years ago? This is a prized cookbook for any kitchen.
It is my good fortune to share a recipe from Irish Country Cooking for Black Forest Gateau, a gorgeous cake from Claire Ann McDonnell, hailing from County Wicklow who 'loves gardening and the country air'. In addition Sterling Epicure is making a copy of Irish Country Cooking available to a Boulder Locavore reader (in the U.S. or Canada). See details below.
Disclosure: I was provided a review copy of Irish Country Cooking. All opinions are my own.