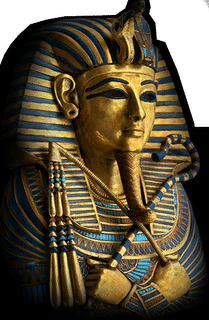 An extensive exhibit of the contents of King Tut's tomb is gracing the Denver Art Museum through January 9, 2011. A 'must see' in my book. Today was our second visit and this time with favorite friend Colleen visiting from California for the weekend. Eleven chambers of artifacts including statuary, jewelry, masks, historical photographs, tools and vessels used for mummifying and more.
On of the most impactful items to me was King Tut's bed; made from a carved painted wood frame with woven reeds affixed in the middle of the frame where he'd sleeping Still fully intact with only a small hole after 3,300 years (1300 B.C.)! If you go do to see the exhibit the audio accompaniment is an additional $5 and absolutely worth it. Also there is an incremental short 3D movie, Secrets of the Mummies, about how they found the tombs (also $5). Fascinating, really. A museum attendant told me that some of these relics will not be in circulation again!
Following a few hours in the exhibit we broke for lunch at Kevin Taylor's onsite restaurant Palettes.

It is in the original art museum building on the ground floor.

The décor is sleek, contemporary and artistic.

The menu features locally sourced food as well as changes seasonally.
Colleen and I ordered a delicious sounding soup; KT's smoked sweet corn soup with guacamole and barbecued shrimp ($9).

The soup had a wonderful depth of flavor.

Smokey but not too much so, a bit of heat and warming on a cool and blustery day.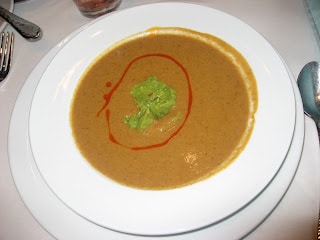 As an entrée both Colleen and I eyed the Anaheim goat cheese relleno, with roasted corn salsa, and cinnamon tomato sauce ($11).

Sounded perfect to me and not something I'd make at home.

After ordering our server returned to let me know indeed the coating of the relleno was not only corn meal as she had told us initially but did have flour adding gluten so that was out for me. Colleen forged ahead with very positive reviews finding the coating to be more of a twist on the traditional (very light and mainly cornmeal).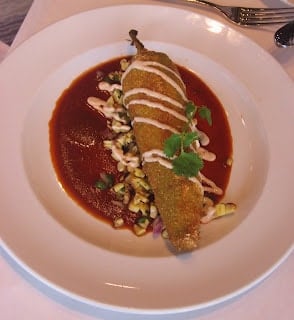 The restaurant served a fun side dish of freshly made rosemary kettle chips (loved the presentation).

The Vanille Crème Brulee with fresh berries could not have been better and the berries were perfectly ripe and flavorful.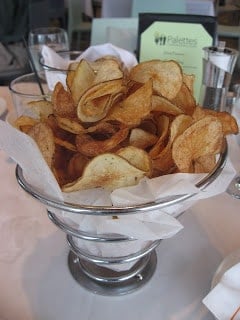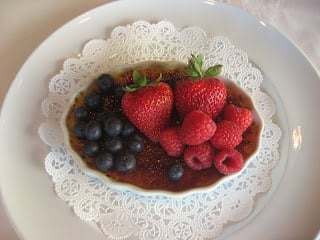 Vanilla Crème Brulee with fresh berries
Overall the food served to us was very good.

Great flavors

with seasonal tones.

The ambience was very apropos for the museum, a

sophisticated 'cultural' vibe. And we enjoyed

King Tut making it to the dining room though did not personally partake: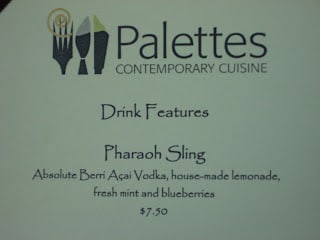 We had two criticisms of the dining experience. Our server (who presented to be very knowledgeable) initially clarified the menu to be almost all gluten free or easily modified to be. Though in practice I experienced 5 iterations of placing an order and learning after a wait the item had gluten and could not be modified. I suggest diners with special dietary needs be prepared to scrutinize the menu and dish ingredients. Our second criticism was that the misinformation and re-ordering lead to very uneven service with our diners all being served at different times.
C'est la vie.
Great day, great company and overall great food.
Following lunch we popped into the gift shop to eye all the totally unique foodie items we have not ever seen anywhere else.
Please join in the fun…
</></></>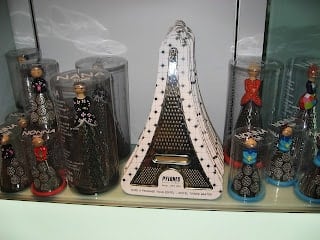 For the Franophiles on your list, an Eiffel Tower shaped grater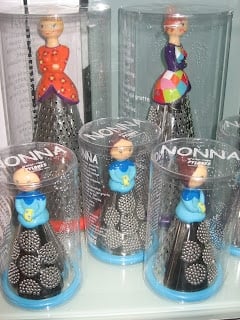 A bevy of beauties with grater skirts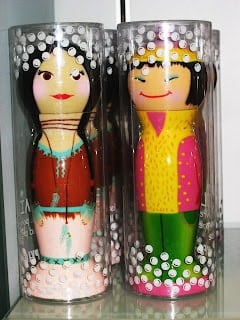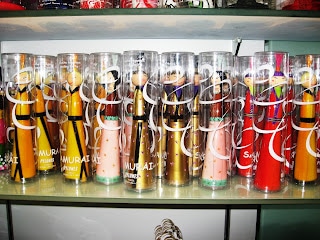 Samurai Paring Knives (knife inside the samurai)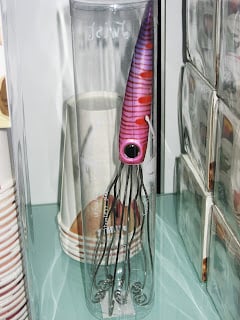 Squid wisk (check the curly bottom of the wires)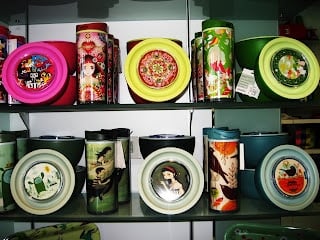 Decorative screw top bowls and hot beverage containers by Aladdin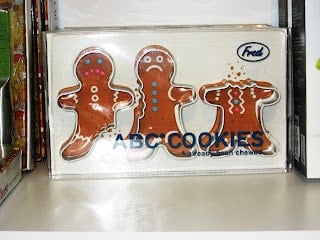 ABC (Already Been Chewed) Gingerbread men cookie cutters; head and limbs already 'biten' off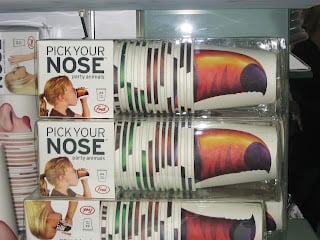 'Pick Your Nose' paper cups featuring photographs of animal noses so when you drink from them your nose appears transformed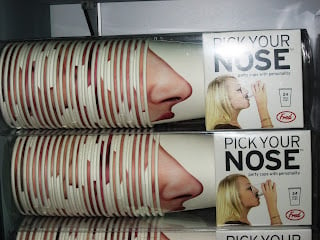 'Pick Your Nose' human nose cups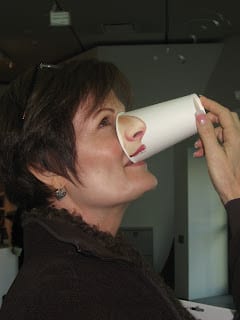 Colleen kindly demonstrates
And as we round up our lovely visit we find King Tut once again with a bar pressence in the coffee area: