Tropical Fruit Sangria; is there anything more summery?  Also a sponsored giveaway from Classic Hostess, the purveyor of serving and barware, as well as tabletop and decor items.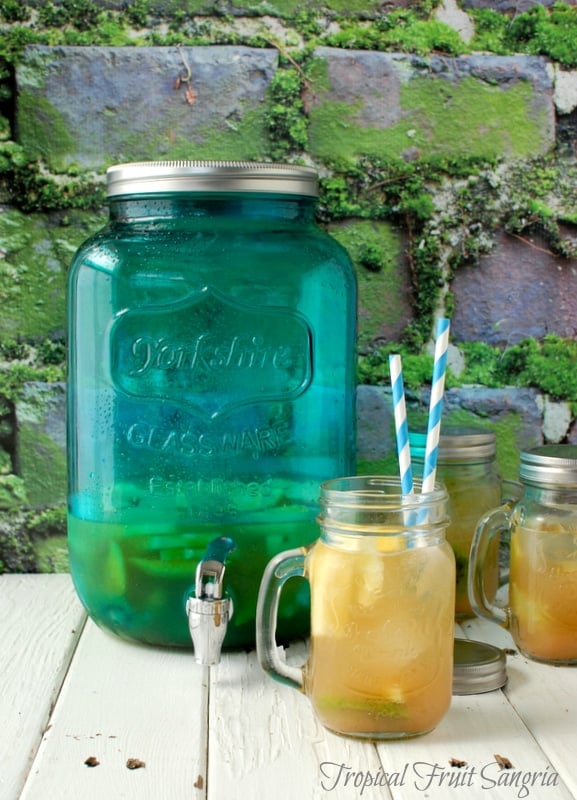 The Dog Days of summer are upon us and I have multiple infusions and libations in process to both celebrate and squelch the summer heat.  A few years ago I developed a bit of an obsession with infusing drink dispensers.  It started with making my own vinegar and progressed to infused waters and spirits.  I have purchased several dispensers which are in constant rotation.  After using glass jars with a spigot, which allows such effortless pouring of the finished product, I'm unsure how I managed before.  I now have dispensers at the ready in my refrigerator all summer long for quick, easy pour of a chilled drink.
Ironically as fantastic as these glass jars are, they are not readily available year round, nor are there many to choose from in my experience hunting them down locally.  My first dispenser was a holiday gift as a start to making vinegar.   It was purchased from a high end infusing website and when sadly it broke after a collision with the kitchen sink faucet, I couldn't fathom replacing it for the cost.  I found one or two more during the summer at various stores but they were never to my liking.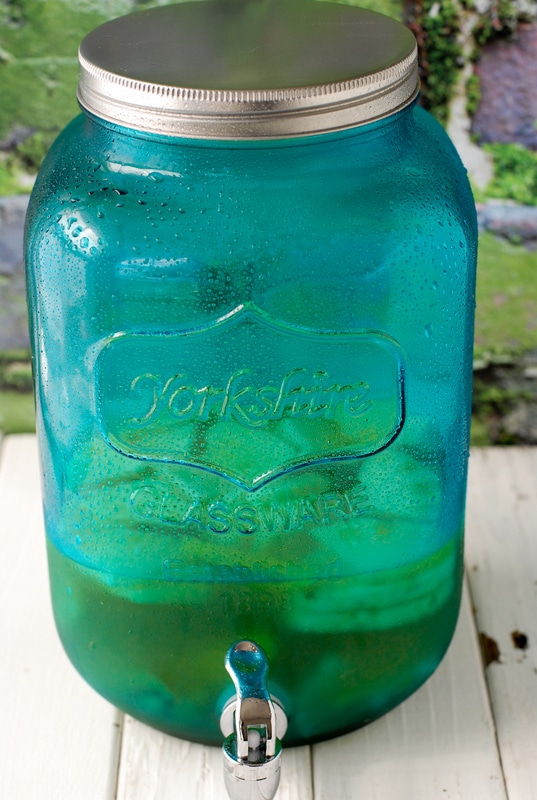 On a whim one day I decided to do an internet search to land on the motherlode of drink dispensers.  I came upon Classic Hostess, which as it sounds is a purveyor of serving and barware extraordinaire, as well as tabletop and décor items.  I was thrilled with their extensive line of drink dispensers (over 90 dispenser styles) as it not only surpassed anything I'd found previously, but also offered a wide breadth of styles and prices fitting of every budget and personal taste.  The difficult part for me was choosing one!
Classic Hostess offers glass or acrylic drink dispensers with spigots for any summer drinks from lemonade, iced tea or festive infused cocktails.  They carry ceramic dispensers for an earthier outdoor feel as well as higher end apothecary-style with stands, and my favorite the Mason jar style.  Their goal is to provide a wide range of high quality dispensers at affordable prices; and they do, in spades.  I particularly love  the options in the Mason jar style.  Several drink dispensers with that 'lemonade in the summertime' feel, in addition to drinking glass jars and engraveable vases.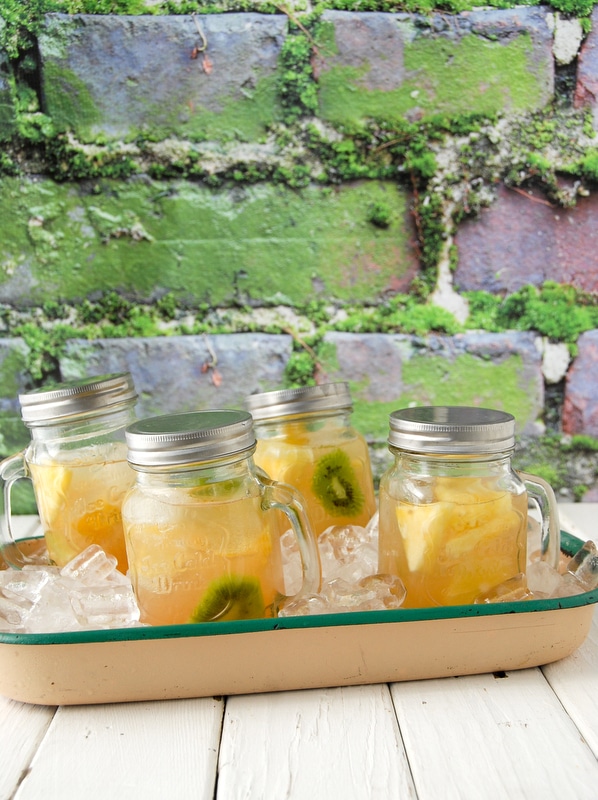 I took a spin around the Classic Hostess site to see what else was offered and an hour later found myself still looking and planning a multitude of thematic parties with their wares in mind.  Their collections of barware and serving ware is endless offering selections for seasonal dining as well as year round quality key pieces to outfit any kitchen or bar.   Personally loving a bit of whimsy I found myself conjuring up nautically themed Labor Day celebrations with perfectly etched starfish glasses, or palm tree highball glasses reminding one of luxuriating at Miami's South Beach.  Since my personal dining exploits range from picnics to more elegant dinner parties, everything I could think of needing I looked for and found on Classic Hostess.  Great ideas for gifts as well as personal collections.
I selected the Blue Yorkshire Mason Jar Dispenser, loving the nod to the vintage blue color of the classic Mason jar.  In addition I chose a set of Old Fashioned Mason Jar Mugs which are especially handy with each having a lid allowing portable single servings of drinks, easily kept on ice until enjoying (they even offer engraving options on a number of their Mason jar collection items).  The iconic Mason jar not only conveys a feeling of more simple times but has risen as a metaphor for conscious and sustainable living making its appeal timeless and hip.  It's comfortable and relaxed; exactly what we want in our seasonal entertaining.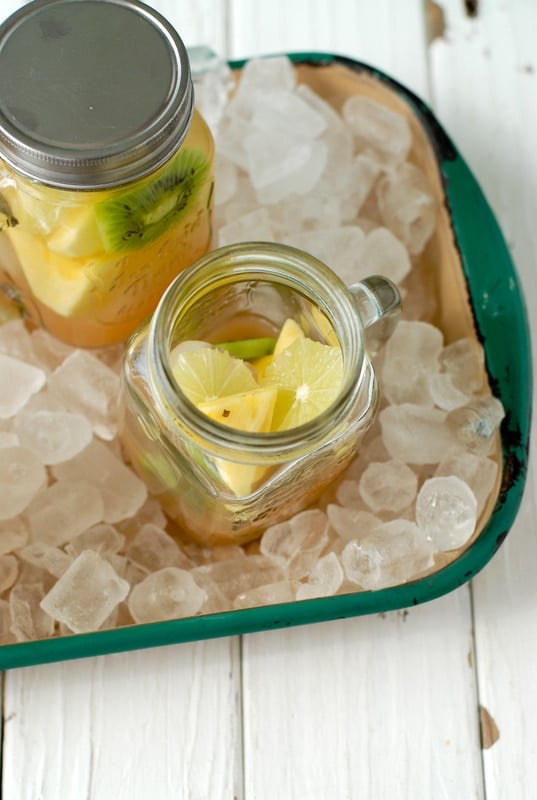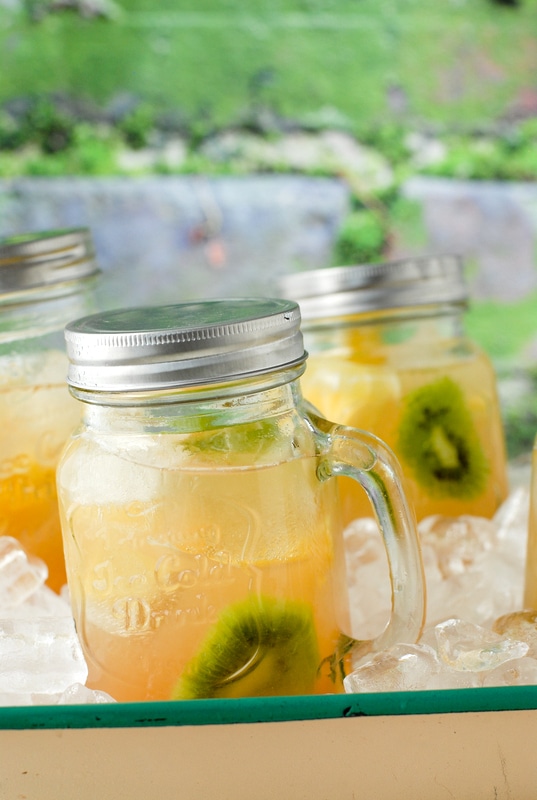 A drink dispenser is only as good as its contents in my mind and a dispenser this charming called for a celebratory libation.  Being in the vacation state of mind and inspired by the beautiful blue hue of the Yorkshire Drink Dispenser I whipped up a recipe for Tropical Fruit Sangria that is sure to transport even the most landlocked to a feeling of a lying in a hammock with trade winds softly blowing while having a cool sip!
Ingredients
2-750 ml bottles semi-sweet Riesling wine
¾ cup Citronage (orange liqueur)
2/3 cup Pear Brandy, purchased or homemade
1 cup Guava Juice or Guava Nectar
½ medium size Pineapple, peeled, cored, halved and cut into ¼ inch slices horizontally
1 Mango, peeled and sliced into ½ inch strips
4 Kiwis, peeled and sliced horizontally
2 Limes, peeled and sliced horizontally
Ginger Ale to finish servings
Instructions
Place all ingredients except the Ginger Ale in a large glass container and all to chill in the refrigerator for at least 24 hours. Strain into individual servings glasses, along with some of the infused fruit if desired, and top with ginger ale to add a fizzy touch to the glass.
https://boulderlocavore.com/tropical-fruit-sangria-a-classic-hostess-giveaway/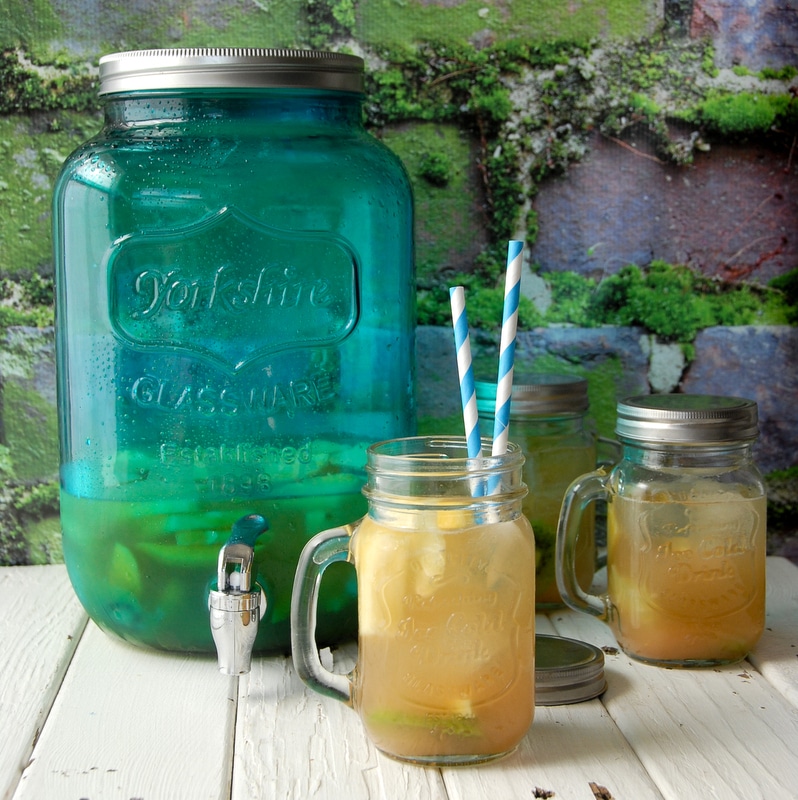 The generous folks at Classic Hostess are giving a lucky Boulder Locavore reader a Blue Yorkshire Mason Jar Dispenser and set of Old Fashioned Mason Jar Mugs (4 mugs) as shown here!  GIVEAWAY IS CLOSED.
Disclosure:  This post and giveaway are sponsored by Classic Hostess.  All opinions stated reflect my personal views.