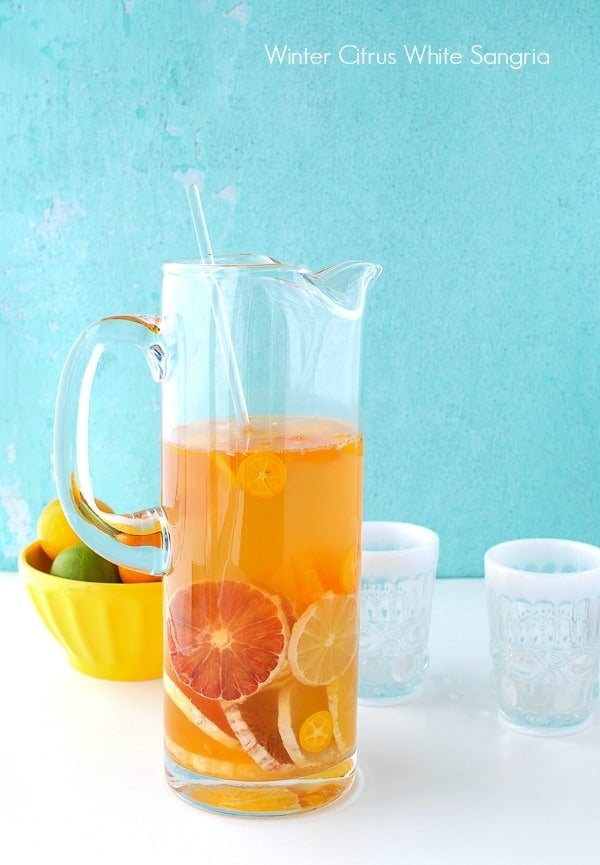 A few weeks back we had a four day weekend for President's Day. Thursday night my kids and I spontaneously decided to pop in on one of our favorite neighborhood haunts for an early bite to eat to kick off the break. On their menu was a featured Sangria. For those who are unfamiliar with Sangria, it is a simple wine punch of sorts infused with fruit originating in Spain. To me it's always refreshing and a wonderful middle ground between drinking wine straight and having a cocktail.
As happens for me with Sangria, I don't make it often (because when making a batch it lasts in our refrigerator for a few weeks having a small sip daily usually in the summer) but when I'm out and have it I always am reminded how much I like it. Traditionally it is made with red wine, such as a Rioja, which was so for the Sangria I had that particular evening.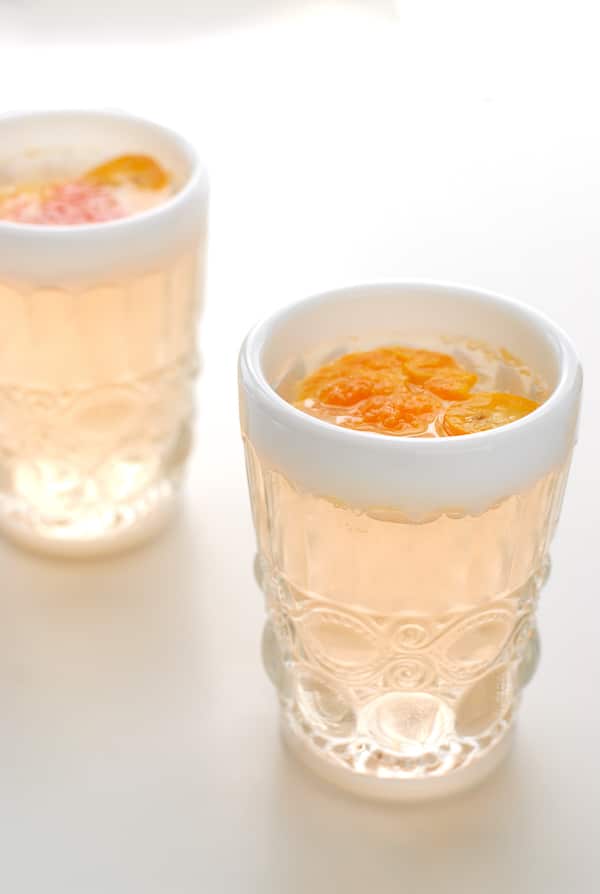 After coming home with lingering warm memories of the Sangria, I decided to make a batch myself. Usually I've made it during the seasonal height of fruit availability in the summer or early fall however I've been constantly parched this cold, windy winter leaving me to crave citrus fruits all the time it seems.
I'm always drawn to produce that is novel or seasonally short lived in availability. Winter is traditionally the harvest season for citrus. As you have probably noted common citrus fruits such as lemons and limes may be found year round now though the more exotic species are popping up now and will begin to disappear in April and May.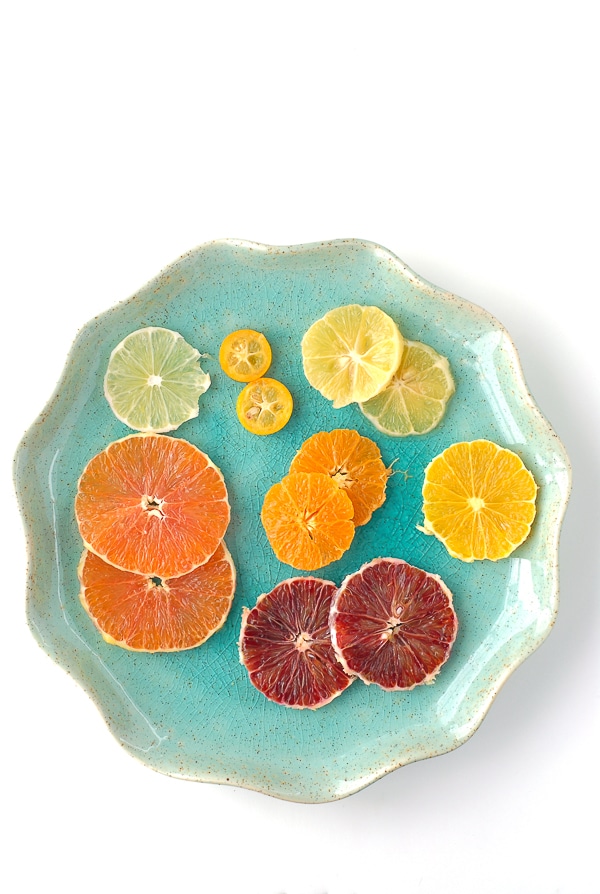 A few years ago Blood Oranges which were once almost unheard of the U.S. have grown to be fairly common at this time of year. I love their mottled orange and purple skin, and of course the deep red flesh and claret-hued juice. I find them to have some pine notes in the smell of their flesh. Another favorite of mine are Cara Cara oranges which I discovered a few years ago. Again boasting a deep red flesh, Cara Cara's are a cross between a South American and Washington navel orange producing a sweet and low acidic orange. The color is irresistible.
Meyer Lemons are growing in popularity as well. Smaller than a traditional lemon, with darker yellow aromatic skin, with a sweeter, less acidic fruit. Originally the Meyer Lemon was believed to be produced as a hybrid between a lemon and either navel or mandarin orange.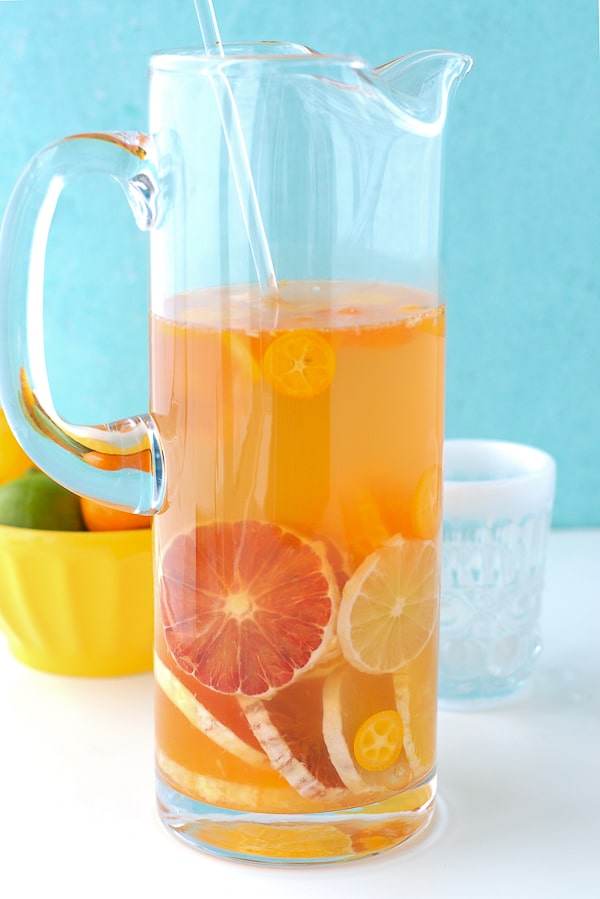 Anyone with kids or too lazy to be bothered with peeling more resistant citrus will know of the Cutie or Clementine. Another fortuitous cross between mandarin and sweet orange, the Clementine is seedless and easy to peel, feeling to be the kissing cousin to the Tangerine. They are a perfect snack food and have a light, sweet flavor.
The list of citrus is really endless with all the new species and hybrids hitting the market. The core four, grapefruit, orange, lemons and limes, have found good company in the expanded array of options to try at this time of year. I was very excited to combine many of them into a Winter Citrus White Sangria creating a refreshing, brightly flavored sangria to whet the palate and brighten the chill of this long winter!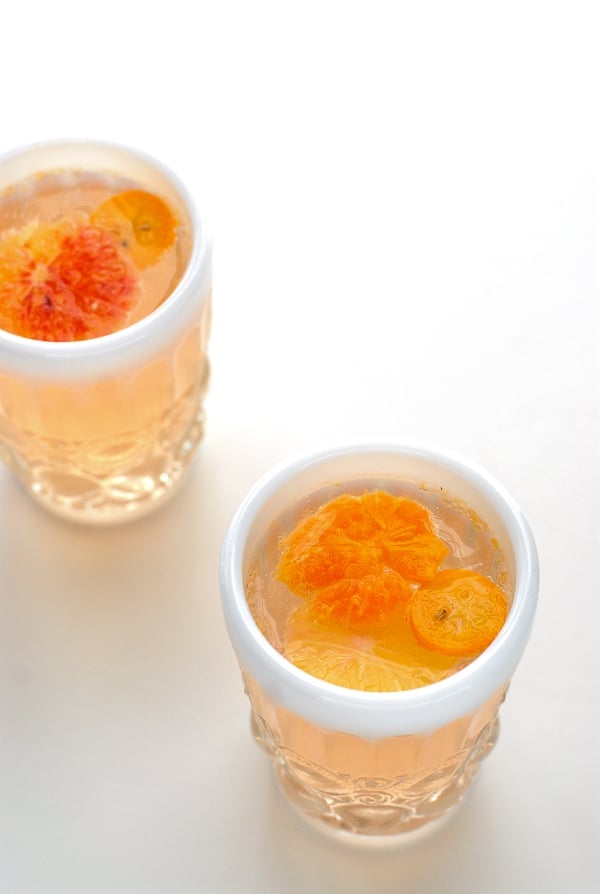 Recipe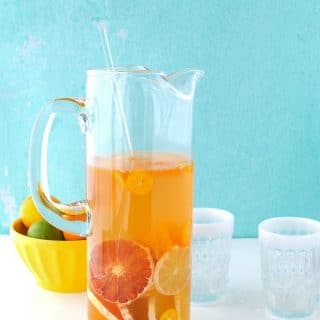 Winter Citrus White Sangria
Not only is this Winter Citrus While Sangria refreshing but also beautiful to look at. Combining several of winter's prized fruits infuses sweet and tangy flavors for a perfect winter sipper. If you prefer to not include the fruit in the sangria servings be sure to use them in some other way; they are delicious once infused with the sangria! To add fizz and sweetness before serving I prefer San Pellegrino's Aranciata sparkling orange beverage which has a softer flavor, is less sweet and fizzy than many citrus sodas. If not available a similar citrus soda will also do the trick.
Print
Save Recipe
Recipe Saved!
Pin
Rate
Servings:
8
-10 servings depending on glass size
Ingredients
1 750

ml

bottle White Rioja or Pinot Grigio wine

1/3

cup

Brandy

½

cup

Citronage or Grand Marnier liqueur

1

Blood Oranges

, peeled and sliced

½

cup

sliced Kumquats

(it is not necessary to peel them); approximately 10-12 fruits

1

Meyer Lemons

, peeled and sliced

1

Cara Cara orange

, peeled and sliced

1

small Navel Orange

, peeled and sliced

1

Lime

, peeled and sliced

3

Clementines or Cuties

, peeled and sliced

San Pellegrino Aranciata

(sparkling orange beverage) or similar citrus sparkling soda
Instructions
Combine all ingredients EXCEPT San Pellegrino Aranciata in a large glass jar with lid and spigot, or glass container that can be closed. Place in the refrigerator overnight.

To serve: fill a glass with 2/3 liquid and fruit, and top with 1/3 San Pellegrino Aranciata or other sparkling citrus soda.
Nutrition
Calories:
175
kcal
|
Carbohydrates:
14
g
|
Protein:
0
g
|
Fat:
0
g
|
Saturated Fat:
0
g
|
Cholesterol:
0
mg
|
Sodium:
2
mg
|
Potassium:
104
mg
|
Fiber:
1
g
|
Sugar:
9
g
|
Vitamin A:
55
IU
|
Vitamin C:
28.6
mg
|
Calcium:
22
mg
|
Iron:
0.1
mg
Some more Boulder Locavore Sangrias to whet your whistle: