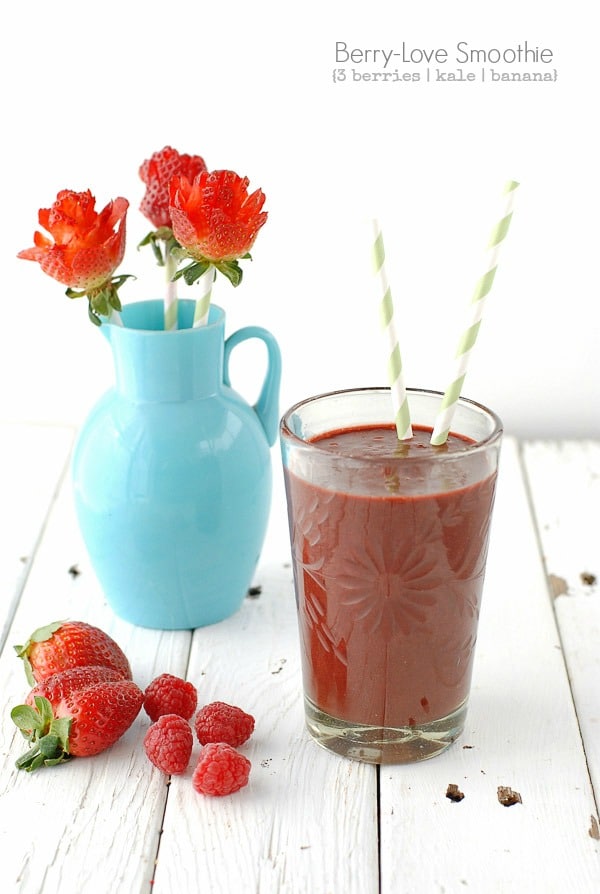 There is no denying, delectable, chocolatey confections are abounding right now on the internet in preparation for Valentine's Day. On Boulder Locavore as well, I've been having so much fun creating mouth-watering treats like Valentine's Chocolate Marshmallow Pops and Heavenly Chocolate Raspberry Trifles. As much fun as it might sound to taste test desserts all day long, I leaves me hankering for something healthy but still Valentine's festive.
I discovered the world of green smoothies last month prompted by the holiday gift of a Vitamix blender. I never dreamed a blender full of leafy greens, a little fruit and water (I've held off incorporating milk myself desiring the full fruit and vegetable experience) could taste so good. It's so easy to get plenty of daily servings of fruits and vegetables, and with their natural healthy fiber, when making smoothies.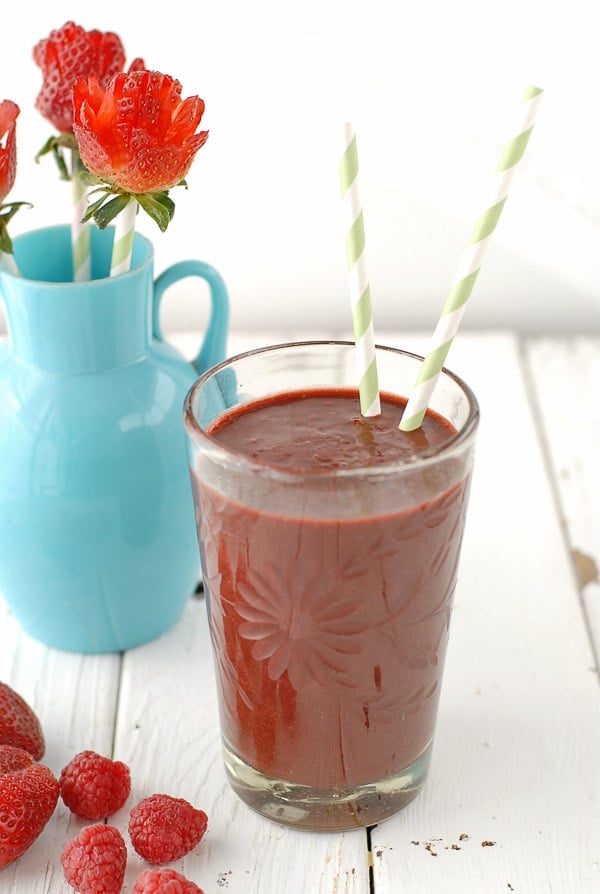 Berries seemed a great starting point for a Valentine's inspired smoothie. Normally I use fresh fruits and vegetables but thought using frozen berries would provide more flavor at this time of year as well as a thicker consistency, more like a milkshake. I snuck some kale in too which did not distract from the central berry flavors. I've decided kale is a smoothie's best friend as it provides fantastic nutrients but does not hijack the predominant flavors as other more earthy flavored greens can.
I typically do not add sweetener to my smoothies however berries can range broadly in their sweetness. I've pulled out some frozen raspberries that I handpicked in the summer, and merely removing the lid of the freezer jar released so much natural perfume I was ported back to the early summer's morn when I picked them; and this is from berries still frozen! They are so sweet they almost taste as though they were injected with sugar. On the other end of the spectrum, strawberries available fresh at this time of year often taste like an 'ode to a strawberry'; they look the same and taste like nothing. This was a big reason I used frozen berries and recommend adding some agave syrup, honey or brown rice syrup to perk up the sweetness if that appeals to you.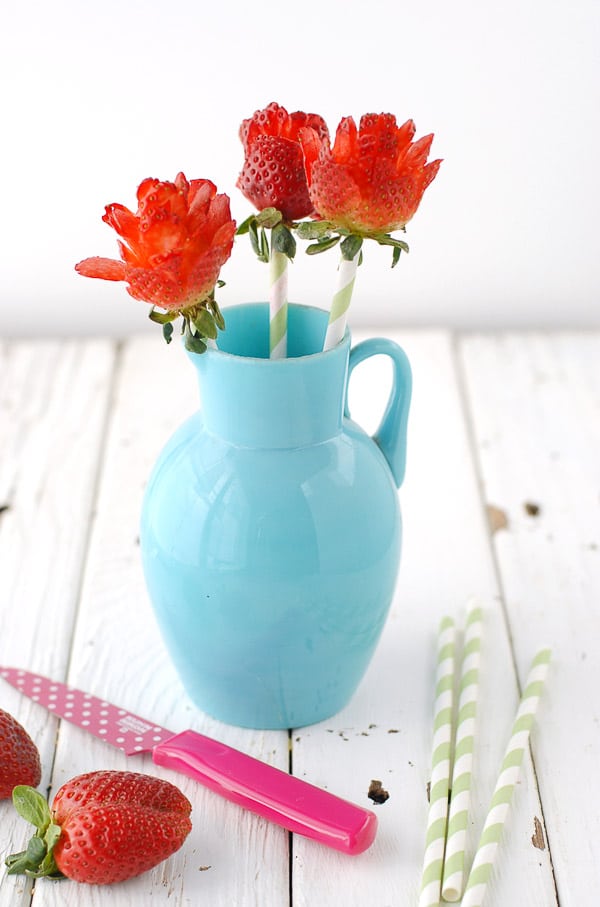 The second Valentine's treat was something that cruised through my stream on Google +; Strawberry Roses. There was no associated link just a small set of photographs with illustrations how to make them. With a series of cuts from a sharp paring knife, the favorite berry is transformed into a suggestion of the Valentine's Day favorite flower, the red rose. I searched around You Tube for some live demos (there are many) and began to experiment. When finished I popped my 'roses' onto the end of some vintage-inspired green and white striped straws to surprise my family. It's funny how altering the form of something so ordinary such as a strawberry can elevate the delight over eating it! It was too good not to share with you for your Valentine's Day consideration!
Of the videos I found on You Tube, this YouTube video provided an easy to follow visual demonstration for making Strawberry Roses, and repeats for two strawberries (as well as adds a carved orange garnish demo set to groovy music). The chef in the video leaves the pointed end of the strawberry in a large piece; I chose to slice that as well to create more 'petals'.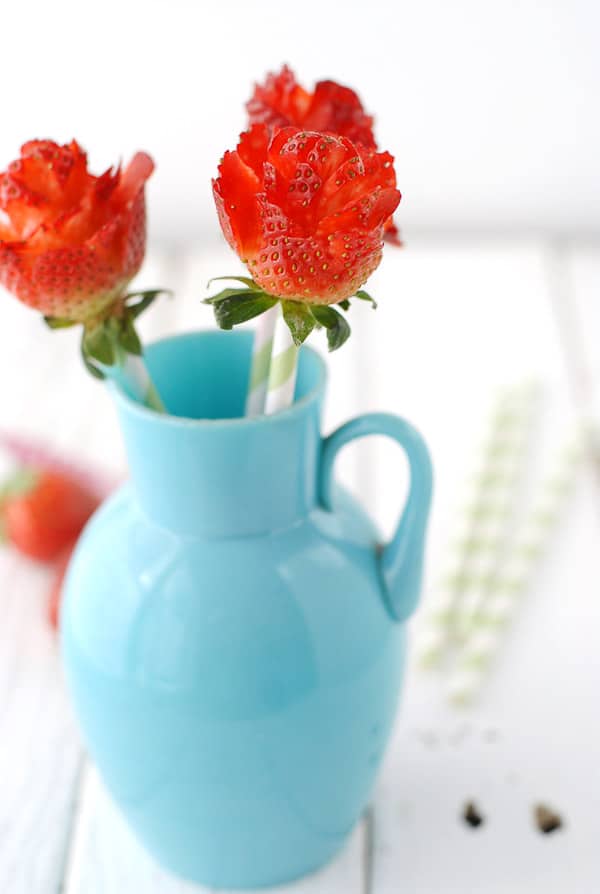 Recipe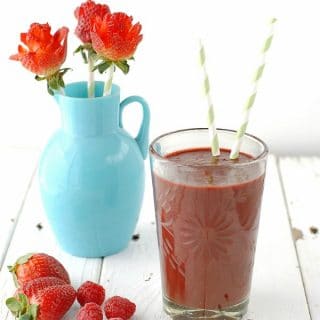 Berry-Love Smoothie
This luscious smoothie is bursting with berry flavors, with an added boost from Kale, Banana and Lime juice. Fresh berries in season may be substituted for the frozen berries. Optional sweetener can be added to increase the sweetness of the berries if desired.
Print
Save Recipe
Recipe Saved!
Pin
Rate
Servings:
2
3 1/2 cups smoothie (1 large smoothie or 2 regular size smoothies)
Ingredients
1

cup

frozen Strawberries

1/2

cup

frozen Raspberries

1/2

cup

frozen Blackberries or Black Raspberries

1/2

cup

fresh Raspberries

2

large Kale leaves

, removed from the stem and torn into small pieces

1/2

ripe Banana

Juice of 1/2 Lime

1 1/2

cups

Water

(can substitute milk if desired: cow, almond, soy, rice)
Instructions
Add all ingredients to a blender.

Blend until ingredients have all liquefied and fully combined.
Nutrition
Calories:
123
kcal
|
Carbohydrates:
27
g
|
Protein:
4
g
|
Fat:
1
g
|
Saturated Fat:
0
g
|
Cholesterol:
0
mg
|
Sodium:
33
mg
|
Potassium:
644
mg
|
Fiber:
8
g
|
Sugar:
11
g
|
Vitamin A:
5770
IU
|
Vitamin C:
136.6
mg
|
Calcium:
128
mg
|
Iron:
1.8
mg