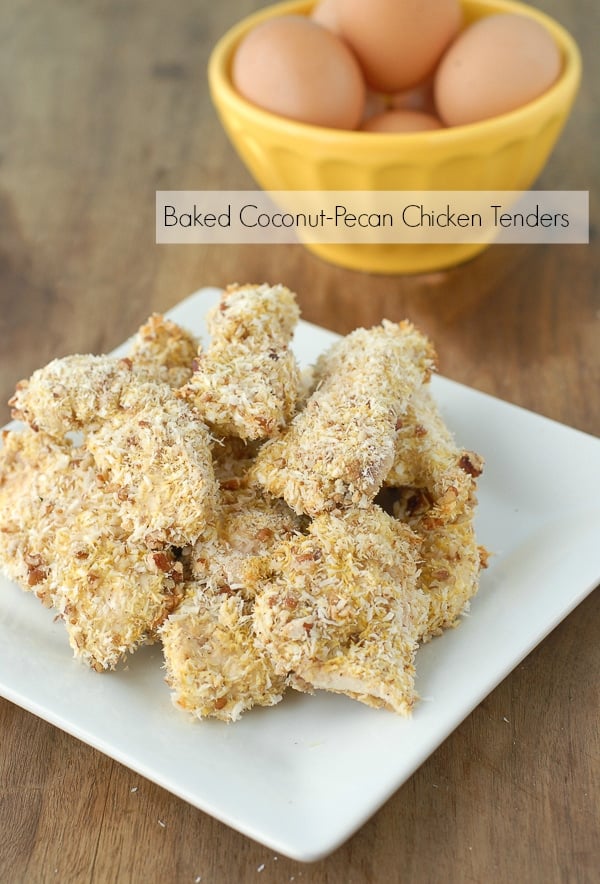 When I was growing up there were no Chicken Nuggets or Chicken Tenders. I'd venture McDonald's delivered them to the fame enjoyed with the current generation of children who could not imagine meals without them. I'll come clean; I cannot cook from scratch every day for every meal. Usually based on kooky after school logistics, but sometimes from simply needing a cooking break. I've grown to depend on some healthy, fast, gluten-free foods that allow feeding of my family quickly thanks to my microwave. Chicken tenders fall into that lifesaving category.
Though the purchased brands I use are organic, GMO and anti-biotic free, in addition to being gluten-free, they are expensive. If on one of these fateful days it just doesn't work for me to whip up something for dinner during the day which can be reheated, I'm stuck. I have some favorite meals I prepare in 30 to 60 minutes and baked chicken tenders is one. They are made healthier from baking versus frying and I love to change up the coating to suit my mood.
If you use an air fryer these Air Fryer Chicken Tenders are delicious too!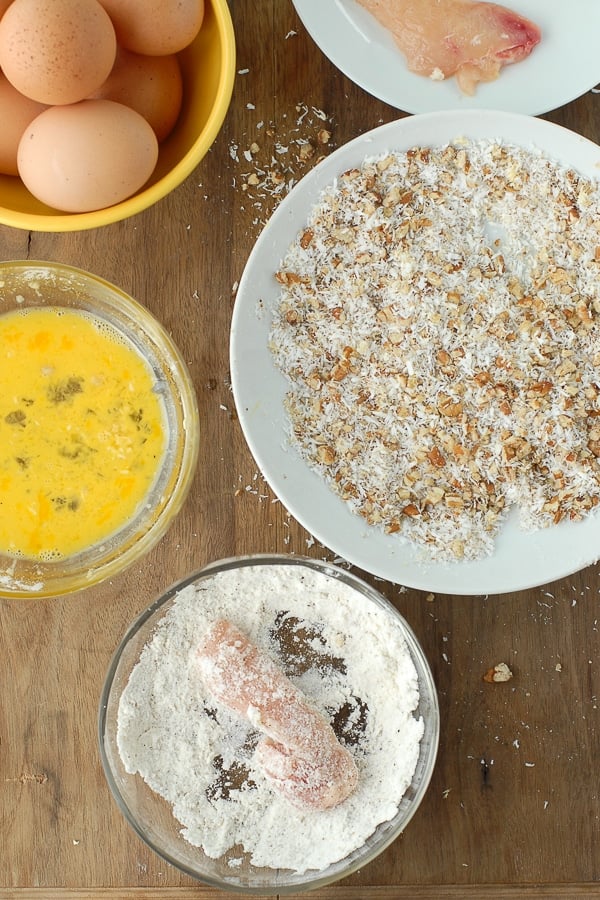 I use a process similar to preparing chicken for frying. Simply dredging the chicken strips in a seasoned flour base, dipping it into an egg wash and then rolling it in an outer coating. I love a textured outer coating similar to what you'd find on a fried tender but saving the fatty calories with baking.
This week is crazy. My kids' birthdays are a week apart and my muse was late on the scene for creative gift ideas and celebration thoughts leaving me scrambling. To top it off we attended an end of sport banquet Sunday night that ran a wee bit late landing us at home well after 10:30 p.m., subsequently starting Monday in extreme exhaustion with one tot home sick. It felt like a bit of a game show challenge, leaving me slack jawed at how I'd pull off a meal under these circumstances.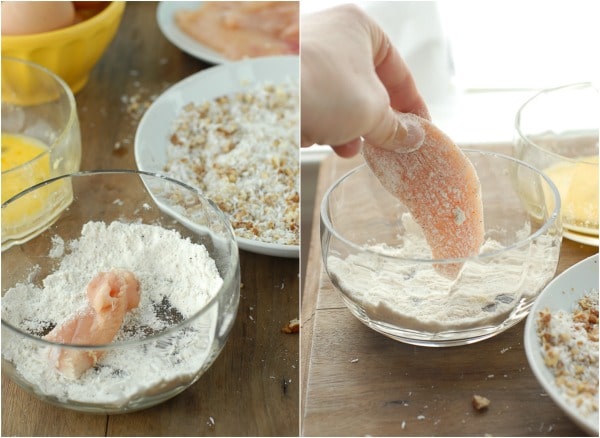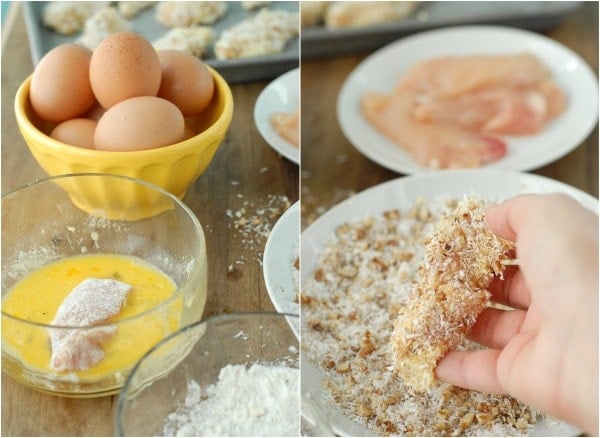 Thankfully I had all the ingredients for a recipe I adore: Baked Coconut-Pecan Chicken Tenders. Not only are they as delicious as they sound, but the chicken is juicy and textured, and done in less than 30 minutes from when the ingredients are pulled from the fridge. We generally are not big dippers but this recipe goes great with a Thai dipping sauce my husband created last year. The chicken is mouthwatering with coconut flavor and the homey bite of pecans. I strongly suggest making a double batch!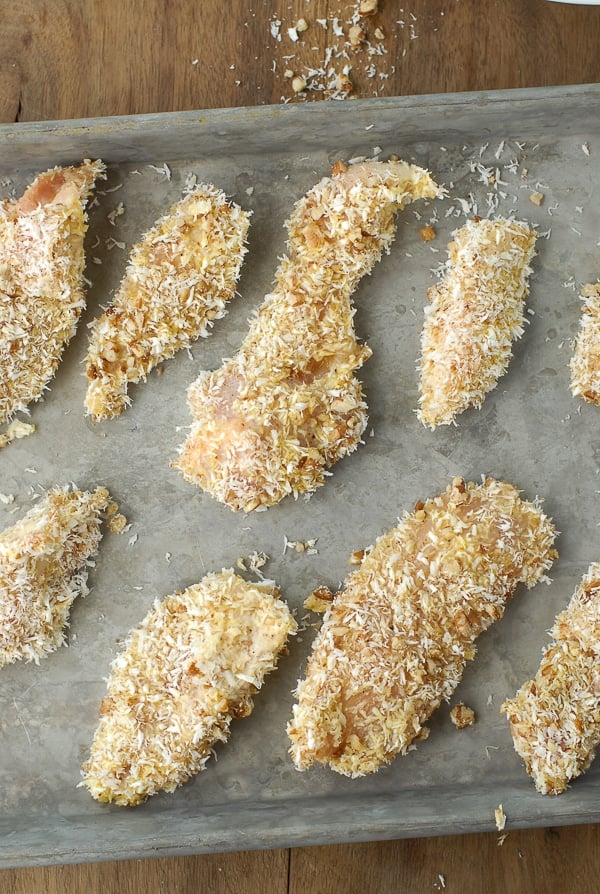 Recipe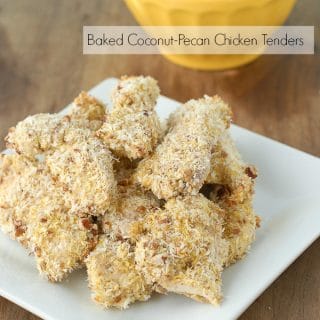 Baked Coconut-Pecan Chicken Tenders 30 minute recipes}
Delicious and juicy chicken tenders flavored with crunchy coconut and pecans. Quickly prepared in less than 30 minutes, they are perfect as a main meal protein or appetizers.
Print
Save Recipe
Recipe Saved!
Pin
Rate
Servings:
4
Serves 2-4 depending on serving size
Ingredients
1

pound

boneless

, skinless Chicken Breasts, cut into ½"-3/4" strips across the breast

1

Egg

, room temperature

1

tablespoon

Water

¼

cup

Flour

(I used King Arthur's Gluten-Free Flour)

½

teaspoon

Kosher Salt

½

teaspoon

ground Black Pepper

1

teaspoon

granulated Sugar

¾

cup

finely grated Unsweetened Coconut

½

cup

finely diced Pecans

Optional: Thai Dipping Sauce
Instructions
Preheat the oven to 425 degrees. Prepare a baking sheet with parchment, a silpat or by spraying with non-stick cooking spray; set aside.

Set up three bowls large enough to dip, or roll a chicken strip. In the first bowl, combine the flour, salt, pepper and sugar; stir to fully combine.

In the second bowl lightly beat the egg with the water.

In the third bowl, combine the coconut and pecans and stir to fully mix together.

Roll a chicken strip in the flour to form a light coating. Next, dip it in the egg mixture to fully coat; allow any excess to drip back into the bowl. Roll the chicken strip in the coconut-pecan mixture to fully coat.

Place prepared chicken strips onto the prepared baking sheet and bake for 15 minutes. Chicken should be fully cooked and still juicy inside.

NOTE: Always thoroughly was hands and any surfaces coming in contact with raw chicken.
Notes
Batch can be doubled keeping the proportions the same.
Nutrition
Calories:
389
kcal
|
Carbohydrates:
12
g
|
Protein:
29
g
|
Fat:
24
g
|
Saturated Fat:
11
g
|
Cholesterol:
112
mg
|
Sodium:
368
mg
|
Potassium:
576
mg
|
Fiber:
4
g
|
Sugar:
2
g
|
Vitamin A:
60
IU
|
Vitamin C:
0.2
mg
|
Calcium:
25
mg
|
Iron:
2
mg