This mouthwatering recipe is one that you'll begin to crave after you try it! Sweet Chili Avocado Bagel Bruschetta combines tangy goat cheese, creamy avocado, red onion and sweet chili sauce on a toasted bagel (gluten-free or regular)!
For those who are frequent diners at Italian restaurants, 'bruschetta' will be all too familiar. Perhaps the most popular appetizer, along with Insalata Caprese, bruschetta traditionally is a slice of Italian bread toasted with a bit of olive oil and garlic and topped with chopped tomatoes and basil. The crisp exterior of the bread combined with the flavorful fresh tomatoes and basil is irresistible. It was a favorite of mine which went by the wayside when becoming gluten-free.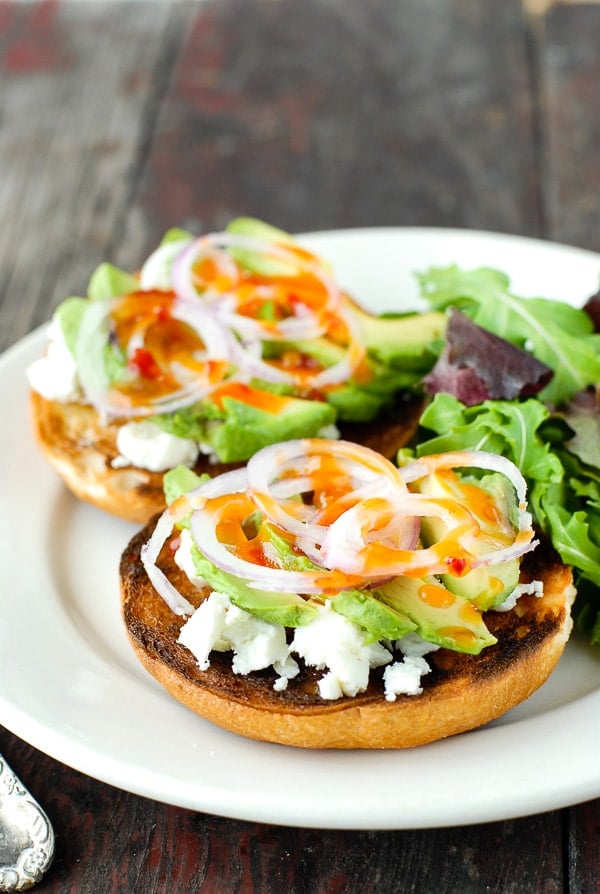 A number of years ago we began to frequent a little trattoria in our North Boulder neighborhood. It is a small venue with indoor and outdoor seating providing a charming, cozy ambiance. Visiting in the late afternoon, when the sun is beginning to sink in the sky became out habit. The restaurant is aglow and the outdoor dining is temperature-perfect having dodged the searing rays of summer sun but still warm often with balmy breezes.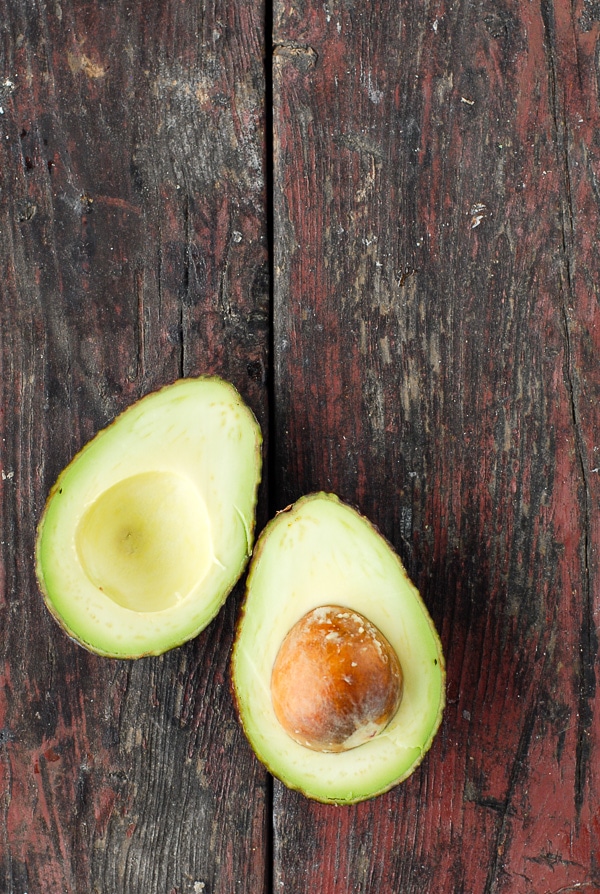 Probably the highlight of the restaurant find were both that they serve delicious gluten-free options and that they have a wickedly well-priced Happy Hour that runs about three hours (I love the sangria!). On our first visit we ordered an assortment of happy hour options to share to get a sense of their food. I fell immediately, head over heels in love with a version of a bruschetta they customized on a gluten-free focaccia.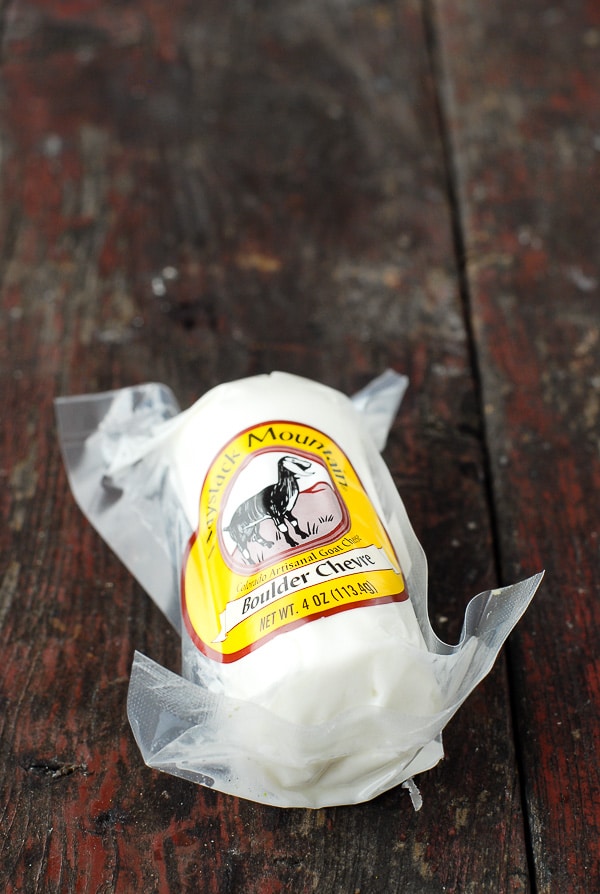 For me this is one of those dishes that calls to you as soon as you walk into the restaurant. My mouth begins to water and I never order anything else which goes against my normal MO at restaurants. I realized I might have an issue when we were entertaining a long time friend visiting from out of town whom we'd taken to the restaurant.
I began to order my beloved dish and the waitress was tentative, unsure, not fully conveying she knew that they offered this dish in a gluten-free form. The back of my neck became anxiously prickly with sweat. I began to over-explain the dish, speaking way too fast as I nervously fumbled through my iPhone camera roll knowing I'd posted a photo on Instagram of my coveted dish to show her, prove to her, indeed they did make it.
I looked up, desperately, meeting the gaze of my normally unflappable husband who was reflecting what I felt; that I might be acting insane.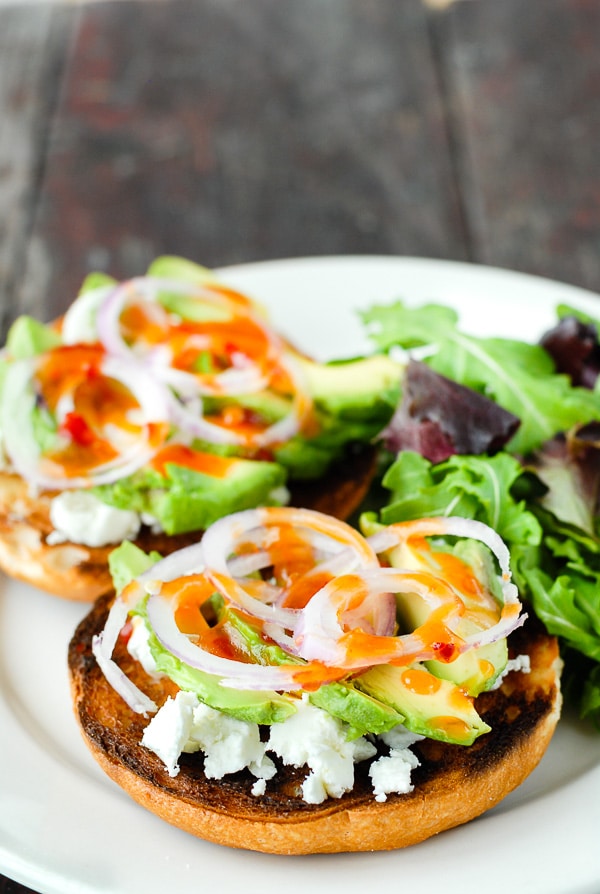 Needless to say the server, who I believe was new and fortunately not easily frightened, consulted with the kitchen and all was delivered to the table. The degree of relief I felt hinted to me that perhaps I needed to break my addiction with another dish next time, that maybe my well-being, and that of my fellow diners might benefit from something that excited me a bit less.
It was a fleeting thought that has never surfaced again when looking at the menu and I continue to order this same dish every time we visit.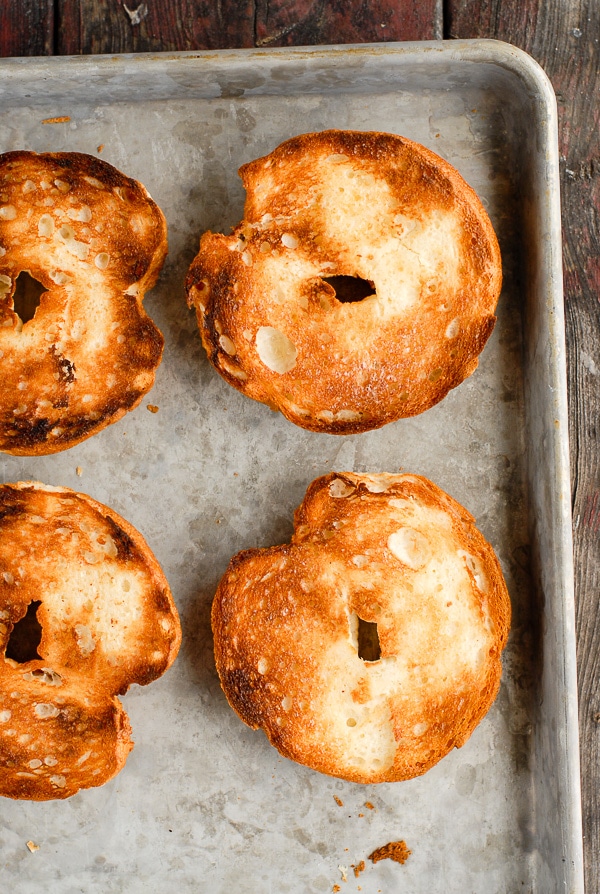 At the risk of riling up your salivary glands and anticipation, I've created a take on my favorite dish at home. Finding the bread key to a bruschetta I've made a bagel version which allows that perfect crust on the top and soft insides. The combination of the salty tang of goat cheese, the smooth ripe avocado, bite of paper-thin red onion and the finishing touch of sweet chili sauce are perfection.
This is a wonderful option as an appetizer or a main dish coupled with a salad of spring greens. It's a satisfying meatless option that I'd venture might become a favorite on your table.
This Sweet Chili Avocado Bagel Bruschetta recipe is so simple to make and a wonderland of textures and flavors. Tangy, salty goat cheese, sweet chili sauce (which can be found in the Asian section of the grocery store), creamy avocado and ultra thin onion slices. All on a toasted bagel.
Interested in some new ideas like this one for using bagels? I love making mini personal bagel pizzas. They are the perfect portion size and easy to make. Making Homemade Everything Bagel Chips are great for dipping or to pair with a meat and cheese platter. I also love using them in Everything Bagel Sausage Dressing. They have a wonderful texture for stuffing and everything-style bagels have loads of onion and garlic flavor!
Recipe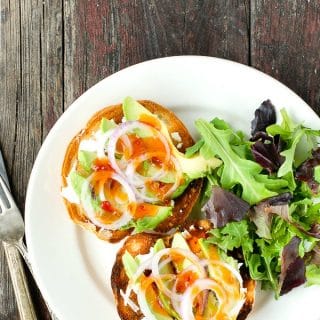 Sweet Chili Avocado Bagel Bruschetta
A mouthwatering version of a bruschetta perfect for appetizers of a meatless main dish with a side salad. The tantalizing flavors of tangy, salty goat cheese, creamy ripe avocado, red onion and sweet chili sauce co-mingle for a perfect, satisfying dish.
Print
Save Recipe
Recipe Saved!
Pin
Rate
Servings:
4
1/2 bagel bruschetta
Ingredients
2

bagels

(I used Udi's Plain Gluten-Free bagels)

1

tablespoons

Unsalted Butter

, melted

1

Avocado

, ripe yet firm; halved, each half sliced vertically into 8 slices and removed from outer skin

1

small Red Onion

, aproximately 3 inches diameter

2

ounces

Goat Cheese

, crumbled

2

tablespoons

Sweet Chili Sauce

1

teaspoon

Extra Virgin Olive Oil
Instructions
Heat the broiler in the oven.

Slice the end off one side of the onion and slice one quarter of the onion into paper-thin slices. Remove the outer peel.

Combine the sweet chili sauce and olive oil. Stir to fully combine.

Halve the bagels and lightly toast on a low setting in the toaster. Place the toasted halved on a baking sheet cut side facing up. Brush the cut side with the melted butter.

Place under the broiler for 15-30 seconds watching the entire time. The tops should lightly brown but can burn quickly to as soon as they begin to turn golden, remove from the oven.

Place one fourth of the goat cheese on each bagel half, followed by 4 avocado slices, one fourth of the onions slices and finally drizzle each equally with the sweet chili sauce. Serve warm.
Nutrition
Calories:
324
kcal
|
Carbohydrates:
39
g
|
Protein:
9
g
|
Fat:
15
g
|
Saturated Fat:
5
g
|
Cholesterol:
14
mg
|
Sodium:
422
mg
|
Potassium:
336
mg
|
Fiber:
5
g
|
Sugar:
5
g
|
Vitamin A:
305
IU
|
Vitamin C:
7.1
mg
|
Calcium:
42
mg
|
Iron:
1.3
mg

This delicious recipe was originally published in February 2014 and has been updated in 2017.