Homemade Strawberry Simple Syrup is an easy, delicious syrup perfect for strawberry season. It's great to use for cocktails, iced tea, in sparkling water and more!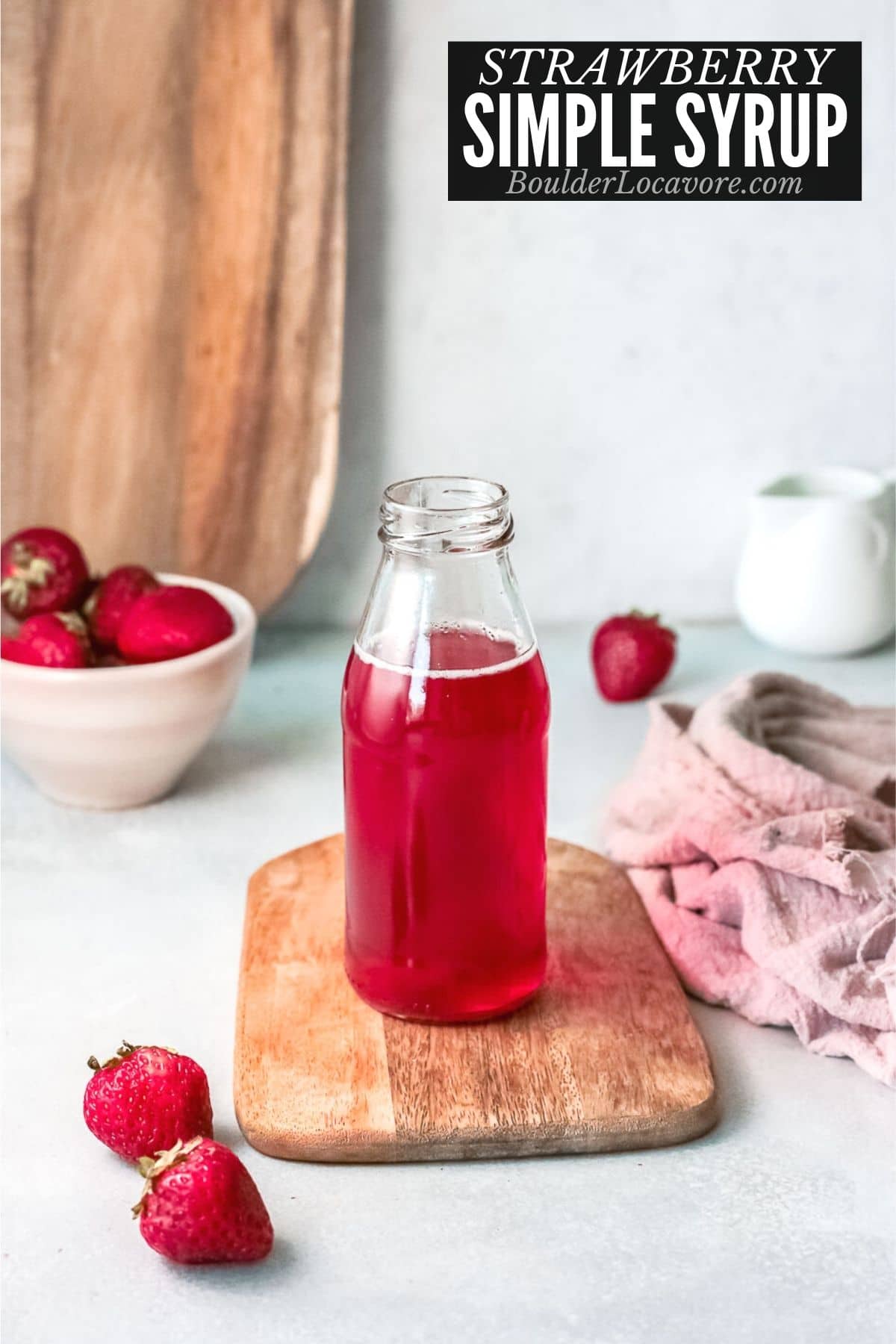 Making simple syrup is fun and easy. The flavors are endless.
This strawberry syrup recipe is a perfect example. Just like homemade strawberry jam, it tastes like summer in a bottle.
What is simple syrup?
It is a sugar syrup that's used to sweeten cocktails and other drinks.
Simple syrup is a perfect sweetener for drinks because it's a liquid. There is no granulated sugar to dissolve.
It's made with equal amounts of water and sugar that is heated to dissolve the sugar.
It's an easy mixture to infuse with different flavors. In this case we used fresh strawberries to make a strawberry flavored sweetener.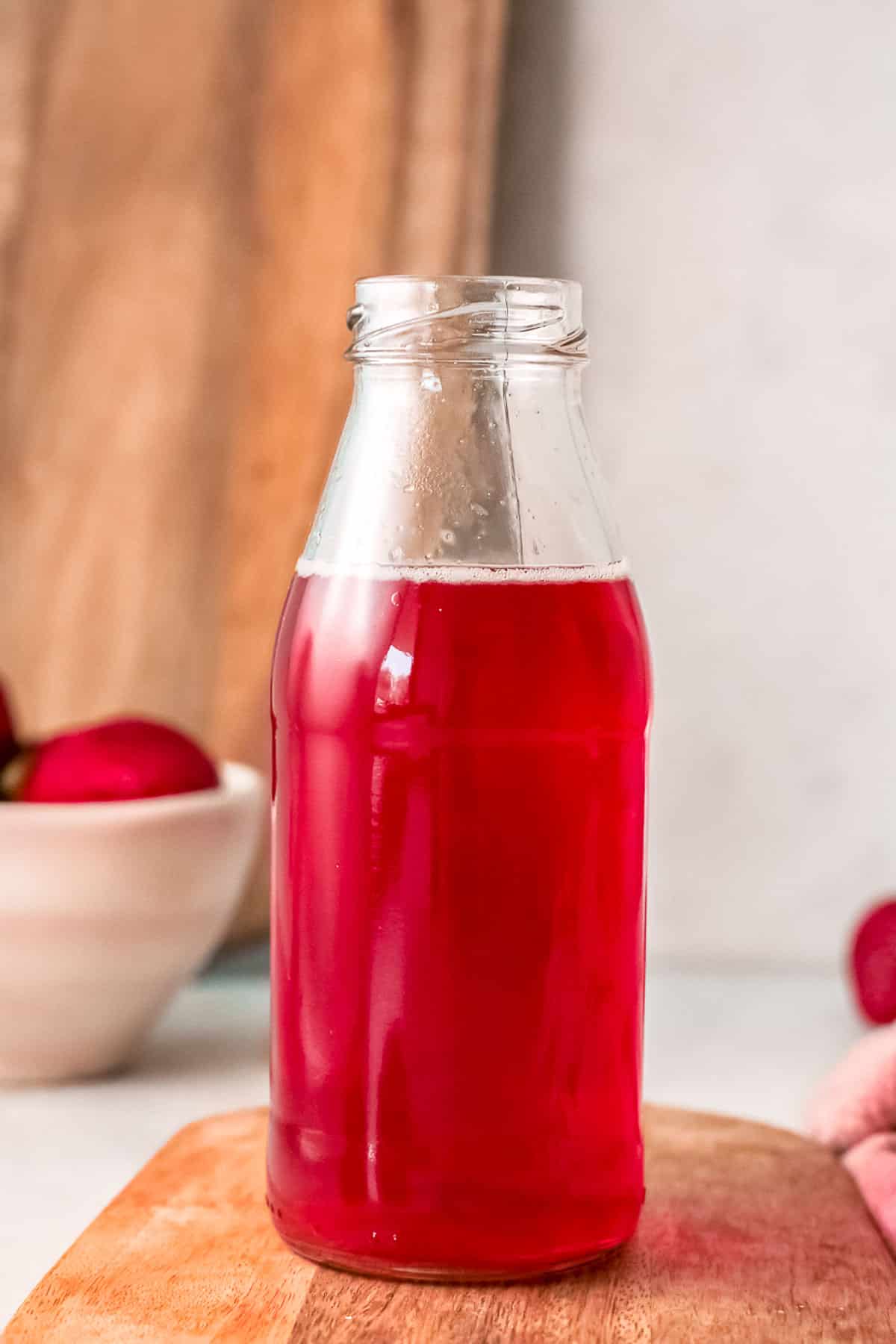 Recipe Ingredients + Notes
Strawberries. Use fresh, fully ripe strawberries for the best flavor. Use berries without bruises or blemished.
Using a strawberry huller makes quick work of removing the stems without taking extra fruit.
Granulated sugar. This will provide the sweetening for the simple syrup.
Water.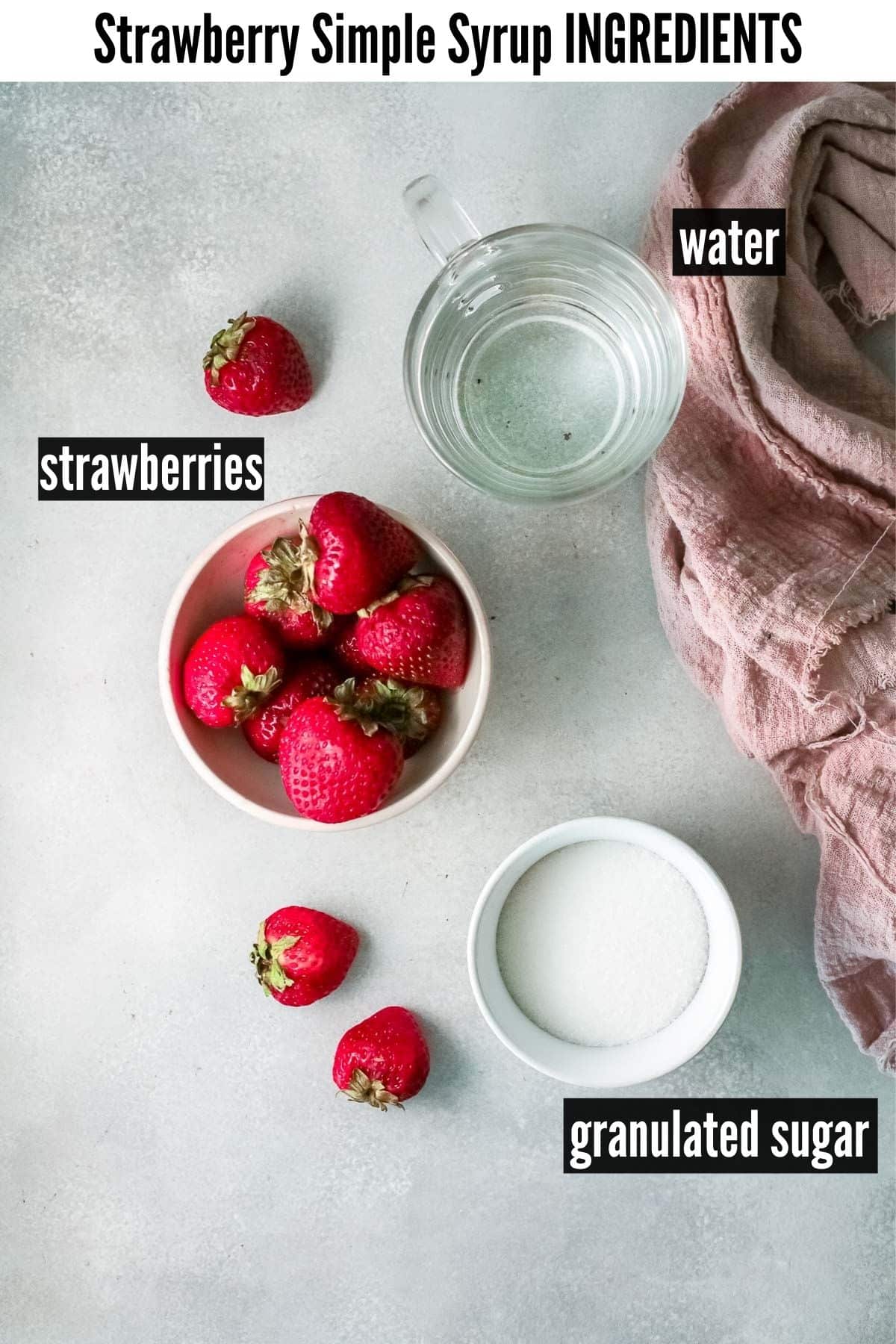 How to make it – Step-by-Step
STEP 1. Prepare the strawberries
Rinse them, remove the stems and slice.
STEP 2. Make the syrup
In a medium saucepan combine the sugar, water and strawberries in a medium saucepan over medium high heat (photo 1).
Bring to a boil, immediately lower the heat and simmer stirring occasionally for 20-30 minutes until the strawberries are completely soft (photo 2).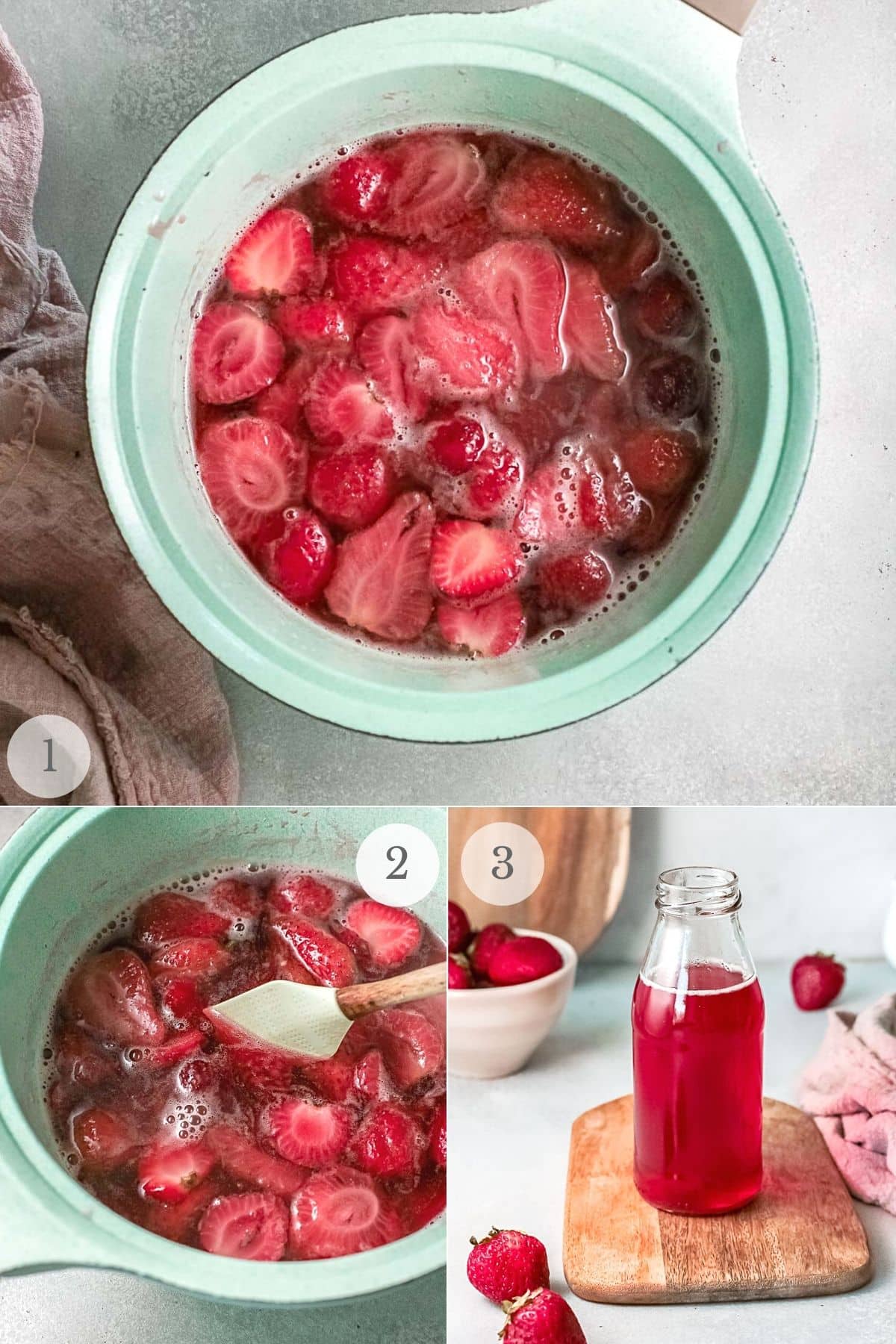 STEP 3. Strain
Strain the strawberries through a fine mesh strainer or sieve. Add the syrup to a sealed glass container and refrigerate (photo 3).
The strawberries can be discarded or used on other things like pancakes, yogurt, ice cream etc. They will be sweetened from cooking in the sugar mixture.
Pro Tips
Freeze in an ice cube tray. To save extra syrup for a longer time in smaller quantities pour into ice cube molds and freeze. Take out the cubes to thaw as needed.
Add a squeeze of lemon. It brightens up the flavor!
How to use Strawberry Simple Syrup
The strawberry syrup is more watery (intentionally) than a pancake syrup. It still can be drizzled over different foods for a delicious flavor!
How to store it
Refrigerator: store to up to a week in a sealed airtight container.
Freezer: freeze in a freezer-safe container for up to 2 months. Thaw in the refrigerator.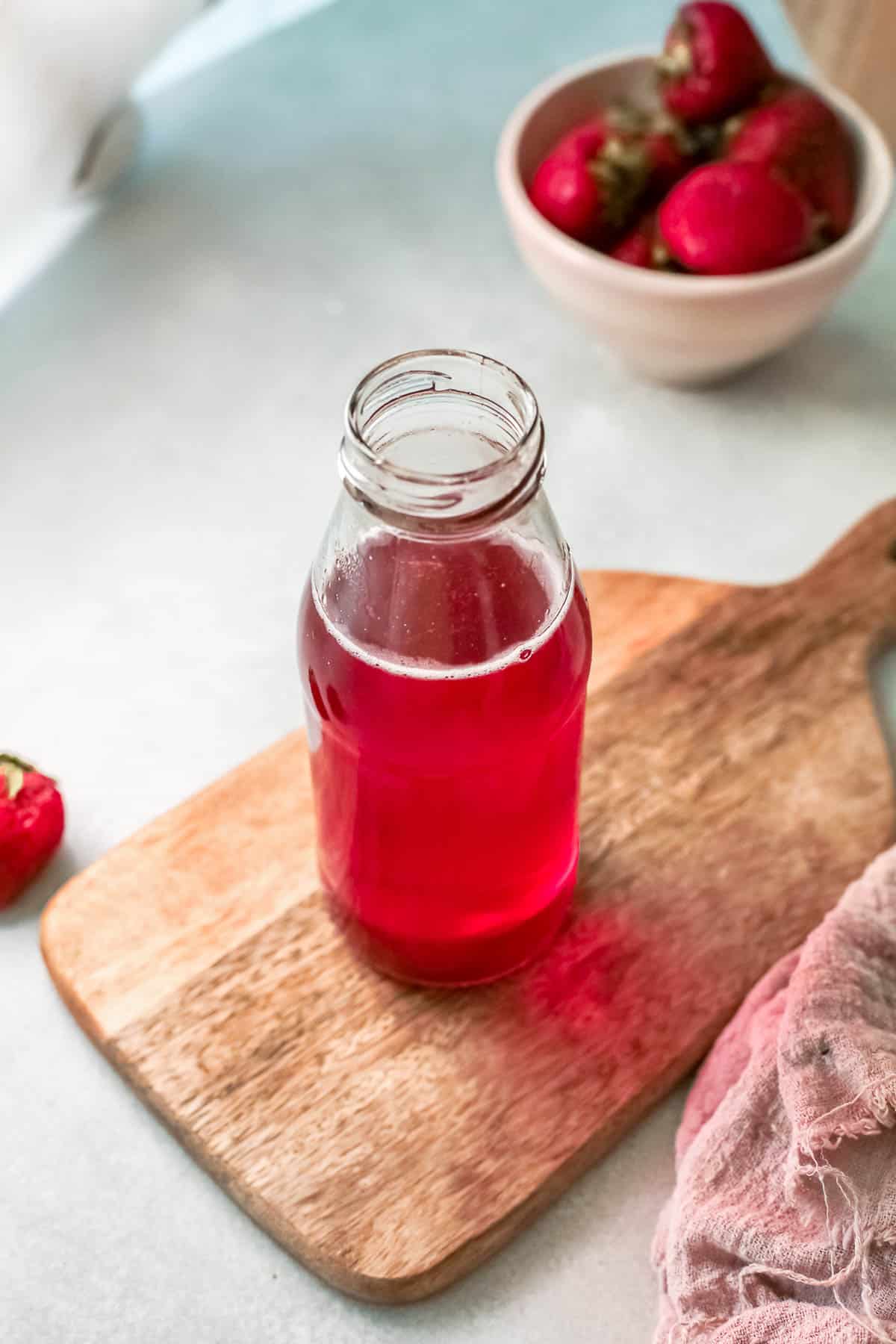 More recipes you'll love!
Did you make it? Please RATE THE RECIPE below!
Please
SUBSCRIBE
and
FOLLOW ME
on
FACEBOOK
,
TWITTER
,
INSTAGRAM
and
PINTEREST
!