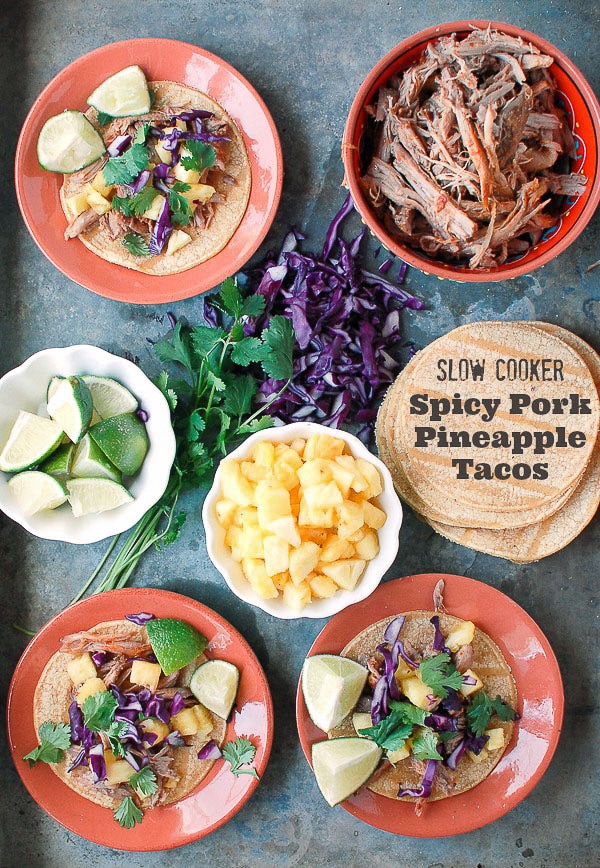 Despite the unthinkable idea of turning on an oven in this blistering heat, a prepared meal is always appreciated in my household.  Perhaps contrary to what you'd imagine to be the most desirable summer foods; cool, juicy, refreshing dishes, a spicy Mexican-inspired meal is great anytime.
I love a good dining 'joint'.  You know what I'm talking about; off the beaten path, rustic, serving honest, inspired food.  My husband discovered such a place while the kids and I were road tripping through Arizona over Spring Break.  He was looking at Yelp for something on our end of Boulder when he ran across glowing reviews for a Mexican food shack really, poised in a parking lot behind a small strip mall (for Boulder-locals it's La Choza).  The abundance of reviews piqued his curiosity and he sought them out with great end results.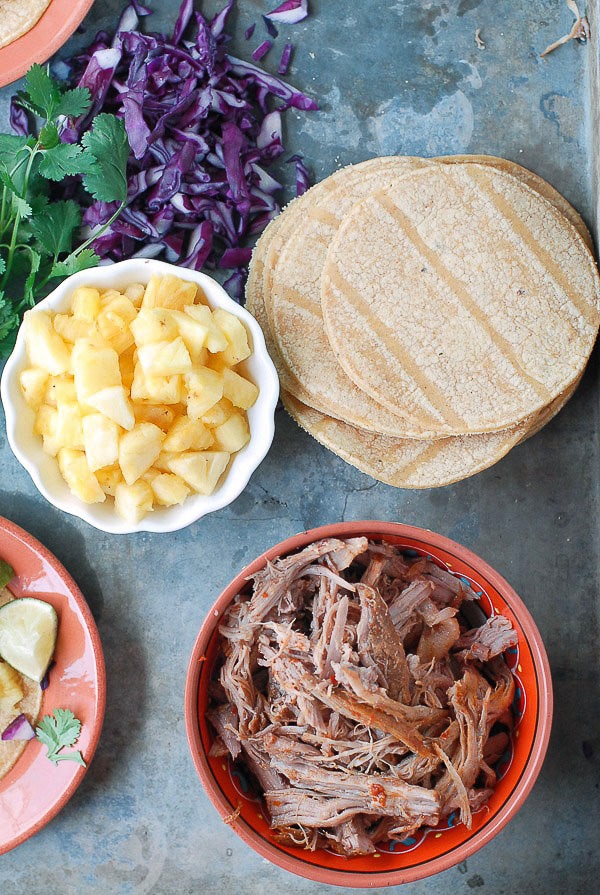 When I say shack I mean just that.  It is large enough only for the two men working there and their griddle.  Patrons order at the window and wait for their affordable, delicious food to go.  We've gone back as a family to pick up food (everything is To Go though there are some plastic chairs for those who wait or wish to gobble up the delectable fare in the parking lot) and have loved every meal.  They make a pork and pineapple taco that is the inspiration for this recipe.  I adore the combination of the slightly salty pork and the sweet pineapple (which can also be grilled if you have the time).  The dish is simple, not over-dressed, which allows the fresh flavors to shine.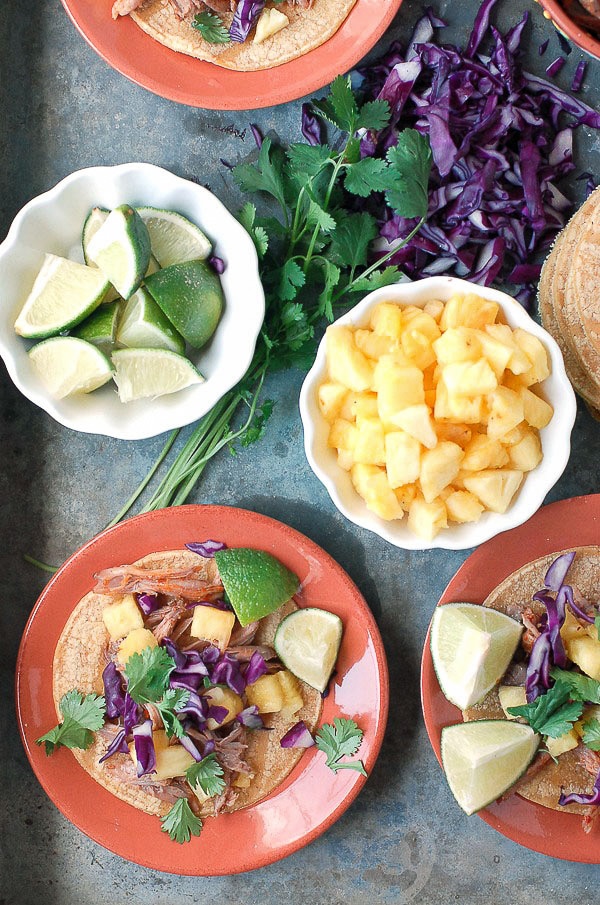 Turning on my oven is still fairly unimaginable however turning on my slow cooker is not!  Preparing the pork shoulder is a snap.  Mixing up flavorful ingredients, coating the pork then letting it slow cook all day yields perfectly succulent pulled pork.  I loved it so much I'm sharing a second recipe using it  later this week so be sure to come back for that!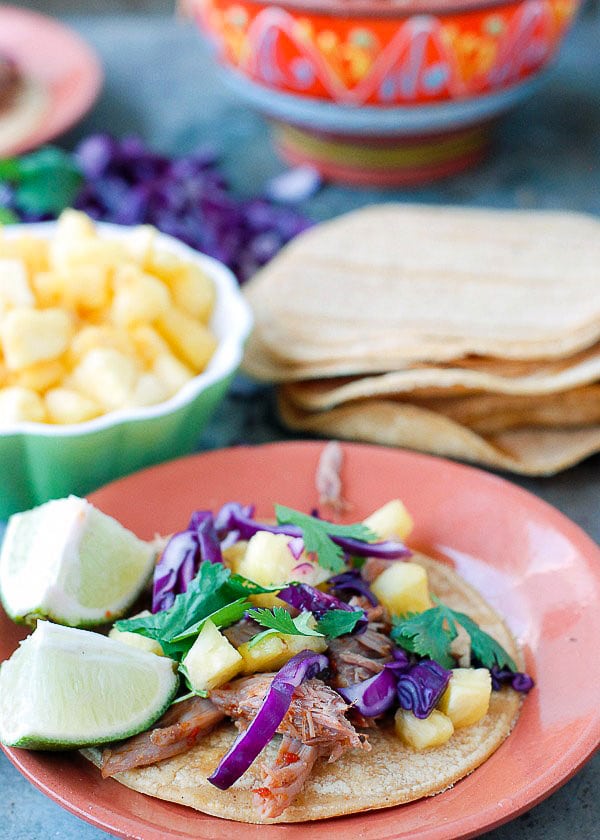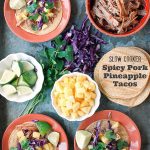 Slow Cooker Spicy Pork Pineapple Tacos
These pulled pork and pineapple tacos cannot be beat for fresh flavors. The pork is so simple to cook in the slow cooker, rendering it moist with earthy spices perfect for making tacos. I prefer making these with smaller corn tortilla, about 4 1/2 inches diameter. One can make a serving of a few tacos and despite the smaller size they are surprisingly filling. Of course if unavailable, using traditional size corn tortillas is fine; increase the filling as desired.Tacos are what I'd consider 'personal' as it relates to preference on how much filling is used. As a guide a pork shoulder slightly under 2 pounds will yield approximately 3 cups of shredded pork, and I found 1/4 cup of pork was about right for smaller tortillas per taco to still allow them to be folded for eating. A 2 pound pork shoulder will make approximately 12 small tacos.
Servings
2
pound pork shoulder yields approximately 3 cups shredded pork; 3 pound pork shoulder yields approximately 4 1/2 cups shredded pork
Ingredients
Ingredients for the Slow Cooker Pulled Pork:
1 15-16

ounce

jar/can Red Enchilada Sauce; medium-heat

3

tablespoons

Light Brown Sugar

1

teaspoon

ground Coriander

1

teaspoon

ground Cumin

1 2-3

pound

Pork Shoulder; extra fat trimmed

(leave some fat for flavor)

Kosher Salt and freshly ground Black Pepper

¼

cup

Lime Juice

¼

cup

Pineapple Juice

1

Onion

(red or yellow, or an equivalent mix), cut into large pieces

3

Garlic Cloves

, pressed or diced
Ingredients for the Spicy Pork Pineapple Tacos:
Corn tortillas

(preferably small 4 1/2 inch diameter size; regular size may be substituted); gently warmed in a dry skilled or microwave

Chopped fresh Pineapple

(plan approximately 1/8 cup per small tortilla)

Finely shredded Red Cabbage

Torn Cilantro Leaves

Lime wedges
Instructions
Ingredients for preparing the Slow Cooker Pulled Pork:
Combine the enchilada sauce, brown sugar, coriander and cumin. Stir to mix well and pour into the base of a slow cooker. Turn the pork to coat on both sides with the sauce.

Rinse and pat dry with paper towels the pork shoulder. Liberally salt and pepper all sides of the pork shoulder. Place in the slow cooker on top of the sauce.

Combine the lime juice and pineapple juice and pour over the pork in the slow cooker. Top with the onions and garlic. Gently spoon the sauce over the onions and garlic and stir them into the sauce, mixing in the lime and pineapple juices to fully mix together.

Turn the pork one last time and cook in the slow cooker for 4-6 hours on high, or 8 hours on low.

Lift the pork above the slow cooker, allowing any excess sauce to drip back into the slow cooker; set aside to cool until able to be handled easily. Using two dining forks, pull the pork into fine strips or pieces for serving.
Instructions to assemble the Spicy Pork Pineapple Tacos:
As a guide plan 1/4 cup pulled pork and 1/8 cup pineapple per small tortilla, layered with shredded cabbage for color and crunch, some cilantro leaves and a squeeze of lime.
Recipe Notes
Pork recipe adapted from The Cooking Channel