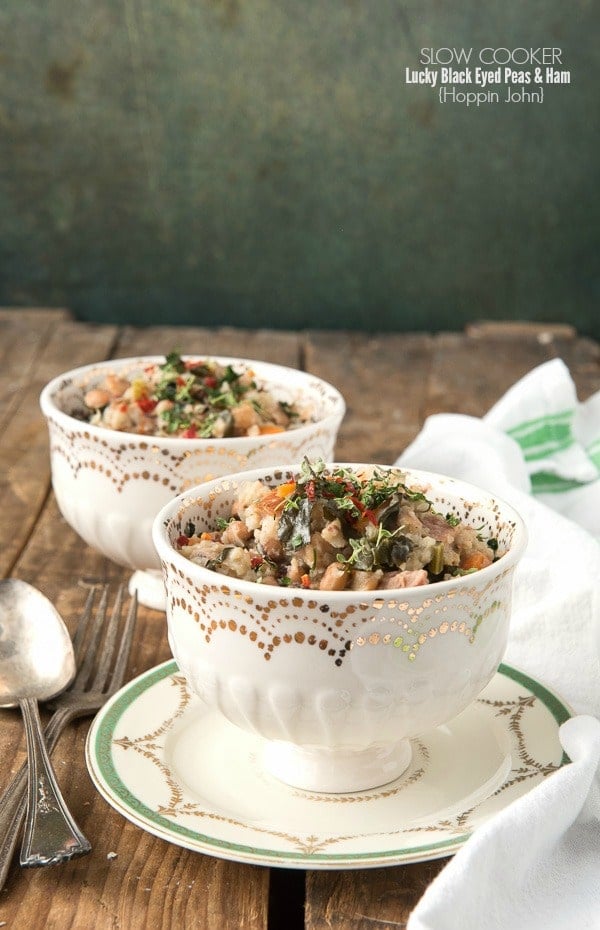 For the past five years I've made a dish with black eyed peas in it for good luck to usher in the new year. Legend and social practice hold that it must be the first thing eaten in the New Year to tease forth the good fortune for the upcoming year. I wouldn't call myself superstitious but look at it a bit like the rumor flying around Facebook right now that Mark Zuckerberg is going to give away a percentage of his billions of dollars in Facebook stock to randomly chosen Facebookers who have posted notice of this on their page. Do I believe it? Not really but also recognize nothing is lost by playing along. I'm not going for the stock but I will stick with the black eyed peas each New Year.
The funny thing is that every culture and sub-culture seem to have their own lucky foods. I shared a list with my first black eyed pea recipes and was fascinated by all the should eats and things to avoid. On the latter list is lobster because it swims backwards (guess that throws my Lobster Risotto out the window on New Year's Day).
I've created or adapted a new black eyed pea recipe annually, always liking to see what else is available. I'll share them all at the end of this post but will say Hoppin John is a favorite. A hearty, rustic, comfort food dish, it includes black eyed peas, ham and some simple spices. It's usually served atop rice. Collard greens are often woven in with the green symbolizing money or good financial fortune.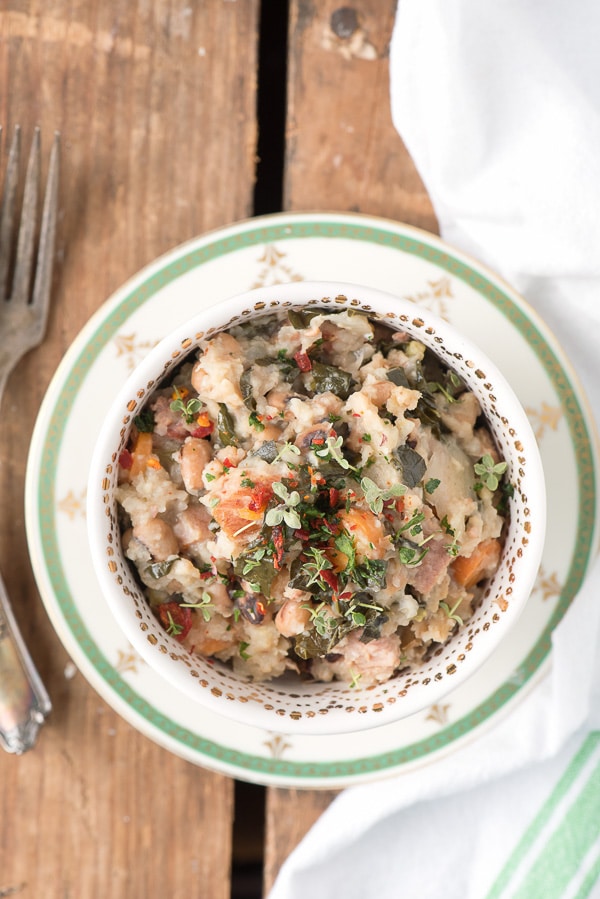 My slow cooker is going daily right now and making a slow cooked version of Hoppin John seemed a good choice for this year. One thing I require of my family is that if we are up until midnight, they all take a bit of the lucky dish to ensure no one forgets in the fog of a sleepy January 1st morning and bites into a bagel instead. With a slow cooker, the timing of the dish can be controlled with military precision to be done at midnight or first thing in the morning.
For this version I added in kale for the lucky green. Collard greens can be difficult to find at this time of year but absolutely can be substituted. Carrot coins also symbolize financial gain. The rice is tossed in and cooks along in the recipe so no extra cooking is required. On its own Hoppin John is not overly flavorful and I've added some serrano pepper and red pepper flakes to perk it up a bit. It's a food that feels like being wrapped in a warm blanket on a cold day to me and I'd happily eat it for any meal! But absolutely will be eating a spoonful at 12:01 a.m. on January 1.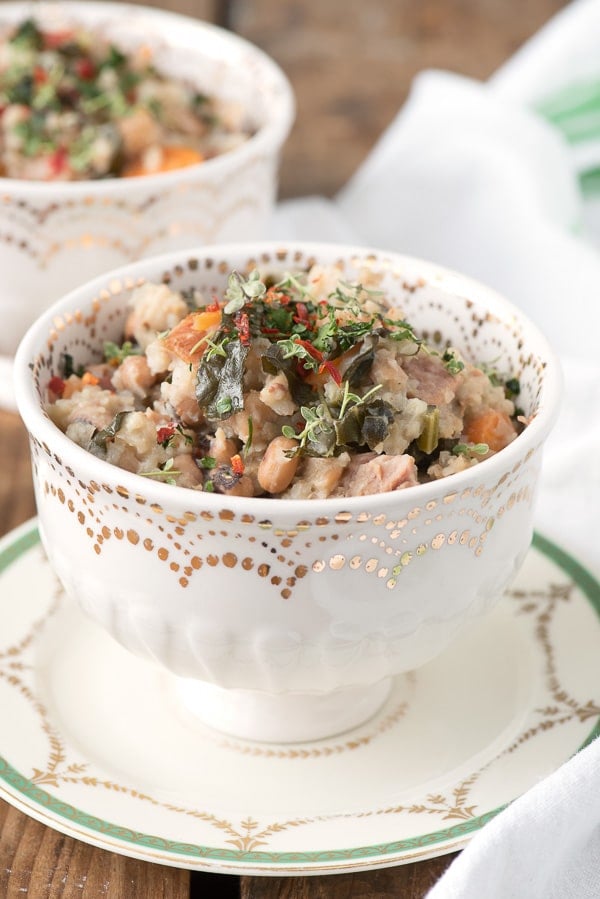 More Lucky Recipes for New Year's Day:
Black Eyed Peas with Ham and Bacon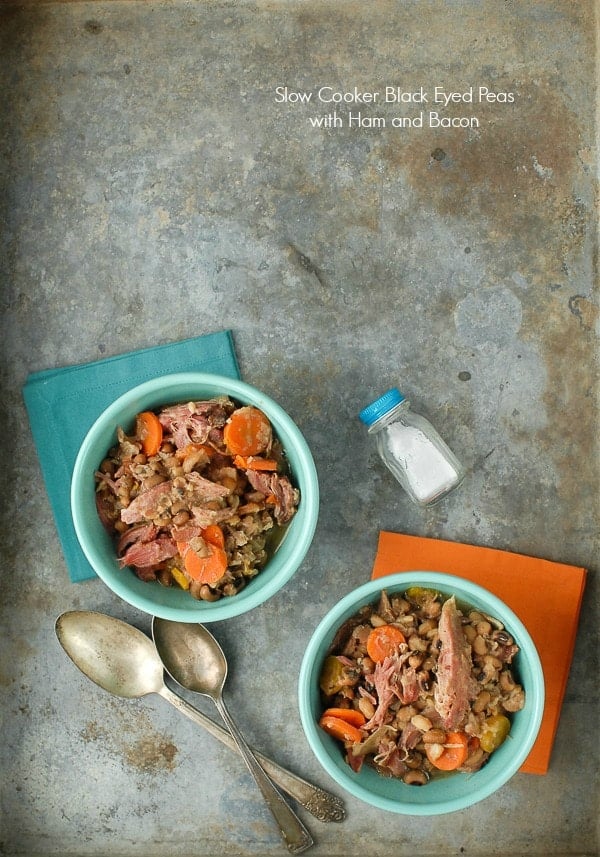 Smoky Black Eyed Pea Bacon Hummus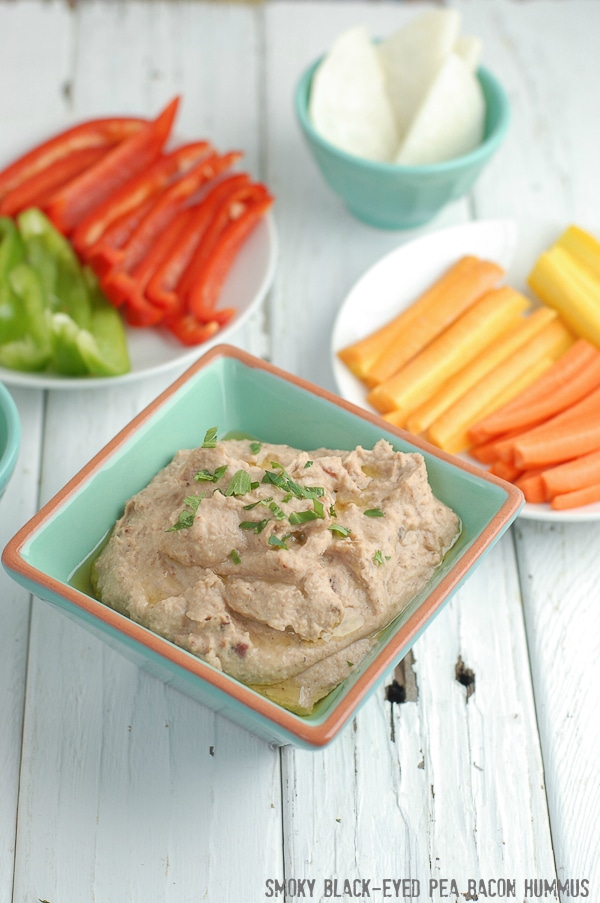 Black Eyed Pea Fritters with Hot Sauce {Akara}