This Singapore noodles recipe creates a delicious Asian meal chock full of shrimp, chicken, pork, and vegetables in a spicy sauce. Singapore street noodles are fast to prepare and naturally gluten-free.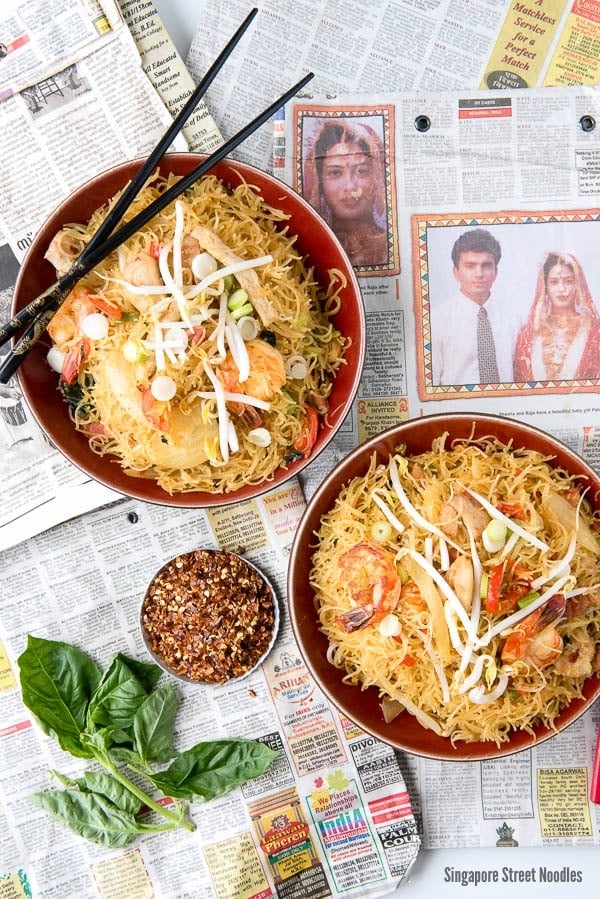 I had the pleasure of living in Singapore as well as traveling there many times on business. I fell head over heels in love with the food. When I was living there, Singapore was divided equally between Chinese, Indian and Malaysian cultures all of which blended into a rich and exciting food scene. Despite all of the noodle dishes I grew to love, Singapore Street Noodles was NOT one of them!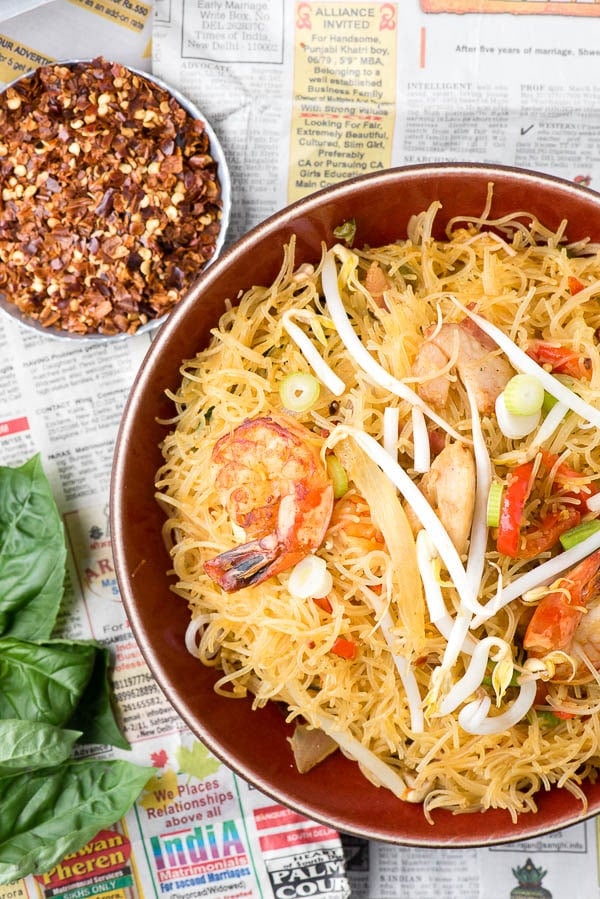 There were many noodle dishes that became my regulars. We'd have them for breakfast in spicy broths, as well as lunch or at the local hawker centers (food courts) for dinner where I'd go nightly with my work colleagues. Before I returned to the U.S., Singaporean and American friends would ask me what food I was craving most from home. Honestly there weren't any since there were a number of larger American chains in Singapore. What I would miss greatly was the local ethnic cuisine, much of which was not available outside Singapore.
The reason I had not become smitten with Singapore Street Noodles is that it is not a Singaporean recipe! It makes them no less delicious but places them in the ranks of foods like French Fries which originate in Belgium, not France.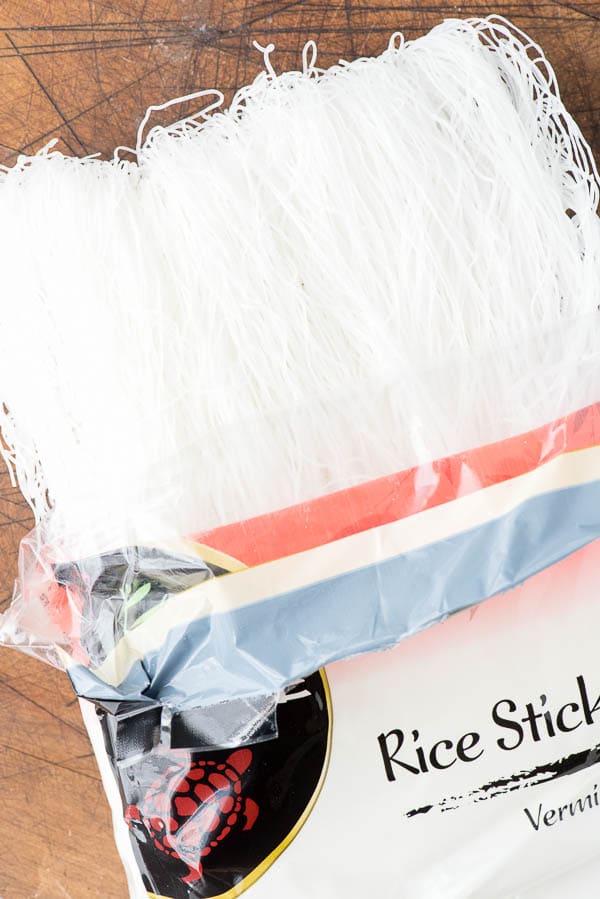 I traveled down several rabbit holes looking for the basis of what is known as Singapore Street Noodles, and my conclusion is that it's a dish originating in Hong Kong. Though similar to two particular true Singaporean noodle recipes, this recipe has taken on characteristics of its own. For instance, the addition of the curry. I read a very long conversation thread online started by someone wishing to have traditional Singaporean Street Noodles on an upcoming trip to Singapore. The locals were chiming in about the noodle dish and how they never serve such a dish with curry in it.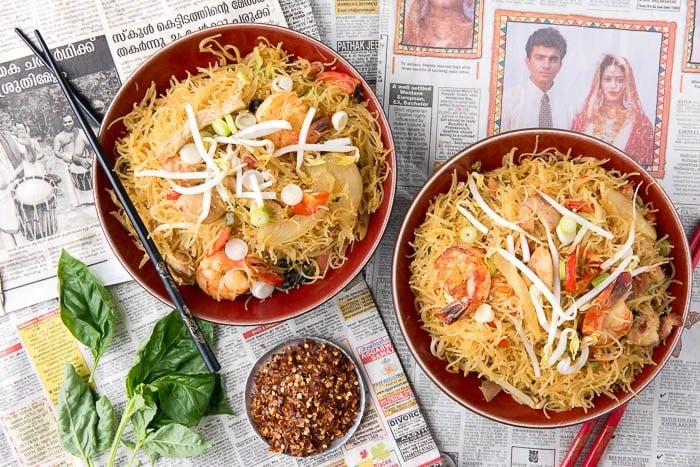 I think, as with many favorite foods, versions of Singapore Street Noodles have transformed over time. Some versions have shrimp and chicken, some shrimp and pork; some only one of those meats. Some have curry. Some are spicy. They all use rice noodles (which are naturally gluten-free) and stir fry as the means to combine the flavors in the dish.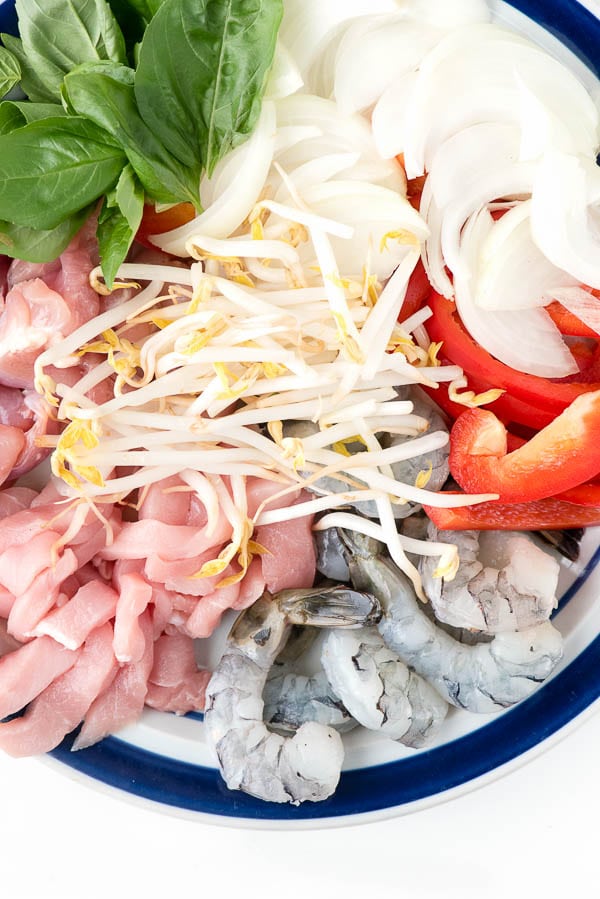 I too have created my own Singapore noodles recipe, staying true to the basics of what we know as Singapore Street Noodles in the U.S., adding some of what I love about similar Singapore noodle recipes from that region. It's a spicy combination of chicken, lean pork, shrimp with a bit bacon for a flavor similar to Chinese barbecue pork. There are sultry spices and some crunch too. The recipe makes a very large batch however vermicelli rice noodles tend to be less filling allowing the diner to eat more to make a meal! What a delicious fate.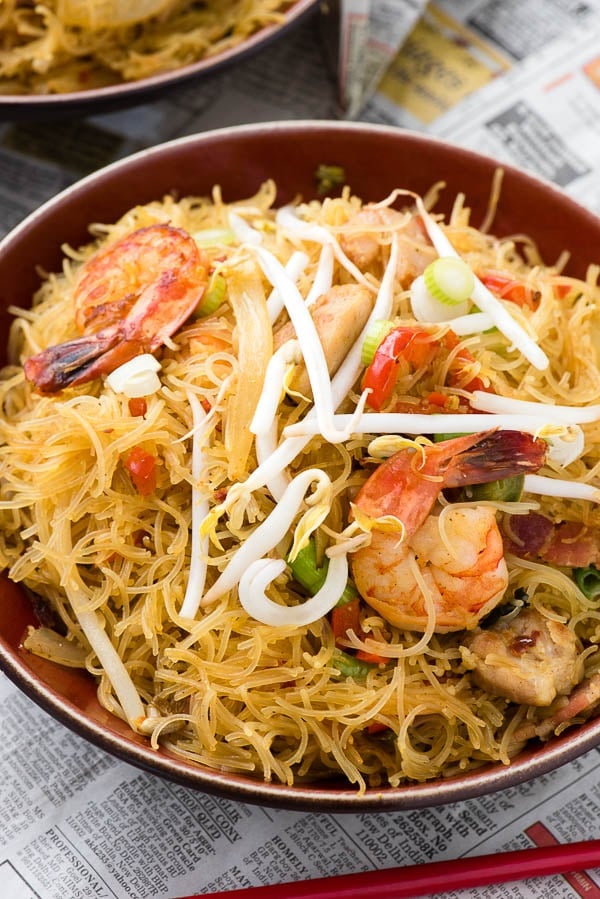 One quick tip about stir fry cooking: have all of your ingredients prepared beforehand and at the ready. It's a fast cooking process allowing everything to retain a great texture, color and flavor. There is no time however to prepare anything during the cooking time.
More Recipes You'll Love
How to Prepare Singapore Noodles Recipe:
Recipe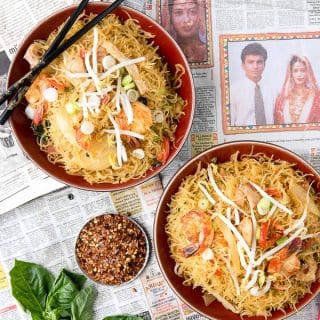 Ingredients
12

ounces

Rice Vermicelli Noodles

Also known as Rice Sticks

3

tablespoons

Peanut Oil

4

ounces

Boneless Skinless Chicken Thigh

Cut into 3/4 inch cubes

2

slices

Smoked Bacon

Siced horizontally into 1/4 inch wide strips

4

ounces

Boneless Pork Loin

Thin cut and sliced into 1/4 inch wide strips

4

ounces

Raw Shrimp

Shelled and deveined, 26-30 count

1

small Yellow Onion

Halved sliced

1

medium Red Pepper

Stem and seeds removed, chopped

1

tablespoon

Fresh Ginger

Peeled and diced

1

tablespoon

Garlic

Peeled and diced

1

Jalapeño

Deseeded and diced

1

tablespoon

Curry Powder

1

tablespoon

Granulated Sugar

4

tablespoons

Tamari Soy Sauce

Naturally gluten-free, divided

2

tablespoons

Fish Sauce

Divided

2

tablespoons

Rice Vinegar

Divided

1

teaspoon

Crushed Red Pepper Flakes

4

Scallions

Sliced

1/2

cup

Fresh Basil Leaves

Sliced thinly across the leaf

1

cup

Mung Bean Sprouts
Instructions
Place the rice noodles into a large mixing bowl. Cover with boiling water and set aside.

Heat a large wok or nonstick skillet over high heat and add 2 tablespoons of the peanut oil. When the oil appears to ripple on the surface add the chicken and bacon. Stir constantly for 2 minutes.

Add the pork and continue to stir for 3 minutes until the meats have lost their color and begun to brown slightly. Remove from the wok and set aside.

Add the shrimp to the wok and stir constantly until they become white and brown slightly; 1-2 minutes. Do not overcook. Remove and add to the meat.

Heat the remaining tablespoon of peanut oil. Add the onion and red pepper to the wok and stir fry for 3-4 minutes.

While the onion and red pepper is cooking, drain the noodles in a colander.

Add the garlic, ginger and jalapeno pepper; stir for 15 seconds.

Add the curry powder and sugar. Stir together.

Add the noodles, 3 tablespoons Tamari, 1 tablespoon fish sauce, 1 tablespoon rice vinegar and toss to coat. Tip: I find using tongs (safe for nonstick cookware) the best way to combine ingredients from this step forward.

Allow noodles to cook 5 minutes, periodically tossing the ingredients in the wok.

Turn off heat and toss in the scallions (some may be reserved for garnish), basil and bean sprouts. Finally toss in the remaining 1 tablespoon of each Tamari, fish sauce, rice vinegar and crushed red pepper flakes. Serve immediately.
Nutrition
Calories:
414
kcal
|
Carbohydrates:
56
g
|
Protein:
17
g
|
Fat:
12
g
|
Saturated Fat:
2
g
|
Cholesterol:
82
mg
|
Sodium:
1501
mg
|
Potassium:
350
mg
|
Fiber:
2
g
|
Sugar:
5
g
|
Vitamin A:
915
IU
|
Vitamin C:
32.9
mg
|
Calcium:
67
mg
|
Iron:
2.2
mg
This Singapore Street Noodle recipe is a contribution to Food Fanatic in my role as as the Naturally Gluten-Free Fanatic.