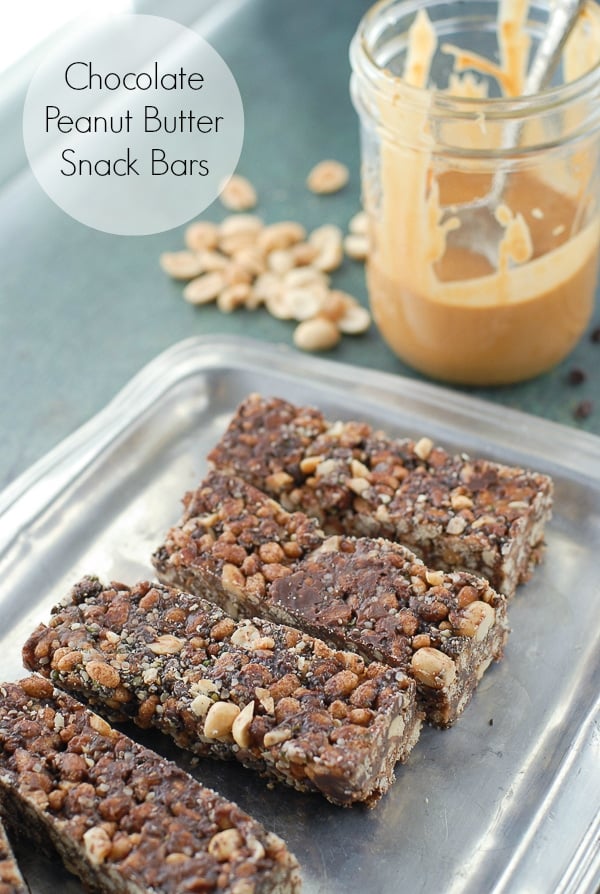 For as long as I can remember I have loved the combination of chocolate and peanut butter. I truly do not feel there is a more divine match. I remember in fourth grade having to do some sort of performance with a friend and we acted out the TV commercial for Reese's Peanut Butter Cups in which two people are ambling down the street, one eating peanut butter, the other eating a chocolate bar. They collide, complain about the other tainting their treat only to discover they are fantastic together. Now why we'd be acting that out for our class could only be for one reason; to eat chocolate and peanut butter in large quantities under the guise of instructional performance art!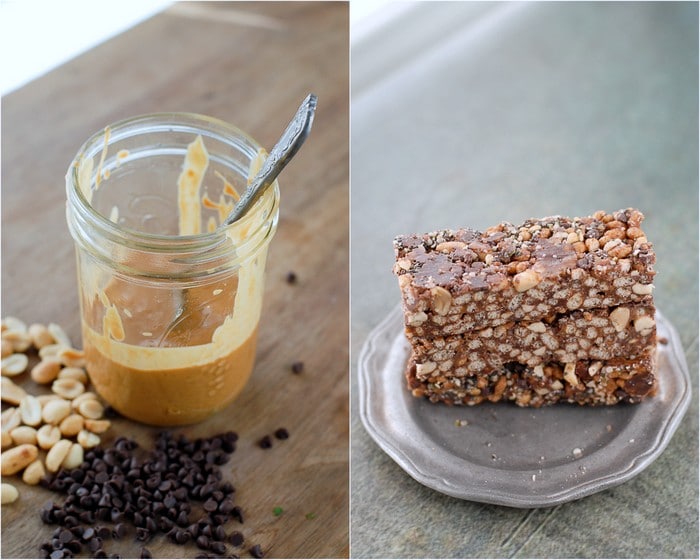 I recently tried my hand at creating some gluten-free high energy bars using puffed rice cereal, nuts, and seeds. They turned out really delicious, providing a great 'go to' healthy snack for my active kids. My son immediately asked if I'd make a version with peanut butter and chocolate. We'd recently discovered an organic, gluten-free puffed brown rice cereal that is chocolate flavored so it seemed a natural starting point. The thing I loved in particular with the energy bars was the texture. They have that 'just right' balance between being soft and firm, chewy and crunchy. They last for a few weeks sealed; maybe longer but were gobbled up by the end of that time!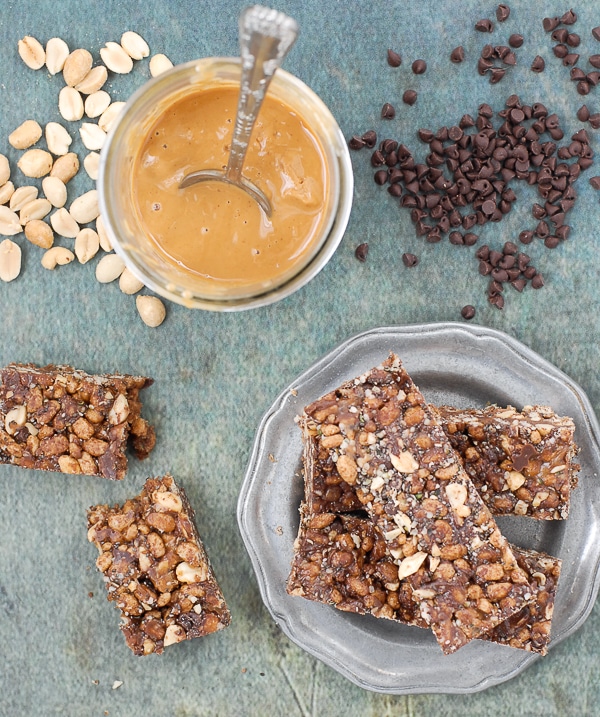 Certainly the energy bars were what I'd consider a healthy snack. These bars are not UNhealthy, but by my definition would be more of a treat bar due to the addition of the chocolate. I only use peanut butter made exclusively from ground peanuts, nothing else added and organic at that. The bars have a a cup of chocolate chips across 24 bars, natural sweeteners, some chia and hemp seeds to add protein and fiber as well as peanuts. They are fantastic in that Do-I-Trust-Myself-Having-A-Batch-Of-These-In-My-Kitchen kind of way. They have been flying off the shelf in our house, bearing a depth of flavor not found in store-bought peanut butter chocolate bars.
Making the bars gave me a chance to experiment with Brown Rice Syrup, a natural, allergen-free syrup I've been reading about. It has a thicker consistency more like molasses or honey, however has a more subtle sweetness than agave syrup (which I also use as it is low on the glycemic index, meaning it does not cause blood sugar to spike then plummet which is helpful especially in kids!). For those concerned about bars being 'too sweet', rice syrup is the way to go though it does make a thicker mixture to stir into the dry ingredients. For an easier compilation and sweeter bars I recommend using agave syrup. When mixing the ingredients some of the chocolate will melt and firm up which adds to the structure of the bars.