This simple chilled Peach Lemongrass Soup with Creme Fraiche recipe is an unexpected delight! Sweetened only by the ripe peaches, the flavors of lemongrass and ginger blend beautifully for a taste of high summer.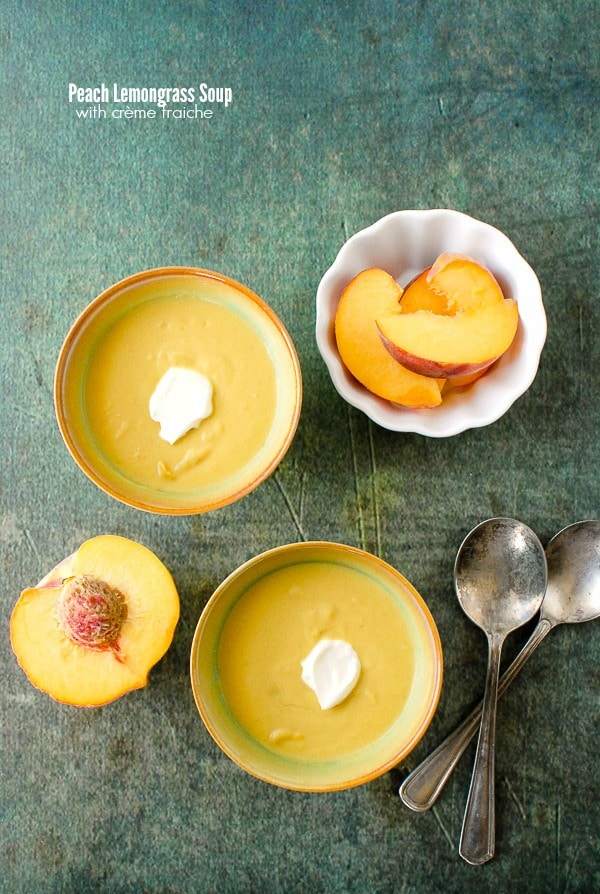 We are currently swimming in peaches and they are gorgeous. Firm fruit that yields to the slightest squeeze. Perfectly ripe. The kind of ripe that when you bite into one abundant juice dribbles down your face. The juice is so sweet you don't want to miss a drop of it.
At this time of year so many fruits become ripe at once. My fridge is well-stocked and even if I were to forgo all other forms of food to become a temporary Fruitarian, I'd have too much. There is of course canning or freezing to save them for later, who can wait for that?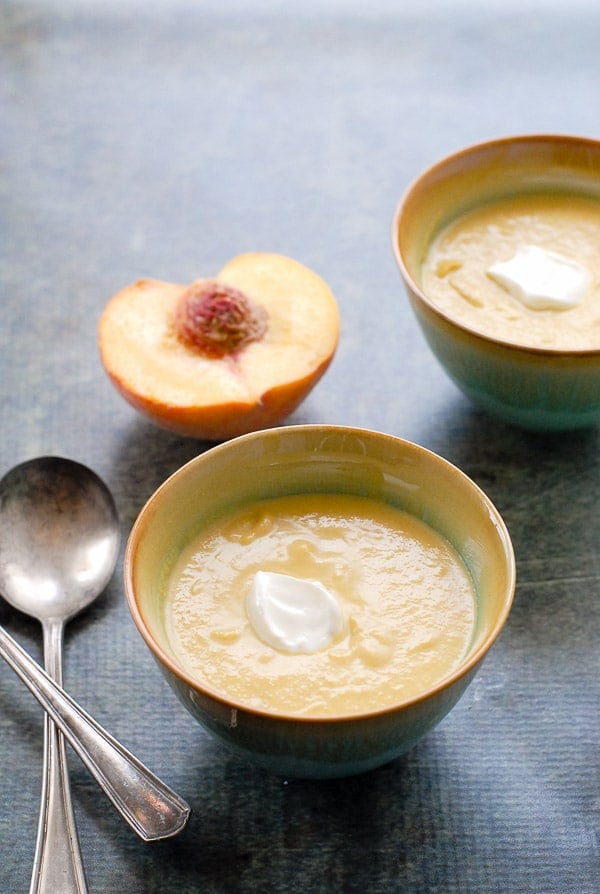 I've been making Buttermilk Peach Buckle, Quick Fresh Peach Chutney, Grilled Peach Mascarpone Ice Cream, Grilled Peach and Corn Salsa, Peach Yogurt Granola Breakfast Popsicles (I'd eat every single day given the choice) and Peach Buttermilk Glazed Donuts (gluten-free).
You'd imagine this might satisfy my peach desires but I really wanted to mix it up and make something a bit more out of the box. I had begun to flirt with the idea of a soup, slightly chilled, not overly sweet and spiced differently than one would expect. Is that weird? Once you've tasted Peach Lemongrass Soup with Creme Fraiche you'll never imagine it ever sounds odd.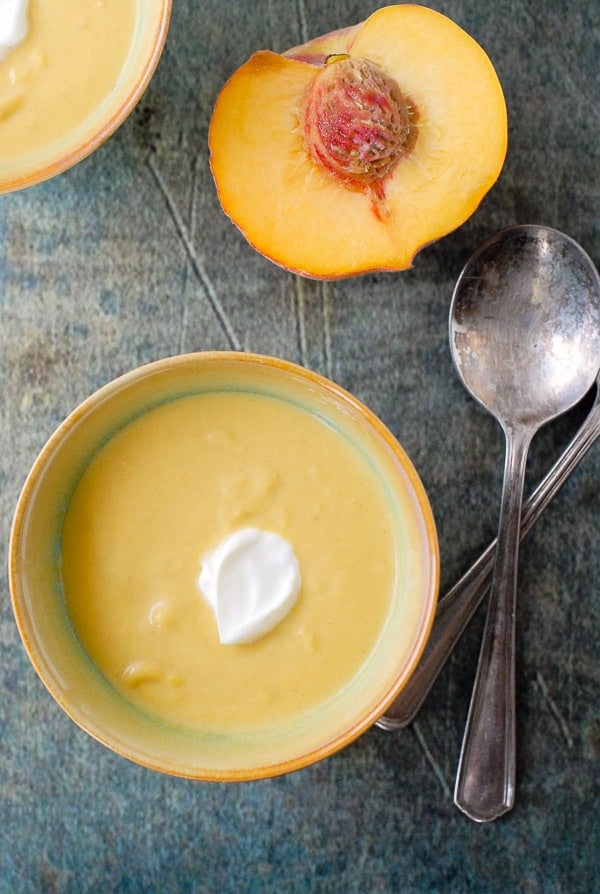 I don't think it's weird. After all Gazpacho is a cold tomato soup and some might find that weird. I loved the idea of the indescribably sweet flavor of ripe peaches complimented by a slightly tangy flavor of lemongrass and a bit of crème fraiche. It is unbelievably dreamy, this soup. A perfect summer sipper with a sophisticated flavor palate the is completely refreshing as well. I could drink a gallon of it!
At the time these fantastically creative ideas came in I was well down the road with my soup. Simple, quick, embracing the indescribable flavor of the ripe peaches, with a slightly tangy compliment of lemongrass and ginger, with a bit of crème fraiche. I could easily drink a gallon of it!

This delicious recipe was originally published in August 2013 and has been updated in 2016.