Grilled Peach Mascarpone Ice Cream combines summer favorites grilling, ice cream and peaches for a velvety sweet, tangy divine ice cream. Instructions for both ice maker and no machine methods.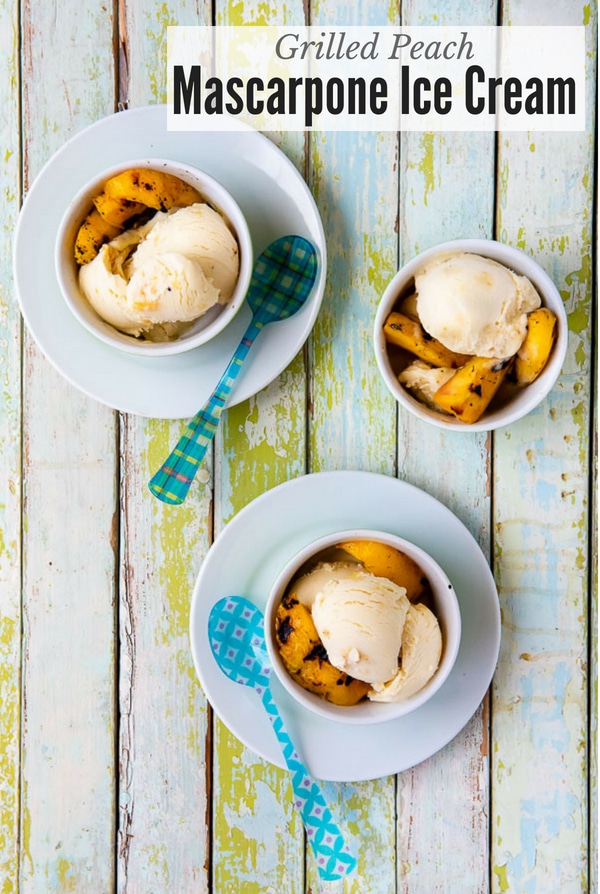 Originally published July 2015; updated July 2018
Summer is a time for both grilling and ice cream. I'm combining both today in a smooth Grilled Peach Mascarpone Ice Cream. It's tangy and full of creamy mascarpone cheese, fresh ripe peaches, grilled peaches and it's easy to make!
Grilling fruit is an often overlooked grilling opportunity. Grilling peaches enhances their natural sweetness as they caramelize on the grill.
The combination of hot and sweet with a bit of smokiness from the grill makes them a great choice for salads, to top grilled meat and this ice cream!
What is Mascarpone?
Mascarpone is an Italian cheese made by curdling cream with lemon juice creating a thick creamy consistency. You can even make homemade Mascarpone Cheese yourself! Pinterest is a great source for simple recipes if you want to try your hand in making it!
It's used in both sweet and savory recipes.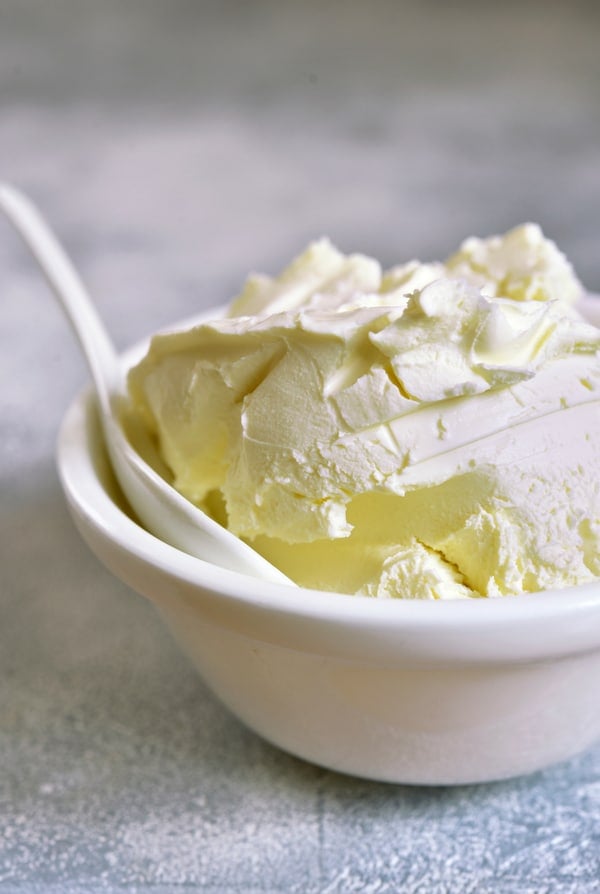 How Do you Pronounce 'Mascarpone'?
Mahs-car-POH-nay. Many people also pronounced it mahs-car-pone. The first is the official way but either will help you find it in the grocery store if you have to ask a grocer for help!
What Does Mascarpone Taste Like?
If you've ever enjoyed the Italian dessert Tiramisu, you've already had mascarpone! It's a creamy Italian cheese that is slightly sweet, buttery, a bit tangy and spreadable.
Mascarpone has a perfect creamy consistency to make a rich, slightly tangy base for this Grilled Peach Mascarpone Ice Cream!
Where to Buy Mascarpone
Fortunately, mascarpone has become very popular and readily available. It can be found in the dairy section of most grocery stores.
It's sold in a tub-like container much like cream cheese. You can even find it on Amazon!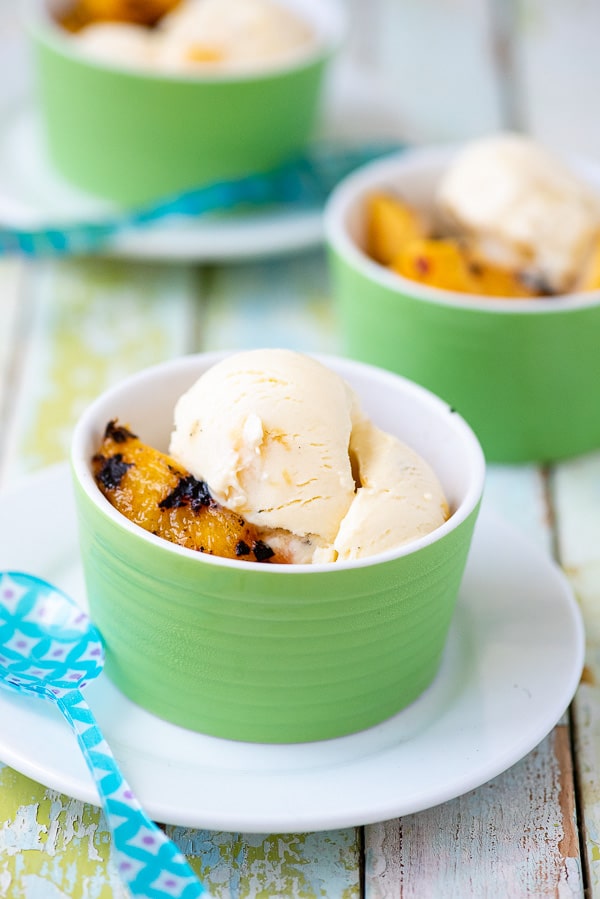 Substitutions for Mascarpone Cheese
The closest replacements for mascarpone cheese would be English clotted cream (which is even more difficult to find in the U.S.) or crème fraiche.
You can make your own mascarpone substitute with a combination of sour cream, cream cheese and heavy cream.
Substitute Mascarpone Recipe
You can also make your own substitue mascarpone by blending 1 16-ounce package of Cream Cheese (full fat) + 1/2 cup Sour Cream + 1/4 cup Heavy Whipping Cream. Process the ingredients until smooth. Makes approximately 1 1/2 cups.
Is Mascarpone Gluten-Free?
Yes!
Now that you know everything about mascarpone, let's talk grilled peaches!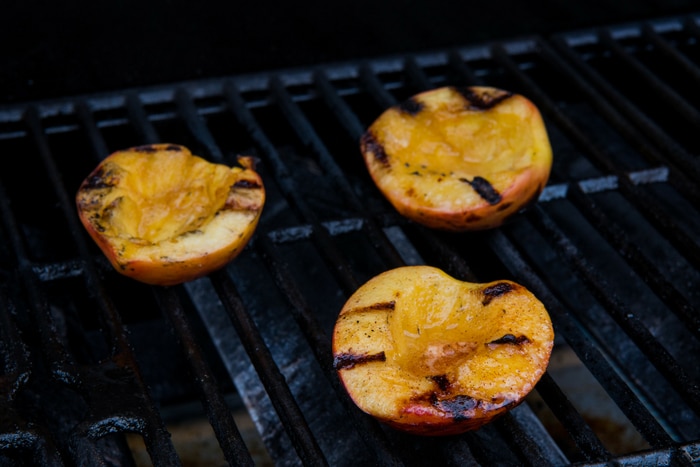 How to Grill Peaches
Grilling peaches is very similar to most grilled meat or vegetables. Wedges of fresh, peeled peaches are brushed with olive oil and grilled for a few minutes on each side.
It brings out the sweetness of the peaches. The peaches are then chopped and added in the last step of making the grilled peach mascarpone ice cream.
TIP: be sure to always start with a clean, wire brushed grill that has been oiled. This helps ensure the delicate flesh of the peaches won't stick to the grill.
Two Types of Peaches: Freestone vs Clingstone Peaches
Every year I excitedly jump at the first peaches showing up at my local market, usually with a recipe in mind that is best served by pretty peach halves or slices. I always feel like a head slap is in order when beginning to peel and remove the pit, only ending up with a pulpy mess.
As the names imply, freestone peaches release beautifully from the pit making them the right choice for slicing or any recipe where you want them to look pretty.
Clingstones hold on the pit for dear life but still taste great so for jam, a sauce, canning or a smoothie they work great.
Generally, the type of the peach, freestone or clingstone, is not noted on the grocery sign and visually they cannot be distinguished from each other. The way to know is by the calendar.
Clingstones pop up first and are usually done by the end of June or early July (depending on your region) when the freestones arrive and carry out the rest of summer. Usually grocery stores only carry freestone varieties.
When in doubt, check with your grocer or farmer to be sure you are selecting the right type for your recipe plans.

What Does Grilled Peach Mascarpone Ice Cream Taste Like?
This Grilled Peach Mascarpone Ice Cream has a bit of a tang from the mascarpone cheese which also creates a velvety texture.
A little trick I use is to include some cinnamon sticks in the ice cream base as it cools. This imparts a light cinnamon flavor to the ice cream without overwhelming the peach flavor.
Ripe peaches are included in the ice cream (pureed) for flavor along with chunks of grilled peaches. Grilling some peaches to garnish when serving tops it all off!
How to Make Grilled Peach Mascarpone Ice Cream
With an Ice Cream Maker
Half and Half, whole milk and sugar are combined in a sauce pan over medium heat to dissolve the sugar.
The mixture is then removed from the heat, cinnamon sticks are added and it infuses for 1 hour.
When the mixture has cooled, it is combined in a blender with the mascarpone cheese, lemon juice and very ripe peaches to be pureed into the ice cream base. The mixture is chilled for 2-3 hours.
The mixture is processed through an ice cream maker following the manufacturer's directions.
While the mixture is in the ice cream maker, peaches are grilled, chopped and added at the last phase into the ice cream machine.
When chilled the grilled peach mascarpone ice cream is removed from the ice cream maker, put into a freezer safe container and allowed to chill for several hours or overnight to fully form.
Without an Ice Cream Maker
The same steps are followed as with an ice cream maker until putting the base into the machine.
The ice cream is put into a freezer-proof pan into the freezer for 30 minutes. The pan is removed and stirred to incorporate any frozen bits with the base that has not yet frozen.
Repeat the freeze/stir process a few times to ensure a consistent texture.
After the ice cream begins to thicken but is not quite frozen, stir in the grilled peaches.
Transfer to a freezer proof sealed container to allow full freezing overnight.
Suggested Supplies for Making Grilled Peach Mascarpone Ice Cream
These are the tools I suggest for making this recipe: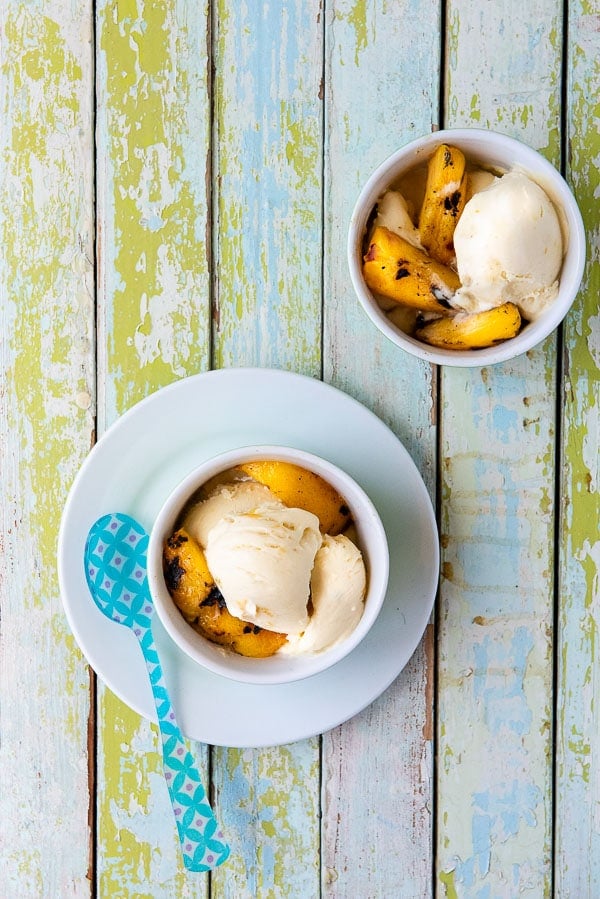 More Recipes You'll Love!
Hungry for more peach recipes? We've got you covered!
If you've tried this Grilled Peach Mascarpone Ice Cream recipe please RATE THE RECIPE below!
Please SUBSCRIBE and FOLLOW ME on FACEBOOK , TWITTER , INSTAGRAM and PINTEREST to see more delicious food, travel and what I'm up to!
How to Make Grilled Peach Mascarpone Ice Cream – Step by Step:
Recipe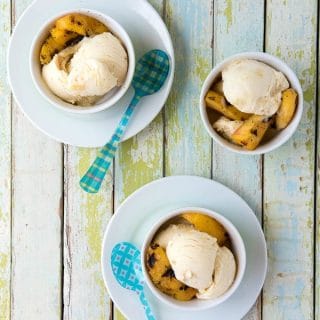 Ingredients
1 ½

cup

Half and Half

½

cup

Whole Milk

¾

cup

Granulated Sugar

2

3 1/2-inch

Cinnamon Sticks

(normal size, not extra-long)

1

tablespoon

Lemon Juice

8

ounces

Mascarpone Cheese

2

very ripe medium-sized freestone Peaches

, peeled, pitted and juice reserved (_Note: they will be pureed with the ice cream base so do not have to be a specific form after peeling and pitting_)

2

ripe but firm medium-sized freestone Peaches

, peeled, pitted, cut into 4 thick slices

Olive oil

Optional: additional peaches to grill for garnish when serving the ice cream
Instructions
Combine the half and half, whole milk and sugar in a medium sauce pan over medium heat. Stir often to dissolve the sugar and prohibit the mixture from burning. Once mixture is heated and sugar is dissolved turn off the heat.

Add the cinnamon sticks to the sauce pan and allow to steep for 1 hour.

After 1 hour, remove and discard the cinnamon sticks. Pour the cooled mixture into a blender along with the lemon juice, mascarpone cheese and very ripe peaches with any juice released from peeling them. Puree in the blender until smooth. Refrigerate the mixture until chilled; 2-3 hours.

Process the ice cream mixture in an ice cream machine following the manufacturer's instructions.

While the ice cream is processing, grill the peaches. Heat the grill to medium-high (350-375 degrees). Clean and oil the grill. Brush both sides of the peach slices lightly with olive oil and grill for 2 minutes per side. Remove and allow to cool slightly (about 5 minutes). Chop into small pieces to go into the ice cream mixture.

When the ice cream is almost done, add the chopped grilled peaches to the machine and allow to fully mix into the ice cream. Remove the ice cream and spoon it into a freezer-safe container. Allow to freeze fully for several hours or overnight. Additional peach wedges can be grilled the same as the slices to garnish the ice cream when served.
Nutrition
Calories:
269
kcal
|
Carbohydrates:
22
g
|
Protein:
3
g
|
Fat:
18
g
|
Saturated Fat:
11
g
|
Cholesterol:
46
mg
|
Sodium:
40
mg
|
Potassium:
79
mg
|
Fiber:
0
g
|
Sugar:
19
g
|
Vitamin A:
580
IU
|
Vitamin C:
1.2
mg
|
Calcium:
107
mg
|
Iron:
0
mg