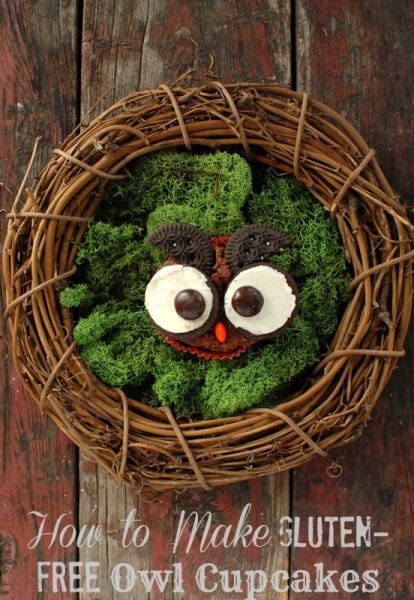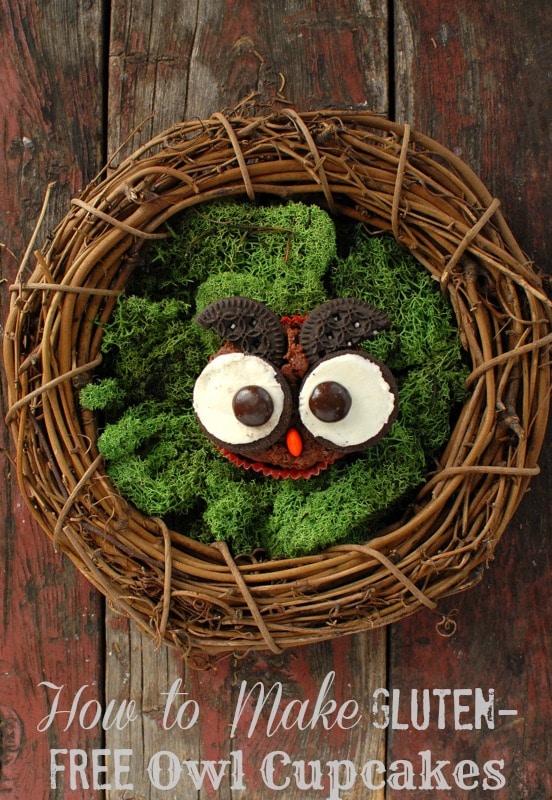 I'm feeling incredibly sheepish. This is a blog post that was never intended to be. I'm not the visionary behind the original melt-your-heart whimsy of these cupcakes (and sadly do not know who is). I searched the internet about 5 years ago when my elder child became obsessed with owls (directly preceding the nationwide obsession with owls if you've noted), trying to find a cake or cupcake idea I could adapt to be gluten free since I make all our family gluten-free birthday confections. I came up on the original recipe and made a batch for a class birthday treat.
Speed forward 5 years, 'child #2' had a birthday last week and the idea of similar cupcakes sprang to mind. I never bookmarked the original recipe but thought I could re-engineer them from my foggy memory of the details. So I did and popped a quick shot of them onto Instagram and Twitter before sending them off to school: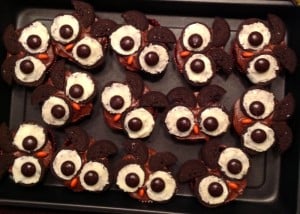 Low and behold I got emails, instant messages and even a phone call asking where they could be found on my blog. Of course they weren't on my blog and I could not even send people where I originally found them not remembering where that was. Though the nuances of making them gluten free are not huge, one gluten-free reader urged knowing the supplies I used and the tactics makes all the difference of being able to make them safe for gluten-free eaters. Bearing that in mind, and having experienced some quirks in the preparation myself, I frantically pulled together the remaining supplies and cupcakes to resurrect some semblance of a tutorial albeit photographed mainly with my iPhone and iPad; mea culpa!
These cupcakes ARE darling. My caption for the Instagram share was that I felt more like we were handing out small pets rather than cupcakes. Something about the large peering eyes that makes one question if you want to eat them or adopt them! I learned that my son's class has a ritual of issuing a 'honk' (relating to the habit of geese that honk to communicate with each other when in flight) for feats of high distinction. The day following his birthday I personally got an in-class honk for the cupcakes; apparently the first cupcake honk ever (and I might venture the first Mom honk too). We also ran across this on Instagram from a classmate (since it is from a 9 year old all personal info has been blanked out):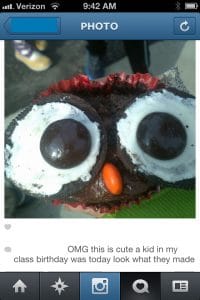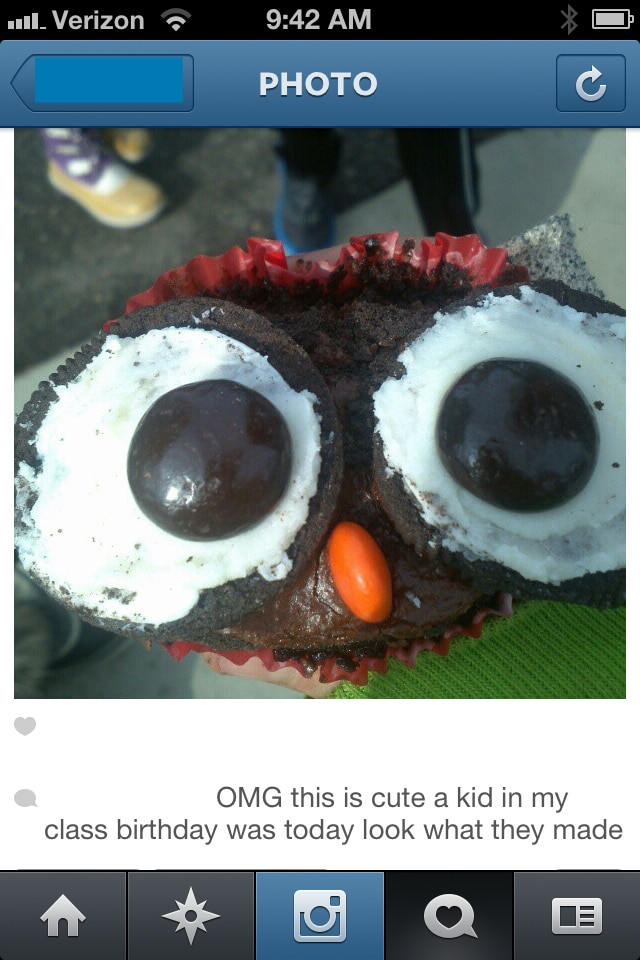 So as you can tell, they were enjoyed.
A key feature of the cupcakes is the eyes requiring a gluten-free sandwich cookie swap out. I think my fellow gluten free eaters will first agree, we are glad there is such a gluten-free cookie version and secondly that they are not exactly like the well known gluten 'Oreo's'. I experimented with two brands and will share our findings for your consideration. In summary both will work fine but each has some differences.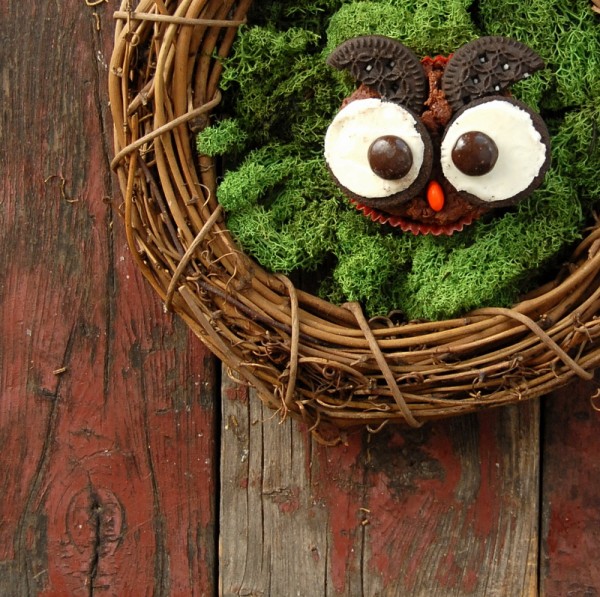 The Gluten Free Chocolate Sandwich Cookie Show Down: my GF team's observations:
Kinnikinnick's K-Toos ultimately were the favored cookie. The chocolate cookie is softer in consistency (making them a bit harder to cut in half cleanly for the owl eyebrows) and the overall flavor slightly more preferable to my cookie-tasters. They are not as neatly uniform in their construction however. K-Toos are noted to also be Dairy Free and Nut Free which may appeal to those with additional dietary needs in these areas.
Glutino's Chocolate Vanilla Cremes were much more uniformly constructed, a visually more attractive cookie, though the cookie portion was harder (which was actually better for this cupcake decoration).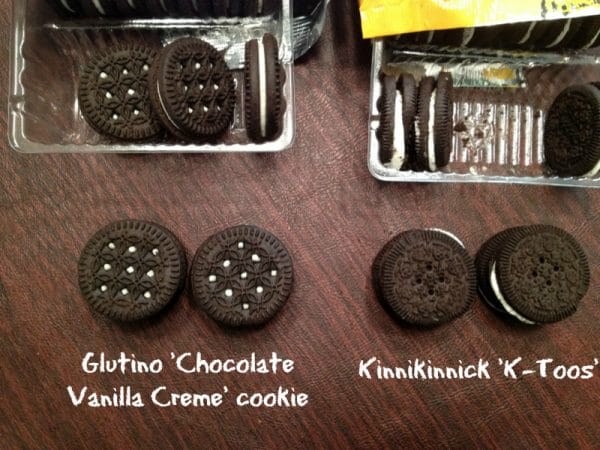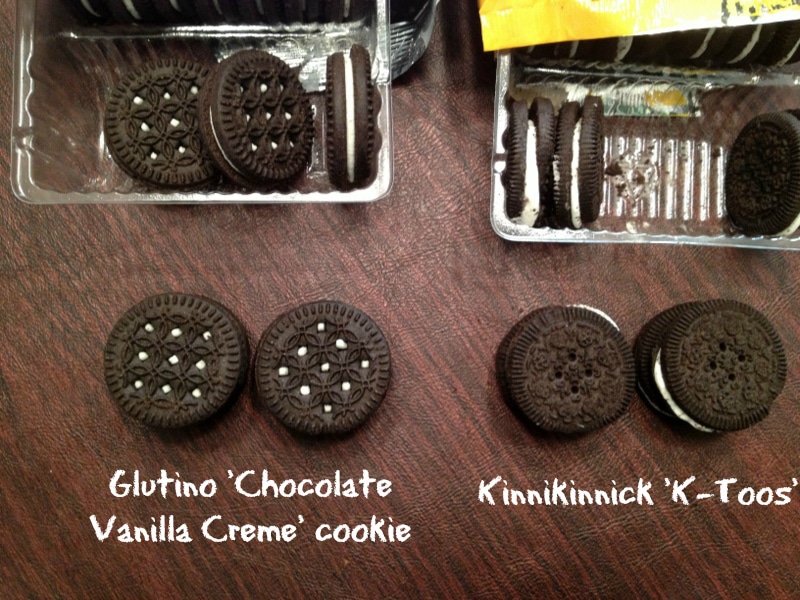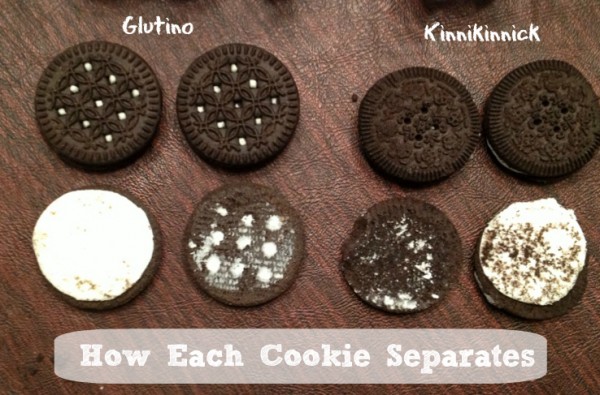 It's a matter of personal choice but both are a great gluten-free substitution for their beloved gluten-filled counterpart.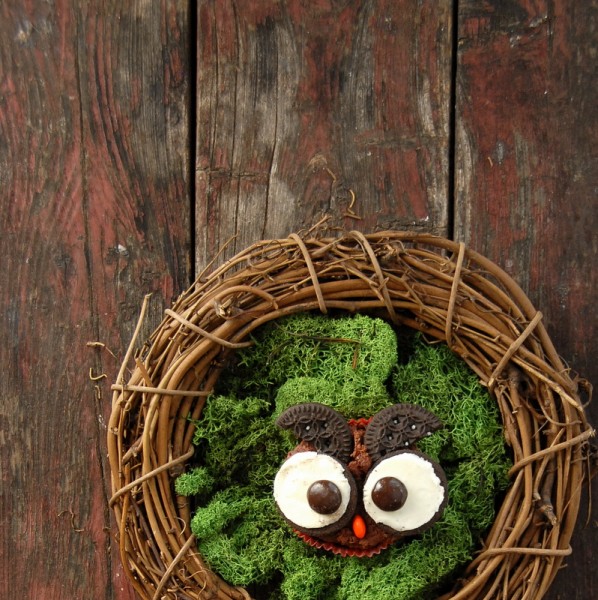 Recipe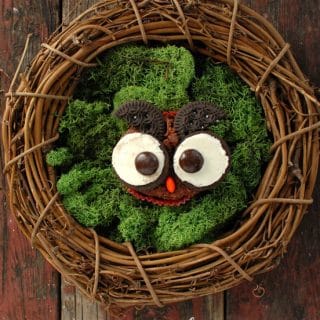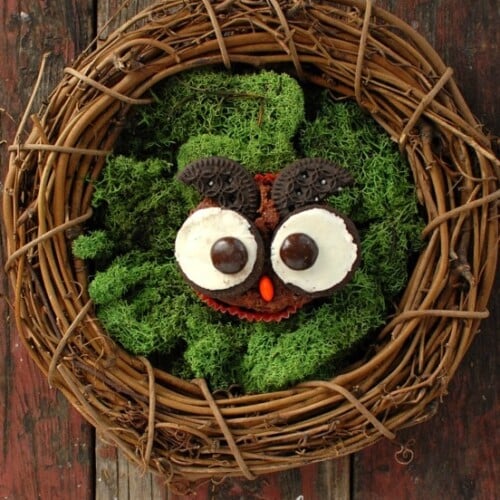 Gluten-Free Owl Cupcakes
I'm unsure there IS a cuter cupcake than these little, wide-eyed owls! There are some tricks to making them gluten-free both with technique and supplies that are specified here (also the gluten equivalent).
Print
Save Recipe
Recipe Saved!
Pin
Rate
Ingredients
Batch of gluten-free Chocolate cupcakes

(I used Pamela's Chocolate Cake mix following the cupcake instruction)

Batch of gluten-free Chocolate frosting

(I used Pamela's Dark Chocolate Frosting)

Gluten Free Chocolate Sandwich cookies

(K-Toos by Kinnickinnick or Chocolate Vanilla Cream cookies by Glutino; see above for a comparison)

Junior Mints

Reese's Pieces – orange

White Buttercream frosting

(optional; read instructions below)

Calculating supplies quantity: Each cupcake will require 2 sandwich cookies to form the eyes

, 2 Junior Mints for pupils and one Reese's Pieces for a beak. A removed cookie side of a sandwich cookies is cut in two for eyebrows. In addition I have found the gluten-free sandwich cookies are not always as easy to work with as gluten cookies so I highly suggest buying more than you need to cover for mistakes. I'm sure the 'mistakes' will be happily eaten too!
Instructions
Everything sticks together best if constructed when freshly frosted. Assemble all components to prepare and construct in one sitting.

Making the eyes: Gluten-free sandwich cookies do not separate as perfectly as do their gluten counterpart Oreos. This is the main area I found to be a challenge. To separate the cookies use a sharp kitchen paring knife and run it as close as possible inside one of the two chocolate cookies; the goal being to separate as much of the white filling keeping it intact on one of the two cookies. Set the cookie with filling aside and reserve the opposite cookie. Separate the amount of cookies needed for the number of cupcakes you are decorating; 2 eyes per cupcake.

When separating the cookies I found some of the opposite chocolate cookie crumbs remained in the filling (the 'white') of the 'eye' cookie. Desiring pure white eyes I used a small amount of white buttercream frosting made for decorating (a stiffer consistency) to lightly cover the filling. Once I frosted the filling, I placed a Junior Mint (indented side toward the cookie) in the filling and put it aside to set. If desiring to not frost the filling, place a small amount of chocolate frosting on the back of a Junior Mint and place it on the filling to make the eye. Put aside to set up.

Using a sharp knife, cut the separated chocolate cookie (not the side with filling) in half to form eyebrows. When cutting gluten free cookies I found they did not all cut smoothly so I ended up with some refuse. Two eyebrows are needed per cupcake (the equivalent of one chocolate cookie).

Plan to construct one full cupcake at a time to ensure proper adherence of all components. Frost a cupcake. Place two eyes touching in the middle of a cupcake. Above the eyes, place two half cookies, flat side toward the frosting+, straight edge toward the cookie eyes. Secure them in the frosting. Place one orange Reese's Pieces sideways (edge of the candy) into the frosting just below the spot where the eyes touch.

Allow to sit undisturbed to set up. Cover and refrigerate until serving.
Notes
*These of course can be made with gluten. Substitute your favorite gluten chocolate cupcakes and frosting and swap out the cookies for Oreos or an equivalent chocolate sandwich cookie.
+Since the filling does not come fully off the separated sandwich cookie, I opted to turn the flat, or filling side toward the cupcake. You can flip it to the opposite side if preferring the raised side be turned toward the cupcake instead.
Nutrition
Calories:
334
kcal
|
Carbohydrates:
55
g
|
Protein:
3
g
|
Fat:
11
g
|
Saturated Fat:
3
g
|
Cholesterol:
1
mg
|
Sodium:
240
mg
|
Potassium:
40
mg
|
Fiber:
1
g
|
Sugar:
34
g
|
Vitamin A:
20
IU
|
Vitamin C:
0.1
mg
|
Calcium:
57
mg
|
Iron:
1.4
mg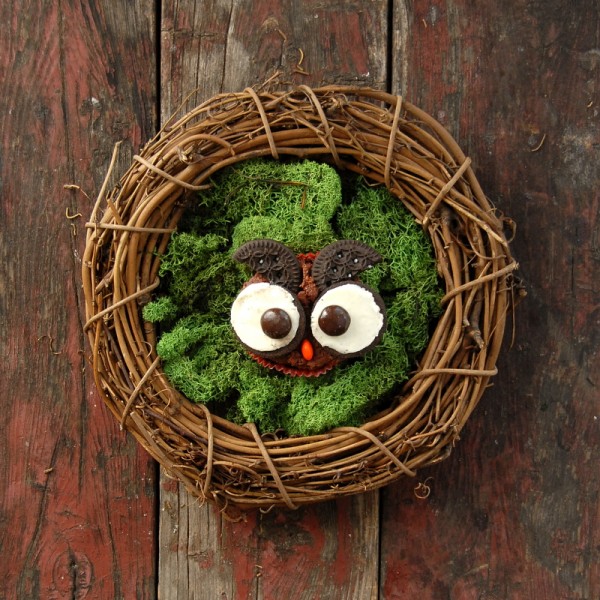 Can you even stand how cute these are?!