These fresh, cool Mexican Lettuce Wraps are full of delicious ingredients and take about 15 minutes to make! No cooking required. Perfect for summer meals when you want something fast and fabulous.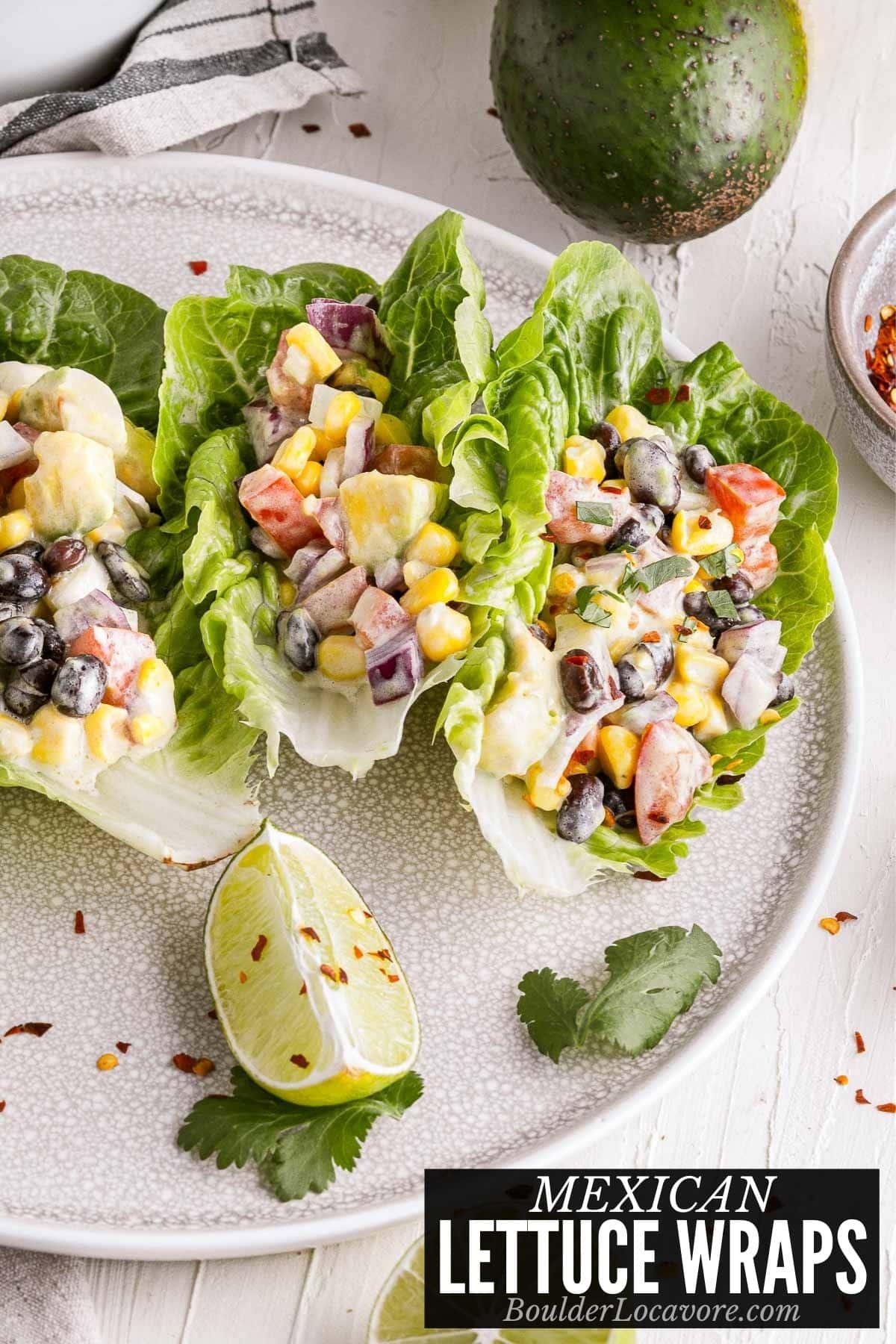 Taco lettuce wraps have been a favorite forever but these Mexican Lettuce Wraps give them a run for the money.
No cooking required. Earthy spicy flavors. Wholesome fresh ingredients. Vegetarian (vegan if vegan mayo is used). Perfect for summer especially.
An exciting main dish in 15 minutes. Can't beat that.
Jump to:
Easy Mexican Lettuce Wraps
If you've neve made lettuce wraps you are going to be thrilled by this discovery!
They are:
Packed with flavor
Fast and easy to make
Light and fresh
Satisfying and filling
Very easy to change up with favorite ingredients or ingredients you have on hand
For this recipe a combination of colorful wholesome ingredients and earthy spices in a creamy sauce are combined to wrap in fresh lettuce leaves.
They can be eaten wrapped or on top of the crisp lettuce.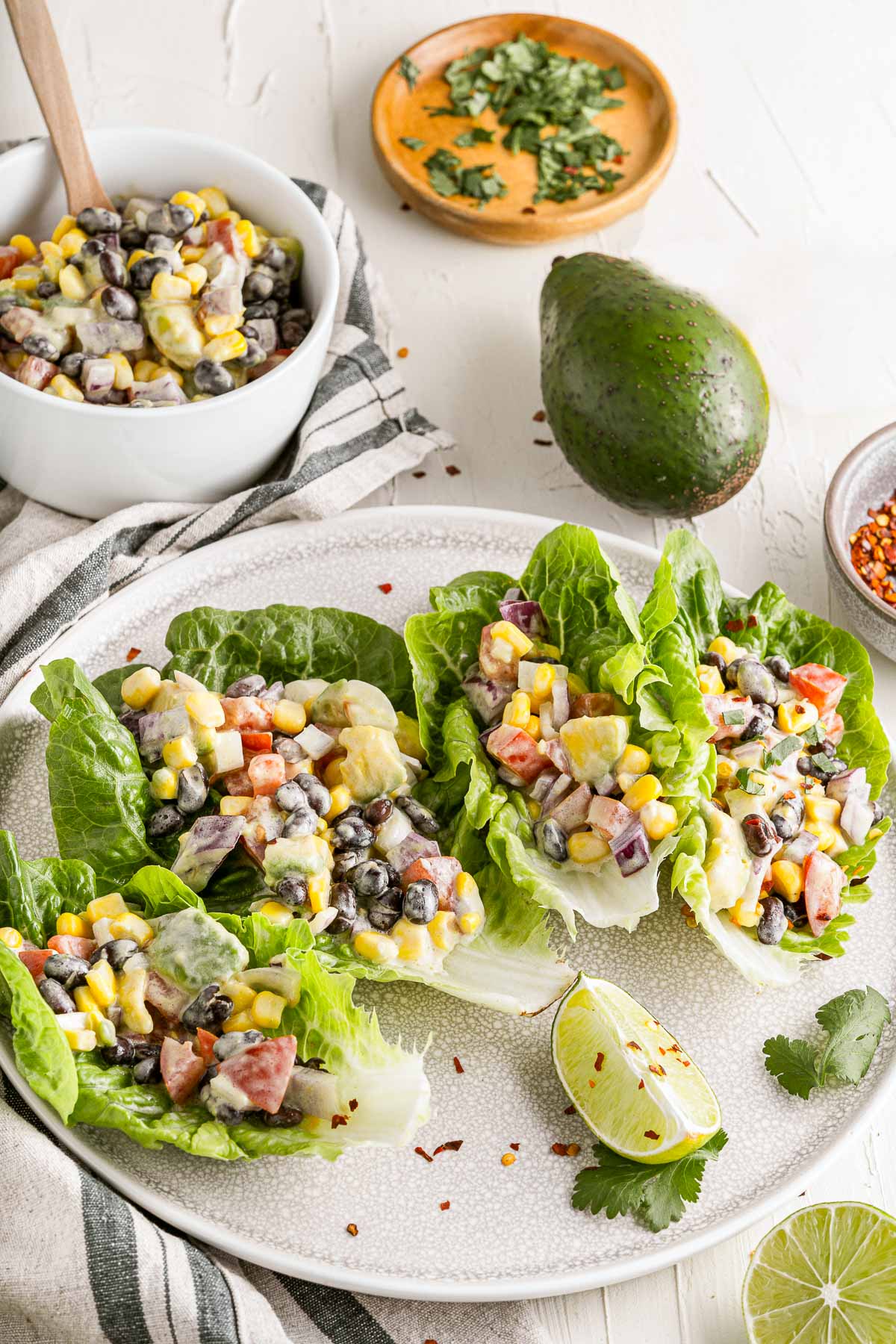 Recipe Ingredients + Notes
Black beans. Canned, drained and rinsed beans are all you'll need.
Corn. Canned, frozen and thawed or fresh corn can be used.
Tomato. Use a fully ripe tomato for best flavor. Cherry tomatoes or roma tomatoes can also be used. Roma tomatoes have a denser flavor and less moisture so will not make the filling watery.
Red Onion. Using chopped red onion adds both color and bold flavor.
Avocado. Use a fully ripe but still firm avocado. This makes it easier to cube.
Cilantro. Using fresh cilantro leaves gives a classic flavor to this Mexican inspired wrap.
Jalapeno peppers. Some diced jalapeno gives a little kick to the wrap filling. The hottest part of the jalapeno is the seeds. To make it less spicy remove those before dicing.
Lime juice. Use freshly squeezed lime juice for the best flavor. I use a handheld juicer but it can also be hand squeezed.
Mayonnaise. Full fat or light mayonnaise can be used with great results.
Spices. Cumin, chili powder and smoked paprika. This trio gives an earthy, smoky slightly spicy flavor to the filling.
Lettuce leaves. Using slightly larger lettuce leaves allows easier wrapping of the filling. More below.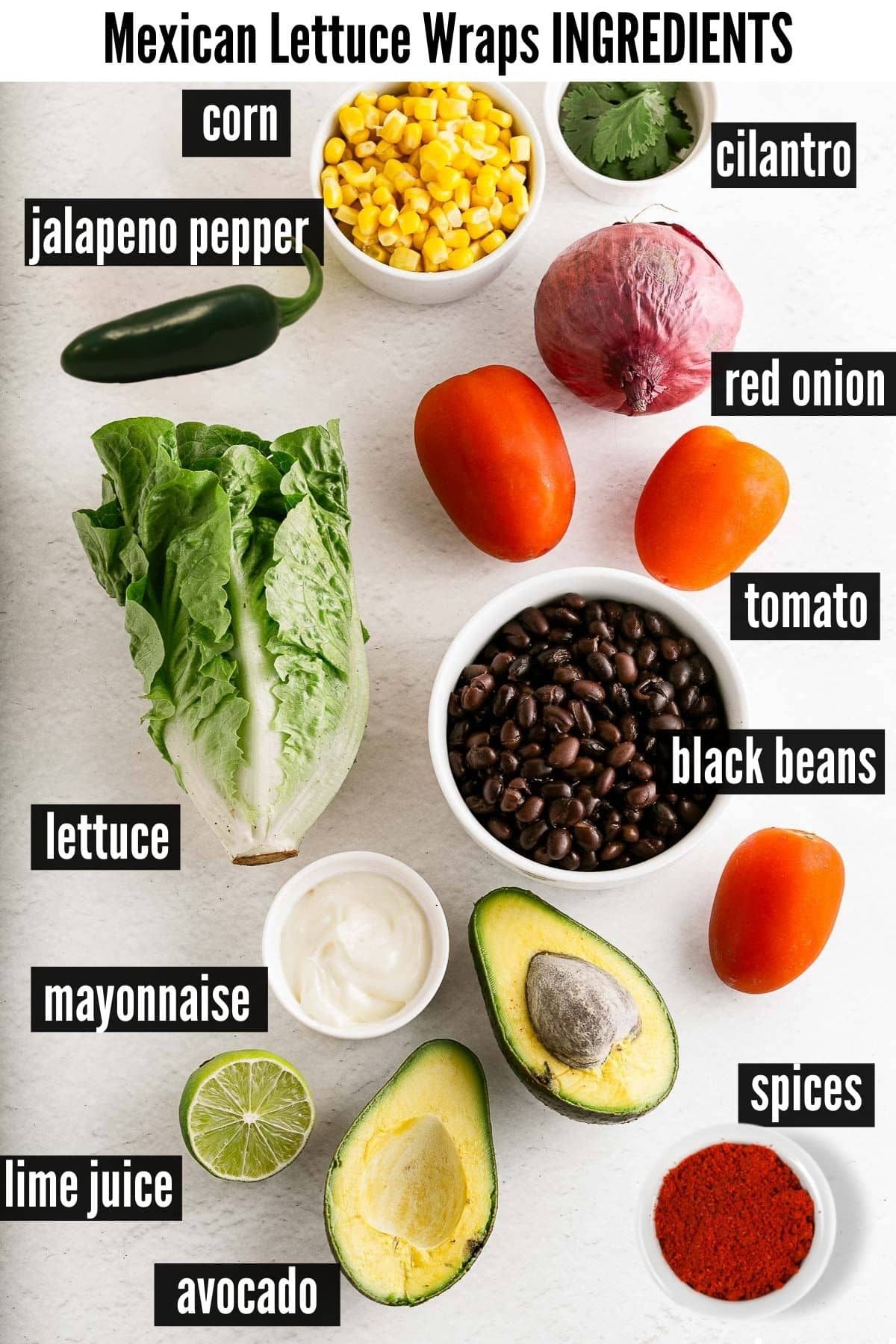 What is the best lettuce for lettuce wraps?
Most types of lettuce can be used. Here are some favorites with notes.
Larger lettuce leaves work best for actual wrapping the filling. Leaves can also be doubled up.
Boston Bibb. Large, soft leaves and pleasant flavor.
Butter Lettuce. Usually slightly smaller leaves than Boston Bibb. Soft texture and mild flavor. Doubling up on the leaves ensures no tearing and it can be easily wrapped.
Romaine. Think Caesar Salad. Romaine lettuce has a crunchy middle spine and firmer structure than bibb lettuce (refer to photos). It's a great choice to eat the wraps 'open face'.
Red Leaf and Green Leaf Lettuce. These frilly edged lettuces have large leaves, a mild flavor and make it easy to actually wrap the lettuce wraps.
Iceberg lettuce. Refreshing, crisp iceberg lettuce does not have much flavor but for wraps that's not a bad thing. Using large leaves the filling can be wrapped and it has a nice cool bite.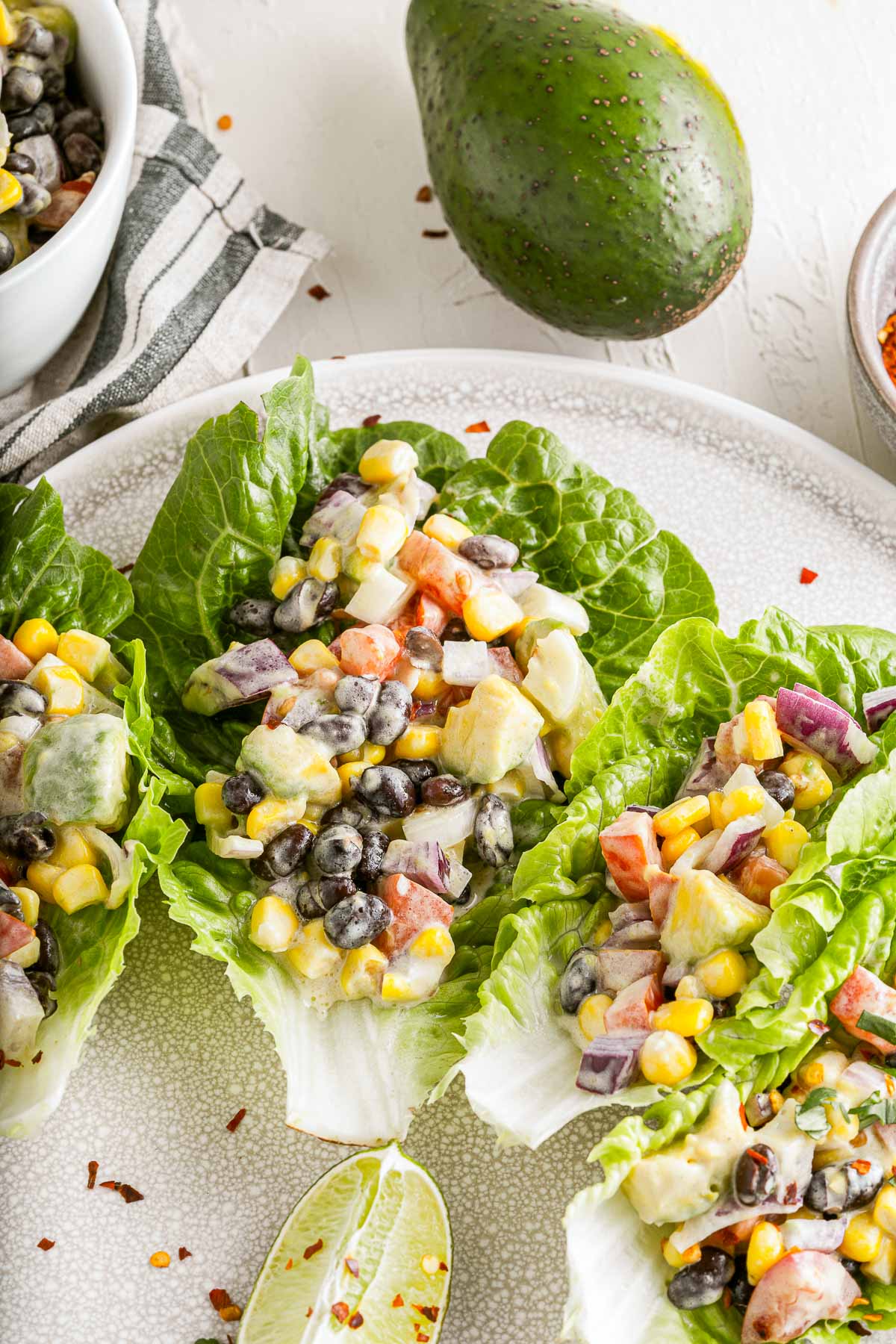 Variations
Like it spicy? Make it spicier by sprinkling with crushed red pepper flakes
Want a lighter lettuce wrap? Use light mayonnaise. It tastes great and cuts down on fat and calories.
Add some meat. If you want to beef this up with some meat, add 1/2 pound of sautéed beef, chicken or turkey.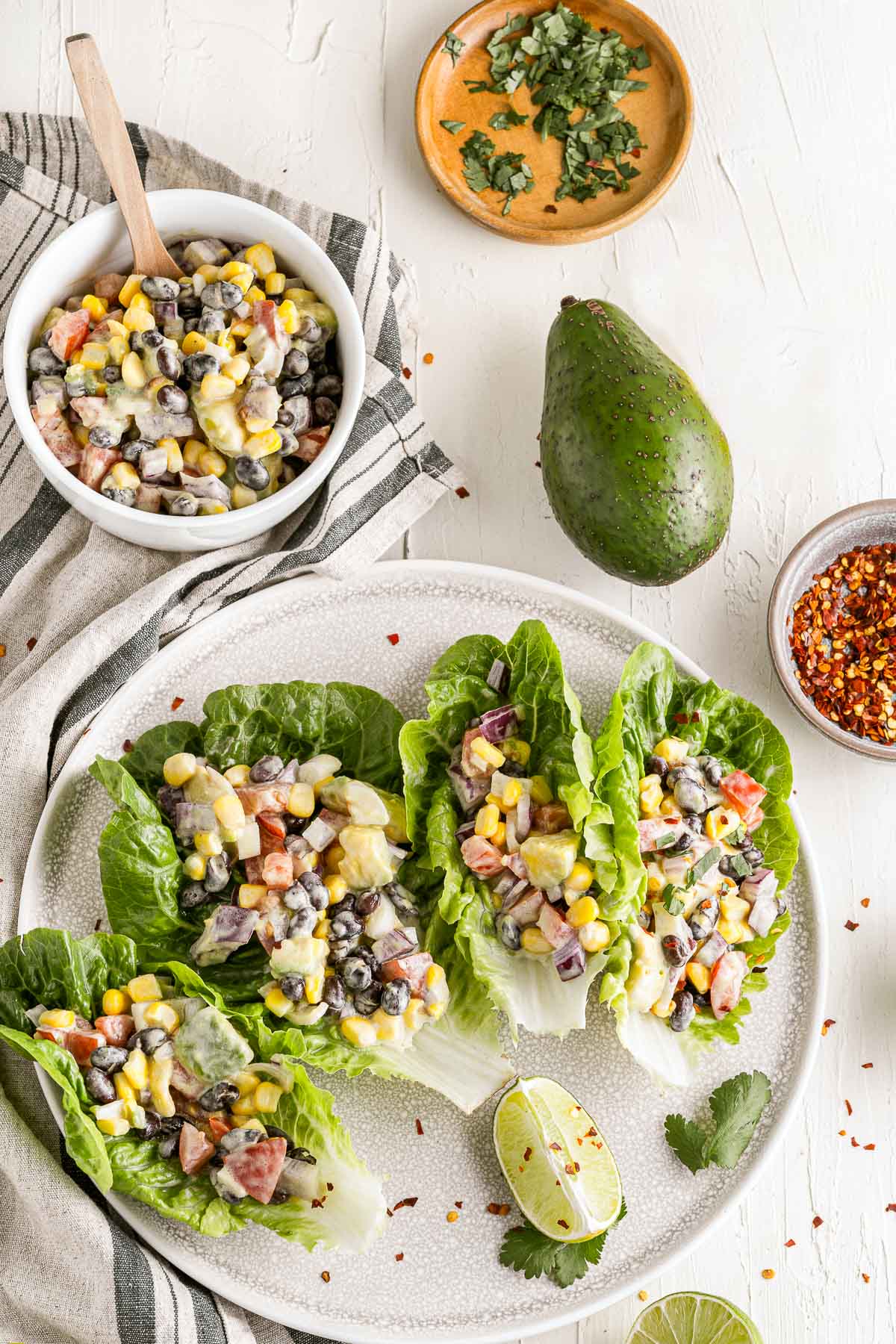 How to make Lettuce Wraps
It's very easy especially with this recipe which requires no cooking!
STEP 1. Make the filling
Combine in a large bowl, mix together corn, black beans, tomato, onion, jalapeno pepper and cilantro. Squeeze on the lime juice.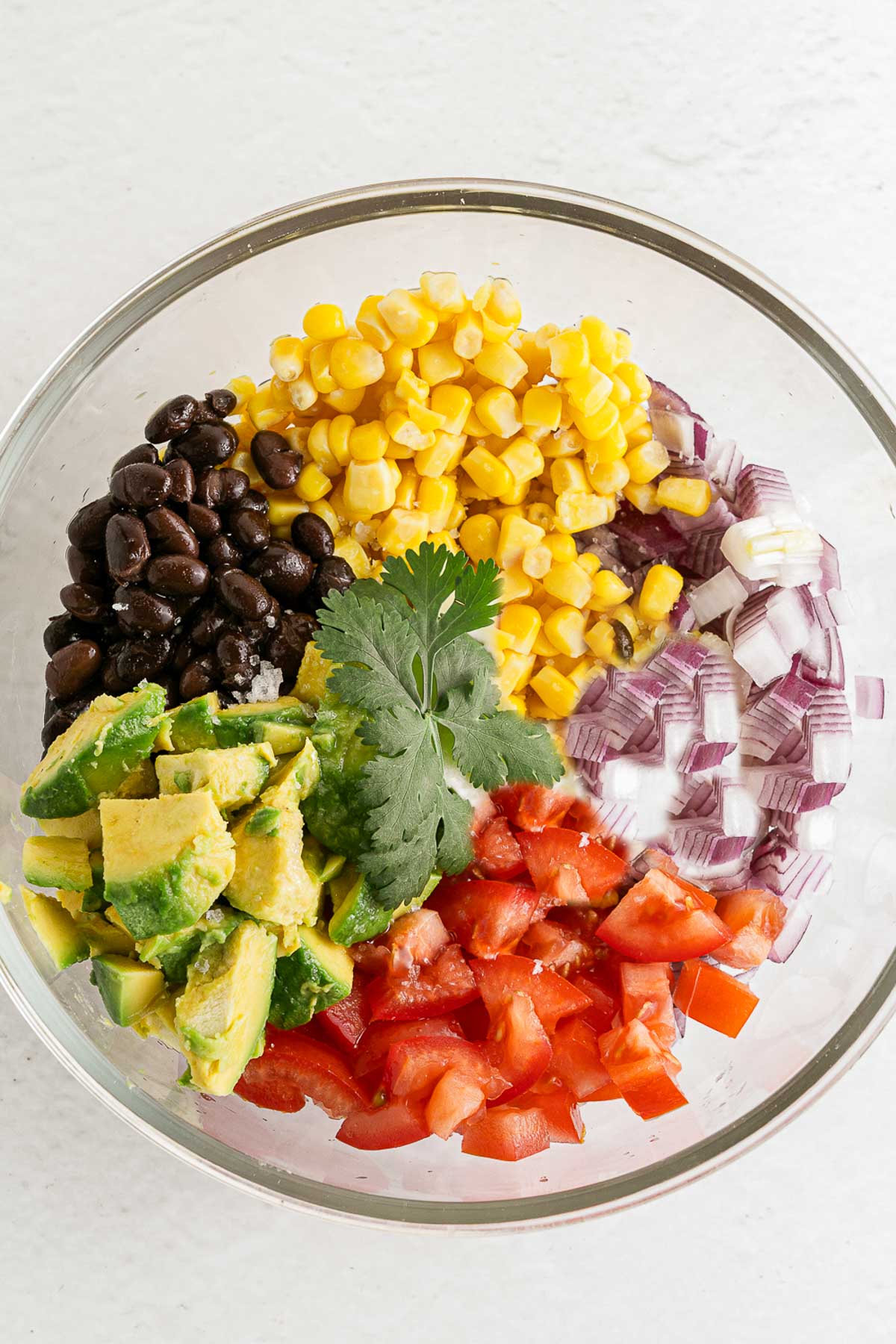 In a small bowl mix together the mayonnaise and spices.
Add to the other ingredient and stir to completely coat.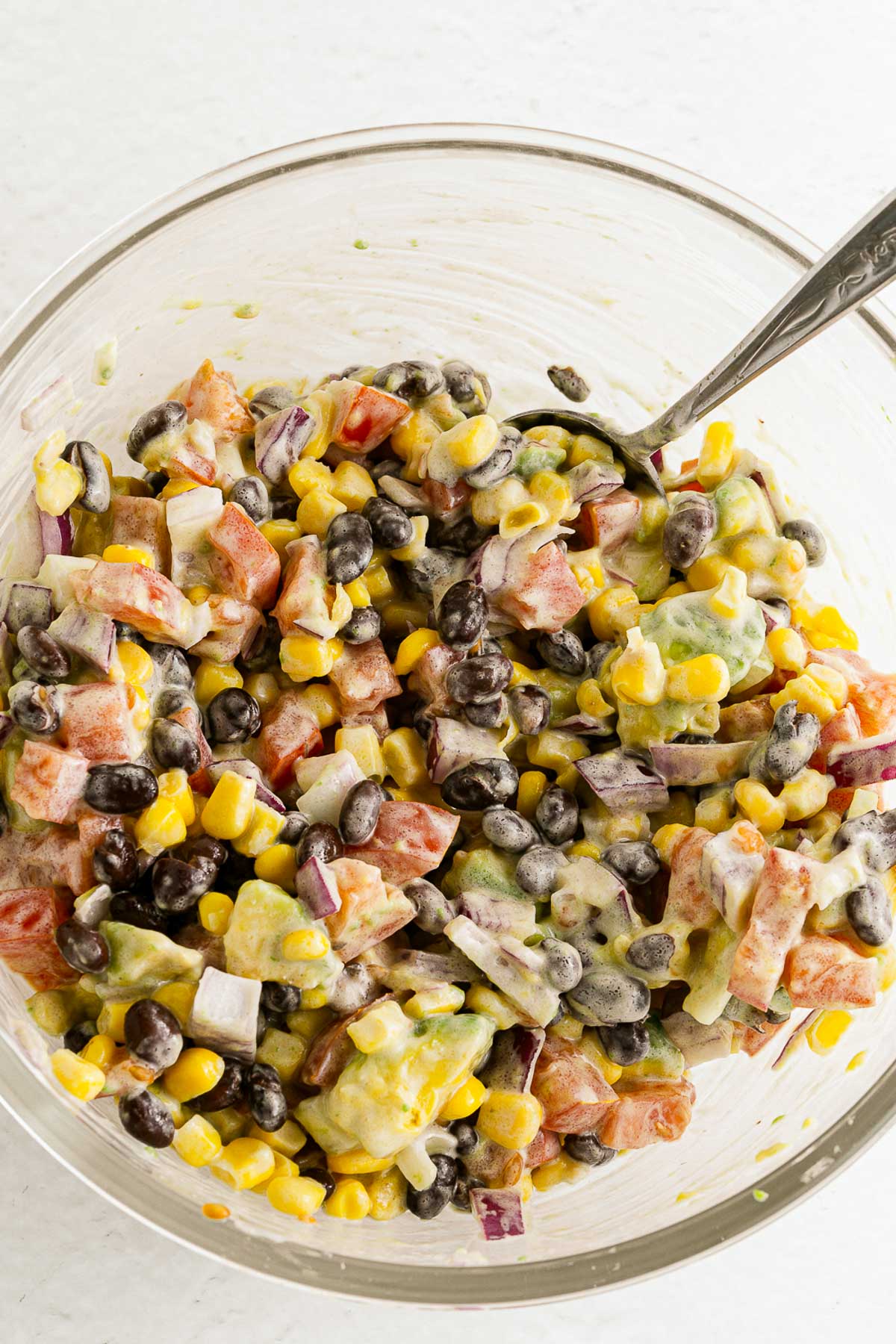 STEP 2. Make the wraps
Divide the filling evenly between the 12 large lettuce leaves. Add aproximately 1/3 cup of filling per leaf.
Serve immediately.
Pro Tips
Do not leave the lettuce wraps out. Due to the mayonnaise the lettuce wraps should not be at room temperature longer than 2 hours. If served outside where it's hot eat immediately.
They are best eaten immediately in any temperature when the lettuce is cool and crisp.
Can it be made ahead?
Filling can be made ahead and chilled. Best flavor at room temperature.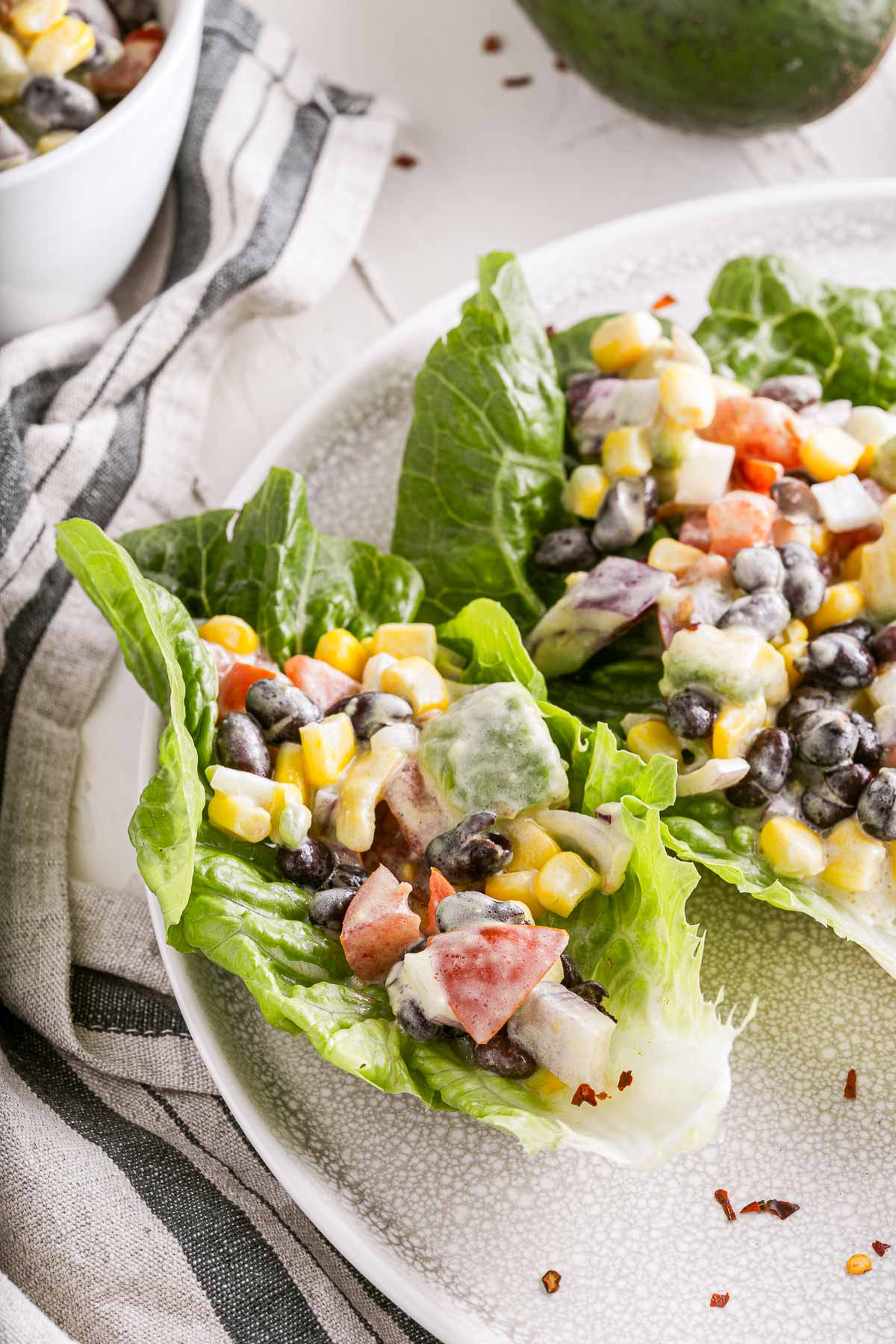 More recipes you'll love!
Did you make it? Please RATE THE RECIPE below!
Please
SUBSCRIBE
and
FOLLOW ME
on
FACEBOOK
,
TWITTER
,
INSTAGRAM
and
PINTEREST
!
Recipe