Bacon Lettuce and Tomato Bruschetta is a fresh, 2-bite appetizer with a classic topping and a little kick everyone will love! If you're looking for an easy bruschetta recipe, this is the appetizer for you!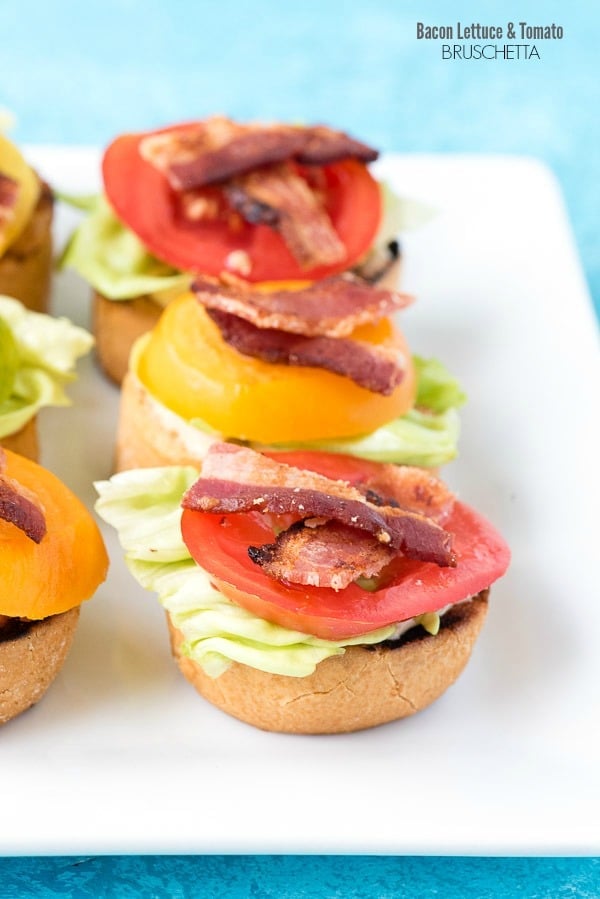 This post is sponsored as part of Boulder Locavore's ongoing partnership with Udi's Gluten-Free, exploring gluten-free recipes, health and wellness.
I have always loved Bruschetta. I used to order it all the time at Italian restaurants before I became gluten-free. Unfortunately, after I was gluten-free I hit the bruschetta brick wall and it was gone from my diet. Thankfully, due to the availability of 'gf' baguettes, it's back on the menu and this time with a twist: Bacon Lettuce and Tomato Bruschetta.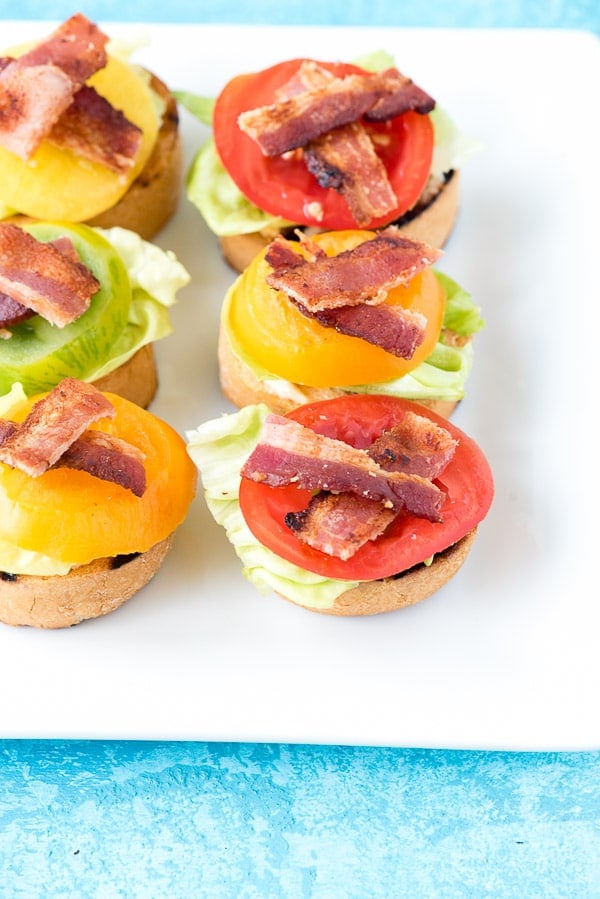 For those who have not had bruschetta, it's a thick slice of Italian bread or baguette, drizzled with olive oil and topped traditionally with garlic and chopped tomatoes. Like any recipe the toppings can be changed up to suit one's mood, veering away from tradition.
Very similar to bruschetta is crostini. Crostini is small, thinner pieces of bread (often baguette) which are grilled or toasted and topped with a less bulky option than you'd expect on tomato bruschetta. Spreads, pate or cheese, would be more typical for crostini, which is served as an appetizer.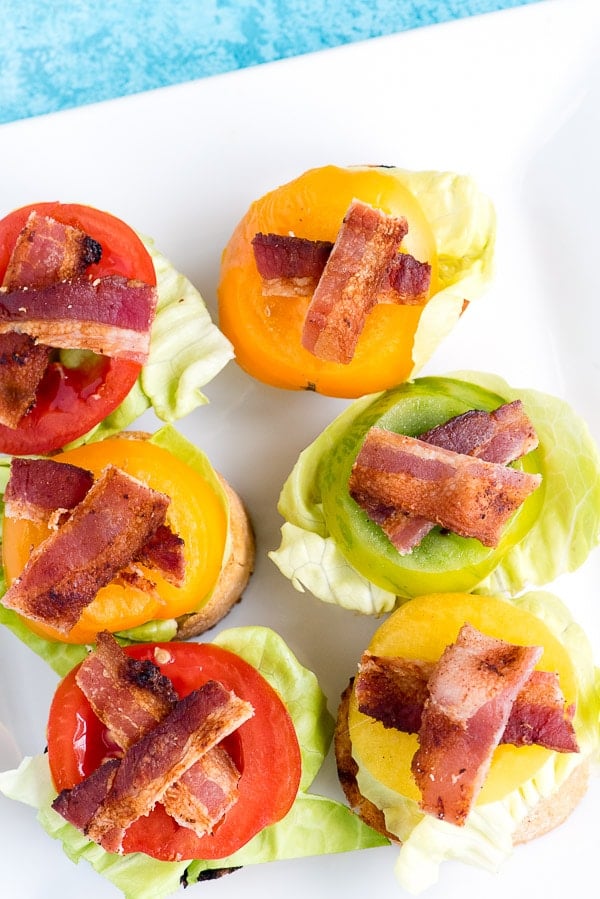 How to Make Bacon Lettuce and Tomato Bruschetta
Why the tutorial? Technically these Bacon Lettuce and Tomato Bruschetta are a cross between bruschetta and crostini. The small baguette slices are toasted or grilled leaving them crunchy on the outside and chewy in the middle. Using a smaller baguette makes them about a 2-bite appetizer with an iconic topping. They are like eating mini open faced BLT sandwiches.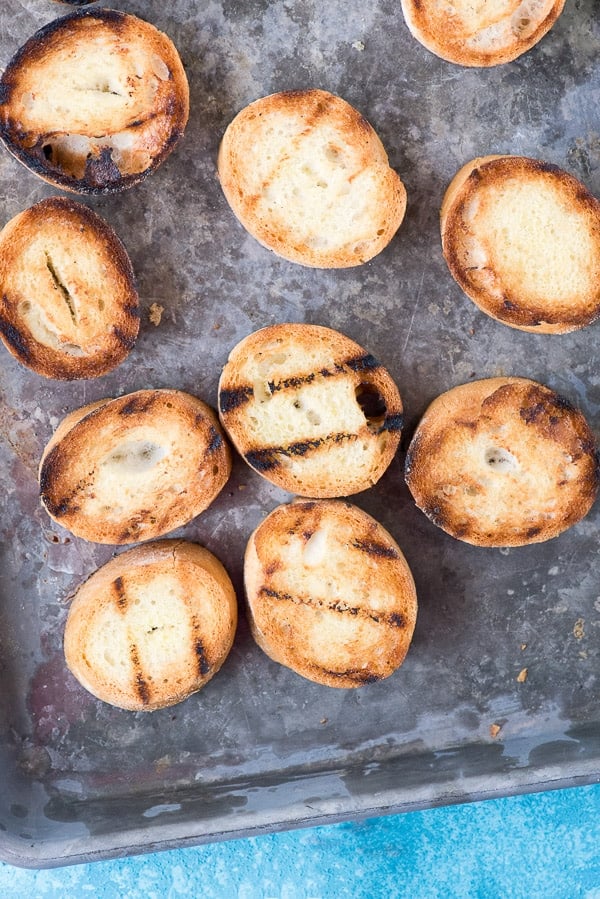 The Bacon Lettuce and Tomato Bruschetta are perfect for seasonal heirloom tomatoes in any color and fresh butter lettuce. I love butter lettuce as it's soft and easy to bite without wrestling with the appetizer like a dog on the end of a rope toy. Keeping the bacon cooked but not uber crisp also allows an easy bite without crumbling bacon flying everywhere.
I choose smaller tomatoes, wanting perfect slices to fit the top of the gluten free baguette when slicing the tomato vertically. Slices can of course be trimmed to fit as well.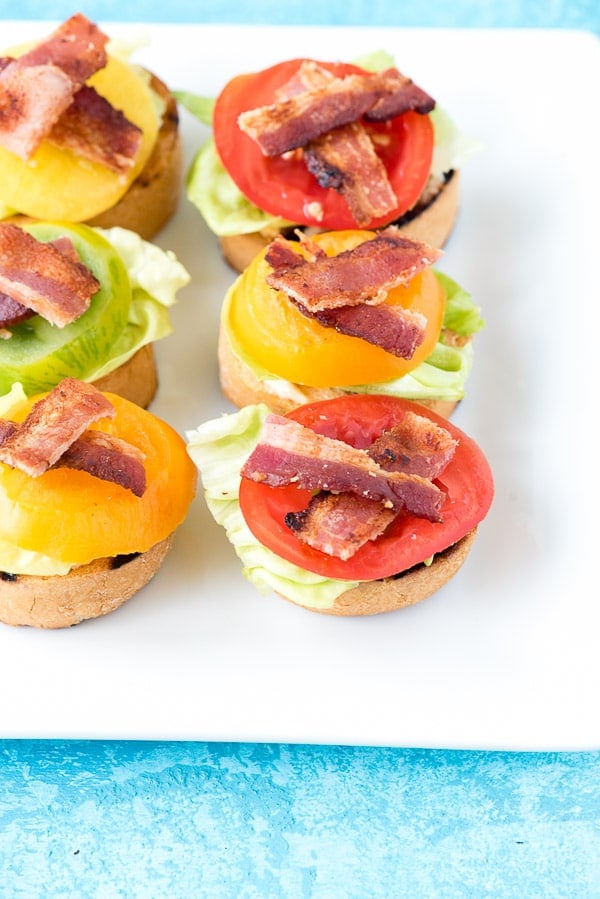 I think you'll find this a fun twist on a traditional appetizer that all, gluten-free or gluten-eating, will love!
This is a sponsored conversation written by me on behalf of Udi's Gluten Free. The opinions and text are all mine.