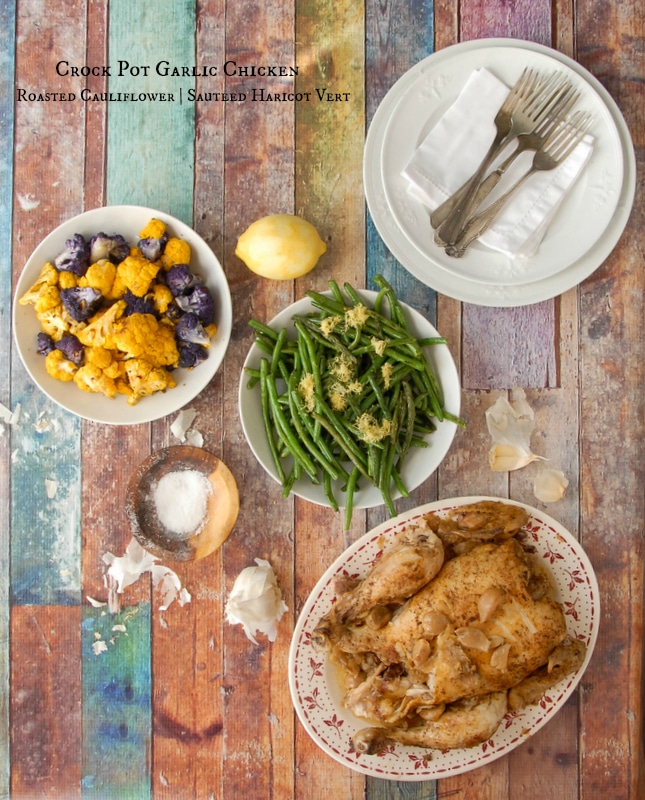 This time of year is crazy. For me personally I'm juggling kids with three after school activities in opposite directions, finishing at different times, and an unending list of appointments for my family, me and my house. And though I am a food blogger, I'll admit on many days I feel like a deer caught in the headlights regarding what to make for dinner; when to make it so it's ready when we land at home, how to balance the nutrition of the meal and just having a great idea my family will be excited about.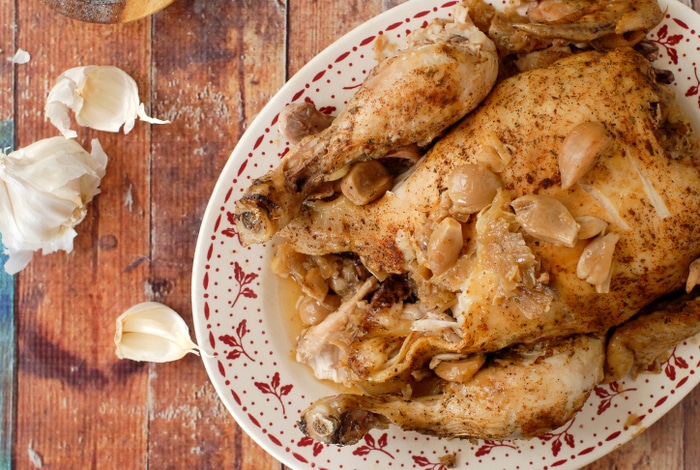 A few months ago I learned of a new company I'm completely excited about feeling their offering is visionary and an answer to the meal time challenges most families now face. It's no surprise The Fresh 20 is receiving so much media attention since they elegantly address the hurdle of how to manage our time, budget, food and health. The Fresh 20 is meal recipe service that supplies subscribers weekly recipes for 5 meals using 20 fresh, organic, seasonal ingredients in conjunction with a list of specified non perishable pantry items. Included in the subscriptions are clearly detailed weekly preparation instructions, shopping list, recipes, nutritional and cost breakdowns , lifting the meal planning burden from the subscriber. Nothing is wasted, the recipes are delicious and they've considered today's breadth of eating requirements to offer multiple plans depending on your needs or desires.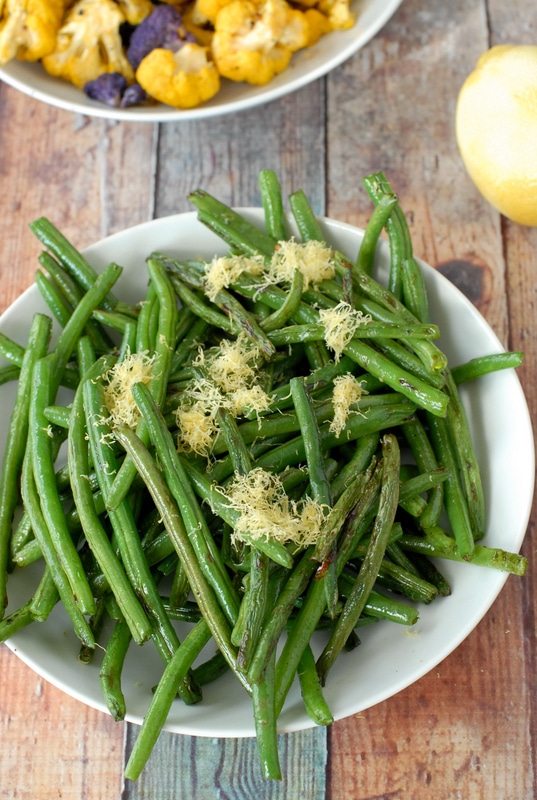 Melissa Lanz, founder of The Fresh 20 was living a busy life much like my own when she had the inspired seed thought to begin The Fresh 20. After realizing the huge amount of money her family was spending on take out and quick preparation food, leaving her energy low and immune system run down she began to search for a meal service solution offering simple, fresh options that could be quickly and cost-effectively prepared (which includes not wasting ingredients that go unused).
Not finding a service with the focus and food-quality she was seeking, Melissa launched The Fresh 20 with the goal of refocusing families on seasonal lunches and dinners, which share preservative-free, quality ingredients, coordinated to be cost-effective without waste The Fresh 20 has created plans to address all eating needs/preferences spanning Classic, Gluten-Free, Vegetarian, Lunch and newly introduced Kosher, Dairy-Free and For One options.
I was thrilled to pilot The Fresh 20's program and knew you'd want to ride along! The budget-friendly The Fresh 20 subscriptions are available for 12 weeks ($18), yearly ($54) or 6 weeks for the Lunch plan ($12). The weekly shopping lists, prep lists and recipes instruct down to the garlic clove what to do, which items are shared between which (clearly numbered) of the 5 weekly recipes. Why five meals per week? Studies have shown that is the sweet spot for home meal preparation allowing for leftover dinners or plans outside of preparing a family meal.
I'm excited to highlight one of their September dishes from the gluten-free menu, Crock Pot Garlic Chicken. Between the chill in the air and my insane weekday schedule, creating a healthy, flavorful meal like this is a lifesaver for me. Let's walk through their process together.
First subscribers receive a weekly Shopping List such as the one I used for the meal I prepared: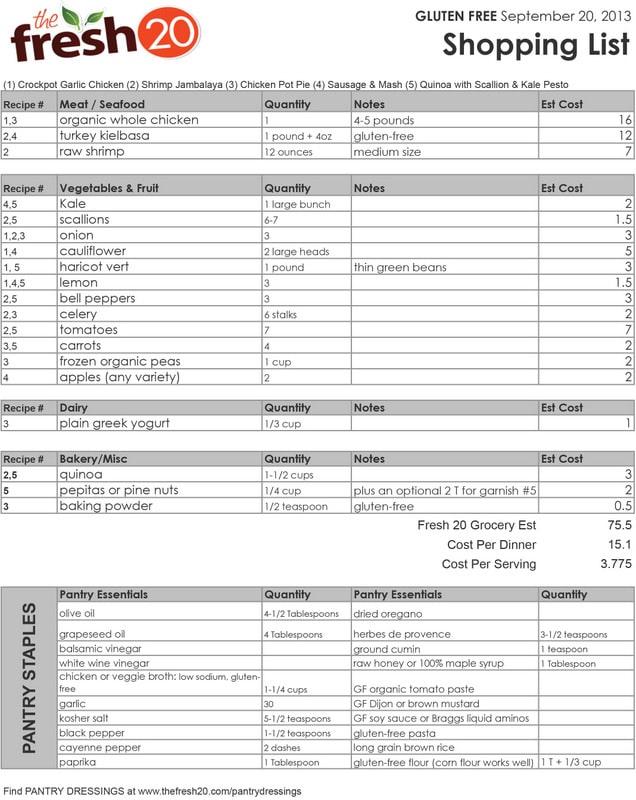 Additionally within that packet will be recipes for each meal, indicating any portion of the meal that might be designated for a subsequent meal that week. For instance the meal I'm sharing with you today is Crock Pot Garlic Chicken, Roasted Cauliflower and Sautéed Green Beans. Our meal is the first meal of the week. In the case of this meal, half of the prepared garlic chicken and liquids are saved for a Chicken Pot Pie recipe later in the week. Some of the garlic and onion that I prepared are to be saved for a Sausage and Mash meal later in the week, saving on the time of preparing the same ingredients multiple times. For the recipes I'm sharing I've extracted those sharing steps to make this a stand-alone meal however I love the clarity of instruction the The Fresh 20 directions provide.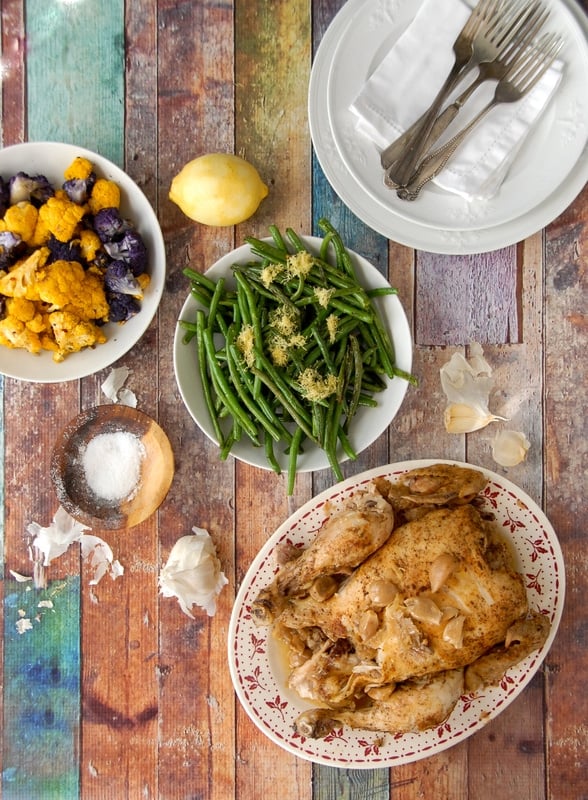 All the attributes of the The Fresh 20 plans are fantastic however when it comes right down to it, the ultimate metric stands: is the food fantastic? My family loved the dinner I prepared with special excitement about the vegetable side dishes. They were beautifully flavored, bringing visual interest to the dining table and to the diner's palates. Each of the plans includes the same depth of detailed instruction and exciting recipes. Reading through the meal options for the new plans is a bit like grocery shopping when hungry; it's dangerous! The mouth-watering meals include such dishes as Cumin Lime Grilled Chicken with Nectarine Salsa and Brown Rice (Kosher plan) or Lemon Goat Cheese Spaghetti (also the Kosher plan), Blackened Salmon with Creamy Dill Sauce, Brown Rice and Heirloom Tomatoes (Dairy Free plan) and Mediterranean Steak with Balsamic Summer Vegetables and Grilled Garlic Bread (For One plan). Yum! I should also share their meals have been so wildly popular they now have a cookbook of them!
Recipe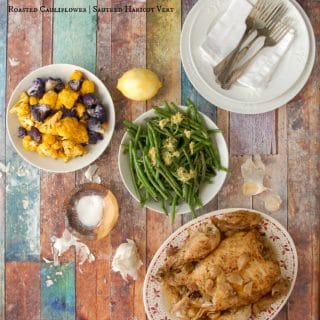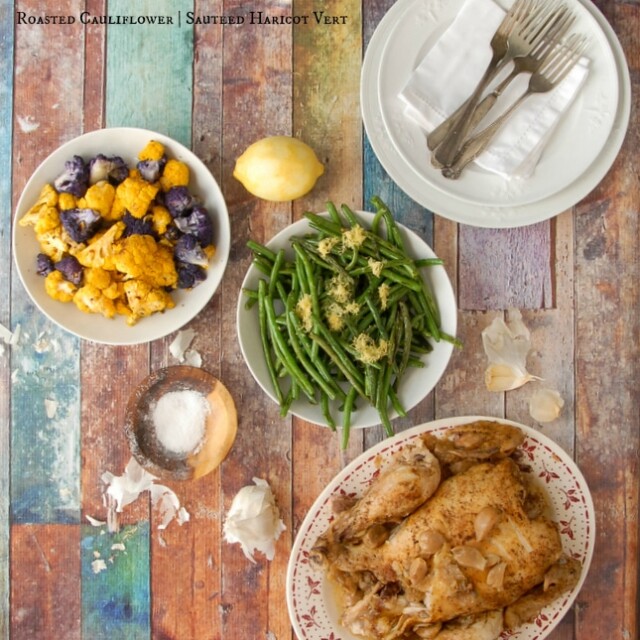 Crock Pot Garlic Chicken, Roasted Cauliflower and Sauteed Green Beans
This gluten-free meal is from Fresh 20, the innovative recipe service featuring quick to make, healthy, budget-friendly meals (that are delicious)! I love all three of these recipe and I know you will too. A Fresh 20 Tip: No crockpot? Follow same directions as below, but put into a large pot with lid, such as a Dutch oven. Add 1 cup water to the pot and cook at 350 degrees for 2-3 hours.
Print
Save Recipe
Recipe Saved!
Pin
Rate
Ingredients
Ingredients for Crock Pot Garlic Chicken:
1-

organic chicken

(4-5 lbs), neck and giblets removed, rinsed and dried

2

teaspoons

kosher salt

½

teaspoon

black pepper

1 ½

teaspoons

paprika

1 ½

teaspoons

Herbes de Provence

1

onion

, chopped

20

cloves

of garlic

, peeled (yes, 20!)
Ingredients for Roasted Cauliflower:
1

large head cauliflower

, cut into large florets

1 ½

Tablespoons

grapeseed oil

2

cloves

garlic

, minced

1/2

teaspoon

Herbes de Provence

Dash cayenne or red chili flakes

½

plus 1/8 teaspoons kosher salt

1/8

teaspoon

black pepper
Ingredients for Sauteed Green Beans:
1

pound

haricot vert

(thin green beans), trimmed

½

Tablespoon

grapeseed oil

¼

teaspoon

kosher salt

Dash black pepper

Zest of 1 lemon
Instructions
Instructions for Crock Pot Garlic Chicken:
Rub chicken with seasonings, inside and out.

Put chopped onion on the bottom of crockpot, add chicken on top, and sprinkle garlic cloves over it.

Turn crockpot on low for about 6-8 hours, until meat is pulling away from the end of drumstick. Serve with some juices and garlic from crockpot.
Instructions for Roasted Cauliflower:
Heat oven to 350 degrees.

In a large bowl, toss cauliflower with the remaining ingredients and put on a baking sheet. Roast until browned, about 35-45 minutes, turning occasionally.
Instructions for Sautéed Green Beans:
Heat a large skillet over medium-high heat and add oil.

Once oil is hot add the green beans, salt, and pepper. Saute, turning occasionally, until some brown appears on the beans, about 5 minutes.

Turn off heat and add lemon zest.
Notes
Recipes reprinted with express persmission from Fresh 20
Nutrition
Calories:
96
kcal
|
Carbohydrates:
12
g
|
Protein:
2
g
|
Fat:
5
g
|
Saturated Fat:
0
g
|
Cholesterol:
0
mg
|
Sodium:
885
mg
|
Potassium:
291
mg
|
Fiber:
3
g
|
Sugar:
3
g
|
Vitamin A:
775
IU
|
Vitamin C:
22.6
mg
|
Calcium:
61
mg
|
Iron:
1.6
mg
Disclosure: This delicious post is sponsored by The Fresh 20. All opinions are my own.